We all love to hear our favorite movie stars or models spilling their skin secrets, but do you know who really knows how to achieve glowing, blemish-free skin? Dermatologists.
TODAY Style asked the experts to spill their go-to tips and tricks for luminous skin — and some of their answers really surprised us!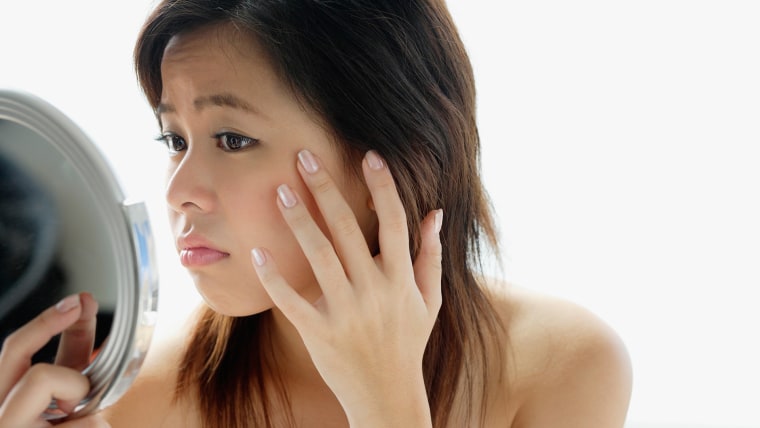 1. They use Crisco in a pinch.
Run out of facial moisturizer? No worries, you can use vegetable shortening from the pantry.
"It provides a relatively allergen-free and highly emollient moisturizer for parched skin," says Dr. Melanie Palm, board-certified dermatologist with the American Academy of Dermatology. Bonus: It's good for eczema-prone skin, too.
RELATED: Yuck! Zoomed-in photos show how gross your makeup products really are
2. They use honey for ... everything else.
Another kitchen staple you should have on hand? Honey! Multiple dermatologists praised the sweet stuff for its anti-inflammatory and antibacterial properties.
"It can be used to help treat anything from skin irritation, minor cuts or burns, or even pimples," says Dr. Josh Zeichner, board-certified dermatologist with the American Academy of Dermatology.
3. They swear by Frankincense oil.
"I am obsessed," Dr. Cybele Fishman says of the essential oil. "It is full of antioxidants like limonene and thujene, which prevent damage to skin cells. For the women like me out there, who don't love strong floral smells in their skin products, this smells amazing."
RELATED: 5 tips to nailing the natural 'no-makeup' makeup look
While you can't put this oil directly on skin, since it can cause irritation, try adding it to carrier oils (such as olive oil or coconut oil), she suggests.
4. They're not side sleepers.
Believe it or not, curling on your side while you snooze (read: pressing your face into a pillow) can cause sleep lines over time on cheeks and around the brows, and may even cause permanent creases on your chest.
Train yourself to sleep on your back, suggests Palm. "It allows gravity to work in your favor," she says.
RELATED: 19 drugstore moisturizers that beauty editors can't live without
5. They don't follow the labels.
Your tube of eye cream says it's for use around the eyes, but maybe you should also be using it around your lips — another part of the face where wrinkles tend to form. The skin around our lips has a similar underlying muscular structure to the eye region, Palm explains, and is "delicate and should be protected in a similar manner."
When you've finished applying eye cream, "use the residual cream on your finger pads to apply them around your lips," she says. Voila!
6. They go the DIY route.
Dermatologists don't let dead skin cells hang around — they exfoliate. Dr. Whitney Bowe favors a homemade scrub using brown sugar and honey. "There are so many items in your kitchen that are full of skin care benefits," she says.
Another favorite of Dr. Bowe's: fresh pureed pumpkin pulp mixed with an egg and honey for a hydrating facial mask.
We feel smarter already!