From "Girlfriends" to "Black-ish," Tracee Ellis Ross has always shown off one trademark piece of herself on screen: her natural hair.
Her signature curls, and a lifetime of maintaining them, prompted her to start Pattern Beauty in 2019, a natural hair care line for textured hair.
Ross knows firsthand how caring for natural hair comes with its own set of unique techniques and routines. So she just accepts that she will never have the exact same hairstyle twice.
"It doesn't happen," she tells TODAY.com. "That's why on TV shows for continuity, I usually have my hair back and in braided styles because I can't get (the same big curls) two days in a row."
So her approach is simple: "I work for my hair. It doesn't work for me."
The work Ross puts into her hair is how she gets her iconic results and she gives TODAY.com a step-by-step guide of how she did the following eight styles.
'The cut is everything'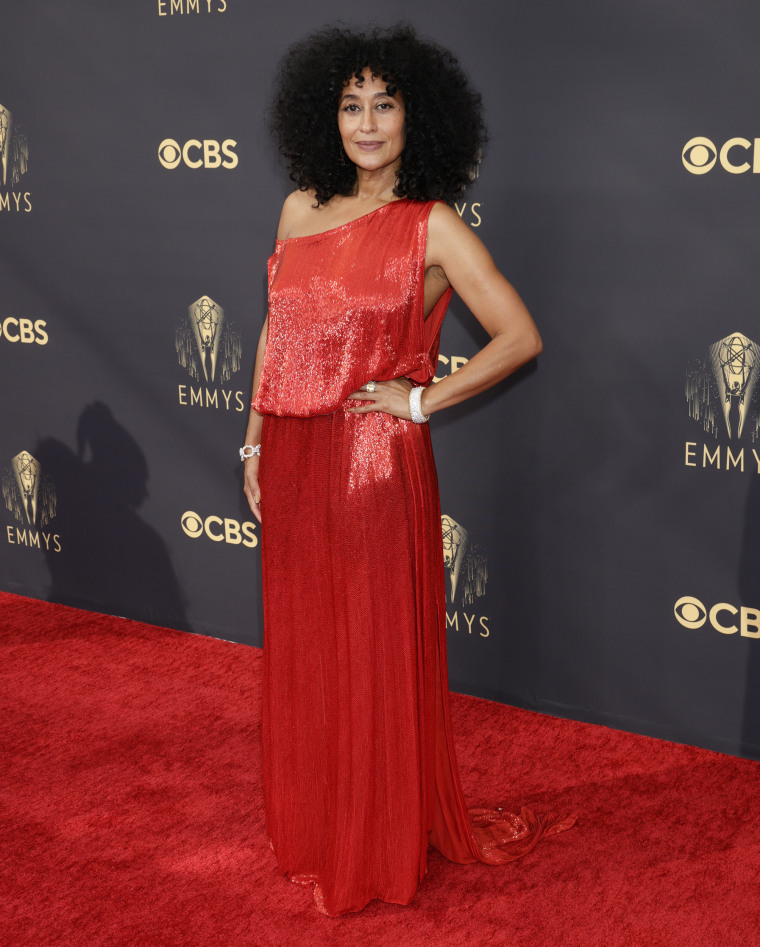 "The hair itself is Tracee-epic," she says of this picture. "My hair was longer then because we were coming out of the pandemic and it was a real fluff up."
Before getting to any styling, Ross says she clips her ends "a lot" because "the cut is everything." She says her hair frames her face so well because it's cut that way.
"I have so many different textures and curl patterns throughout my hair that I like to cut it the way I wear it," she says. "So I let my hair fall exactly the way I wear it and I cut it topiary."
She says the rule of thumb is to straighten curly hair and then cut it, but she doesn't do that.
"The key is I cut my hair dry, but not curly," she explains. "What I do is I diffuse or let my hair air dry in the way I like my curl pattern and then I pull through it. And my new trick is I used to pull through it with a comb and a blow dryer, a wide tooth comb and a blow dryer. One doesn't need to do that anymore. Now I do the (Pattern) blow dryer attachment with a wide tooth comb."
She says this technique gives her more consistency.
"I cut my hair while it's in its natural curl pattern just stretched out, then I can tell that we're cutting in the shape of the way I wear my hair," she says.
She also recommends cutting to a blunt end as opposed to shearing the ends.
Use your fingers to volumize ... and diffuse!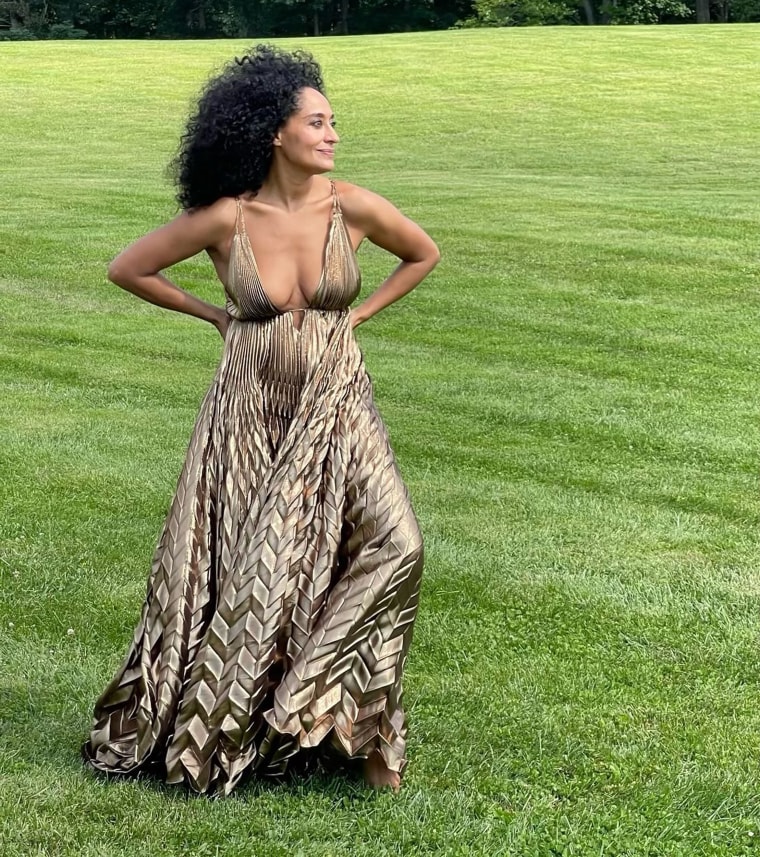 "This is the same curl pattern," Ross says when comparing this photo to the previous one. But her hair looks different because "this is a different day, different texture, different humidity level different water."
Natural hair can be that fickle. The 50-year-old actor says her curl pattern has changed over the years. During her "Girlfriends" era, her curls were tighter and her hair was easy to volumize. But now she has to put more effort into getting that same look.
"Now that I color my gray, it's almost like a texturizer because it's chemical. My pattern has loosened a little bit, so I don't get the same volume I used to get," she explains.
Her work around to that is to use her fingers as a pick and then she follows it up with an actual pick.
"I (put my) fingertip at the base of my hair almost like I were teasing but not. And it lifts up the root of my hair. And then I like to pull through and I like the tortoise shell pick because it's smoother, and I pull through but never to the end."
She says the key to this technique is starting at the root.
"Get in there to get the volume," she says, adding that she gets the fluff up look by doing "A Tracee diffuse into a comb out and then a lot of (it) at the root."
Part to your hairline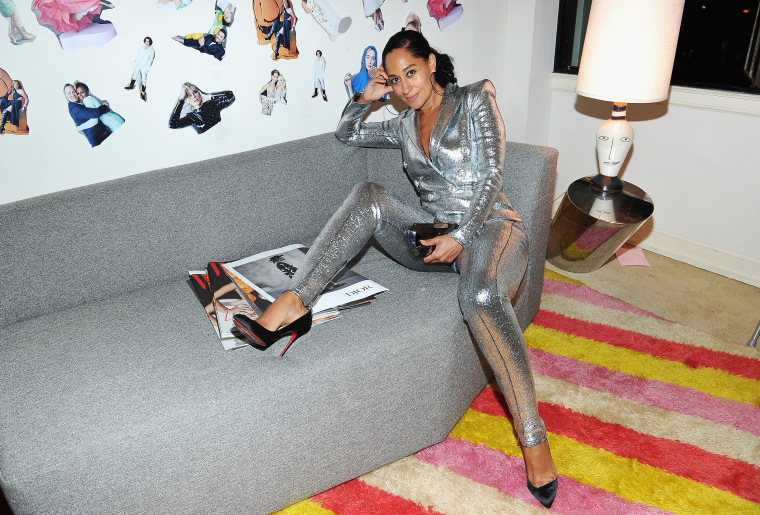 "I did this on my own. So my hair is, it's a side part, I also have a crazy hairline," she says, adding that "my hairline grows on my face."
Ross says she's learned how to part her hair in a way that compliments her unique hairline.
"A deep side part, but you got to pick right in the right spot. So I like to go either in this little divot, or come all the way down into this," she said gesturing to either side of her temple.
She says if she parts anywhere else, it "will not work because the hair will go which way it wants to go."
She also said she usually parts on her left side because it's her favorite side of her face.
After mastering the part, Ross says she used styling cream to slick down the front and a rubber band to make the low ponytail. She purposely leaves her hair "nice and wet on the ends" so she can diffuse it while it's in the ponytail and that helps volume.
Know what look you want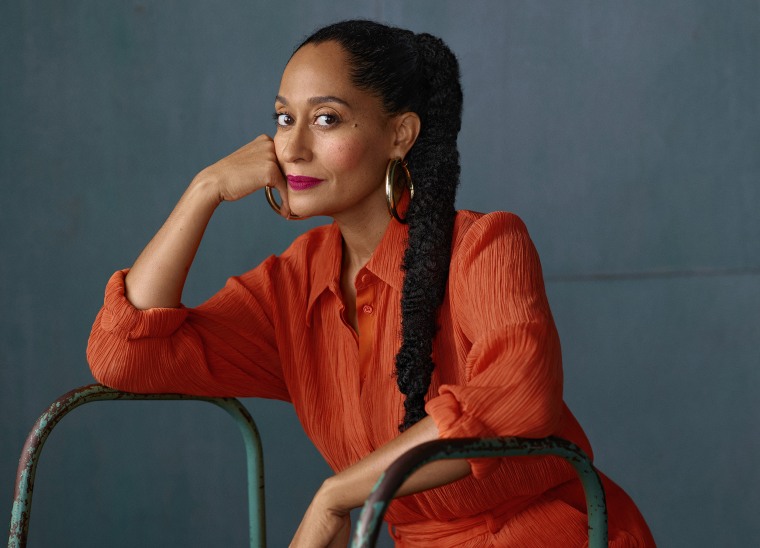 Ross says this picture was for a photo shoot for "Black-ish" and she knew what she wanted her hair to look like.
"I wanted one of those horse braids. Like a really thick braid, so she used bag hair and I wanted the front to be fuzzy, so I didn't want a slicked edge. I wanted a natural edge and like a little fuzz on the front to match the fuzz of braid."
Ross famously did her own her for the first two seasons of "Girlfriends" because she did not want stylists who were unfamiliar with her hair to damage it.
"'Black-ish', I did not do my hair," she said. "On Girlfriends, it was the first two seasons because I was protecting my natural texture."
She later allowed stylists on set to do her hair and it was "always a collaboration."
'Condition, condition, condition'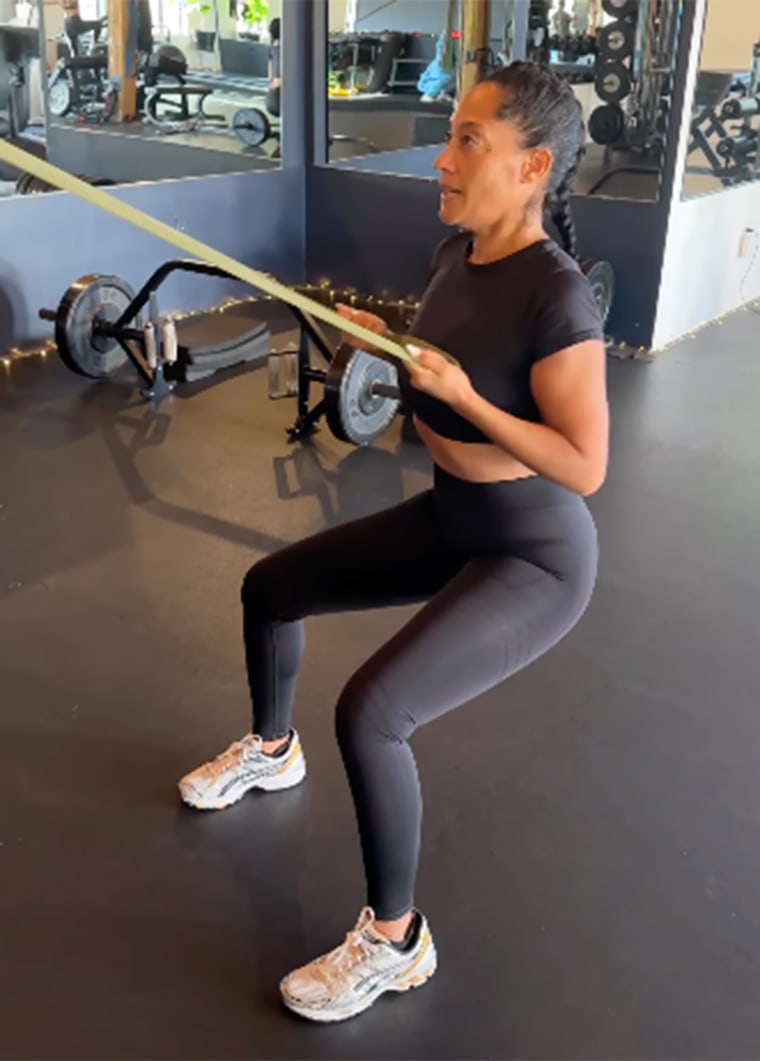 "I brushed my hair out with a paddle brush. And then I did the wide tooth comb so that I could really get through my hair and then I created, from the front all the way down the back, an outside french braid," she explains.
Ross regularly works out and knows that a lot of Black women avoid it because they don't want to mess up their hair. She said sweat does take a toll on her hair, but she's found a trick.
"With sweat, my hair gets really tangly," she says. "I have to slick my hair back to make it work. To get it out of that, I use the (Pattern) detangler."
She said sometimes before she works out, she applies the detangler and conditioner and works out like that so it's easy to manage after she's done.
In general her guide to managing hair and exercise is "condition, condition, condition, condition and do a little bit more conditioning."
Get a quick, go-to style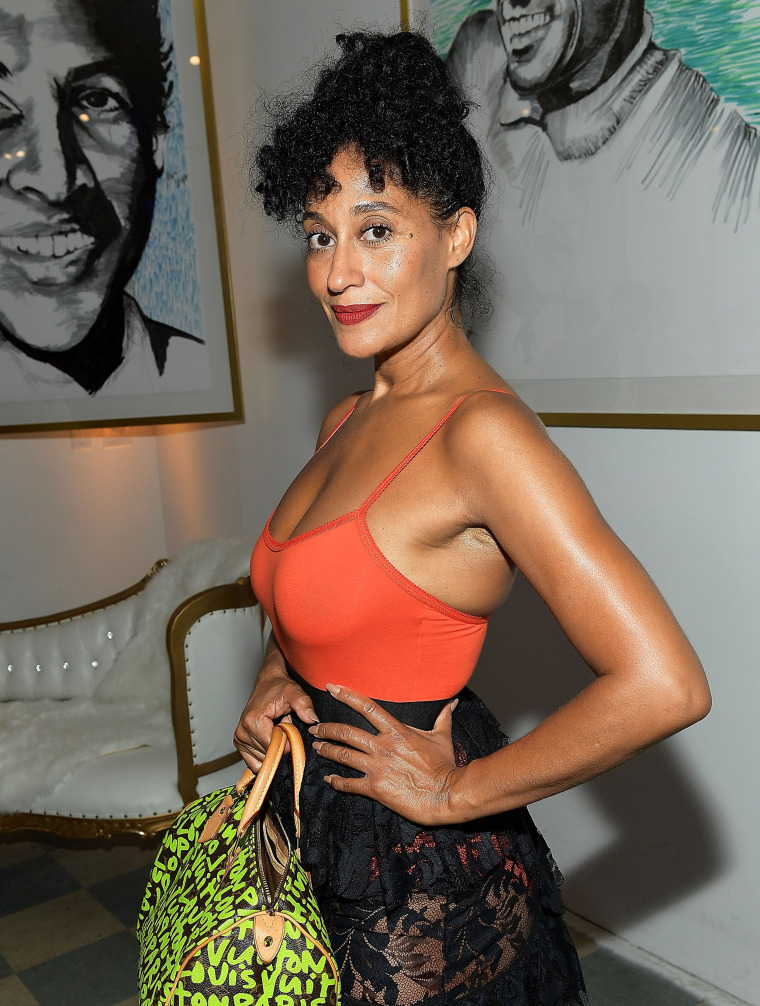 Ross says sometimes she just needs a quick A to B style to carry her over.
"This is a top bun with a curly bang. Nothing happened here. I diffused my hair and then I put it up and that was it. Nice. Quick."
That's it.  
Know your hair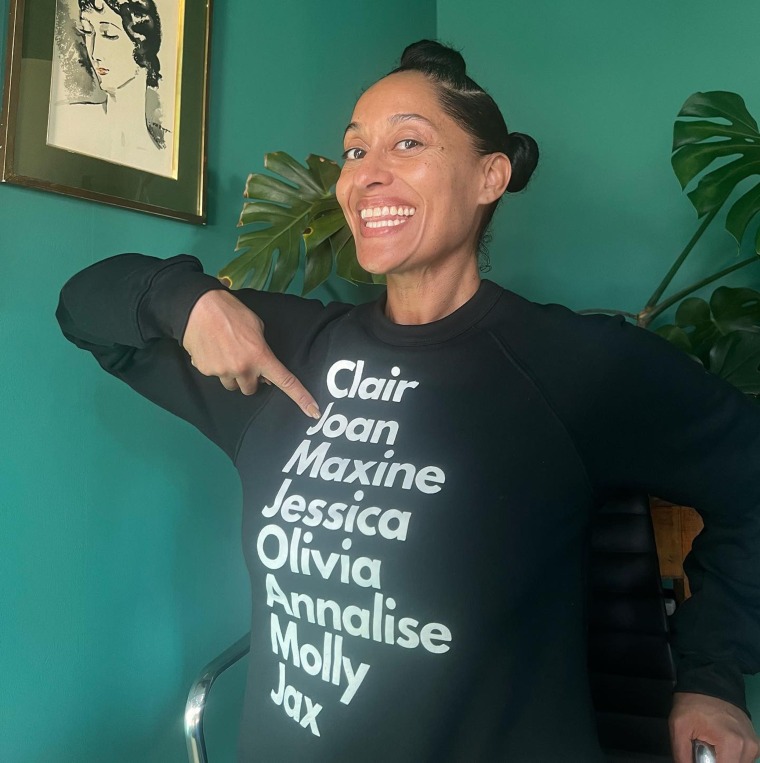 "This is me at home. I did three buttons... you see my nice cute little part."
Ross says she used a lot of leave-in conditioner and styling cream to give her a slick look and used hairpins to give the style a finished look.
"I had two buttons on either side, low, and then the top one," she says.
Ross says over the years, she's learned what works for her hair and what doesn't.
"This is an everyday hair. So my hair does not do set styles like twist outs and stuff like that. It doesn't work with my patterns. I don't know why," she says, so instead she's leaned into finding what does work and sticks with that.
For example, something super specific to her is that she parts with her eyes closed, and she encourages everyone to find what works for them.
"I use (my) fingernails (to part) and I honestly can't do it in the mirror," she says. "I have to close my eyes and feel it on my scalp. I part with my eyes closed and then check it to make sure."
Slay!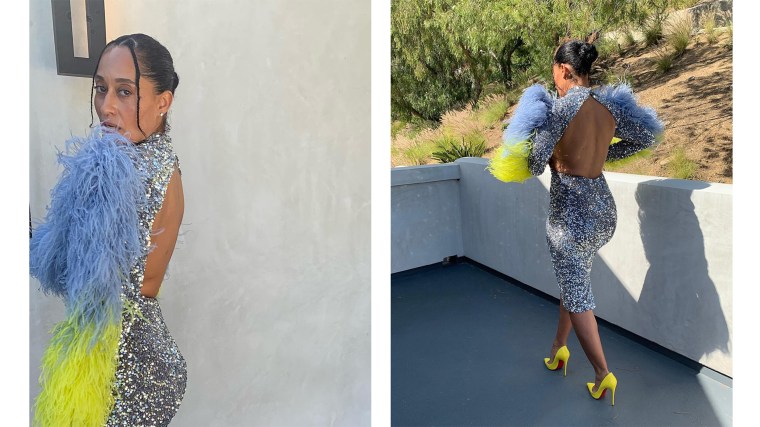 Ross says this style was done by Marcia Hamilton, a hairstylist who worked on "Black-ish." It is simple yet elegant.
Whatever hairstyle Ross ends up with, she just has one goal in mind: Slay!