Kourtney Kardashian's latest hairstyle is a blast from her own beauty past.
The reality star, 43, just debuted a sleek new platinum blond bob that looks a lot like a haircut she once rocked in the 1990s.
Over the weekend, Kardashian shared photos of her cropped cut and tagged hairstylist Glen Coco Oropeza. In the pictures, the mother of three rocks an all-black leather ensemble and shows off her blunt, chin-length bob.
In a follow-up post, the "Kardashians" star shared several photos of herself at a Las Vegas casino. She tousles her hair and shows it off for the camera as she rocks a T-shirt that features her husband Travis Barker's band, Blink-182.
"Every now and then when your life gets complicated and the weasels start closing in, the only cure is to load up on heinous chemicals and then drive like a bastard from Hollywood to Las Vegas ... with the music at top volume and at least a pint of ether," she captioned the post.
Kardashian shared the inspiration behind her new do in her Instagram stories and posted a throwback photo of herself circa 1995. At the time, she was in school and decided to experiment with her mane a bit.
"Bored during finals, convinces someone to dye my hair blonde to procrastinate," she captioned the photo.
Granted, Kardashian's '90s blond bob was a bit less platinum and a little bit more of a lob (long bob) than a bob. But it's pretty darn similar all the same.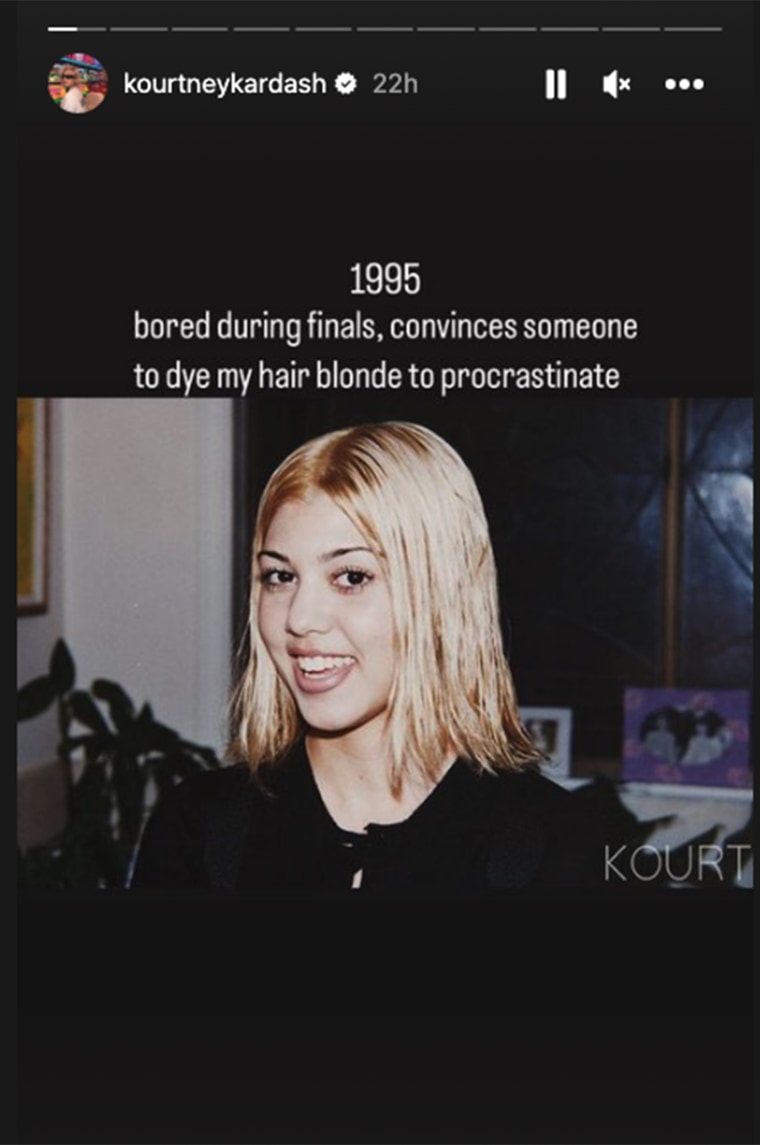 As it turns out, Kardashian's latest mane move was also inspired by Drew Barrymore. In her Instagram stories, Kardashian posted a photo of a sassy platinum blond bob that the actor once had.
In recent months, Kardashian has been spotted rocking her signature black locks in a sleek bob.
Over the years, she has switched up her strands on multiple occasions, and she has gone back and forth between long and short hair.
She's also flirted with in-between lengths.
Kardashian has mostly stuck with her signature black hue, but she has tried blond on for size while playing dress-up on multiple occasions. For instance, she sported this ultra curly blond do during the Halloween season in 2021.
Just days later, she also shared a photo of herself donning a wavy blond bob.
In 2019, Kardashian left fans wondering if she had dyed her hair or if she was simply sporting a long blond wig when she posted the following photo:
Kardashian always seems to return to her dark strands, so only time will tell how long the fashionista will keep her latest blond do.