Blake Shelton going on tour presented his wife, Gwen Stefani, with an opportunity to remind everyone that the country heartthrob is hers.
The "Boys 'Round Here" singer launched his "Back To The Honky Tonk Tour" last week and will be on the road through March 25. At a recent tour stop, the "Hollaback Girl" singer gave him a special keepsake backstage.
She posted a picture on Instagram of the gift: a jean jacket with "Mr. Stefani" bedazzled on the back.
"Someone got a new jacket," she said in the caption. "I wonder who it could be."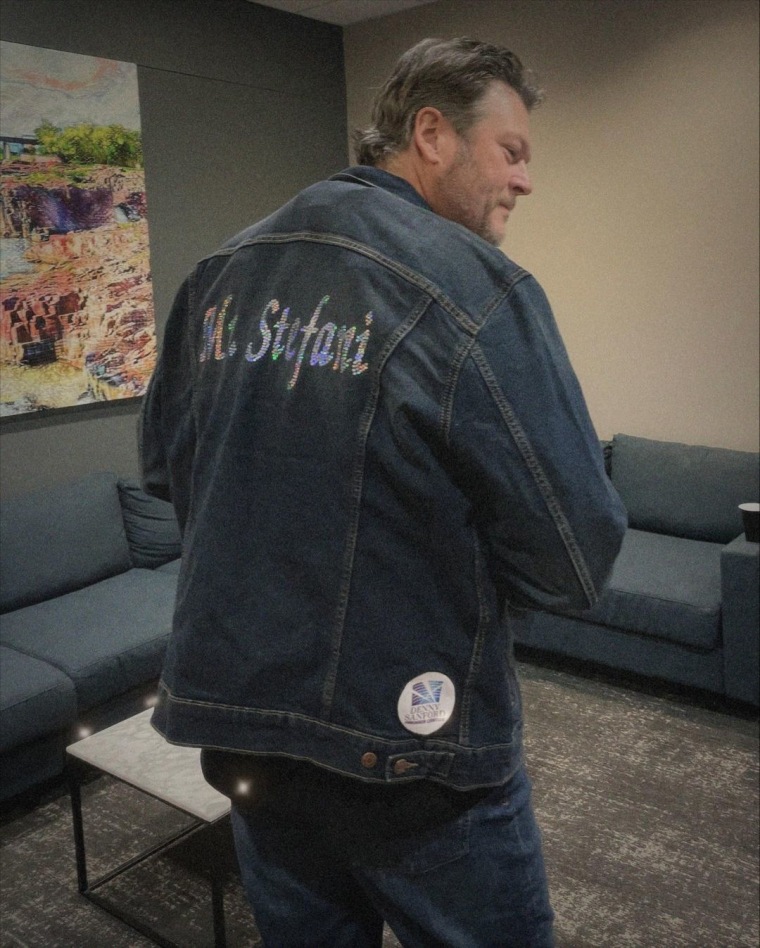 The couple married in 2021 and regularly gush over each other. They were previously married to other people before finding each other — Stefani to Gavin Rossdale, Shelton to Miranda Lambert. In November, Stefani said on "The Drew Barrymore Show" that a higher power brought them together.
"God just put us together," she explained. "It was one of those miracle situations where I didn't see it coming. I was like, 'I'm going to wake up every day. I'm going to have a coffee. I'm going to take care of my kids and then I'm going to go to bed.' I'm never going to kiss anyone, I'm never going to — you know me: I thought my life was over. And then Blake Shelton's like, 'Hey! I'm Blake Shelton.'"
She said the best part has been finding someone who gets her.
"Finding a best friend, someone that is on the same plane when it comes to morals or just the way you look at life, that's the dream," she said. "Just having someone that, we think the same about things. Yeah, we're so different. He's watching football and doing his stuff that he does and I'm putting makeup on, so whatever. We are so different, but yet we're so the same on so many levels."
Shelton has become stepfather to Stefani's three boys, Kingston, 16, Zuma, 14, and Apollo, 8, whom she shares with Rossdale. Shelton told People last December how becoming a parental figure has changed him for the better.
"They've taught me something about myself that I never knew: I'm more than just a country singer or a goofy guy. I'm someone they actually lean on, and that's not a responsibility that I ever had and not something that I ever considered even being into," he said.
It's "a different kind of self-worth," he described.
"Maybe it's the opposite of self-worth because you put yourself way down on the rung, and they move up ahead of you," he said.
Shelton announced in 2022 that he will be leaving as a coach on "The Voice" this year to open up his schedule so he can spend more time with the boys and his wife.
"You don't know what your regrets are going to be until you look back one day," he told People. "I feel like my regrets would be, if I stayed on this path, that I am missing out on some more important things in life — and for now, that's our kids."