A school superintendent's email has raised the question of whether teachers wearing capri pants is unprofessional, and what pant length is considered acceptable attire to wear at school.
Teachers in the Douglas County School District in Georgia have been abuzz since receiving an email from Superintendent Trent North that listed capri pants as inappropriate dress along with sneakers, flip-flops, shorts and jeans, according to NBC affiliate WXIA.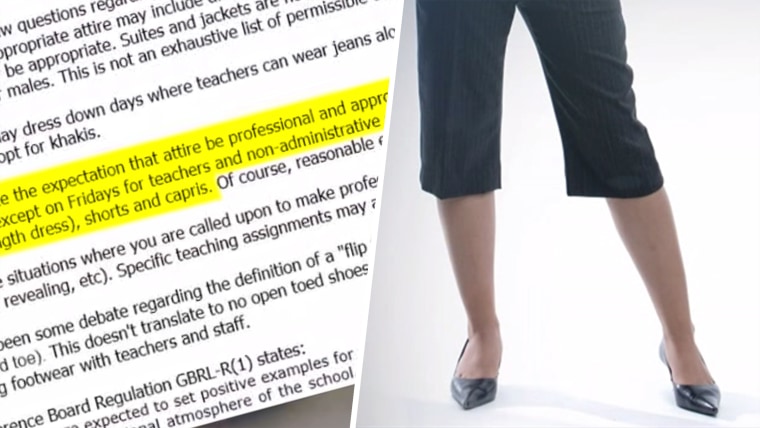 The issue is particularly pertinent right now since teachers occasionally wear the cropped style given the high temperatures in Georgia as students return to school this month.
"Please emphasize the expectation that attire be professional and appropriate,'' the email reads. "Some items of clothing that are not appropriate for work include jeans (except on Fridays), flip-flops, sneakers, leggings (except when worn with an appropriate length dress), shorts and Capris."
A family member of several district employees called it "ridiculous" to WXIA.
North stressed that it is an expectation, not a strict ban on capris, noting that if it's something a teacher wouldn't wear to an interview, then he or she should not be wearing it in a classroom.
A few inches of fabric can be the difference between appropriate and inappropriate as far as North is concerned. Any pants just above or below the knee are not acceptable, but if it's just an inch or two above the ankle, that's fine, he told WXIA.
"A longer version of shorts, it isn't business,'' North said. "It isn't professional. If a teacher comes into the building with pants just above the ankle, no one is going to say a word."
This latest controversy contrasts with the usual scenario of students getting upset over dress code rules and expectations. Last week an Illinois teen fought back after she was asked to retake a yearbook photo in which she wore a shoulder-baring sweater.
In May, twin sisters were banned from school activities for wearing braided hair extensions, sparking outrage. A month earlier, a Tennessee high school student won a successful battle for shorter shorts and skirts, while a mother in San Antonio was upset after the length of her daughter's dress triggered a violation of school policy.
Follow TODAY.com writer Scott Stump on Twitter.