Trinity Faith Moran, 11, was born for the runway.
Growing up in North Richland Hills, Texas, Trinity lived in dress-up clothes and high heels. "She was always getting into my makeup," Kimberly Rasmus, Trinity's mother, told TODAY.com. "Her clothing always had to be just so."
And when Trinity — a top model name if we ever heard one — was diagnosed with a rare cancer called rhabdomyosarcoma last June, she wasn't going to let it cramp her style.
RELATED: Leah Still walks New York Fashion Week runway after finishing cancer treatment
"Even when she went through chemo and lost her hair, she couldn't wear just any old hat," said Rasmus. "It had to match her outfit."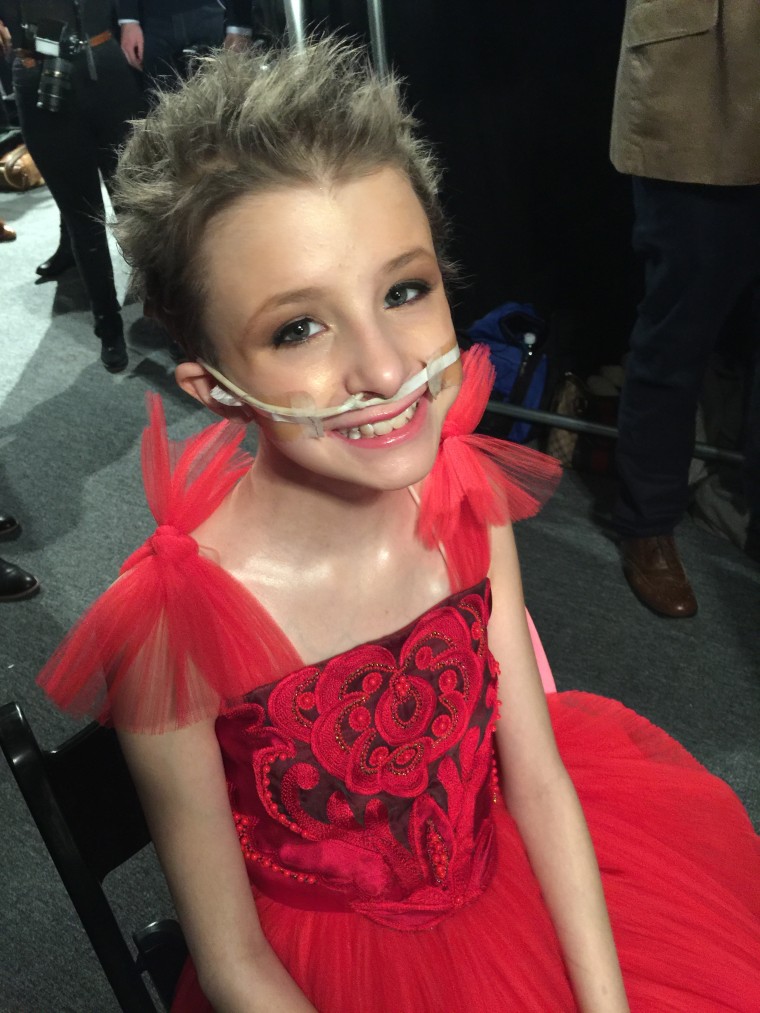 Trinity finished chemo and radiation in December, but a scan in early January revealed multiple aggressive tumors that had resisted treatment. At a doctor's suggestion, the family reached out to Make-A-Wish, which helps arrange experiences for children with life-threatening illnesses.
RELATED: Model Dayna Marie battles cancer while walking the runway
"Trinity said, 'I want to do a fashion show. A real one, with real models like Gigi Hadid. I want someone to design outfits for me, and I want it to be somewhere like New York or Paris,'" Rasmus said. "As her mom, it scared me. I had no idea if something like that would be possible. I didn't want her to be disappointed."
Within a week, the family heard from Make-A-Wish: Trinity would fly to New York for a fashion week experience with red carpet and first lady favorite Naeem Khan.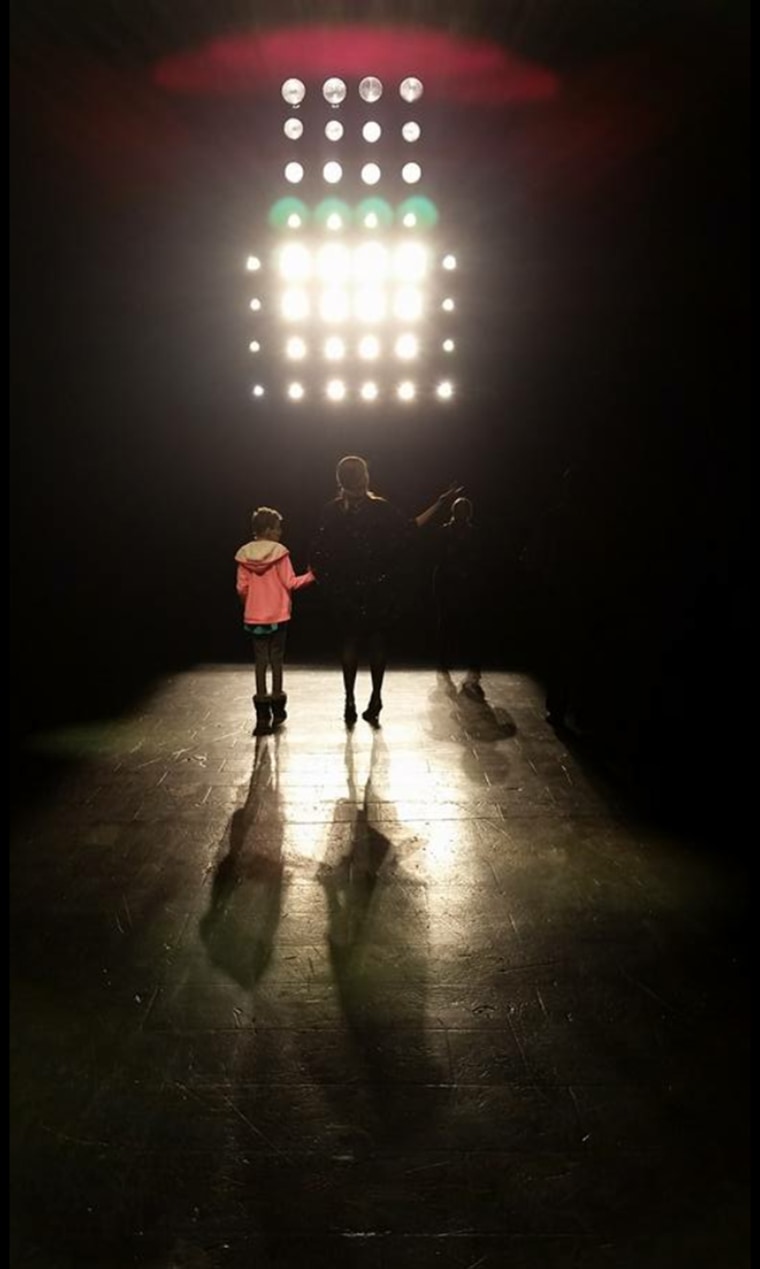 "In walks this tiny, frail girl — so pretty, so sweet. And I was so happy to see her, but so sad inside," said Khan, who arranged for Trinity to participate in the show after being approached by close friend Mary Alice Stephenson of GLAM4GOOD and Make-A-Wish.
RELATED: Model who lost leg to toxic shock syndrome makes fashion week debut
"I said, 'I want to design a dress for you, and I want you to design it with me.'"
Khan sprawled on the floor with Trinity and sketched three dresses loosely based on the designs featured in his latest collection. "It was important to me that her dress be made from the same fabric," Khan told TODAY. "I wanted her to feel like part of the whole thing."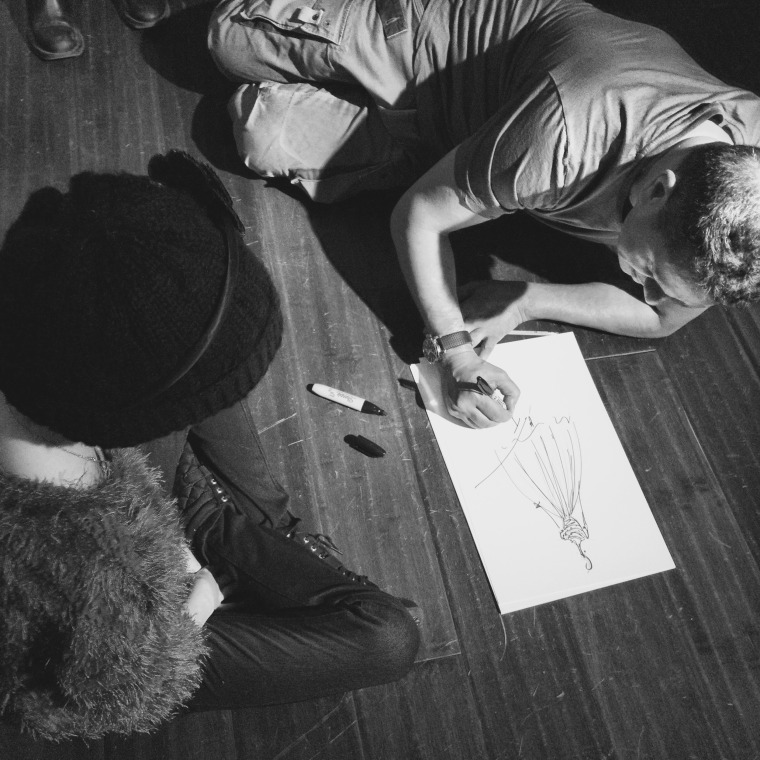 The two worked together, choosing Trinity's favorite color and cut and adjusting the design to conceal the medication strapped to her chest. Khan's team worked through the night to hand-stitch Trinity's custom couture gown.
"They treated her like she was a world-class model," said Rasmus.
RELATED: Tamron Hall struts for heart health in New York Fashion Week
On the day of the show, Trinity got her hair and makeup done before being ushered to a front-row seat with her mom to watch. When Khan came out for his bow, he strode over to Trinity, grabbed her hand, and led her down the row of models lining the runway.
"Her hand was quivering, so I put my arm around her said, 'Your day,'" Khan recalled. The two smiled and waved at the crowd.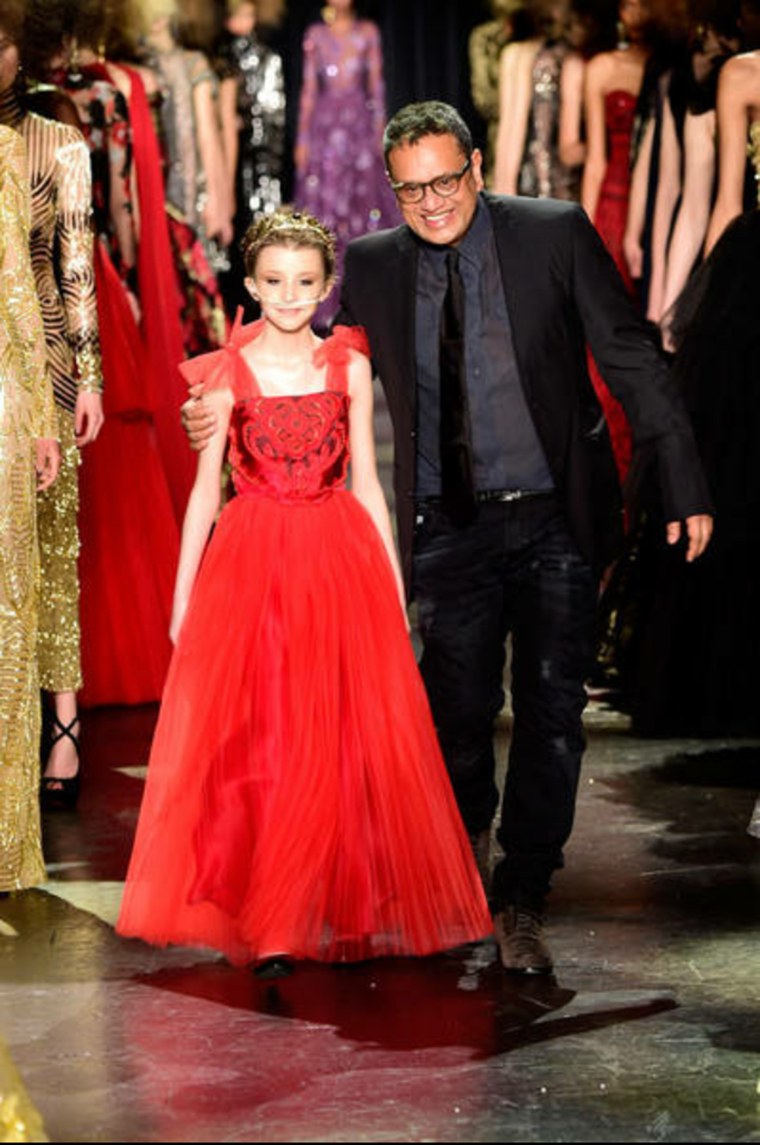 The show was a valuable self-esteem boost for Trinity. "Now she's like, 'I'm definitely going to model. If anyone wants me, I'm ready to go now,'" said Rasmus. "She wants to shoot a portfolio. It gave her something to work towards, and motivation to stay strong and fight."
And Khan found it equally impactful. "I couldn't stop thinking about it," the designer said. "You know, most of what I do is so glamorous. I like bold. I like shiny. I was wrapped up in this sci-fi 'Phantom of the Opera' fantasy that cost millions of dollars," he said.
"Doing this put things in perspective. It all means nothing if we don't give back in a meaningful way. I want to see more and more things like this happen in the fashion industry."