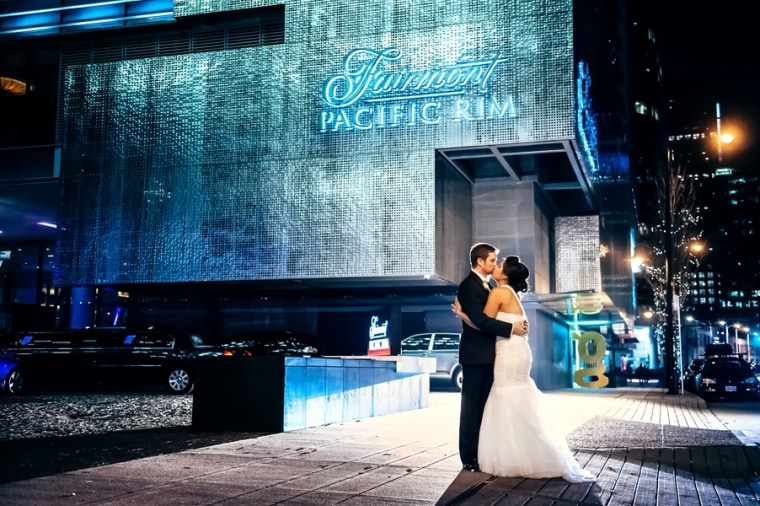 When Rocio Venida first laid eyes on Chris Phillips on the dance floor at a party, she immediately noticed he had something most men do not: rhythm.

The two met at a Halloween party in 2010 in Toronto, where they had both moved shortly before meeting. After striking up a conversation, they danced away most of the evening.
"He has some really good dance moves," she told TODAY.com. "He's a really good dancer."
"We charmed each other on the dance floor that night," Chris said. "We immediately connected."

That connection deepened when the two went to a hockey game, as any proper Canadian couple would. Rocio's hometown team, the Vancouver Canucks, just happened to be coming to Toronto to play the Maple Leafs the following weekend.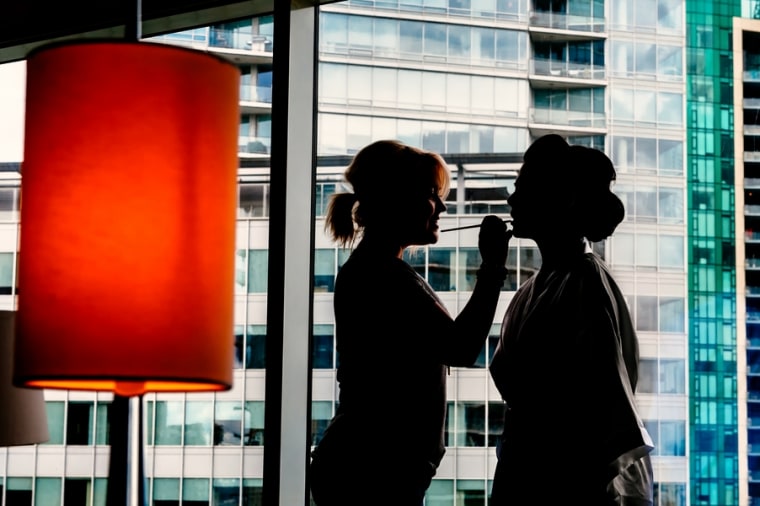 Because every Canadian man looks for a loyal hockey fan in a woman, Chris couldn't help but be impressed with Rocio as she heckled the referees and "enthusiastically" cheered on the Canucks. Rocio, on the other hand, noticed when Chris started cheering for her team, even though the Canucks were a rival of his childhood home team. 
"I knew I was in love," she said.

Two years later, the couple traveled to the Philippines, Rocio's place of birth, to spend the holidays with some of her family. While Rocio thought it was just a holiday family getaway, Chris had a little something special planned: He was going to propose at some point during the last few days of the trip, after getting permission from her parents.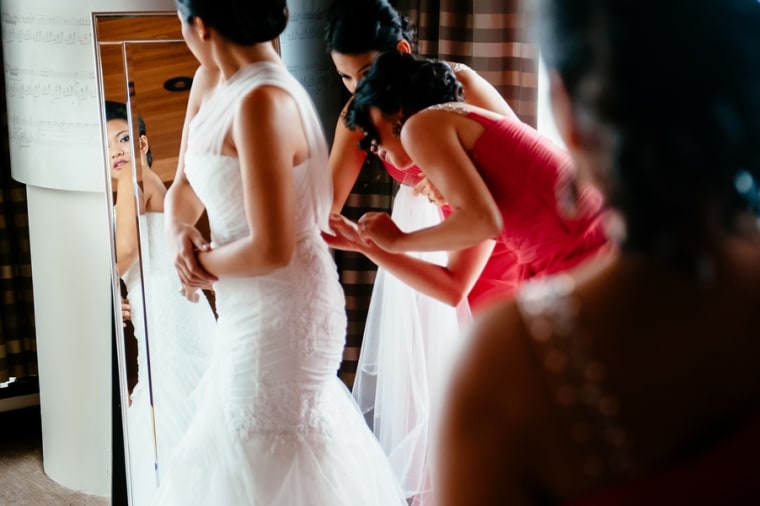 "I had to carry and care for this ring for a week and a half while we were traveling throughout Asia," Chris said. "That was a little nerve-racking."
Toward the end of their trip, Chris and Rocio were sitting on their hotel room's balcony before dinner when Chris knew it was time to get down on one knee.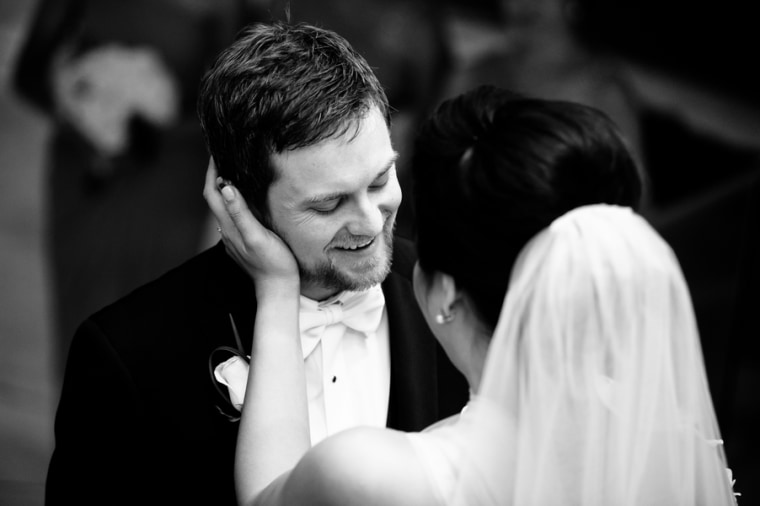 "I had a million great lines in my head and had rehearsed it a million times," Chris said, "but when the time came, I got pretty flustered."
Rocio quickly could tell something was going on. "He just grabbed my hand to get my attention and had this look on his face," Rocio said. "I just started crying from there. I think I yelped 'yes!'"
Though the couple were living in Ontario at the time, they decided to get married on Nov. 16, 2013, in Vancouver, British Columbia, where most of Rocio's family lives. It may have started out as a destination wedding for the happy couple, but they ended up moving to Vancouver shortly before the ceremony to be back in Rocio's hometown. 
"We wanted it to be as elegant as possible and to give people a great experience," Chris said. They chose the Fairmont Pacific Rim hotel as the venue, loving its urban setting and intimate feel.
For the rest of the wedding planning, they split up the duties: Chris handled music and photography, while Rocio focused on taking care of the food and flowers.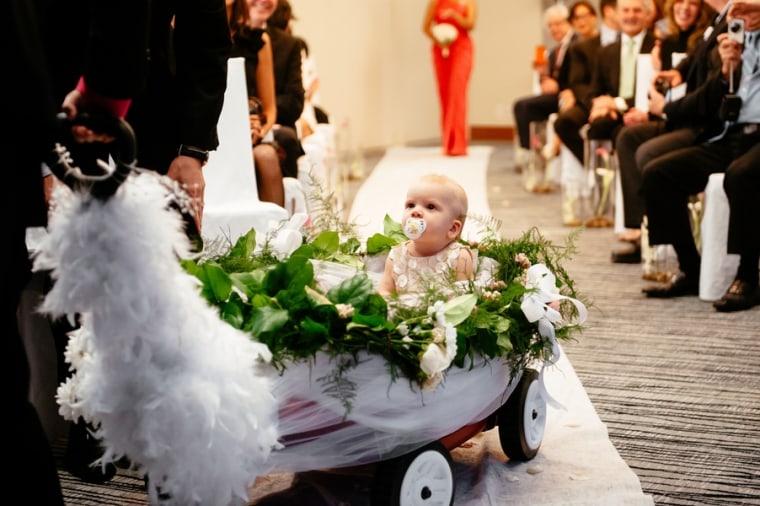 "Delegation of duties was pretty key," Rocio said. "We had a pretty comprehensive spreadsheet of responsibilities. It's pretty nerdy."
The pair decided on a travel theme: Every table had a photo of a destination they had visited, from Europe and Asia to various destinations in the USA and Mexico, white the seating chart and guest book were made to look like luggage tags. Guests also were able to write well wishes for the couple and fold them into paper planes.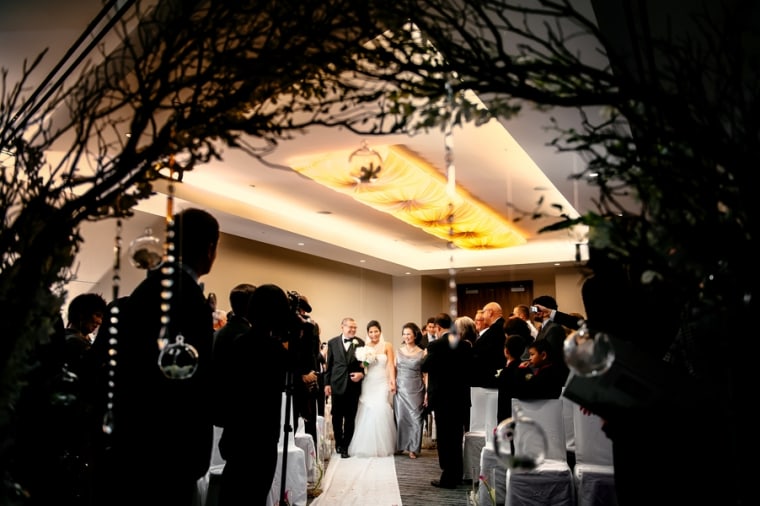 When Nov. 6 arrived, the groom spent most of the morning dealing with a basket case in his wedding party: His best man couldn't hold back his tears, so Chris joked that he spent most of the morning calming him down. They enjoyed a few drinks to relax before Chris left to meet Rocio for his first look at his bride.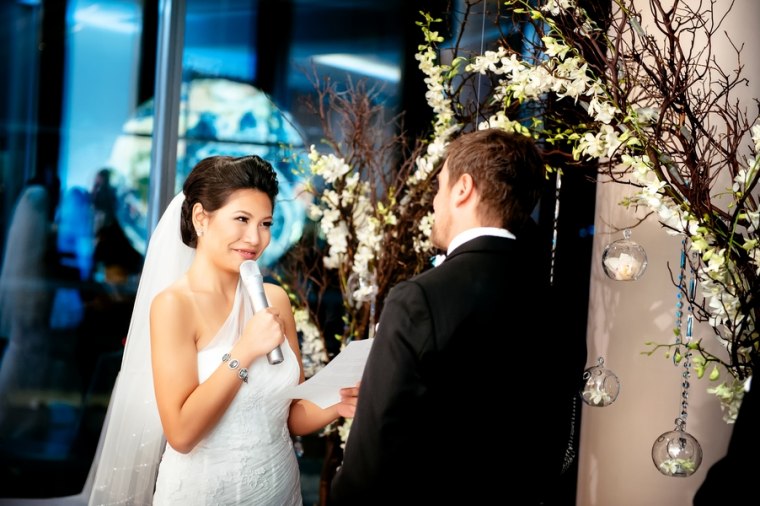 "It took my breath away to the point that I was at a loss for words," Chris said.

"He looked amazing and so happy," Rocio said. After a few pictures, it was time for the pair to become husband and wife.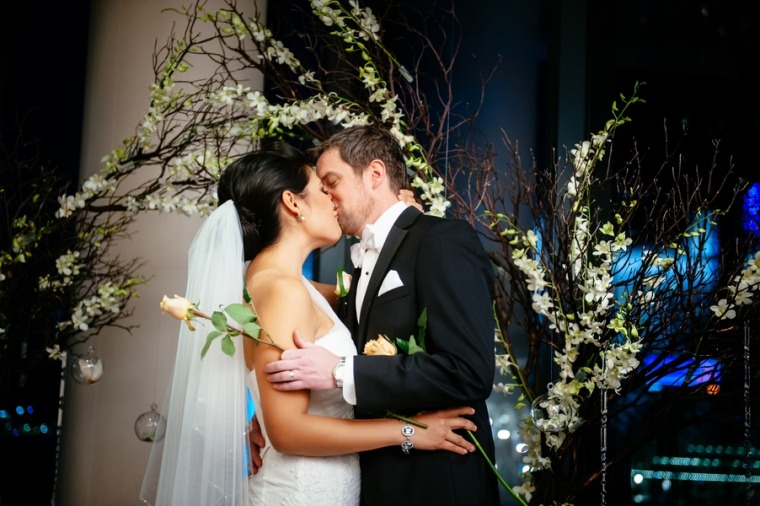 Before Rocio made her way down the aisle to her groom, her nephew pulled her infant niece — the flower girl — down the aisle in a red wagon. "Up until the moment she was coming down the aisle, we were wondering how she was going to react," Chris said. Fortunately, all went smoothly.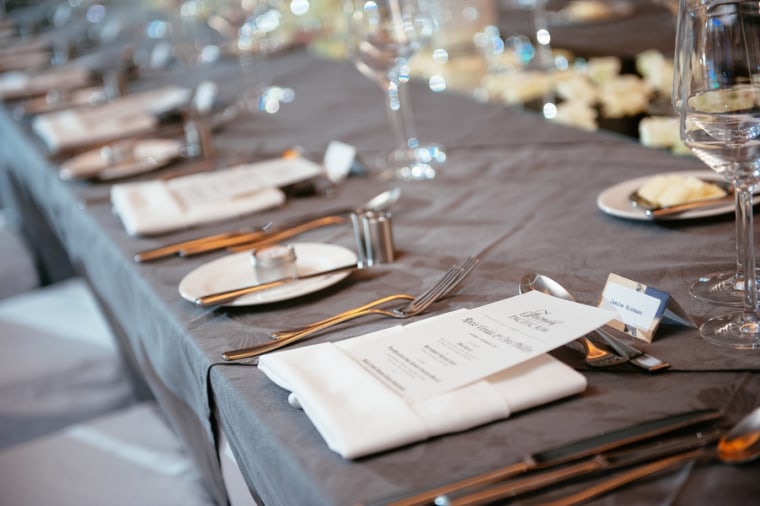 Wearing a Monique Lhuillier gown that she said was "as close to couture as she would ever get," Rocio walked down the aisle to her groom. After exchanging rings and handwritten vows, the two were husband and wife.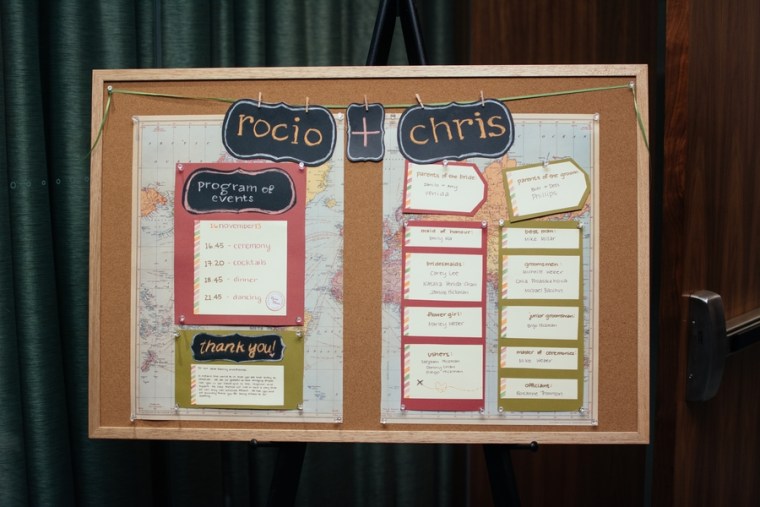 While their 125 guests enjoyed the cocktail hour, the newlyweds escaped to take pictures with their photographer and wedding parties. As they posed, a special guest from one of the couple's first dates made a sudden appearance: A goalie for the Vancouver Canucks walked into the hotel, passing by Chris and Rocio.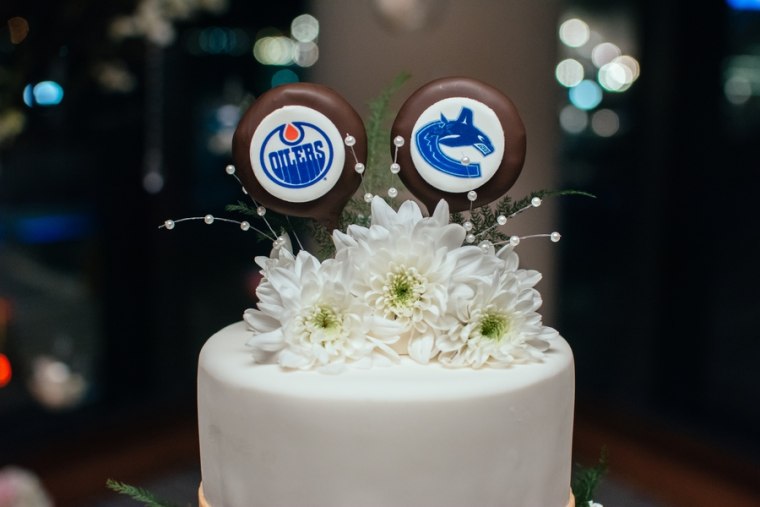 "That was an interesting moment for me as a new husband, because immediately the attention went from me to him for 30 seconds," Chris said.
Once Rocio regained her composure, the newlyweds joined their guests for dinner, cake (topped with hockey pucks) and lots of dancing.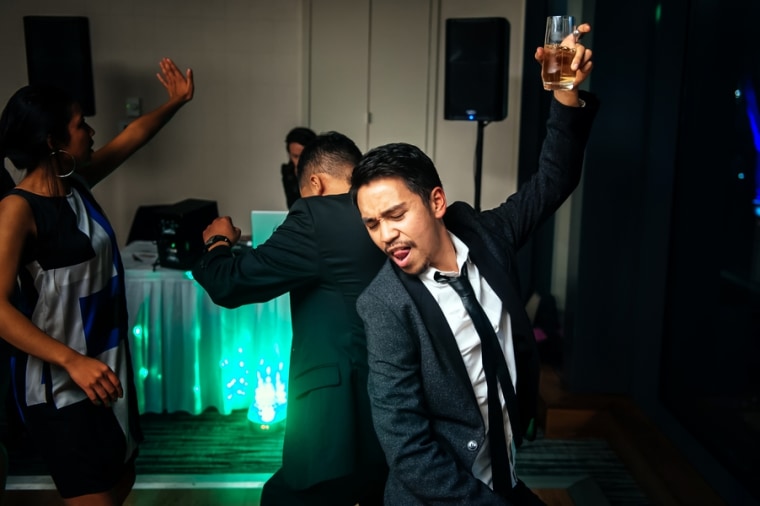 "There was a lot of interesting participation on the dance floor," Chris said. "A lot of folks drank too much."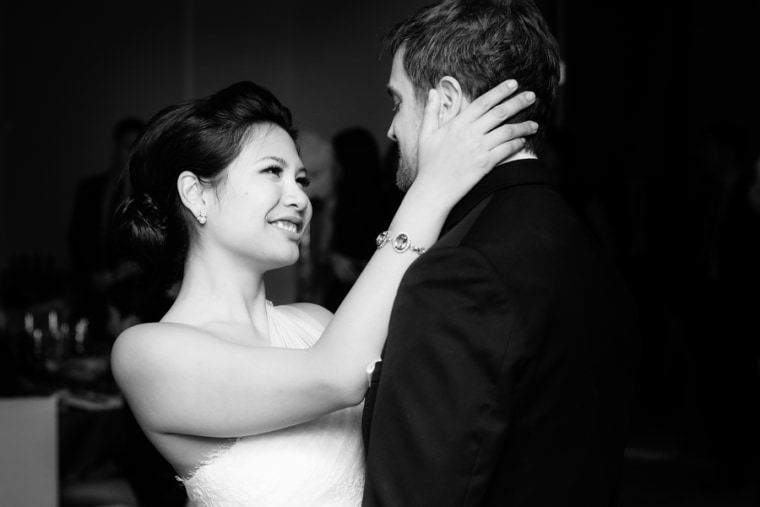 The couple are now enjoying newlywed life in Vancouver, and while they weren't able to get away for a honeymoon immediately afterwards due to work schedules, they plan to take travel this December to Hawaii.

The romance deepened over their mutual love of their national sport.
All photos provided by Will Pursell Photography. Want to submit a real wedding? Send us your story and photos here. You can see more from the TODAY Real Weddings series here.