We know trying on bathing suits is about as much fun as scooping out cat litter. But what's even less enjoyable, for most of us? Bra shopping. That's because many of us wear the wrong size, whether it's too big or too small or just simply ill-fitting in general. And it's why we let out that groan of relief when, at night, we can unhook those straps and go au naturel.
So let's start with the basics. Yes, you can measure your bra size at home — we promise: It's easy.
And of course, there's an abundance of styles out there to choose from, which can make your head spin. Despite all the choices out there, "women are still very confused about bra sizing," said Elisabeth Dale, the author of "The Breast Life Guide to the Bra Zone: How to Find Your Ideal Size, Style, and Support."
In fact, said Dale, "Most think that bras run from A to DD, when in fact they go from AA to K and beyond, depending on what country the bra is made in. There is a myth that you are one cup size, but again, cup volume changes over the band size. So a 32D is equivalent to a 34C, and a 36B."
So wait, how do you know the bra is all wrong?
One sign is that "the center gore between the two cups does not lay flat against the breast bone. Also the obvious one of boobs spilling out over the cup, or under, means you're wearing too small of a cup. Finally, when a band rides up the back, it means your band is too big. The back band and front should be even," said Dale.
And there's no one-size-fits-all solution.
"It totally depends on your size and where your breasts are placed on your chest. Fuller busts will find full cup bras more comfortable. Women with wider-set breasts may want to go with a plunge bra to bring boobs closer together," said Dale. "And those of us with more shallow breasts (less muffin top boobs) or breasts set closer together find demi and balcony bras give them the best silhouette under their clothes. It all comes down to finding a bra that makes us look our best in our clothes."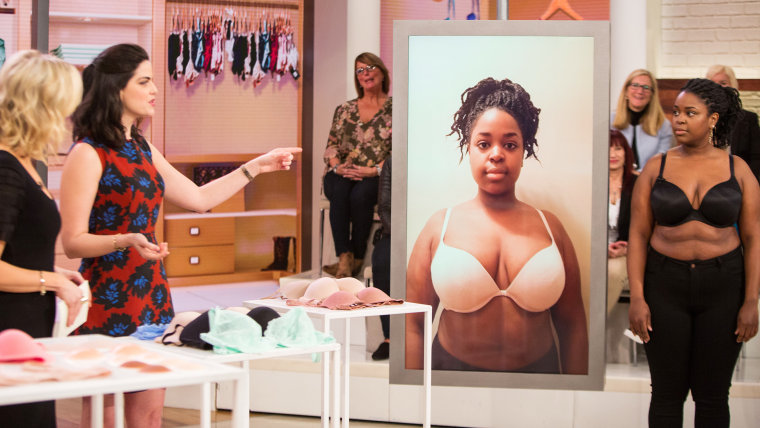 Her tip: "Always try on your clothes over a bra before you buy it!"
So, what to buy? On Megyn Kelly TODAY, expert bra fitter Kim Caldwell suggested the following undergarments for all your needs. Her one tip for the perfect fit: "Make sure that the band is snug and parallel to the floor. It provides about 90 percent of the bra's support."
Slipping on that ideal undergarment is important, for one simple reason: "Every woman deserves comfort and confidence in her bra," said Caldwell.
We couldn't agree more.
Skin-tone bra: OnGossamer beautifully basic lace plunge bra, $43, Amazon
Full-figure bra: Dreamfit spacer bra, $12, Walmart
Full-figure bra: Dreamfit lifting plunge bra, $12, Walmart
Molded bra: OnGossamer mesh bump it up bra, $46, Amazon
Bralette: OnGossamer next to nothing bralette, $34, Amazon
Pasties: NuBra self-adhesive pasties, $19, Amazon
Here are some of Amazon's top-rated and best-selling bras and breast petals for any body type. All prices are subject to change and items could sell out based on the merchant's inventory.
Vanity Fair beauty back full wirefree bra 71380, $25, Amazon
Warner's this is not a bra full-coverage underwire bra, $25, Amazon
Hanes comfort evolution bra, $15, Amazon
Holisouse strapless sticky bra, $15, Amazon
Dear Drew by Drew Barrymore bonne nuit lace bralette, $11-54, Amazon
Hanro luxury moments lace soft cup bra, $79, Amazon
Charmking reusable adhesive nipple covers, $12, Amazon
Commando lace bandeau, $58, Amazon