Who needs a bonnet? These Easter nail art designs will be the starring accessory of your Sunday best. Top nail bloggers show us just how sweet—and simple—holiday nail art can be to do yourself, no expensive nail salon required.
Ten little bunnies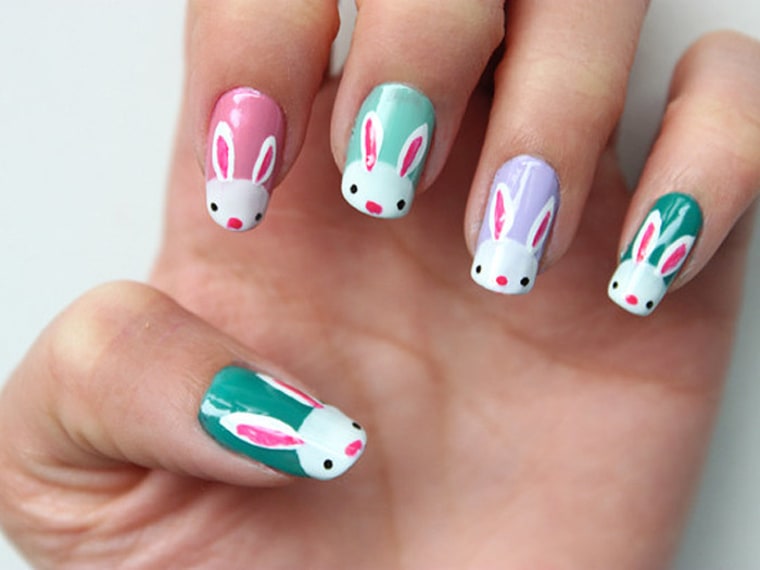 It only takes a hop, skip and a jump to create these curious cottontails, featured on the blog "Syl and Sam." You will need a selection of pastels for the ears and a black nail art pen for the eyes.
Mixed motif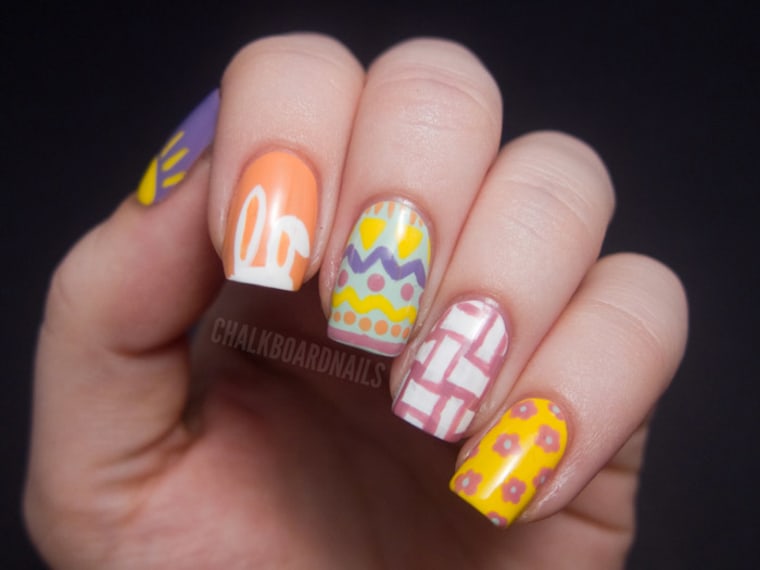 The nail art blog "Chalkboard Nails" paired several sweet Easter motifs, from floppy ears to dainty daisies, in one cute mani.
Marvelously marbelized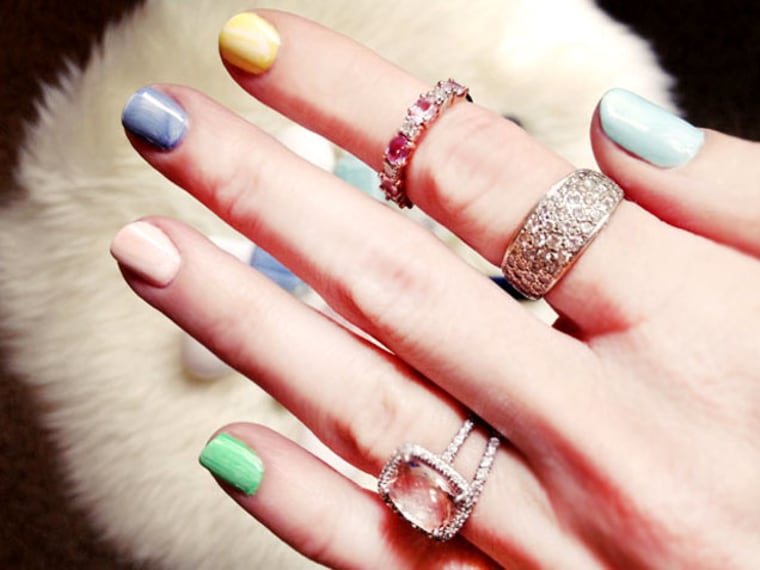 Inspired by memories of marbleizing Easter eggs as a child, the blogger behind "Love Maegan" created candy-colored nails with a swirly, milky finish. The easy technique involves mixing two pale polishes directly on the nail for dimension and depth.

Malted manicure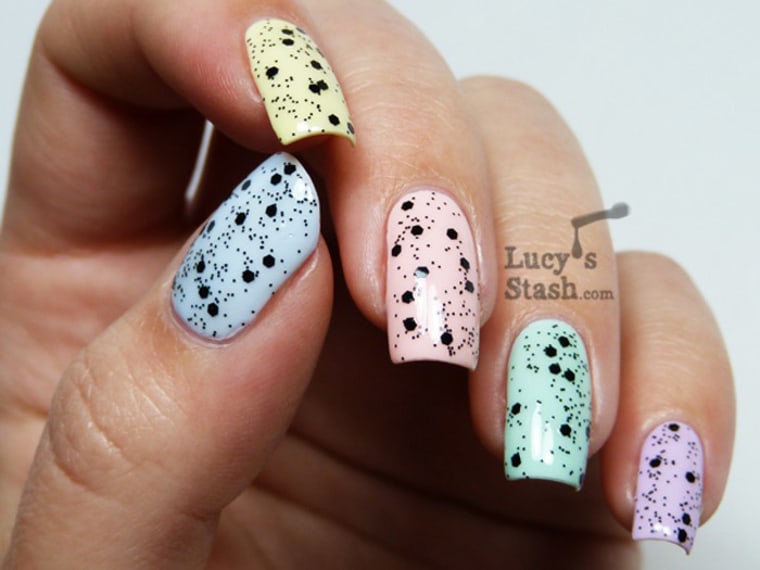 To create the look of speckles floating in pastel polish, Lucy of "Lucy's Stash" layered glitter between thin coats of chalky pastels. The final result resembles those deliciously speckled malted chocolate eggs!

Sparkling eggs

The blogger behind "The Nailasaurus" combined speckles, sparkles and feathery strokes for one stunning springtime mani.
Ears and all!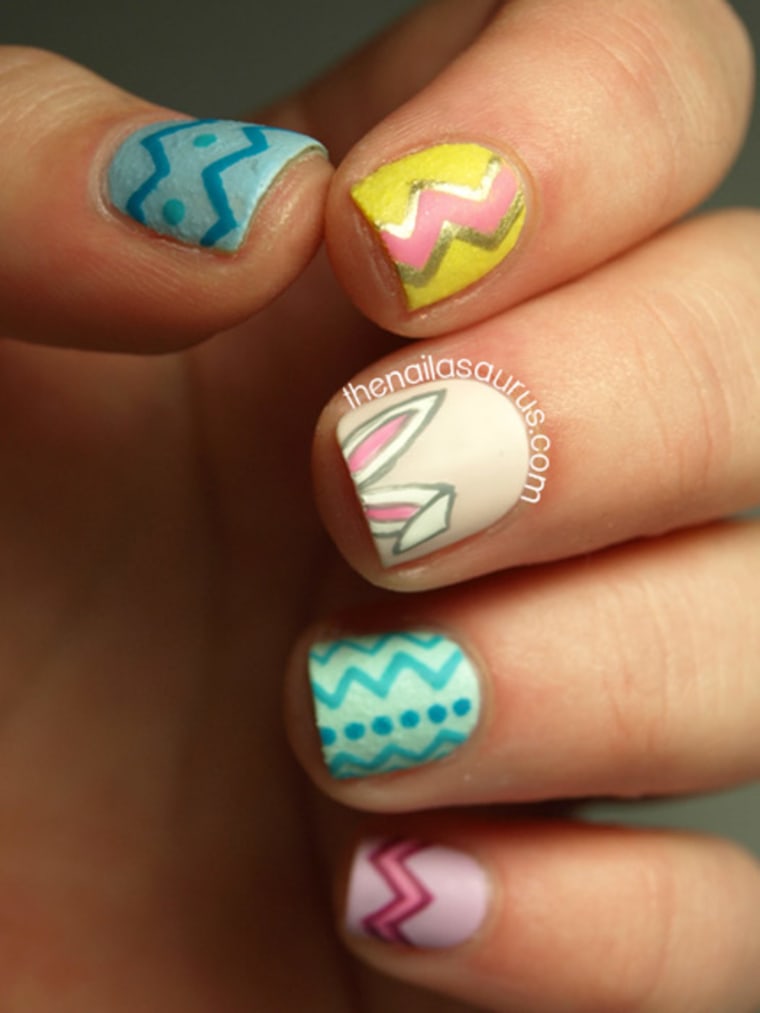 Why choose when you can decorate your nails with eggs and bunny ears? "The Nailasaurus" blogger employed a variety of techniques—and a few well-chosen metallics—to nail the look.
Pastel polka dots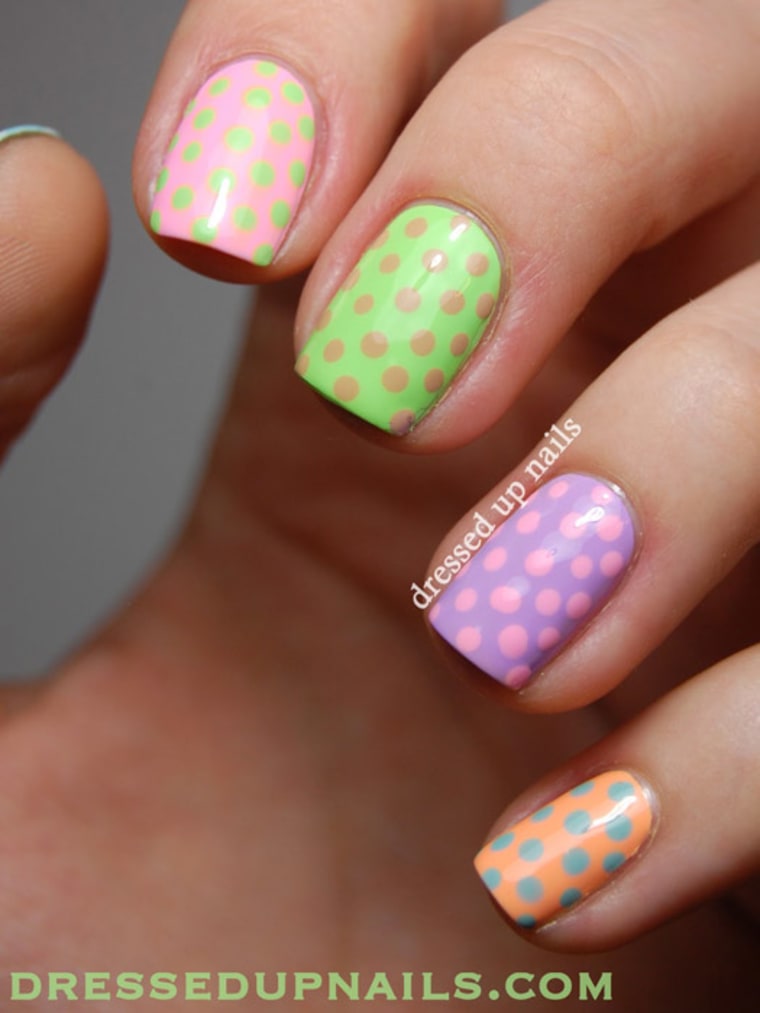 This mixed-pastel mani from the blog "Dressed Up Nails" is playful, sweet and easy to execute. Simply paint on an assortment of Easter-inspired shades and use a small dotting tool (or the end of a bobby pin) to add contrasting dots. 

Pastel camouflage print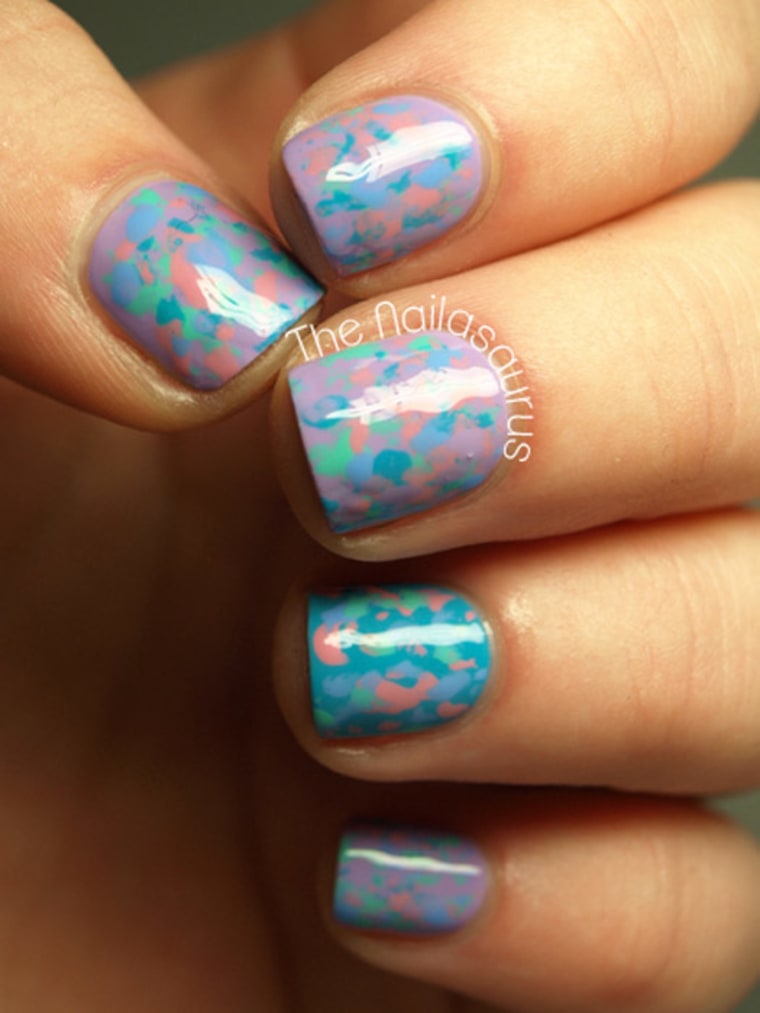 Swapping pastels for the typical army-surplus shades, "The Nailasaurus" blogger whipped up these cute camouflage nails.

Studded chevron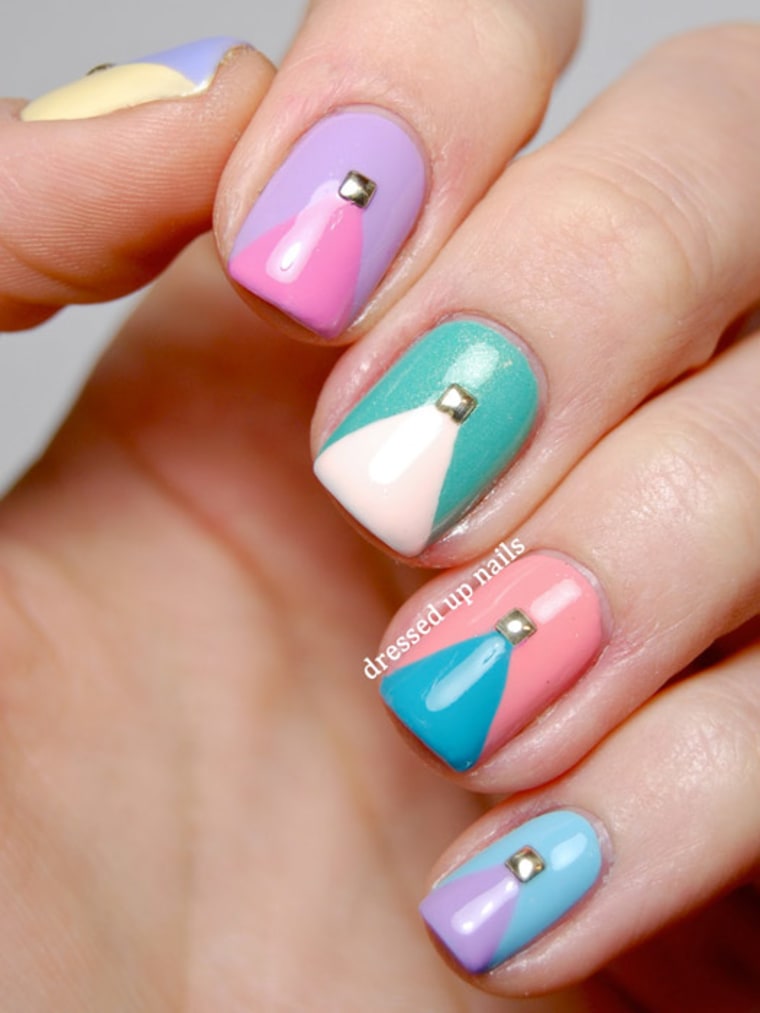 Now here's an Easter look with a bit of edge. Whitney from "Dressed Up Nails" added little studs to her geometric pastel design—a trick that has the added benefit of making nails look longer and more elegant.

Pretty tribal print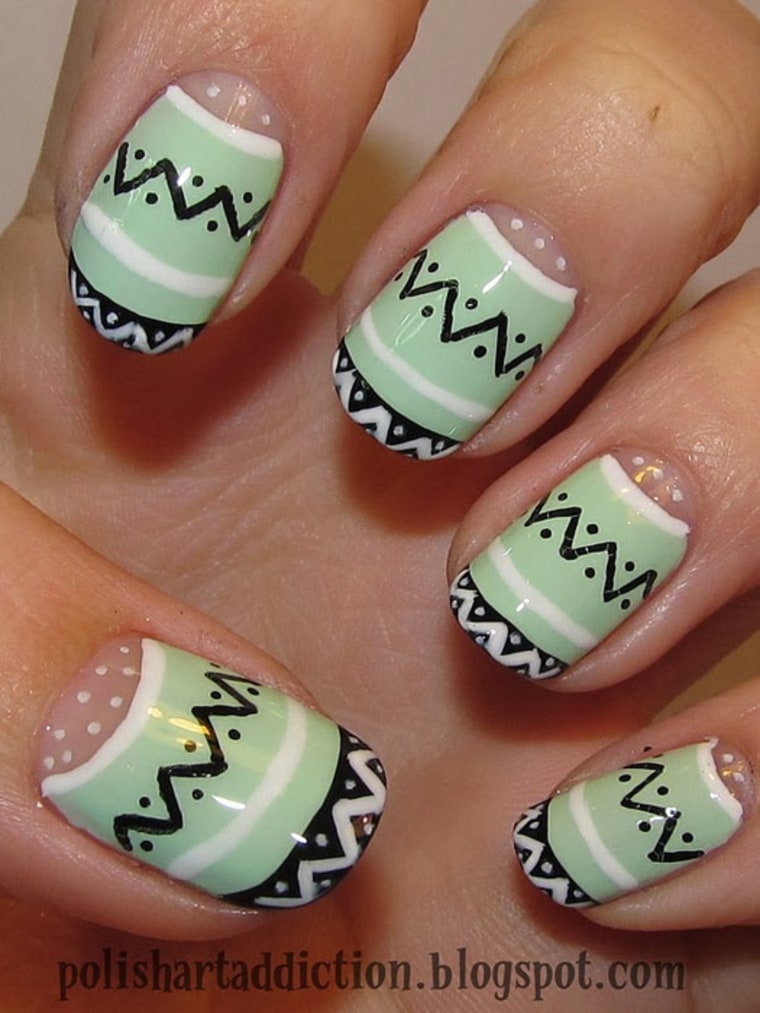 If Easter eggs walked the runway, they might look something like these chic tribal print nails from "Polish Art Addiction."