One of our favorite brown-haired beauties, actress Lucy Hale, has officially gone to the light side as a full-blown blonde! Her long-time stylist, Kristin Ess, said that most classic brunettes can do the same as long as they take their time with the process.
"Lucy loves to play with different looks and hair colors when she has a break from filming. She's right in between her new movie 'Dude' and going back to 'Pretty Little Liars,' so we have just over a month to play around," said Ess, who is also the founder of thebeautydepartment.com.
Sadly, this hot new look is only temporary. "Lucy's character in 'Pretty Little Liars,' Aria, is a tried-and-true brunette. She will definitely be returning to that once filming resumes," Ess said.
But in the meantime, it seems like Hale is having plenty of fun with her golden locks.
RELATED: Cinnamon swirl hair is latest trend spicing up women's manes
The process
Anyone with dark hair has to go lighter very carefully, Ess explained. It doesn't happen all in one shot.
"We did a super fine highlight to break up and remove old warmth. This type of highlight all over the head can take hours. She was patient! Then we do a toning gloss at the bowl to add shine and get rid of any brassiness. We kept a little root to make sure it meshed well with her darker brows," said Ess.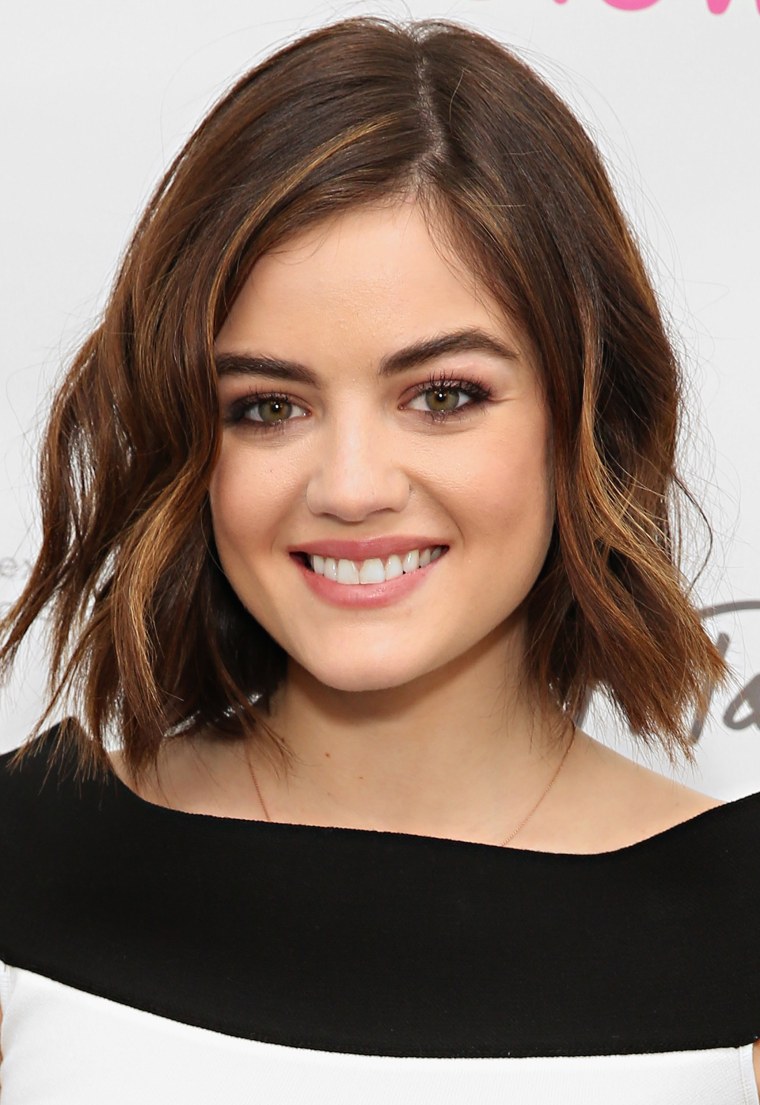 With a change like this, you really need a stylist with whom you have a trusting relationship. "We've been working together for many years! I've definitely taken her through most of, if not all of, her major hair changes in the last five years," she explained.
RELATED: Anne Hathaway debuts blond highlighted hair on Instagram
Is this look for you?
"There are honestly so many factors — skin tones, eye color, brow thickness and darkness, the health of the hair, etc.," Ess explained, adding that the best thing to do is go to your hair colorist and have a consult.
"You may not always hear what you are hoping for but trust your pro. If your hair is fragile, ask your colorist to use a bond-building additive. You'll pay a little extra but it will help you maintain the health of your hair," Ess says.
RELATED: Meghan Trainor on her new hairstyle: 'I was born to be a redhead'
Great reviews
TODAY consulted a few hair experts, and they are all loving this look on Hale as well. "I love Lucy's new blonde! It's a multifaceted, sun-kissed, modern finish that gets its natural appeal from high and low tones and warm and cool contrasts. All of it together creates a very rustic, edgy finish that's very on trend," says Shannon King, Owner of Hair & Co BKLYN salon and Keune Academy Trainer.
Schwarzkopf Professional Global Blonding Ambassador Kim Vō enthusiastically agrees: "All "Hale" the new blondette! Instead of jumping head first into the blonde fountain -- a la Kim Kardashian, which is a wig in case you were wondering -- Lucy is testing the water and blossoming beautifully as a blonde!"
RELATED: Hair color trends 2016: Rose gold, color shading, mohawk highlights