There's a new shape in town — your new winter coat! This season's outerwear is cut to thrill (and beat the chill) in styles for every look, from tailored and modern to sweetly feminine, and all points in between. Before you head to the stores, check out our picks for the best coats of the year. They're all here in this week's edition of The Trend Report!
Make it militaryAttention! The military coat is a must-have for fashionistas who want to make a modern statement. Long and lean, trim and tailored, it looks best in a crisp, double-breasted silhouette with bright gold buttons. Take it to the limit with even more bold detailing — gold piping or a big-impact belt are excellent options (as on this BCBG coat, $550).
Traditional military coats are navy, of course, but we also love this look in jewel tones such as purple or green and in fresh fabrications such as velvet or tweed.
Ride the A-line
Ride one of the season's hottest trends with an A-line coat (extra trend points if it's styled in a chic brocade or jacquard). This flattering shape is deceptively simple — a little nip at the waist and a soft flare at the hem. But try one on and ... wow! It's a wonderful way to go feminine without looking overly sweet. (This coat is from Anthropologie for $198.)
It's perfectly acceptable to show a peek of your skirt or dress hem underneath your coat ... in fact, it's very vintage!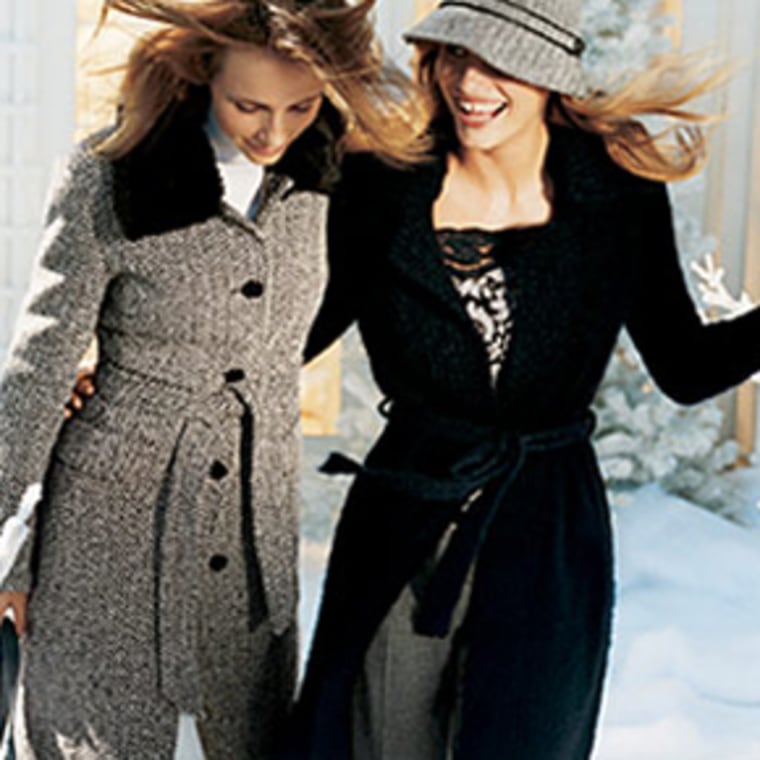 If you loved summer's bohemian trend, then the romantic tweed coat is for you — wear it with velvet, lace and all your other winter "boho" finery.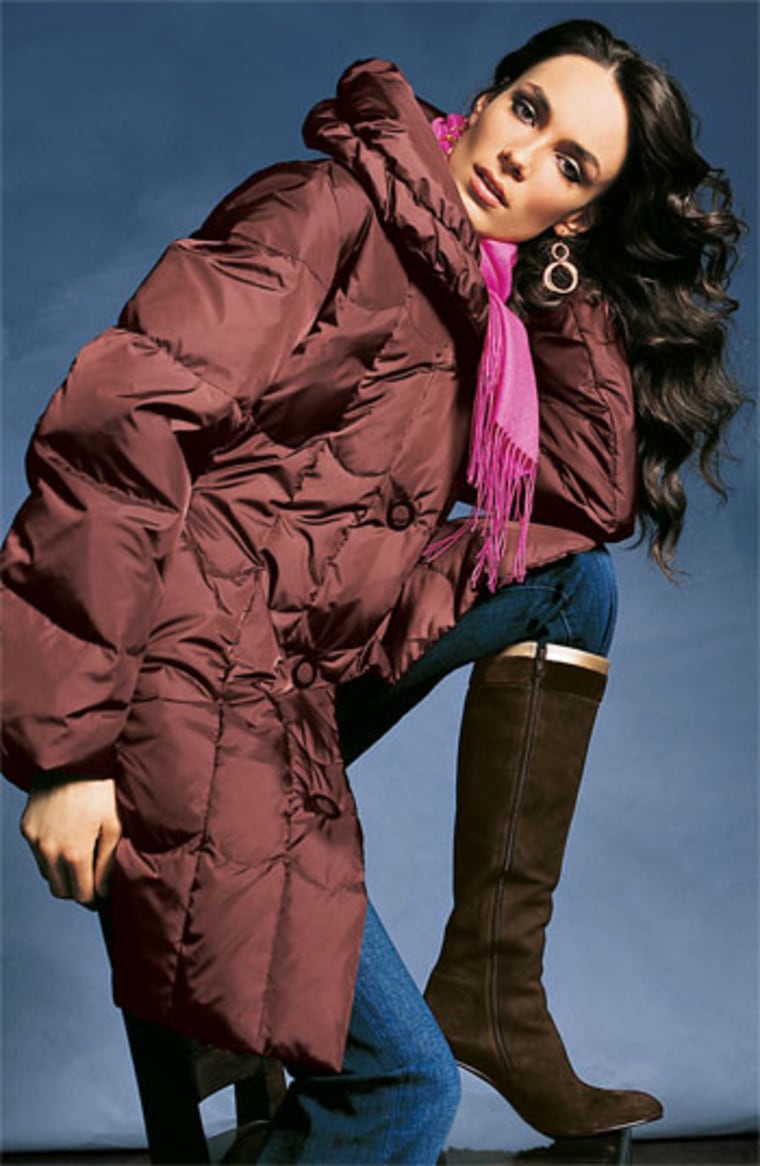 Trend tip: Even the most weatherproof of winter parkas can be slimming — look for vertical quilting or a quilted pattern that is cut to highlight your feminine curves.
Go faux itThe faux fur is flying ... it's one of the most popular trends for fall and holiday, no matter what your style. Keep it simple and sophisticated with a bundle of faux fur trim on a wool coat — choose a coat in creamy beige or a classic neutral such as deep chocolate brown or wear-it-everywhere black and you'll wear it forever. (Our pick is from Albert Nipon, $197.99.)
The shorter faux fur jacket or shrug is a wonderful way to go for evening ... go fur it!
Judy Gordon is a New York-based style consultant and the "Today" show's style editor. She has been covering the fashion and beauty beat for the past decade. To learn more about Gordon, you can visit her Web site, TheTrendReport.com, which highlights style trends in America and across the world.
firstVIEW is the primary supplier of photos to Fashion Friday. Go to for the latest pictures from top fashion shows around the world, including New York, Los Angeles, London, Paris, Milan, Brazil, New Zealand, South Korea and more.