Choosing what to wear on your wedding day is no easy task. With trends like high-low dresses and flower crowns often here today and gone tomorrow, it's increasingly harder to make a fashion statement while still looking timeless.
So while you may love your fashion-forward bridal style today, the question is: Will you hate it by your 10-year wedding anniversary?
RELATED: New wedding trend: Skip the tired party favors and donate instead
It's hard to tell if taking a fashion risk at your wedding is worth it, so TODAY.com asked former brides to share how they feel about their trendy-at-the-time styles now. From Princess Diana-like voluminous sleeves in the '80s to hats of all kinds in the '70s and flower crowns today, here's how they feel in hindsight.
On channeling an inner princess with puffy sleeves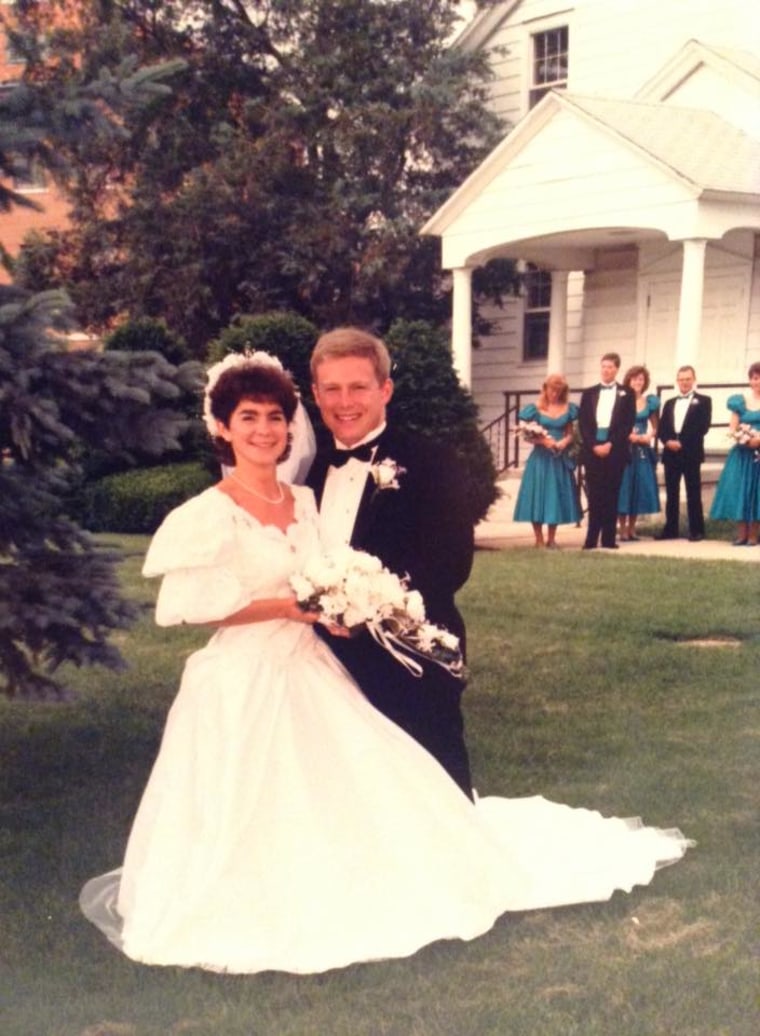 "1989 my Princess Di inspired dress- I felt like a princess in that dress with the long train even though today my 23 yo daughter makes fun of it saying 'looks like those sleeves are going to eat you!' wrote Angie French Dunn on Facebook.
"Puffy sleeves. My sleeves were my favorite part of my dress. Loved them when Princess Diana wore them, loved them when it was my turn. Aw heck, I just LOVE wedding dresses! SO many styles to love!" wrote Becky Eastling Rossi on Facebook.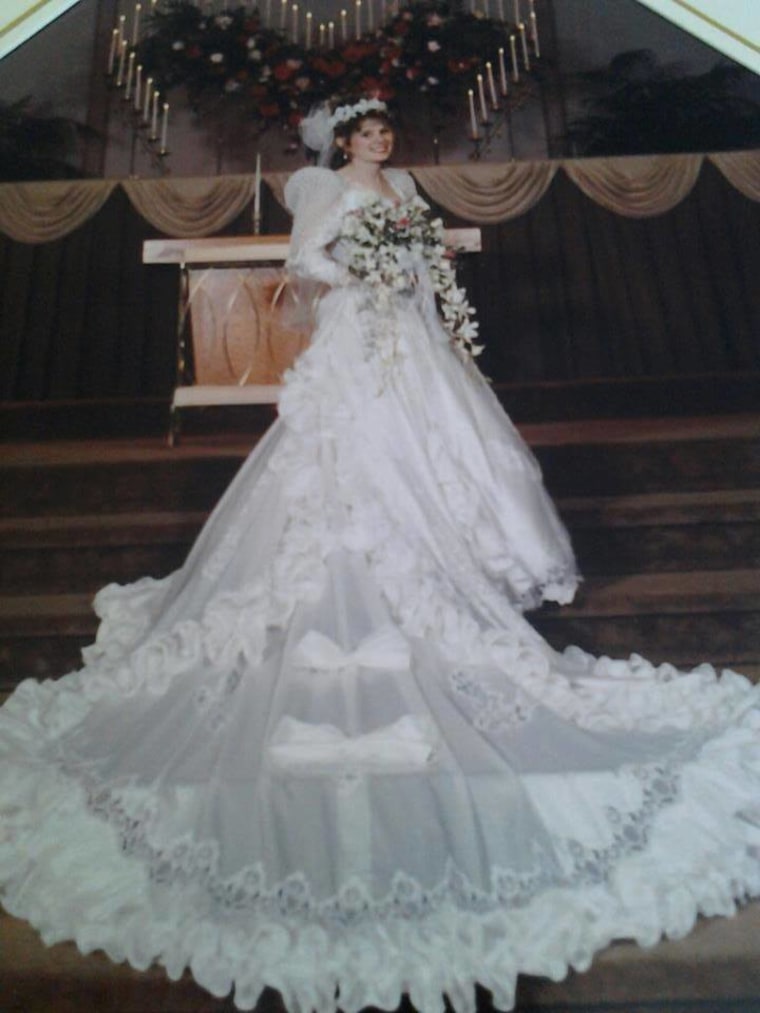 "Almost 22 years ago, and still going strong, and I still love my princess dress!! I even walked down the [aisle] to the same song Princess Diana did," wrote Tricia Edwards-Hurley on Facebook.
On topping off the look with a hat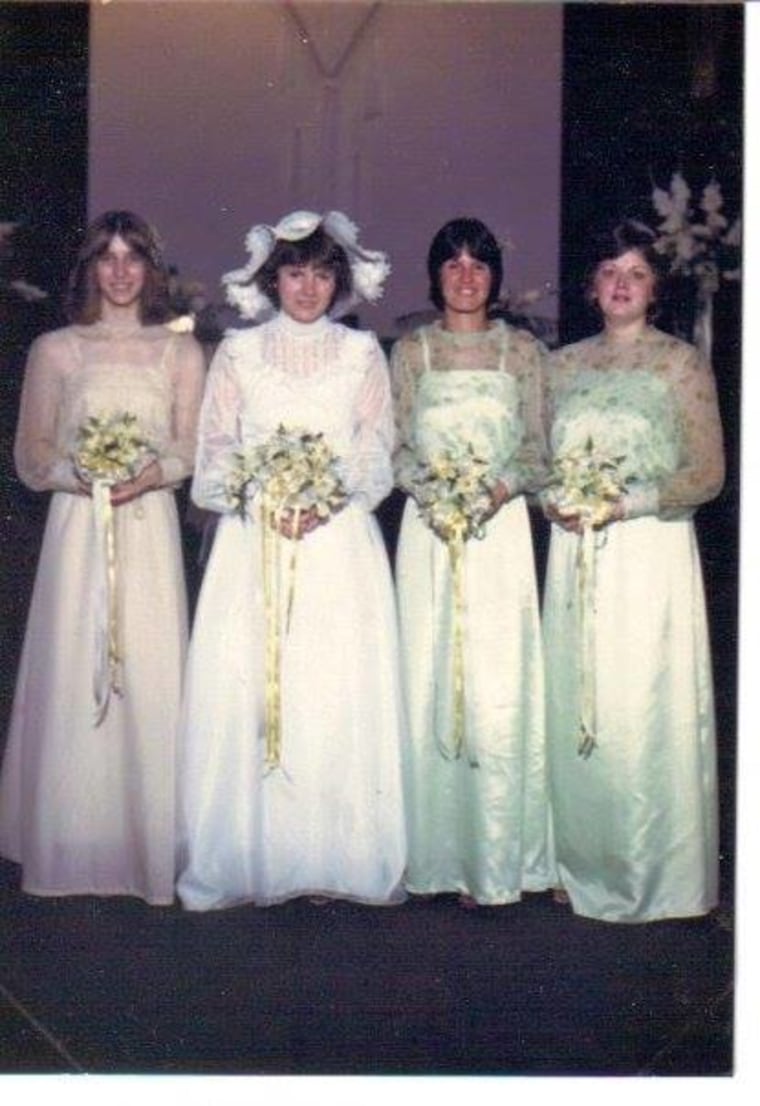 "Married a week before Princess Diana & Prince Charles in a JC Penney's catalog dress(different budget than the Princess)...borrowed hat from a friend-wouldn't change 1 thing!" wrote Brenda Narin-Davies.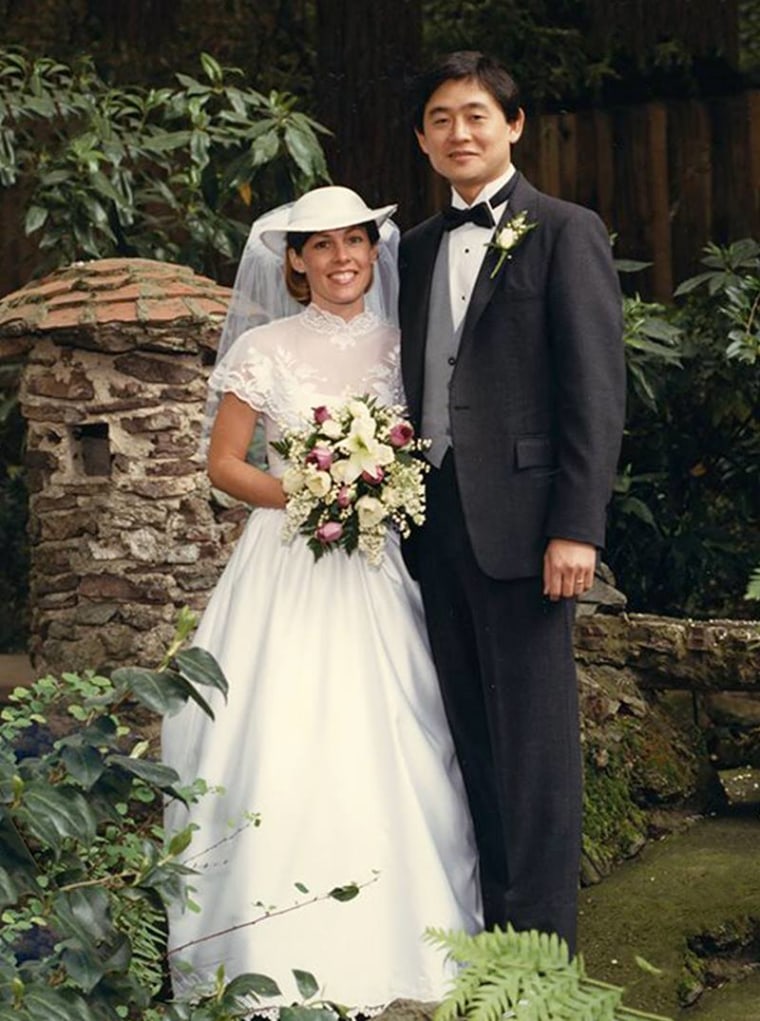 "I've never been one to follow trends but apparently I did in 1986. Every bride seemed to wear a hat that year. I have always loved hats but never had much of a reason to wear one. But that all changed on April 5, 1986. I was living in Sacramento in the months leading up to my wedding. I found a milliner and she made the hat just for me. I loved it!
"On my wedding day, my dress was too long, my shoes were too tight, and the priest couldn't pronounce my new surname, but none of that mattered because I felt beautiful in my hat. And after nearly 30 years, I'm still married to the man I love and that hat is on the shelf of my closet. I read recently that '80s wedding trends are popular right now. I wonder if bridal hats will make a comeback," wrote Linda Okazaki in an email to TODAY.com.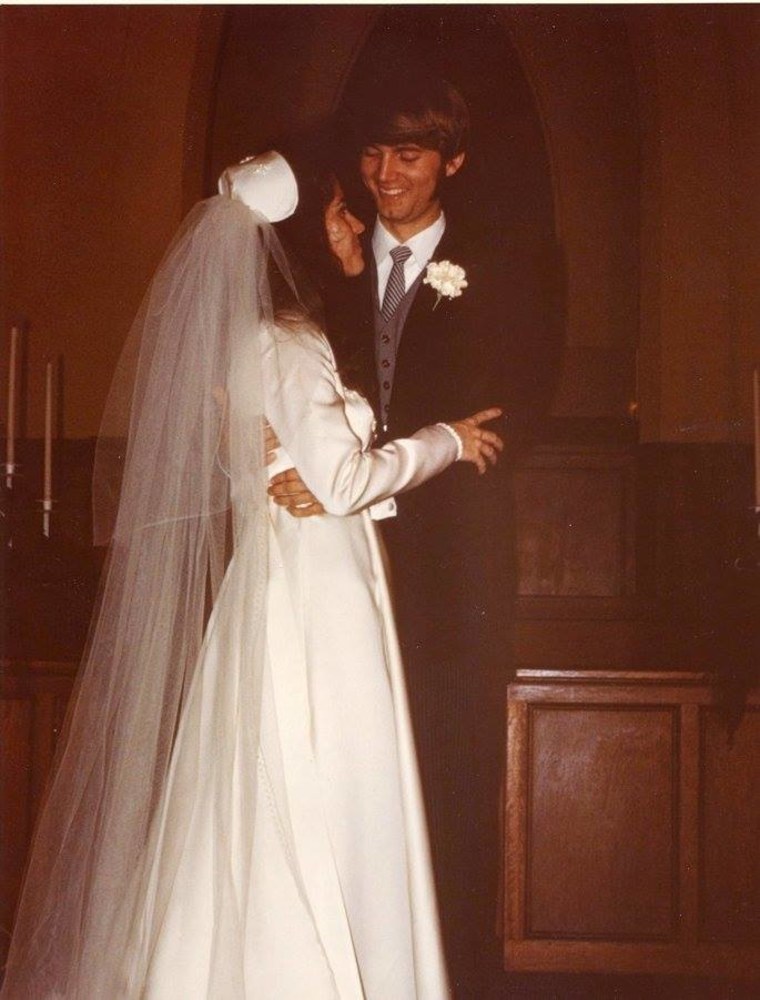 "1972, it was the 'Juliet' cap... Everything was all about Romeo and Juliet in those days. But, I'd wear that style today... if my hair were long. It was a good cap for long hair," wrote Nina Roger Rudd on Facebook.
"I wore a hat with embroidered flower lace and beads. What the hell was I thinking. Would not do it again. The hat that is, the husbands a definite keeper!!" wrote Debbie Moore on Facebook.
RELATED: Bridesmaids, rejoice! The new wedding trend is all about individuality
On breaking the mold and not wearing white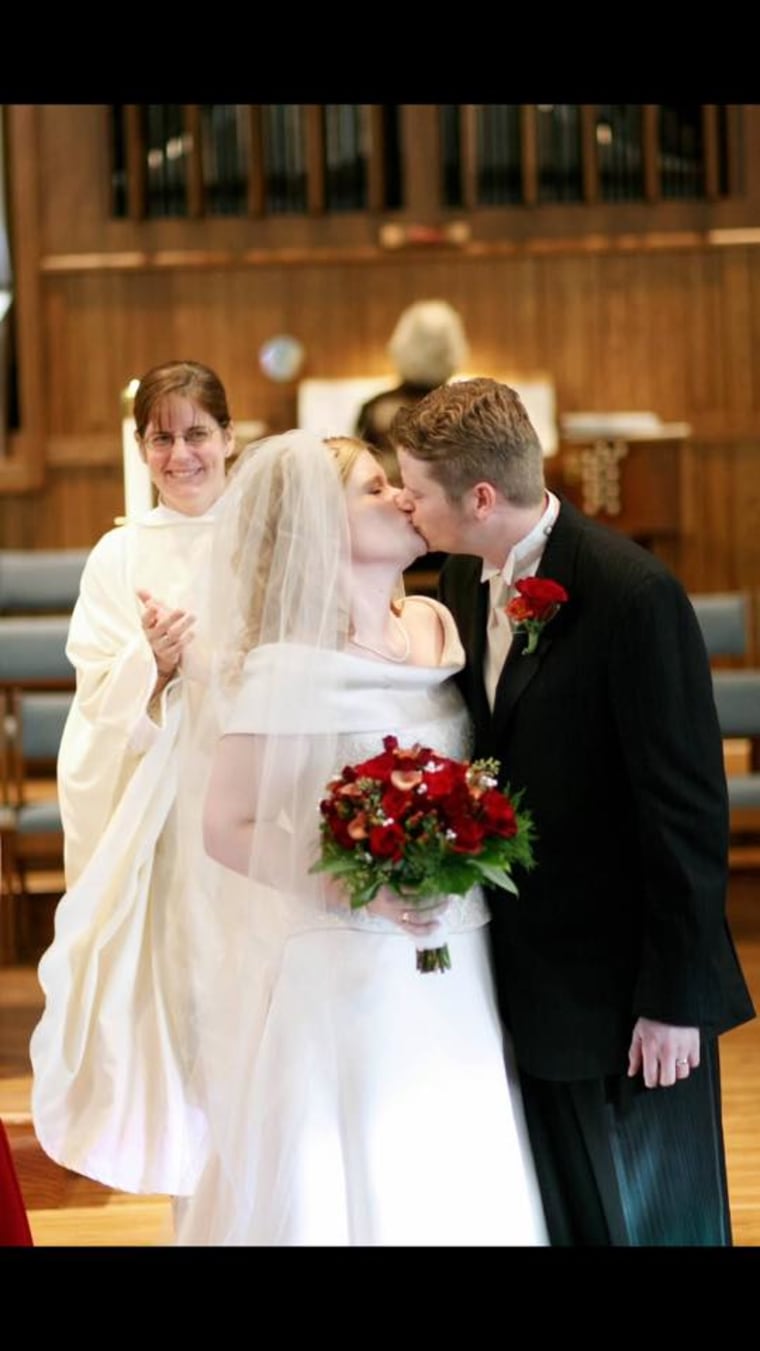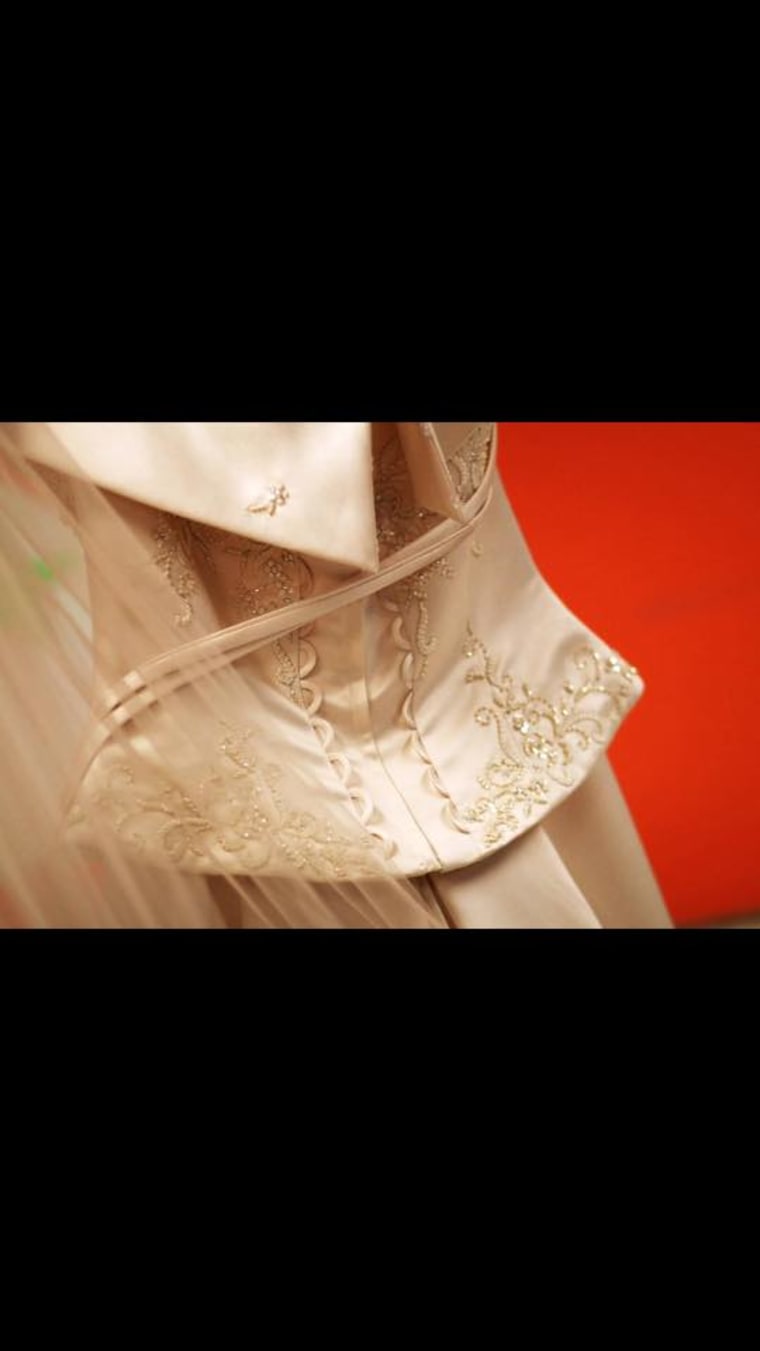 "I had what the designer called Gold color dress, but I call it Champagne. At first I wasn't sure about not wearing white, but as I tried white on I was just so pale and didn't feel good in a dress. It was the best choice I made. Once I put on I knew," wrote Amanda Benedict-Obenauer on Facebook.
"I wore a champagne colored dress, too. It was hard to tell but it made a huge difference with my skin color and when held against anything white, you could tell it was definitely not white," Katie Dobson commented on Facebook in response.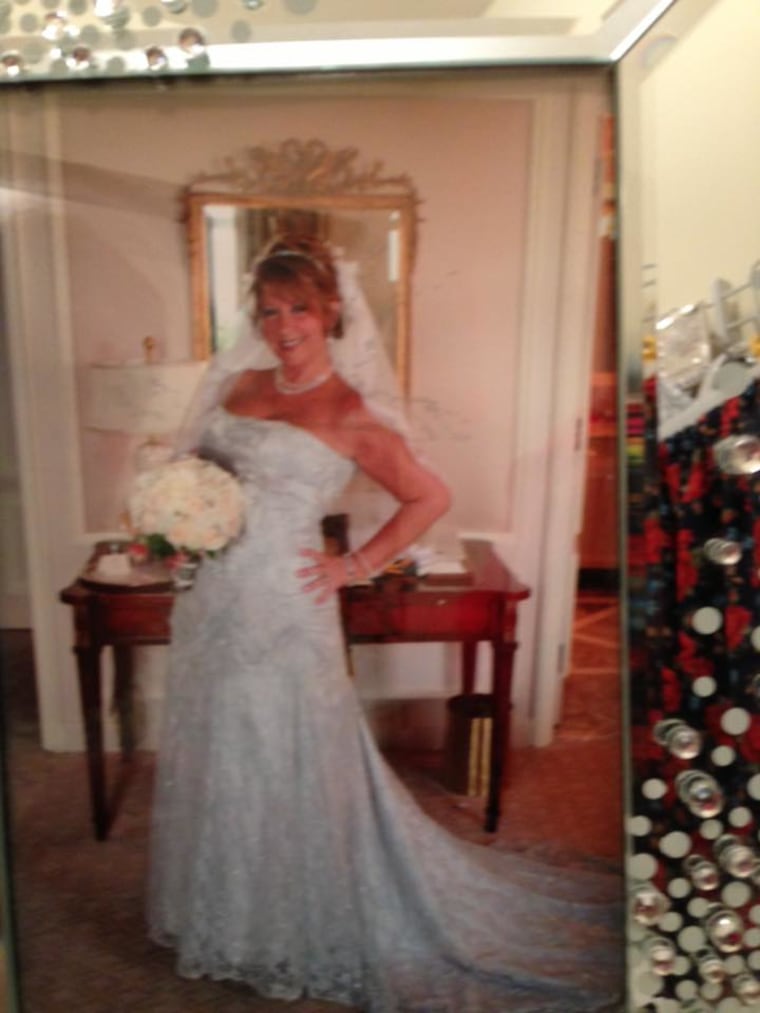 "Love my platinum chantilly lace Maggie sitters couture!!!! Wedding in New York City!!!!" wrote Lizzy Mahoney Gannon on Facebook.
RELATED: It's wedding season! Here's your ultimate guide on what to wear everywhere
On choosing a laid-back nuptial style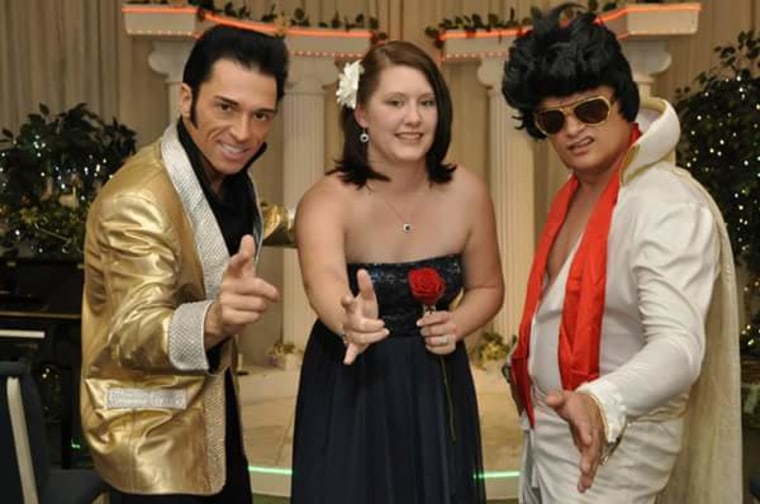 "My husband and I are coming up on our 1 year on September 3rd. We got married in Vegas by Elvis. My husband on the right also dressed as Elvis. We had a blast. We were together 4 years before we got married. I wouldn't have done it any other way. No planning, no stress!!!" wrote Sabrina Novak on Facebook.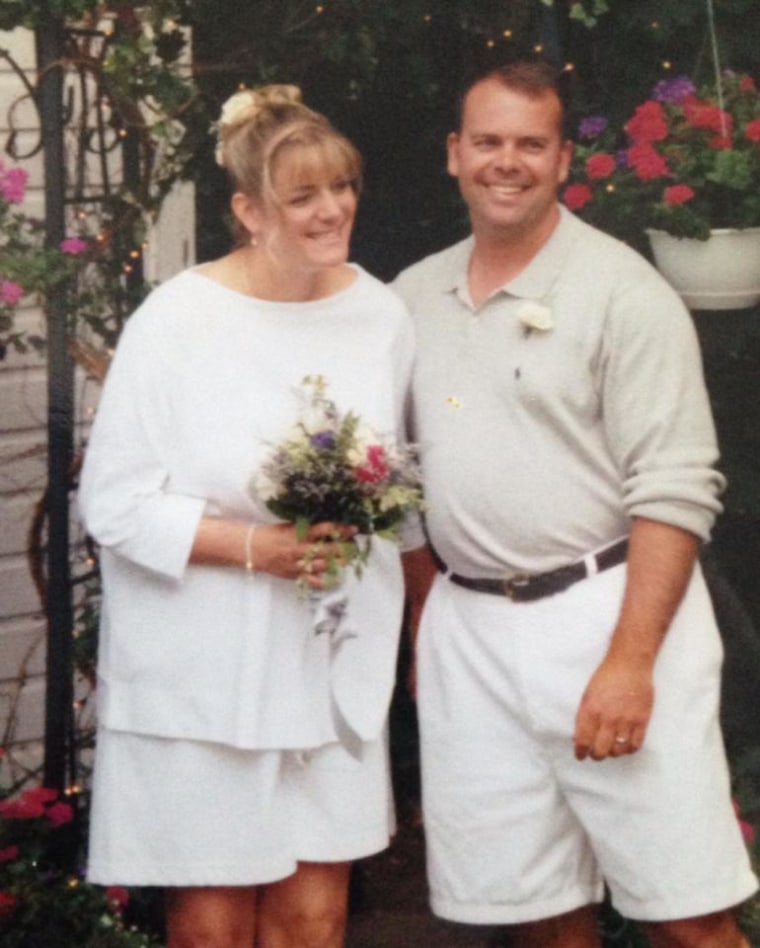 "Got married in our backyard barefoot in shorts.....wouldn't change a thing! One of the BEST days of my life!" wrote Jennifer Flynn-Milan on Facebook.
On celebrating with flower power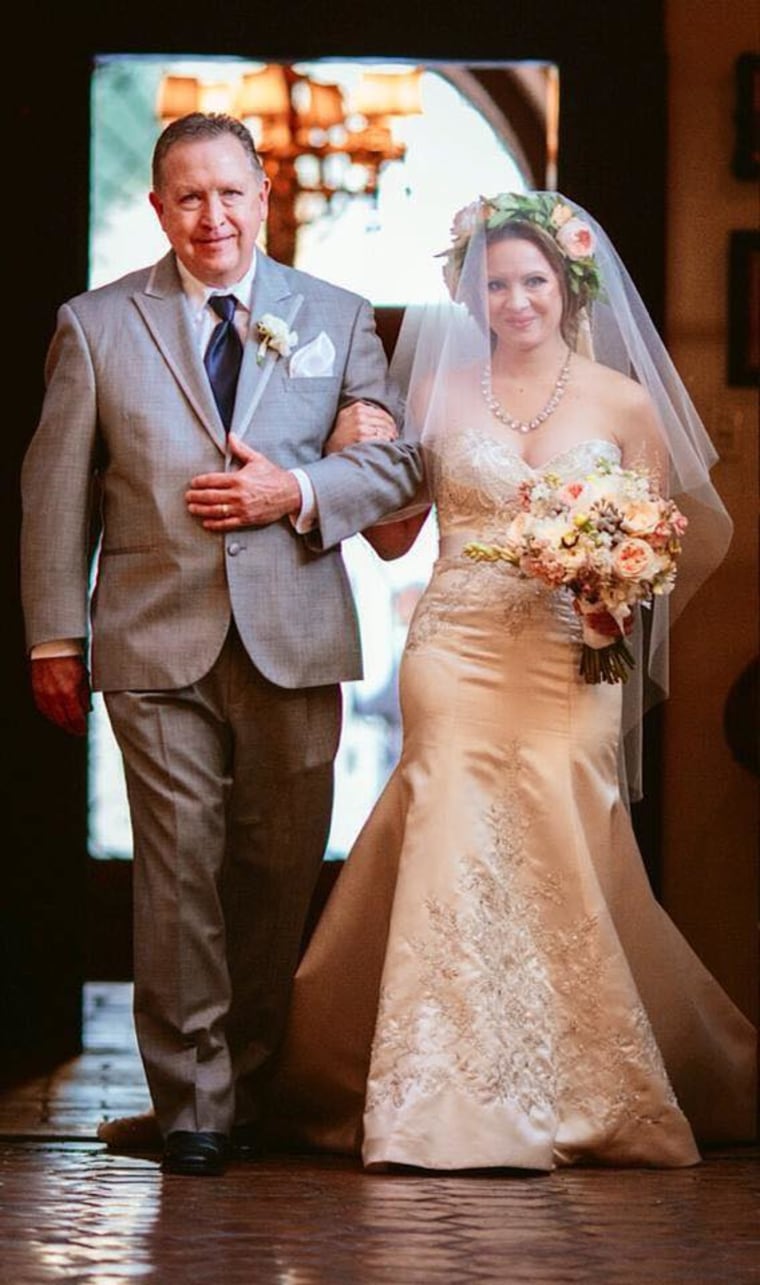 "I absolutely loved my flower crown. I got more compliments on it than anything else," wrote Tiffany Asta on Facebook.
"Ugh yes I did and it looked like that lady in commercial about 'It's not nice to fool Mother Nature'," wrote Marty Lucas on Facebook.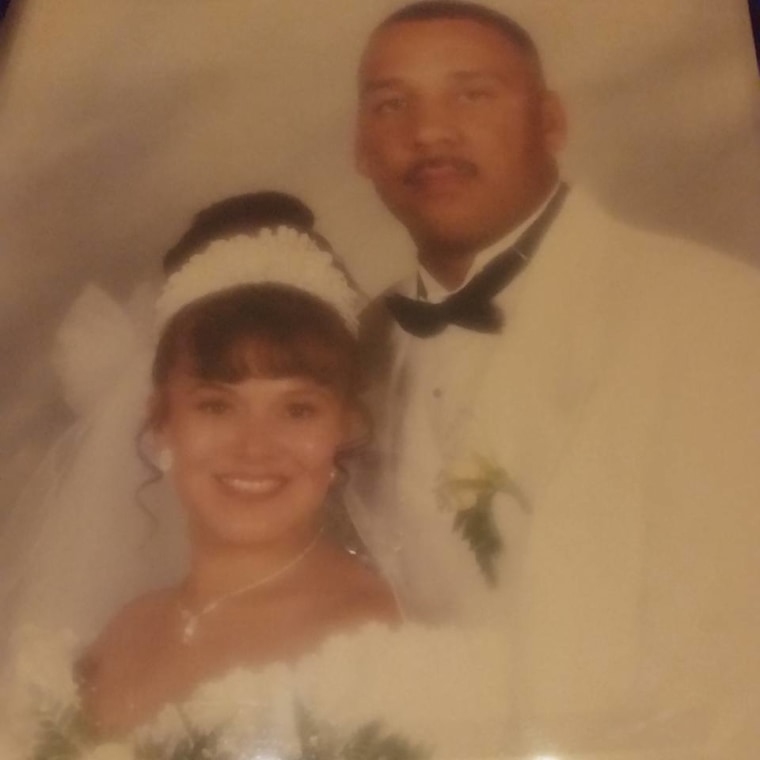 "My hubby misplaced my crown and this was a last minute replacement. Nevertheless, my wedding day was phenomenally amazing!" wrote Grace Jordan on Facebook.
"Hated it even then... it was 1994 and the bridal shop WOULD NOT listen to me... hated those ugly tulle poofs on top of the back of your head for the veil. UGLY! My 'crown' was a la Ariel looking white beaded cloth.. it was pretty and matched perfectly. I should have just ripped off the tulle and worn it alone," wrote Julie Turner Nelson on Facebook.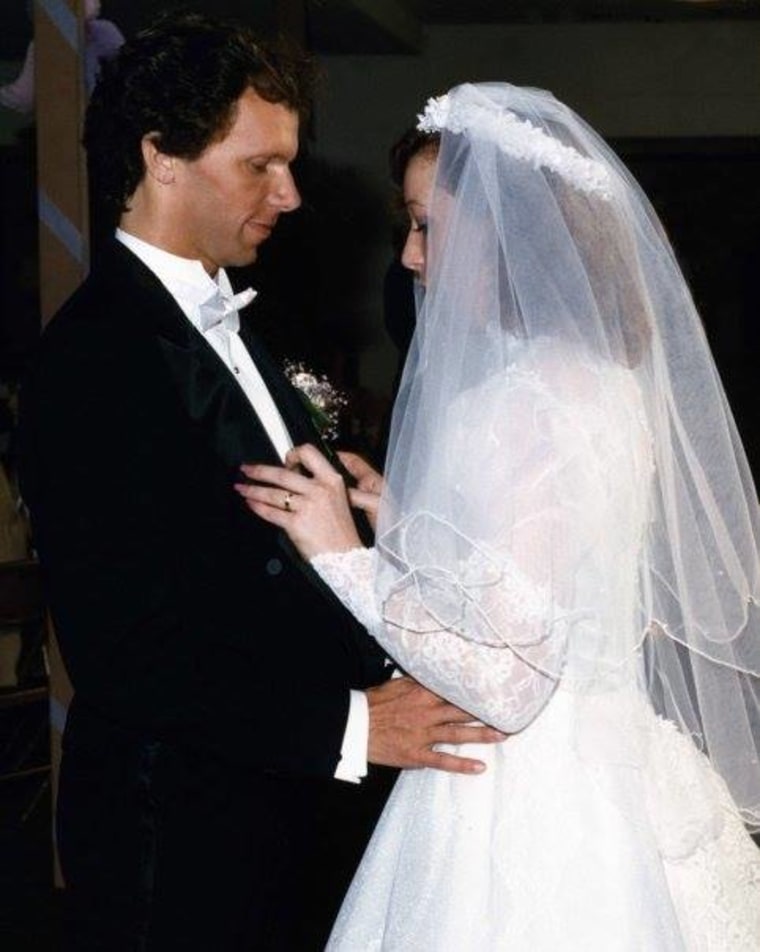 "Very 80's from head-to-toe. I wouldn't change a thing (not even the groom - we just celebrated 28 years)!" wrote Diana Kamrowski Schlafer on Facebook.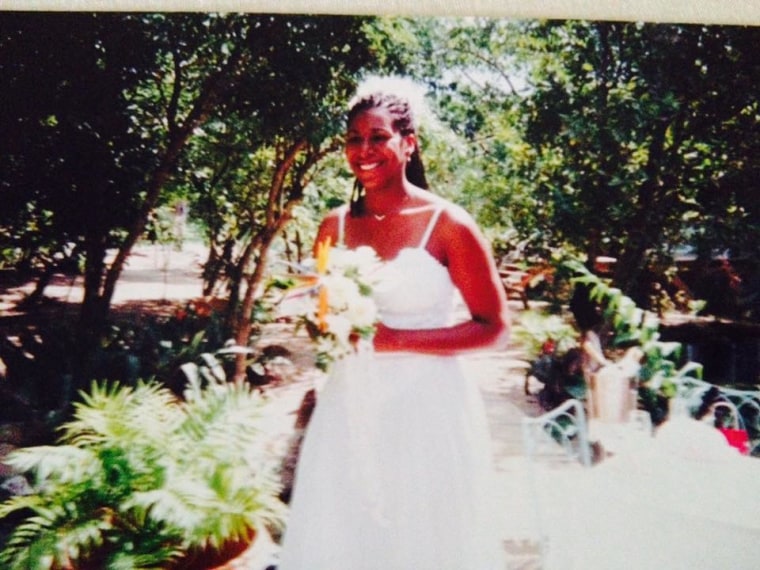 "My sister passed 2 weeks before my wedding of a short battle with cancer -- she gave me the flowers the last time I saw her alive and told me to use them as I see fit -- I chose to wear them in my hair -- She was with me the entire time - I got married on the beach in Jamaica ! No regrets," wrote Julie Belcher on Facebook.