Erica Anderson was never one of those little girls who dreamed of wearing her mom's wedding dress one day. But on a sunny afternoon in June 2015, the mother of two married her high school sweetheart in the same dress her mom wore back in 1971.
Originally, Anderson envisioned a different vibe for her nuptials. But when the Oregon resident decided to change her venue just months before the big day, fate intervened.
"I was trying to set up our beach wedding, which would have been about three hours away from us. No one would respond to the emails. It was so disorganized. I wanted to enjoy my special day and not be stressed so I asked my (now) husband and mom if we could switch to our backyard. The only weekend that worked was less than a month away, but they agreed we could do it," Anderson told TODAY Style.
Due to the short notice, Anderson's wedding gown wasn't going to arrive in time for her backyard bash, so she had to come up with a backup plan.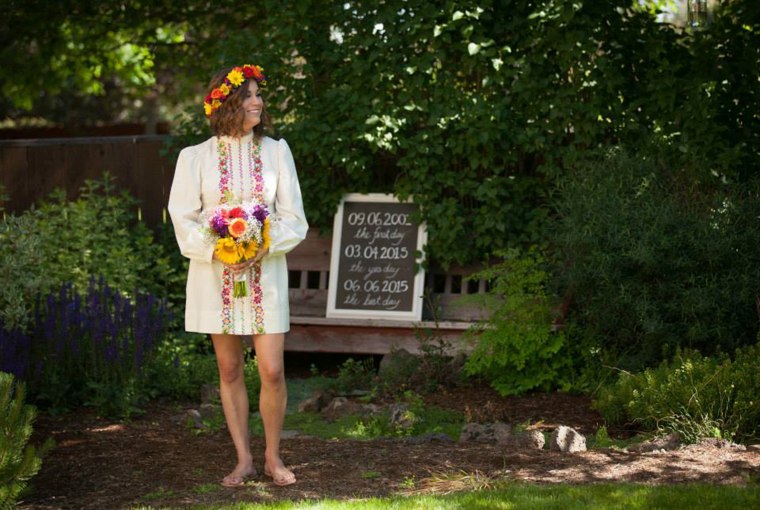 "A couple weeks before the wedding, I was over at my mom's house doing some planning. We started talking about her wedding, and I asked about the location of her dress," she said. "I wasn't even thinking of wearing it, I just wanted to see it."
It wasn't the first time Anderson had seen her mom's dress, but this time felt different.
"When I found it, it was perfect. It fit in perfectly with everything I already had for my wedding. I still didn't believe it would fit — my mom was a tall and skinny bride; I am shorter with an athletic build — but I asked her if I could try it on. When she agreed, I put it on, and it fit!" Anderson said.
From that moment on, Anderson knew exactly what she was going to wear to her wedding. After securing her mom's blessing, the 34-year-old set off to get a few alterations made to the dress.
"I have broad shoulders, so we ended up having my seamstress take out the couple stitches my mom had put in for her narrow shoulders. It was like the dress was made for both of us," she said.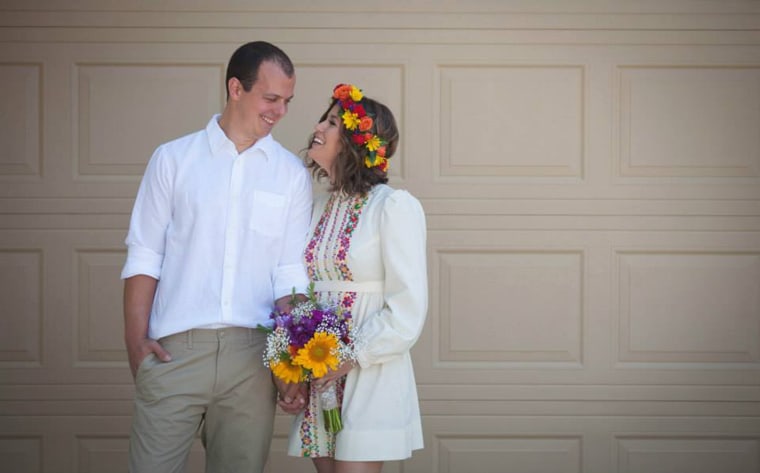 Fate seemed to play a role in Anderson's dress journey, much like it did in her love story with her husband, Scott.
"We met in English class in high school in 2002. He was my first love. We dated on and off until we were 19 then split up. We both got married and each had two kids in those marriages. We reconnected and got married," she said.
And on the day of their wedding in 2015, Anderson's husband was thrilled to see his bride walk down the aisle in her mother's gown. "She looked amazing. I knew it was special to her to wear her mom's dress and that showed in her face our whole wedding day. It matched our theme and was perfect," he told TODAY.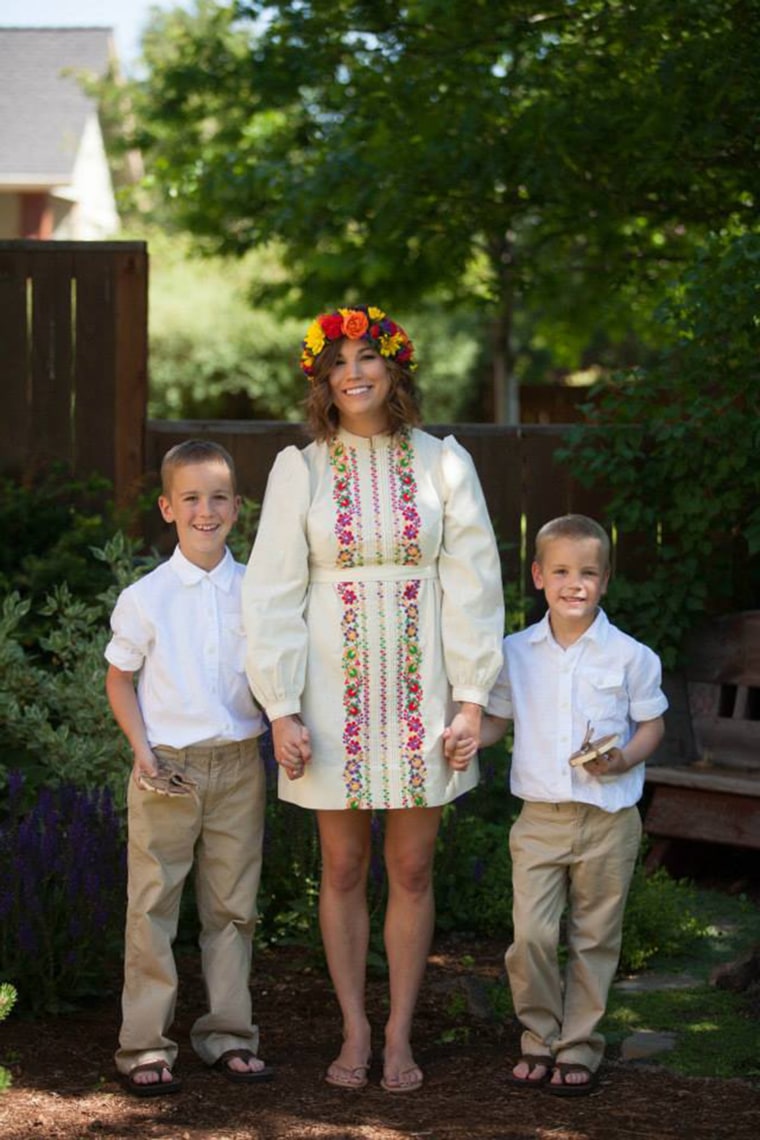 Anderson's mom, Jeannie Hignell, told TODAY she was honored to have her daughter repurpose her special dress: "I cried when she came down the aisle, and I never cry. I didn't think it would mean so much to me, but it did."
Anderson felt equally lucky to wear something so meaningful at her wedding.
"There is no way to describe how special it is to share a memory like a wedding dress with your mom. She is my everything. Being able to honor her on my day is indescribable," she said. "It felt so special. I also felt incredibly beautiful."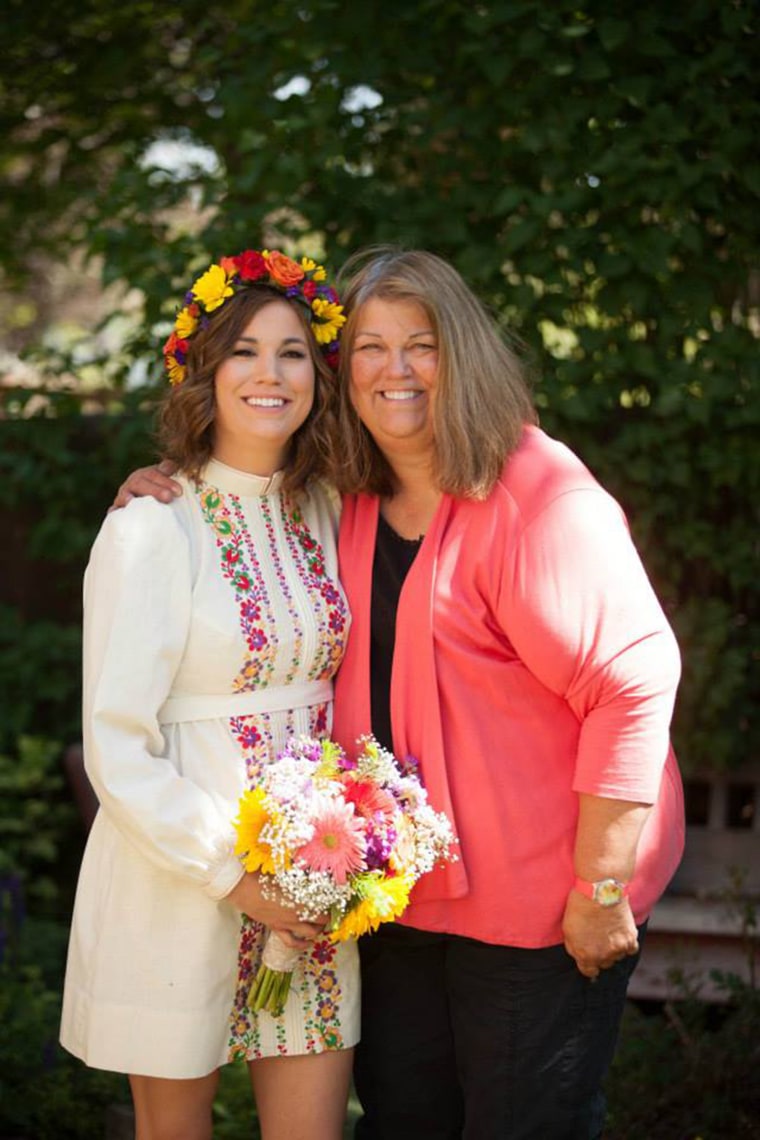 After the wedding, Anderson asked her mom if she could keep the dress and preserve it in a shadow box. "She didn't hesitate. The dress deserves to be shown off forever. It's stunning," Anderson said.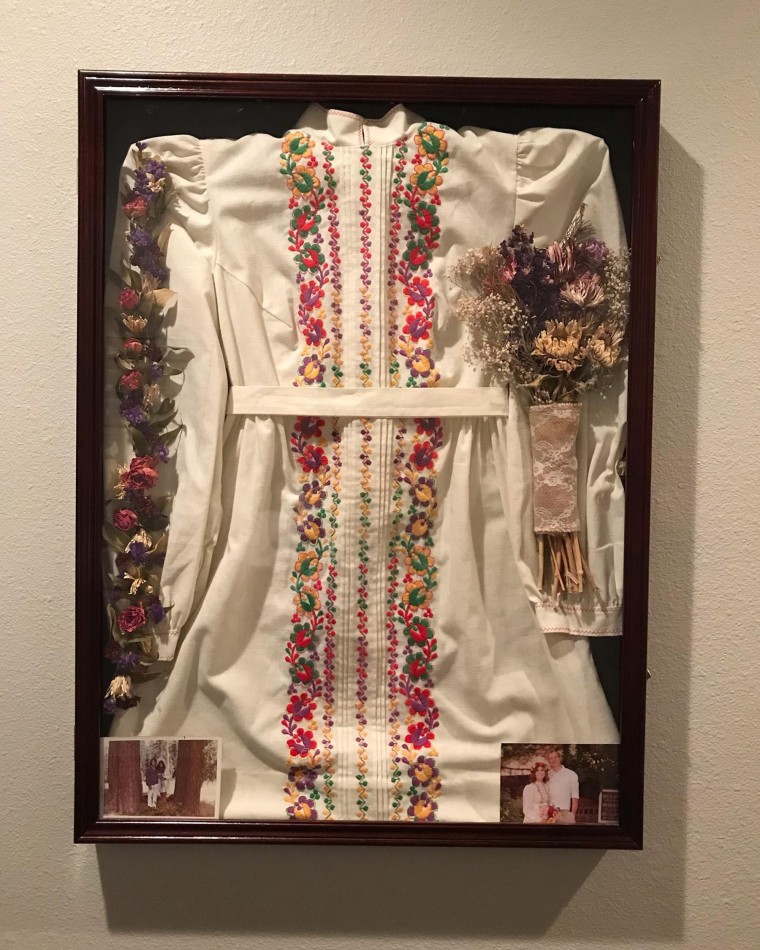 Last month, Anderson posted a photo from her wedding to Reddit along with the whole story behind her dress. The post soon went viral and garnered more than 90,000 upvotes and nearly 2,000 comments. She still can't quite believe the impact her story has had.
"This is all so crazy to me that this took off like this. I am a very introverted person. I just thought it would be fun to share on Reddit. I never thought people would care. I think we all need a feel good story right now and mine must have fit that bill," she said.