Wedding dress: Check. Tux: Check. Rings: Check. Bridesmaid dresses: Check.
What's next on the list of planning for "My Big Fat TODAY Wedding?" Hairstyles, of course!
While the gown usually steals all the attention, the beauty look for the bride can be just as important to help her feel her best on the big day. With everything from retro waves to sleek updos in style right now, it can undoubtedly be hard to narrow down the options.
RELATED: See the wedding dress and tux options for our lucky bride and groom
Lucky for our TODAY Wedding bride, Kaitlin Roseman, this decision is completely up to YOU!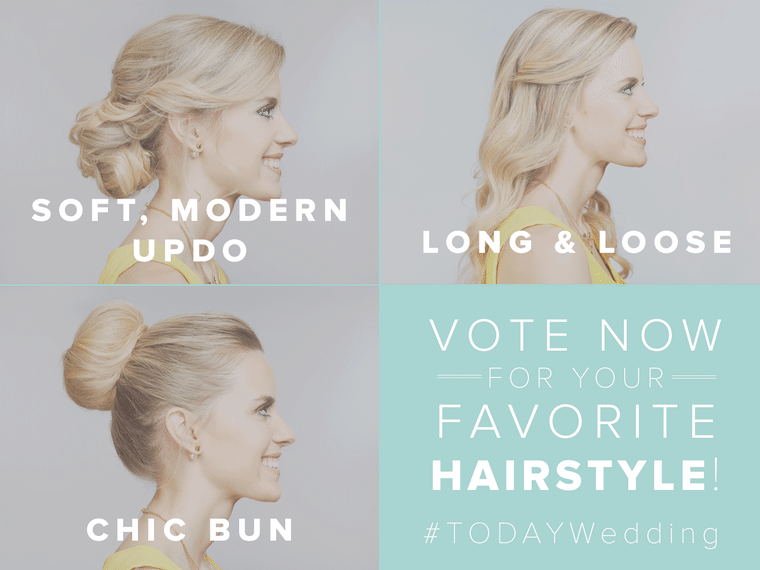 Abby Larson, the founder of Style Me Pretty, has selected three different bridal hair looks that are simply stunning and right on-trend. Remember, you'll have to tune in on March 24 to see the dress, hairstyle and all other winners at the wedding.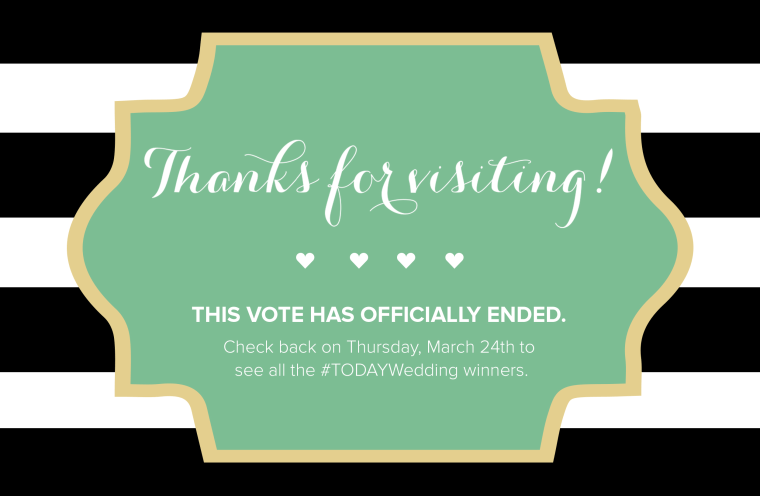 Check out the options below and vote for which hairstyle you want to see Kaitlin wearing down the aisle.
RELATED: Be our guest! Vote for the TODAY Wedding favors now
1. Soft, modern updo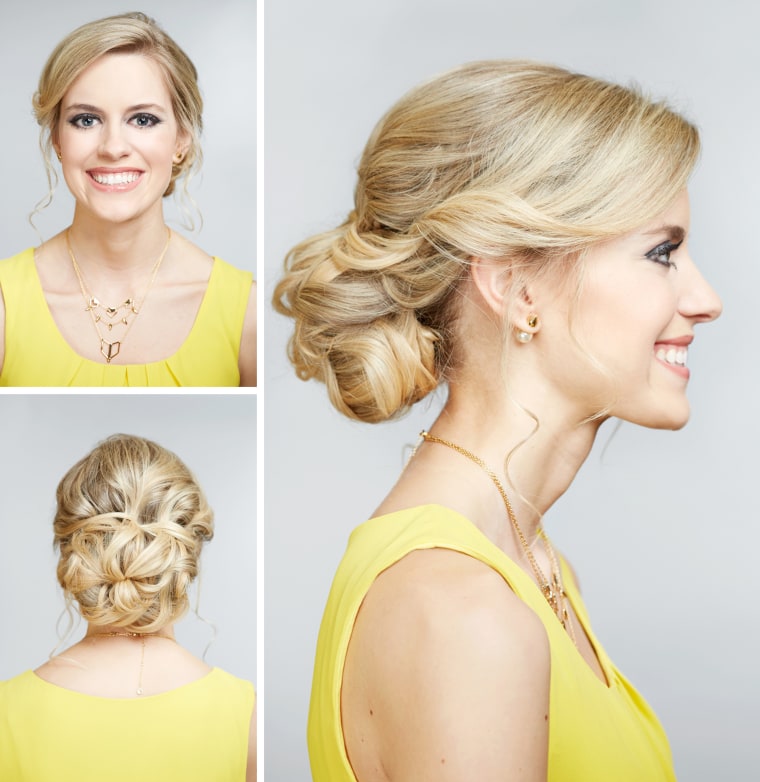 "Traditional French Twists and other updos that require too much hairspray feel dated. A slightly messy, disheveled updo feels romantic, feminine and natural" said Larson.
TODAY hairstylist, Ashley Palumbo, explained that this type of style feels sexy, elegant and timeless.
"The softer the better," said Palumbo about the look she created, adding that, "keeping the hair textured and delicately pinned around the face will easily complement a wide range of dresses."
RELATED: Want picture-perfect wedding hair? The 8 best styling tools under $50
2. Long and loose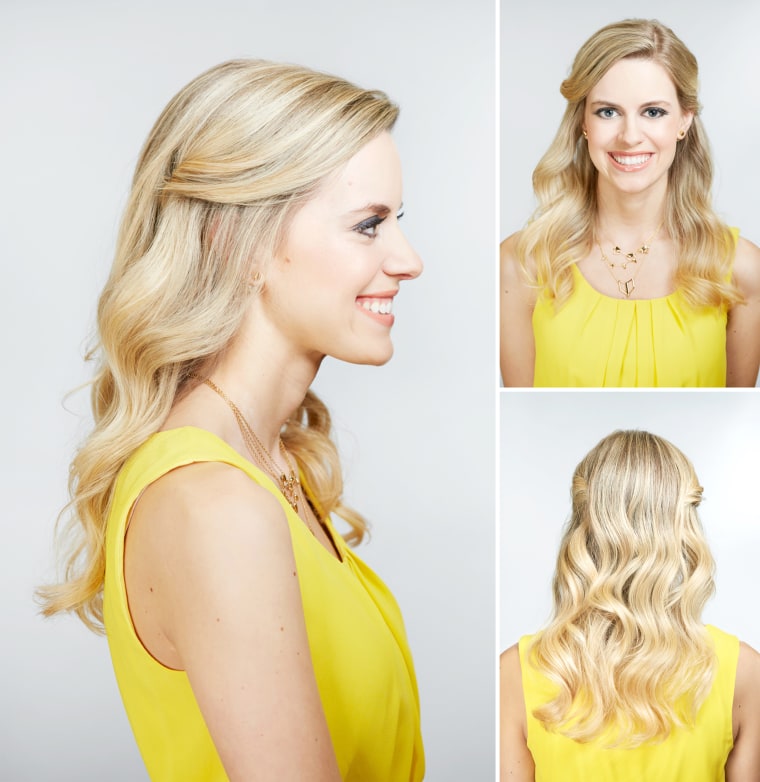 "Long, loose curls or waves will never go out of style," Larson explained. "It will allow you to be more flexible with trends and accessories, such as last summer's trendy flower crowns or a classic veil."
Unlike tight curls which feel rather dated, simply loosening and softening the wave makes this style feel current and modern, which is probably why it's such a red carpet favorite.
"Loose waves and curls have become trendy for brides," noted Palumbo. "It keeps a bride looking like herself, just with a little extra glam."
RELATED: Dress the bridal party! See the bridesmaid dress options for TODAY's Wedding
3. Chic bun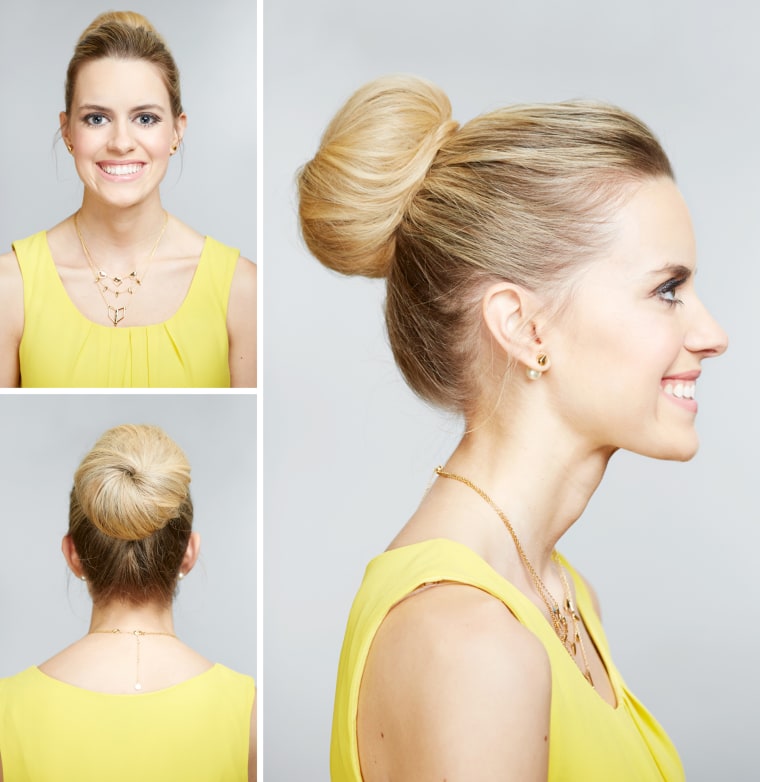 "A sleek updo is timeless, yet modern and perfect for a wedding in a more urban environment (i.e. a loft, museum, etc.)," Larson said, which sounds great for our wedding held at the Rainbow Room in New York City.
Unlike a traditional updo, which often feels prom-like with tightly pinned curls, there's something so polished and elegant about a simple, large bun.
And "pulling the hair off of the face and neck creates a lengthening effect," explained Palumbo.
Concerned you don't have enough hair to make such a sizable style? Don't worry!
As Palumbo noted, this look can easily be accomplished with just about any hair length or thickness by using a foam doughnut to help achieve the look of a full-haired bun.
RELATED: See the gown and tux options for "My Big Fat TODAY Wedding"