If you've ever seen a hashtag like #normalizebreastfeeding or caught a glimpse of a models like Gisele Bundchen and Miranda Kerr nursing their babies in social media photos, you know about the movement to remove the stigma and shame associated with the natural act.
Still, you don't exactly see models breastfeeding on the cover of women's magazines. That is, not until now.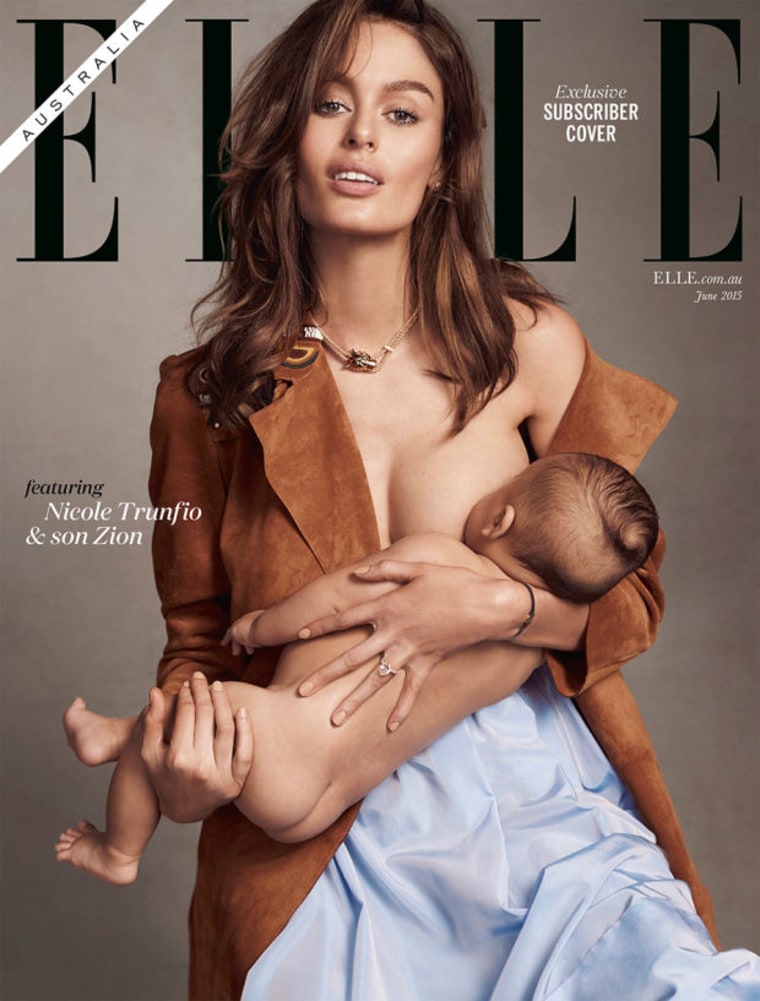 Model Nicole Trunfio graces the June cover of Elle Australia, in a photo shot by Georges Antoni, in which she nurses her 4-month-old son. The model and first-time mom wears an open suede coat while her babe, Zion, is in the buff.
In addition to making a gorgeous image, it also makes a powerful statement, given the uniqueness of such a scene on a highly visible piece of media.
But it wasn't the original intention of the editors and art department. In the newsstand covers, Trunfio wears a Prada dress and holds her son as part of the original plan. But subscribers will receive a different cover with the breastfeeding photo, which happened spontaneously when the team noticed the beauty of Trunfio feeding Zion during a break.
"This wasn't a contrived situation: Zion needed a feed, Nicole gave it to him, and when we saw how beautiful they looked we simply moved her onto the set," Elle's editor-in-chief Justine Cullen wrote on the magazine's website. "It was a completely natural moment that resulted in a powerful picture."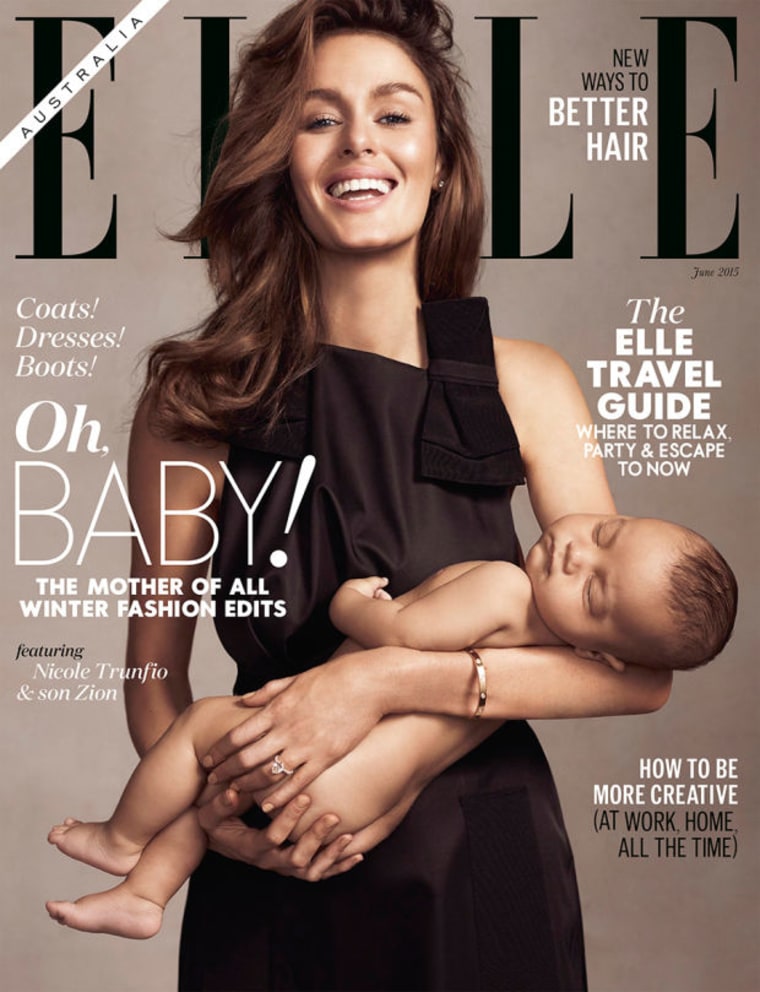 But even if it wasn't originally intended as a means of provocation, such a strong image has generated much feedback.
And so far, perhaps surprisingly to some, it's been overwhelmingly positive. "This is so so so so awesome for so many reasons," wrote one commenter in response to the Elle Australia Instagram post of the cover. "So gorgeous and pure," wrote another. Other posters attached the #normalisebreastfeeding hashtag (with the European spelling) to the image in a show of support.
The model also took to Instagram to explain her stance on the image. Alongside a photo of the cover, she wrote, "There is nothing more powerful and beautiful than motherhood. The last thing I want to do is be controversial, so please take this for what it is. Let us #normalizebreastfeeding. There is nothing worse than a mother that is judged for feeding her hungry child in public. #weareonlyhuman I'm so proud of this cover and for what it's stands for."
At the same time, she aimed to dispel any myths — and insecurities — that might arise from viewing such a highly produced image of a nursing mom.
She continued in her caption, "I obviously don't look like this while I am breastfeeding but this stands for all women out there, whether you breastfeed or not. We gave birth, we are women, we are mothers. Thank you to Elle for being so bold and making such an encouraging, positive and healthy statement. #womenunite"
Alesandra Dubin is a Los Angeles-based writer and the founder of the lifestyle blog Homebody in Motion. Follow her on Facebook, Instagram, Google+ and Twitter.