Who knew Steve Urkel would be a modern day style icon? ... "Did I do that?" ... Well ladies if you shutter at the thought of jumping into butt-baring jeans you'll be happy top hear waistlines are on the rise! Designers are adding a little extra fabric to the top of their bottoms — offering trousers, jeans and skirts that have all been shifted up to belly-button-covering heights. Bobbie Thomas, TODAY style editor and author of "the Buzz" for in Touch weekly, offers tips on how to take your fashion to a higher power.
The trouser
Katherine Hepburn once said "stockings are an invention of the devil." Her solution, to confidently step forth in slacks during an era when dresses were customary. This high-waisted trouser style that the trendsetter is famous for still offers a powerful punch to a lackluster work wardrobe. Pair the tailored look with a feminine blouse for appropriate, yet sophisticated office-into-evening style.
But beware — while cinching in your waist, this look can also accentuate your curves. Try a wide leg pair to balance out shapely hips, and add a strong belt to tie the look together. Contemporary collections such as Nanette Lepore (neimanmarcus.com) and Alice & Olivia (shopbop.com) offer chic options, while the high-waisted, menswear-inspired trousers from Lux are relaxed and easy-to-wear ($68, urbanoutfitters.com). A sleek pair of high-rise black plants with stretch will not only streamline your figure, but add two inches to your legs (Bebe.com)!
The jean
Modern day fashionistas are flashing back to the '70s. Remember Brooke Shields and her Calvins? Now we have current style icon Kate Moss to thank, not only for the revival of skinny jeans, but high-rise denim as well. Dittos, Jordache and Sasson were the first crop of "must-have" labels, and are making a comeback.
Tighter fitting than a trouser, high-waisted jeans tend to hug your hips, accentuate your torso, and (since they're meant to be worn with a shirt tucked in), show off your figure from head to toe. For those ladies like Jennifer Lopez who are looking to embrace their curves, a skinny pair of high-waisted jeans like the corset style from Top Shop are sure to make a statement (topshop.com). Fuller leg styles from Grey Ant (shopbop.com), Anlo (bergdorfgoodman.com) and J Brand (revolveclothing.com) have a more relaxed feel, and are selling out fast.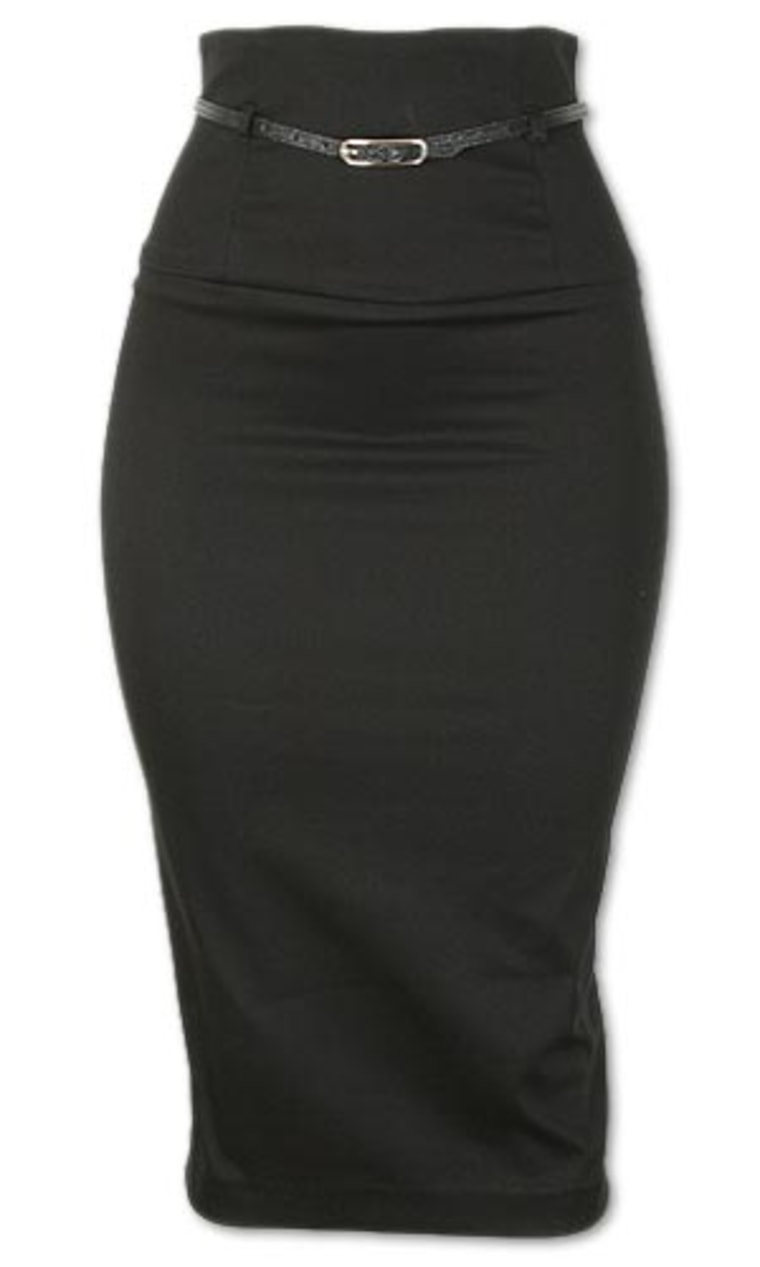 Bonus buzz: Belts
Showing off your natural waistline (or creating one!) is a cinch. Add a belt over a blazer, wrap or cardigan to lengthen your legs and create the illusion of an hourglass silhouette. And not all curves were created equal! Highlight your most flattering point — try different belt widths at your hips, waist or under your chest.