Little red wagons and dolls never go out of style, but kids these days have access to some other cool stuff too. TODAY style editor and Bobbie.com's Bobbie Thomas shares a few new favorites:
Commission a custom BFF
If you're looking for one toy you won't find in stores, try "softie-making", a rapidly-growing craft trend where talented artists take your budding artist's original sketch and turn it into a whimsical, personalized plush pal. From five-legged monsters to pretty princesses, studios like MyOwnCuddly.com can bring any dream to life in just a few weeks. Since all work is custom, you can look for an artist near you or visit childsown.com for a list ($75 and up; sunnylittlestudio.com or $100 and up; myowncuddly.com).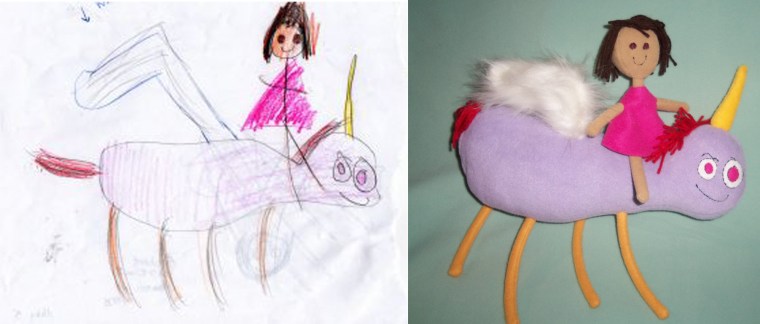 Let them 'Chooze' shoes
Chooze Shoes are a simple idea backed by a strong message: embrace difference! In each pair of Chooze, the left and right shoe are slightly different, so kids can get creative, mix and match and learn to appreciate variety. Shiloh Jolie-Pitt counts amongst the brand's fans, and best of all, they invests their profits in microfinance loans to help lift women and their families out of poverty ($22-$59; choozeshoes.com).
Get gooey
There's something about being covered in colorful goo that appeals to almost all kids, so if you're looking for a safe and easy-to-clean-up way for your kids to unleash their inner mess monsters, look no further than H2Goo. A simple powder that magically turns the tub into a fun-filled pit of squishiness, H2Goo is non-toxic, available in an assortment of colors, won't clog pipes and won't stain — it even helps soften skin! I think I speak for everyone when I say, "where's the adult version?" ($14.99; thinkgeek.com).
More: New, affordable full-figure fashion collections
Under $100: Best spring floral fashion