With 2013 in full swing, TODAY style editor and Bobbie.com's Bobbie Thomas is here to share the inside scoop on what's hot this year and how to wear it.
Graphic content
Marc Jacobs, Michael Kors, Milly and more sent loads of contrast down spring runways, and there are two easy ways for you to try the trend. The first couldn't be simpler to find or pull off, just wear black and white. The color combo is classic yet striking and can be very figure flattering. You can find smartly cut garments that do the work for you, like two-tone dresses, which are on sale and at discount department stores this winter, thanks to last year's color-blocking trend.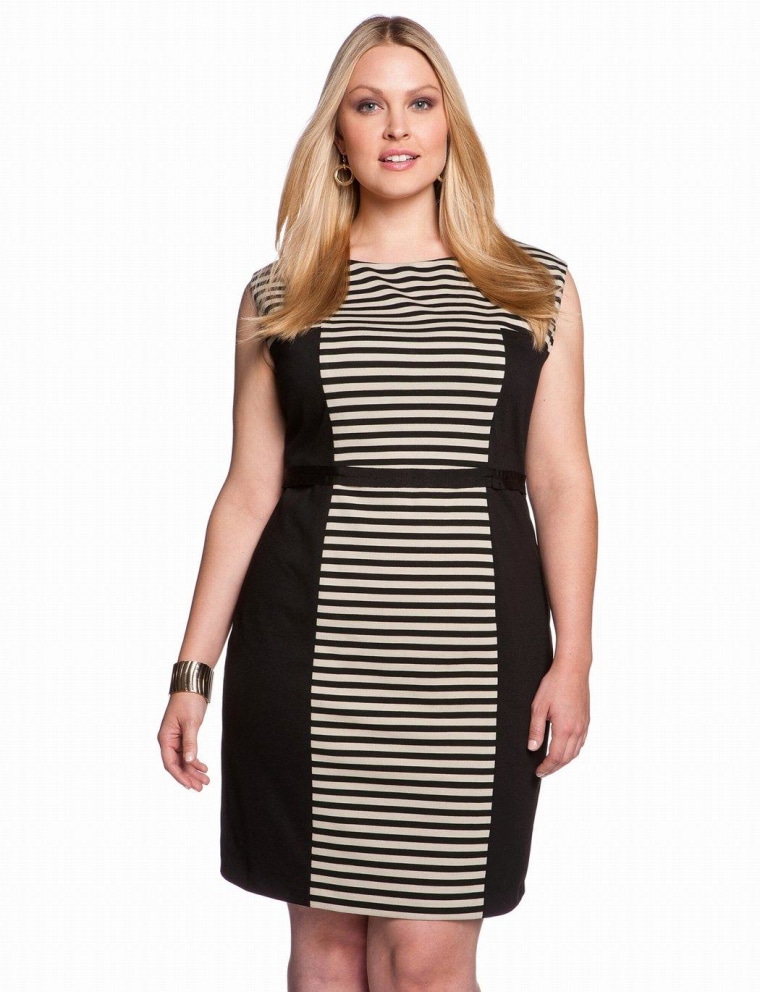 A second option is to wear something striped. While 2012 was all about the polka dot, big, bold stripes will be everywhere this year. Whether you dress them up, dress them down, keep it neutral or mix in a pop of color, stripes are a versatile investment for this year and beyond.
On TODAY: Taylor two-tone dress $39.99, TJMaxx.com; Stripe Block Dress on sale $83.30, Eloquii.com; Bobbie's Alice & Olivia Dress $199.99, TJMaxx.com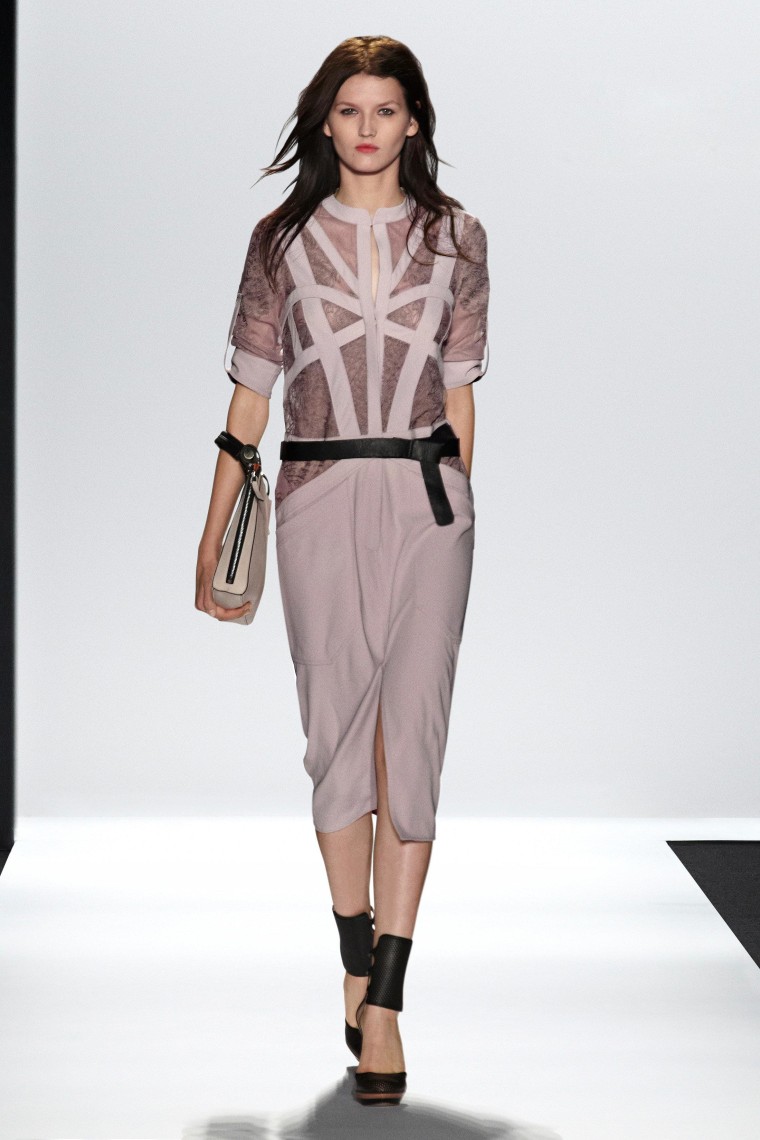 Soft and simple
On the opposite end of the spectrum, lighter looks will also make their mark in the upcoming year. Shifting away from rainbow brights, pretty powdery shades will be popular and can already be found in stores like Uniqlo, Forever 21 and H&M. Valentino and BCBG Max Azria played peek-a-boo with their spring collections, with transparent fabrics, sheer cut-outs and lace panels that give off a romantic, feminine feel for spring.
And after seasons of print, color and embellishment overload, minimalism is gaining popularity again. So take advantage of sleek modern basics, suiting and the overall ease of the less-is-more approach (i.e. wear one hue from head to toe and go!).
On TODAY: Sweater & Jeans $24.95-$39.95, HM.com; Spring 2013 Lavender runway dress, belt, ankle-strap shoes; BCBG.com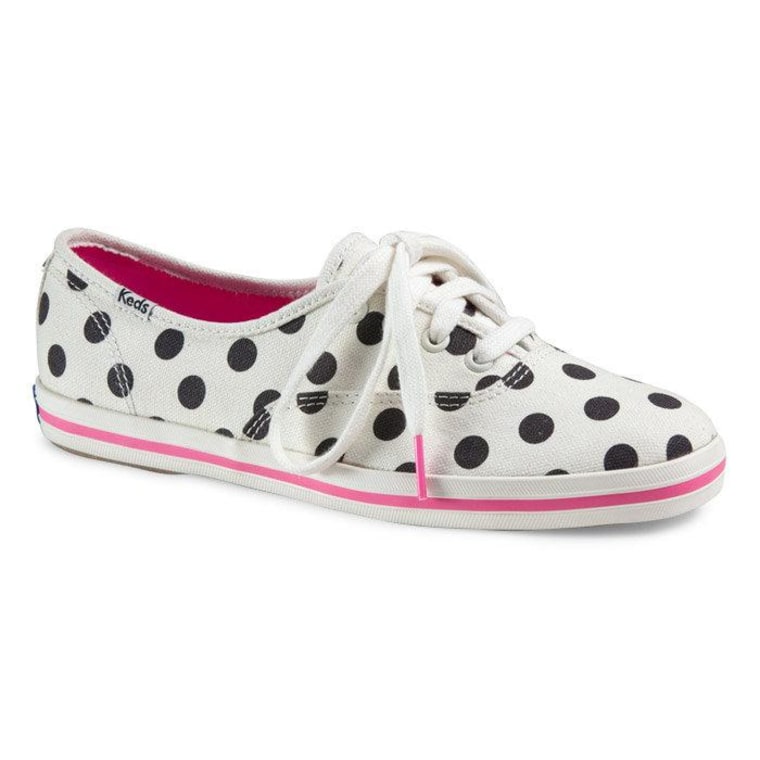 Fresh accents
Statement sneakers are en vogue with everyone from fashionistas to funny ladies Tina Fey and Amy Poehler, who both rocked Converse tennies in a recent Golden Globes promo photo. Chanel, Ruthie Davis and DKNY are all pushing fashion forward this year with luxe embellished high tops that women are tossing out their platforms for.
Consider stepping out in a fun pair of kicks, from studded styles to preppy Keds for Kate Spade New York ($75-85, Keds.com). And last but not least, Stuart Weitzman, BCBG and Tom Ford have decided gladiators are back and bigger than ever, along with weightless-looking see-through straps and heels.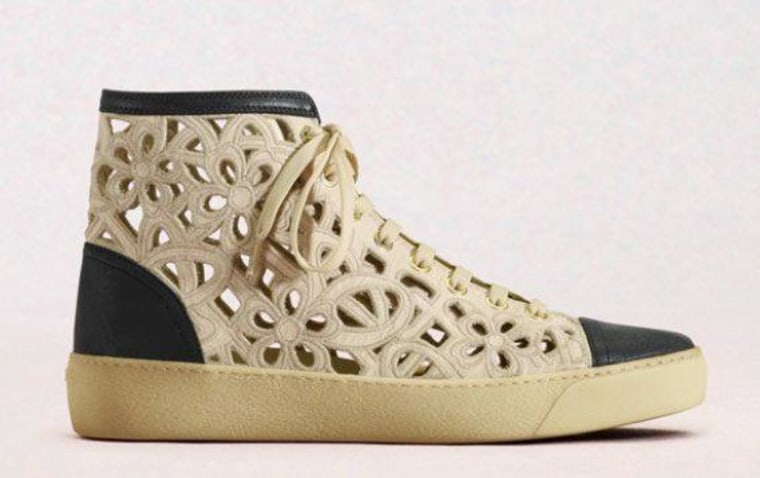 Like shoes, handbag styles will range from being ornate to minimalist. Inspired by the demand for Celine and Givenchy's "It" bags, clean and sleek white totes will be hot for those into sharp and chic fashion. Meanwhile, Fendi and Dolce and Gabbana are serving up embellished, intricate handbags for those who crave something unique and artsy.
On TODAY: Ruthie Davis crystal spiked sneakers, Chanel floral sneakers, DKNY stiletto sneaker, Stuart Weitzman gladiators, Dolce & Gabbana mutli-color straw bag, Fendi 3-D Baguette
More:
Bobbie's Buzz: Style savers for the new year
January's 8 best new beauty buys