Bobbie Thomas is usually delivering the "buzz" – the latest in fashion and beauty – but this past Friday, she was the center of it.
On May 31, TODAY's style editor married lawyer Michael Marion at Kathie Lee Gifford's home in Connecticut. She was surrounded by family and friends, including TODAY anchors Natalie Morales and Hoda Kotb as well as Kathie Lee.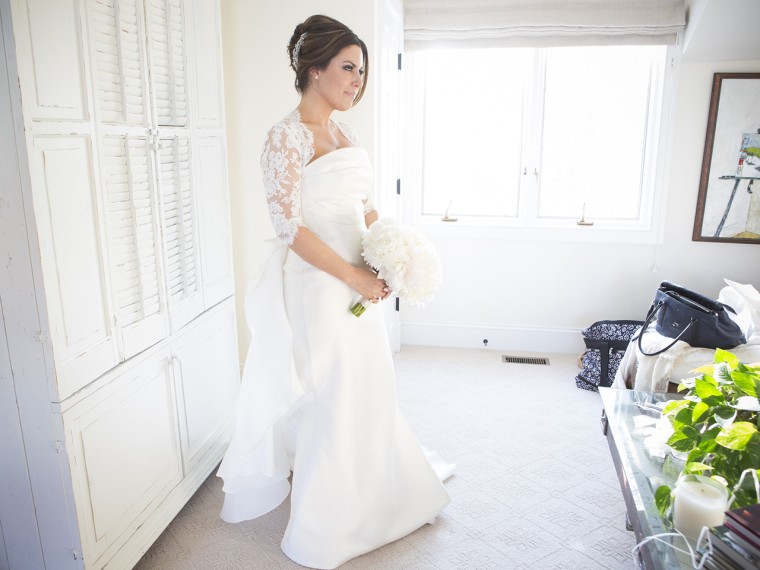 It was only eight weeks ago that Bobbie started planning her nuptials, with help from TODAY.com readers who chose her gown, shoes, cake and even her décor elements. "[They] are all ways to add a personal touch to this special day," said Bobbie.
Enjoying a string quartet and perfect weather, guests watched Bobbie walk down the aisle wearing a Le Spose di Gio dress, Jennifer Behr hair accessory, and crystal and pearl T-strap heels from Coloriffics. Bobbie said she loved her gown, which won first place with over 10,000 votes, for its "elegant simplicity."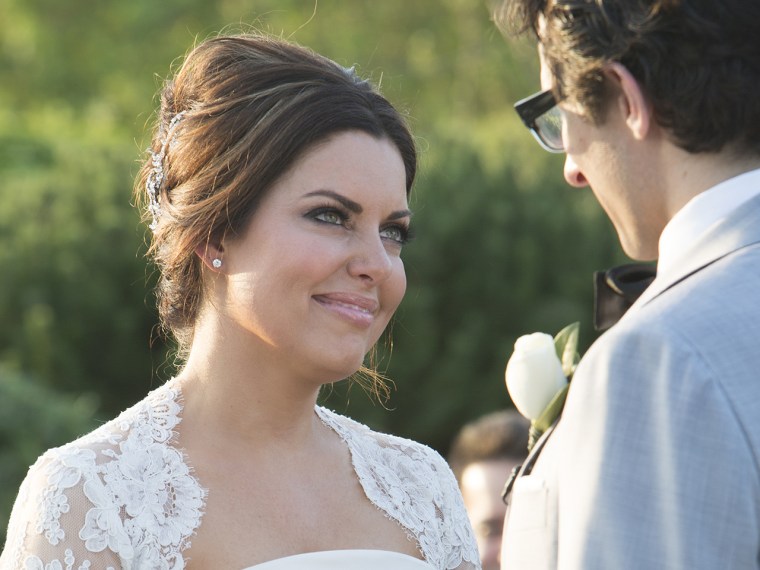 The intimate ceremony, overlooking the water, was officiated by Judge David Laro, a mentor of the groom.
"Michael, you have persevered and succeeded," Laro joked to the crowd.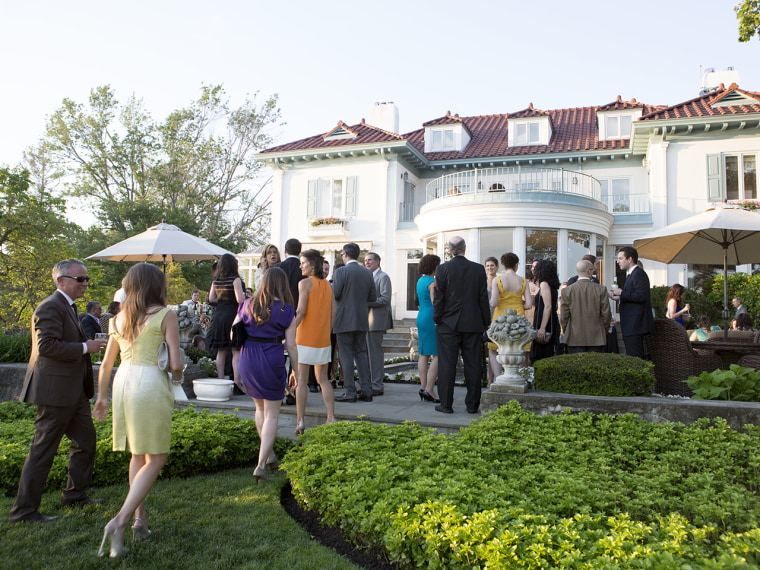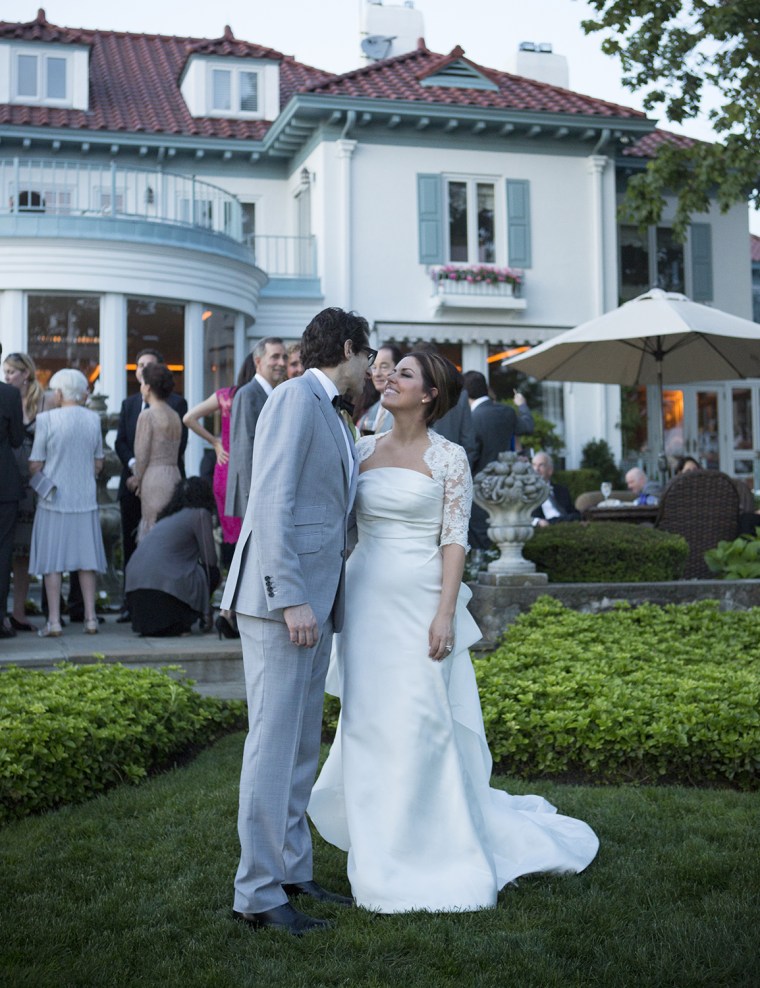 At the cocktail hour, guests dined on truffle-scented pommes frites, mini grilled cheeseburgers, and tuna tartare tacos. For the reception, it was a hearty selection including heirloom tomatoes with burrata and basil oil, salmon fillets, grilled hanger steak with herb butter, and more tasty bites. The entrance to the reception was decorated with chic glitter cases, a winning DIY idea submitted by Cyd Converse of The Sweetest Occasion for TODAY.com's DIY Wedding Decor Challenge.
For dessert, guests got a slice of glitter cake accented with sugar flowers by Connie Cupcake, also chosen by TODAY fans.

"I love cake!" said Bobbie. "Wedding cakes are works of art you can eat, and unlike the dress, shoes, et cetera, everyone gets a piece!"

The baker, Connie Dos Santos, "had Bobbie's heart" from their first email, in which Dos Santos also suggested outfitting a sweets table with metallic-topped cupcakes, glittered doughnuts, "gold-dusted" strawberries and "bejeweled" brownies.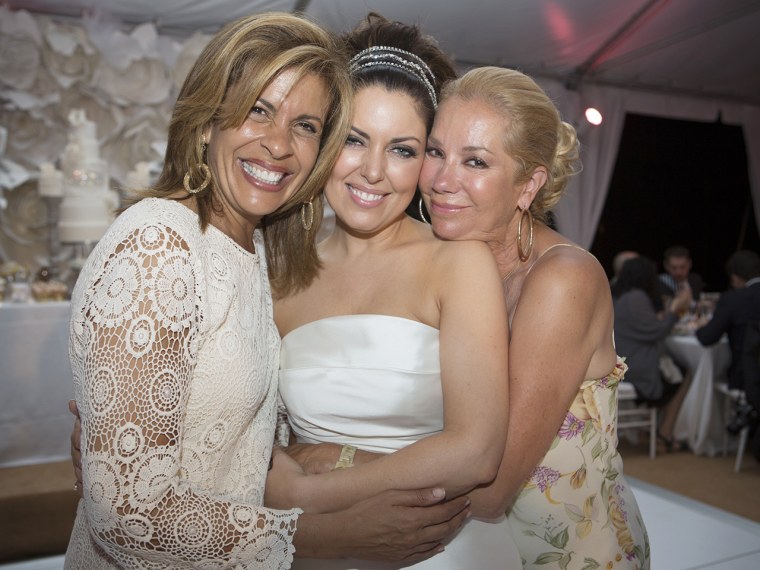 On the dance floor, Natalie, Hoda and Kathie Lee grooved to Michael Jackson and LMFAO with TODAY's executive producer Don Nash, TV host Sara Gore and many others. Even Kathie Lee's dog Bambino made a celebrity appearance at the tented party.
The couple, engaged since May 2012, dated for five years after being introduced by mutual friends at a party in New York City. They are already proud parents to Chica, a long-haired female Chihuahua, whose name was also chosen by TODAY fans. Lucky for Michael, Bobbie's mother, Fatima Kavvadias – a frequent model on Bobbie's TODAY segments – is quite the fan.
"It's a dream," Fatima said of her daughter's wedding. "He's an angel, she's an angel. We're blessed."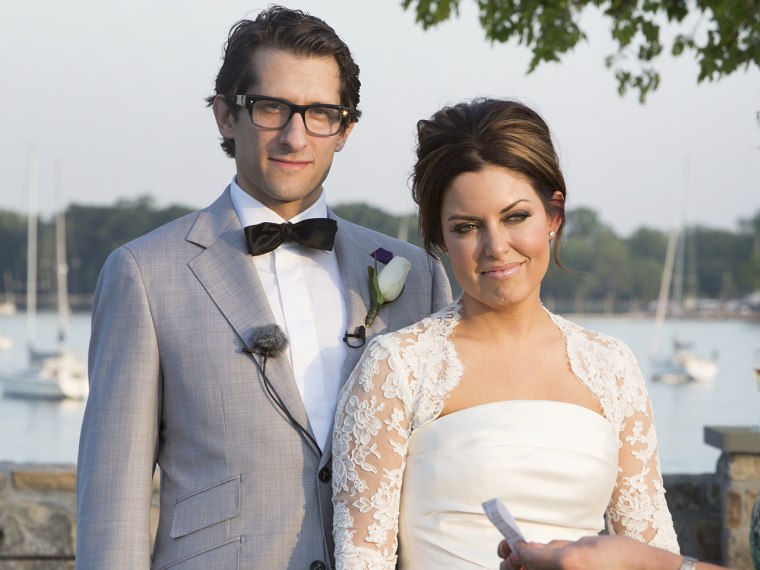 "The whole day turned out to be as equally beautiful as Bobbie," Kathie Lee told TODAY.com at the reception. "Everybody felt incredibly blessed to not only be sharing the beauty of the environment we were in, but the beauty of a love that Michael and Bobbie have."
Bobbie also had kind words for the TODAY co-host and her sprawling estate. "Throwing a wedding in eight weeks was not exactly what you might call a piece of cake," Bobbie wrote in her wedding program. "And it could not have happened without the overwhelming generosity and unwavering support from Kathie Lee."
All in all, Bobbie had her dream (collaborative) affair.
"Not only am I lucky to be surrounded by my closest friends and family while I stand next to my best friend today, but I have everyone's well wishes that I get to carry with me too."
Check out more images from Bobbie Thomas' wedding:
TODAY style editor Bobbie Thomas got married at Kathie Lee Gifford's home on May 31. See the TODAY family celebrate in style!