Stars certainly brought their A-game to the Oscars red carpet!
With so many fabulous looks, it was a great night for the fashion world. And what's the point of fashion if not to have a little fun!
TODAY Style Squad member Bobbie Thomas decided to give some of the outfits a creative twist to re-imagine what they could look like with small tweaks here and there.
What do you think of the remixes?
Emma Stone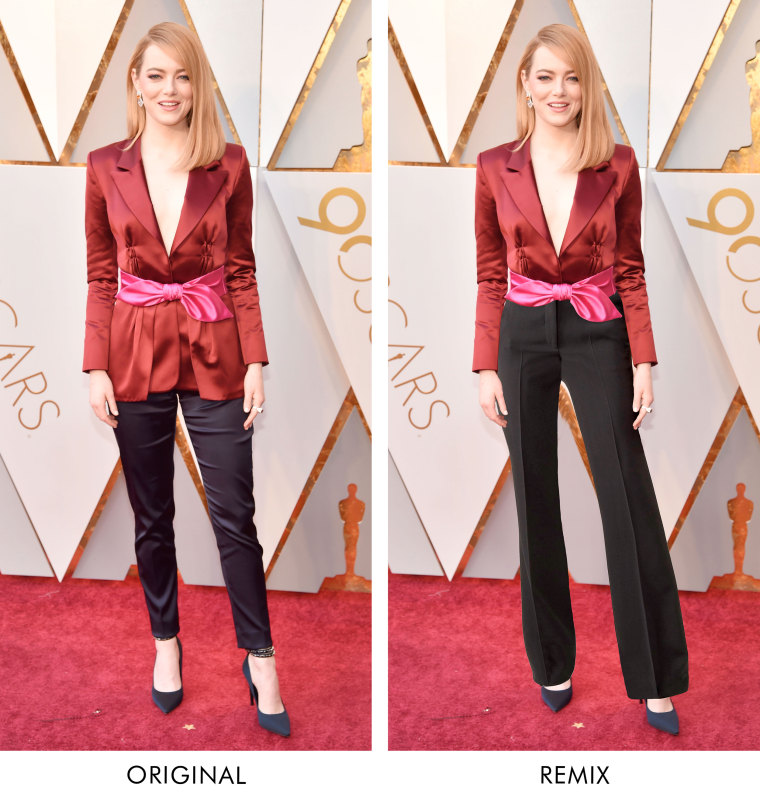 We love the look of a pantsuit on the red carpet, and this contrasting combination on Emma Stone is really striking. To change it up a little, we swapped the cropped silhouette of the pants to a flared look to provide some balance to her stunning plunge neckline. We also shortened her jacket to highlight her playful pink belt. The reimagined look is a bit more streamlined, almost like a jumpsuit!
Viola Davis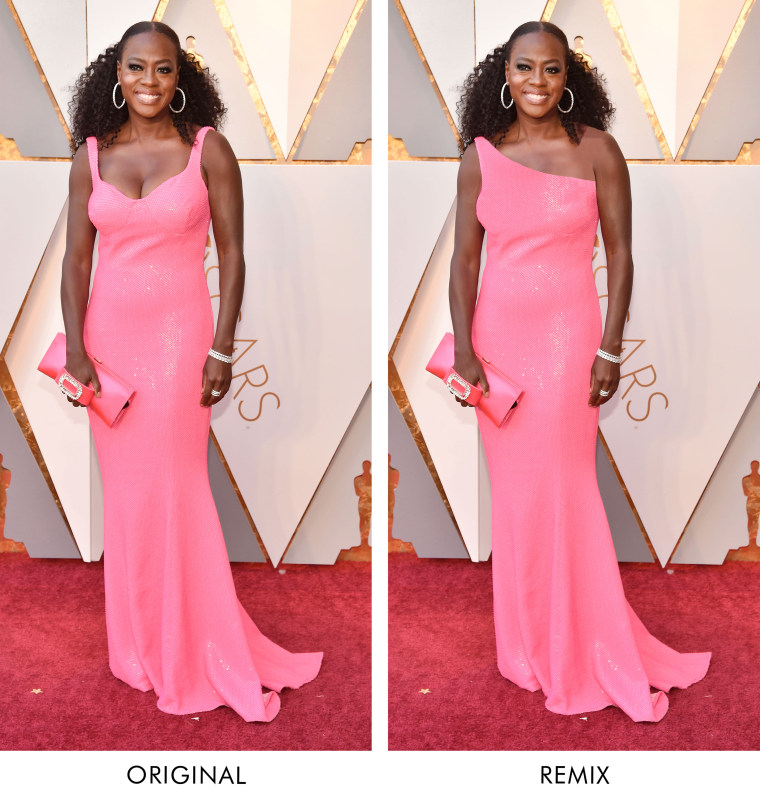 Viola Davis knows how to pull off bold colors on the red carpet, and this hot pink gown is no exception. Taking a cue from her '70s-inspired hairstyle, a one-shoulder gown would offer a sleek finish to her silhouette without competing with her full hair and fun hoops.
Camila Alves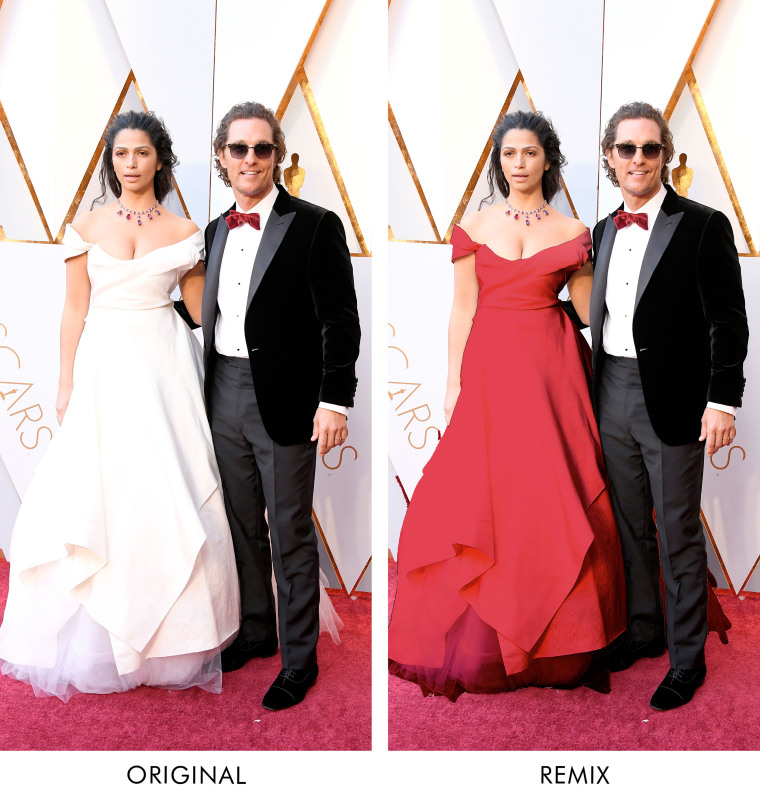 White was a big trend on the red carpet this year, but sometimes (in our real, off-the-red-carpet lives) wearing a white dress can feel a bit too bridal. This remixed version of Alves' look takes inspiration from the beautiful, pear-shaped rubellites in her 73-carat Chopard necklace. A jewel tone could offer second life to a pre-worn white gown, especially with a dark ombre dip on the hem.
Allison Williams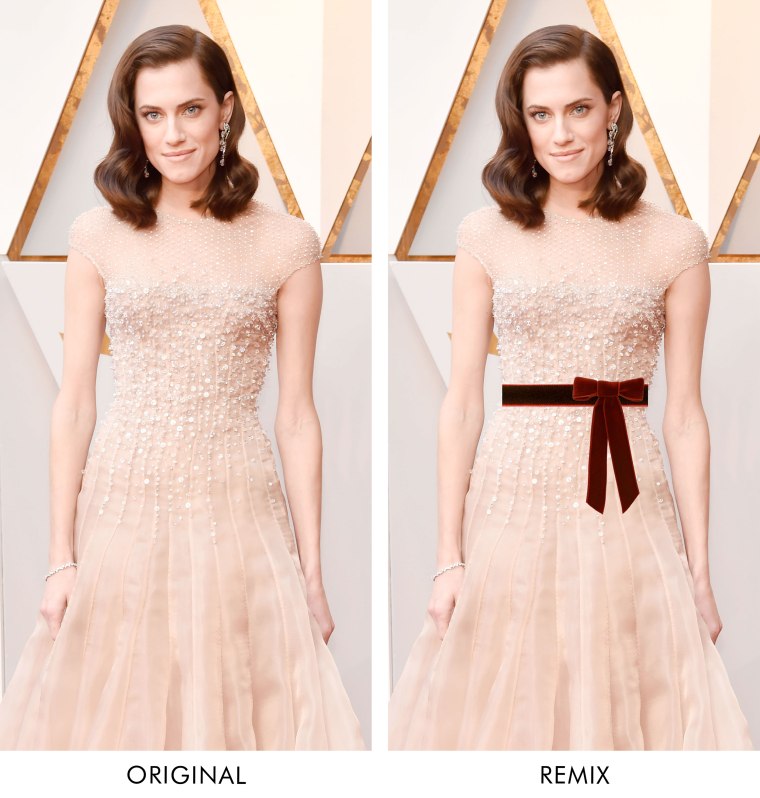 This nude-hued dress blends beautifully with Allison Williams' porcelain skin for a delicate, minimal look. For the remix, a burgundy bow belt shows the possibility of adding a rich pop of color with a simple strip of velvet. Don't be afraid to play with texture and combine luxurious elements to add visual interest!
Laurie Metcalf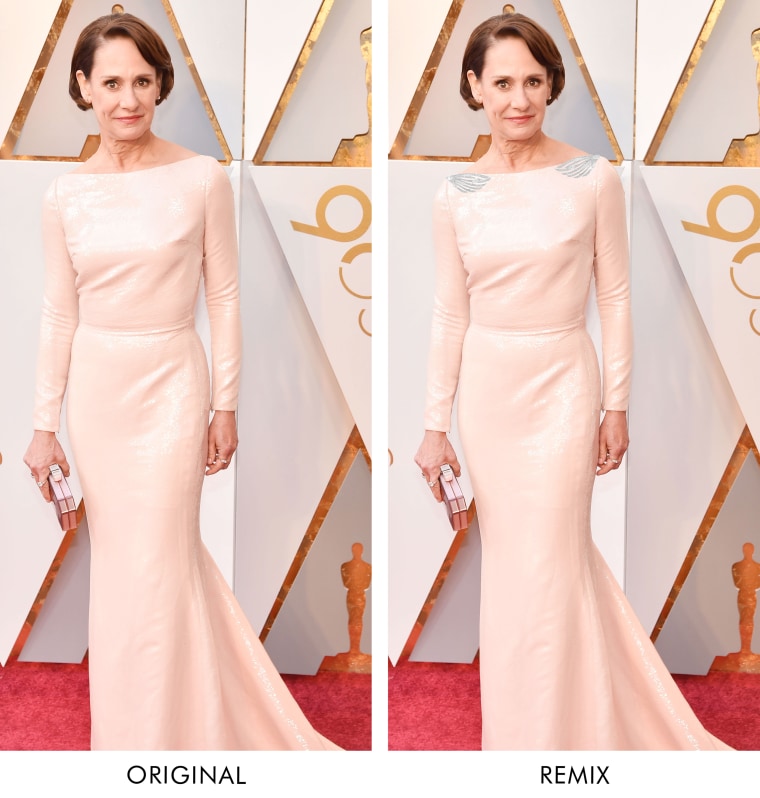 Another way to make a nude dress pop is with an unexpected accessory. Instead of the usual statement necklace or pair of chandelier earrings, try wearing two of the same brooches like epaulets — or, you could place them along your waistline to mimic an embellished belt buckle for a unique touch.
Lindsey Vonn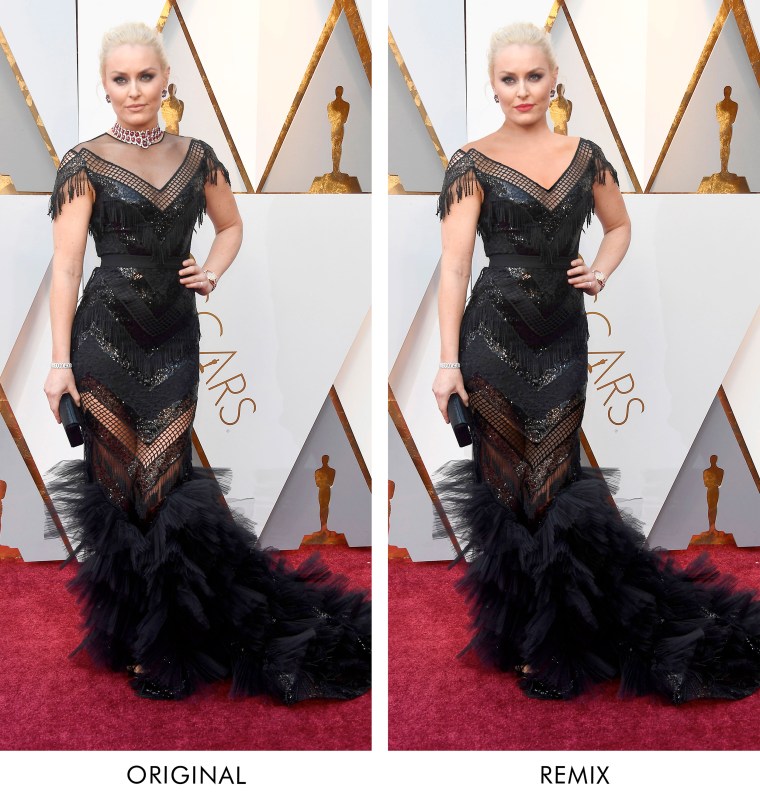 Lindsey Vonn's custom Christian Siriano dress dares to mix fringe, tulle, sequins, mesh and more. For another take, removing the sheer layer on top would help open up the neckline, while a chic, berry-red lip would add balance to the full hemline.
Betty Gabriel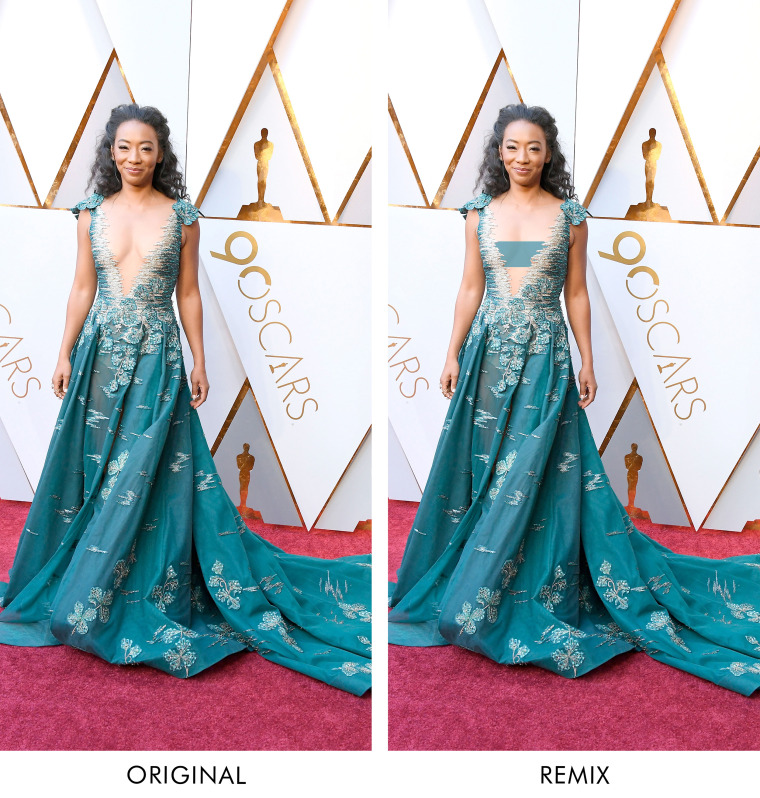 A bare, plunging neckline can be really striking on the red carpet. If you dream of wearing a dress like this, but need a little more support for bigger "girlfriends," you could add a bandeau in the same color. If possible, steal some fabric from the hemline or opt for a sheer effect with a stretch mesh or tulle fabric.
TODAY Style Squad member and author of "The Power of Style," Bobbie Thomas shares the buzz about beauty, fashion and more on TODAY and at Bobbie.com. Follow her on Twitter, Facebook and Instagram.