Rebekah Marine remembers all too well when she used to hide beneath baggy sweaters or pose awkwardly when meeting strangers, lest anyone realize that there was something different about her.
Marine, 29, was born without a right forearm.
"My entire teenage life was spent hiding from the camera," she told TODAY. "I was very self-conscious."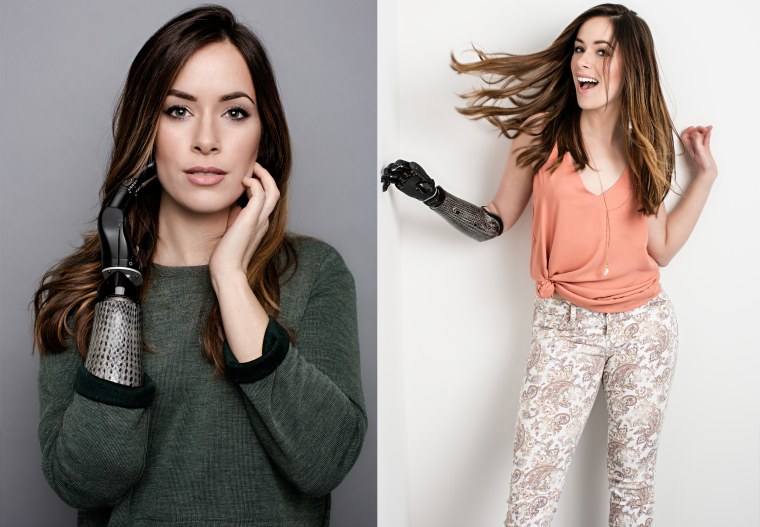 So it might seem surprising that Marine, who lives in West Deptford, New Jersey, is now building a career out of what she used to fear the most: being in the spotlight. The so-called "Bionic Model," a name that references her high-tech prosthetic arm, has been featured in a Nordstrom campaign and various fashion magazines, and she's quickly becoming a mainstay on the runways at New York Fashion Week.
RELATED: Model with one arm fights for diversity in the fashion world
And on Thursday night, she walked in the Runway of Dreams Gala and Fashion Show in New York City, an event meant to raise awareness of the need for adaptive clothing, and to showcase new designs from Tommy Hilfiger for people who have disabilities.
"It was so incredible," said Marine, an ambassador for Runway of Dreams.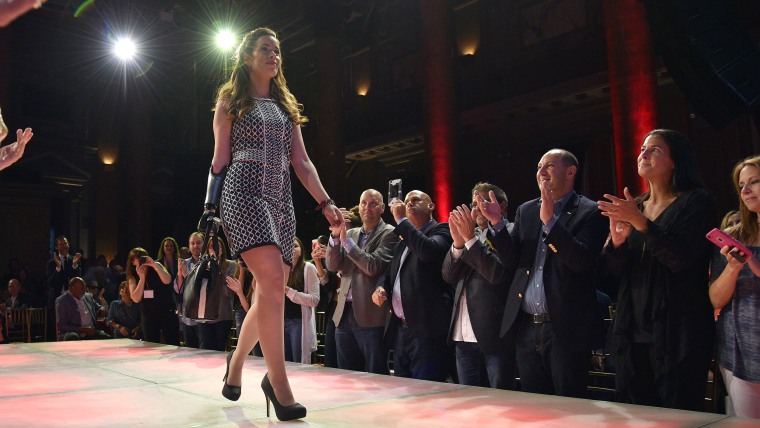 She joined several models — including Jillian Mercado, who was notably featured in a recent Beyoncé campaign — on the runway, wearing clothes featuring magnets instead of zippers and buttons, and adjustable hemlines and sleeves, all simple design tweaks to make clothes easier to put on and take off for people with disabilities
RELATED: Model who lost leg to toxic shock syndrome makes Fashion Week debut
The brand Tommy Hilfiger, which launched an adaptive clothing line for children earlier this year, will soon expand into adult sizes.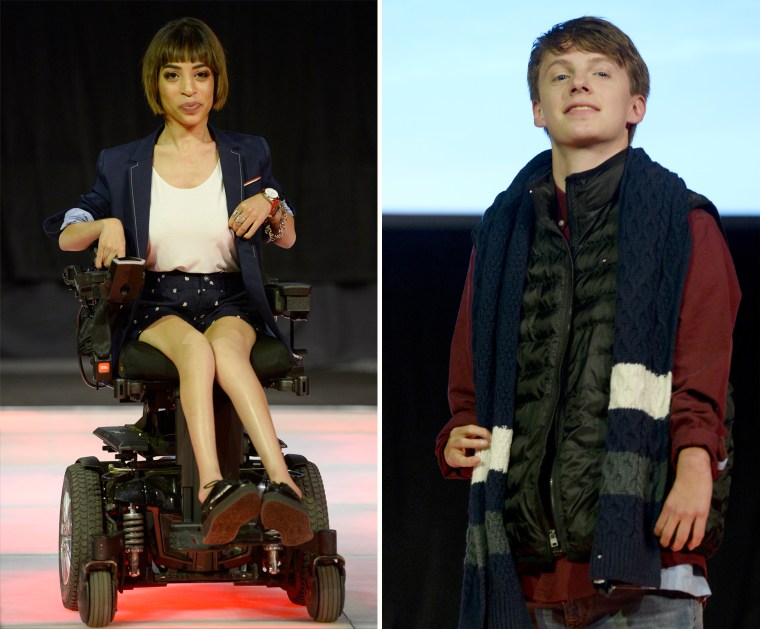 "Adaptive clothing is just so important," Marine said. "It's like, why didn't we do this so long ago?"
"I struggled a lot learning how to do just everything," she added about her own disability. "When I was growing up, we didn't have Google or Facebook, so I didn't have the resources to ask, hey, how do I tie my shoes? Or how do I button my shirt? I had to learn on my own. I didn't even learn how to put my hair up in a ponytail until I was 16."
RELATED: 'What inclusion looks like': Fashion show features children of all abilities
For Marine, who also does motivational speaking and works in graphic design, modeling is her way to educate the public about disabilities and encourage diversity.
"Modeling is such a huge platform to educate people who have never seen somebody with a limb difference," she said.
Of course, it's more than that, too. Fashion was a lifelong dream for Marine, despite any aversion to cameras she may have had during her teenage years.
RELATED: Girl born without a hand plays music with 3-D printed prosthesis
"I was such a ham growing up and I loved playing dress-up, so I knew (modeling) was what I wanted to do," she said. "I grew up very confident and funny and outgoing as a kid."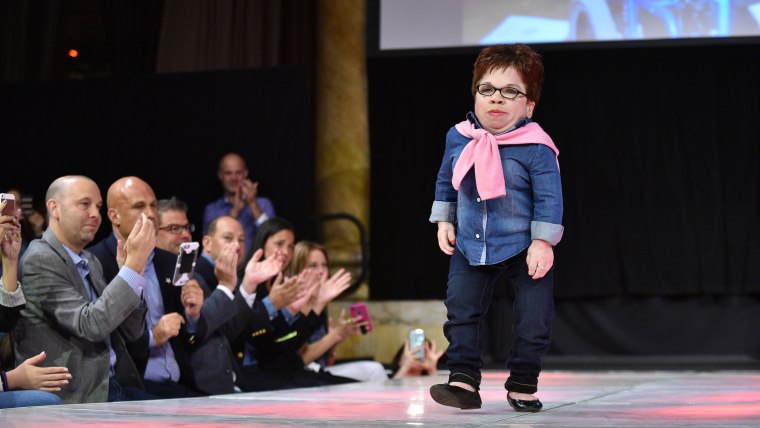 It wasn't until Marine was around 12 years old that she began to see her missing arm as a burden.
"I remember going to a modeling agency in New York City and when I got that rejection, I kind of realized, I am different and things aren't going to be the same for me as the other girls," she said.
It took several years for Marine to build the courage to try modeling again, in her early 20s.
"It was something I really wanted to do, and we only get one life to live … I felt it was the right time," she said. "Agencies are more open to seeing diversity now. My biggest hurdle now is my height, not my arms, which is ironic — I'm 5'3."
Marine has learned to make the most of her disability. She's an ambassador for Touch Bionics, the company that makes her prosthetic arm, the i-limb quantum, a sleek, futuristic-looking device she controls with her iPhone and compares to a "fashion accessory."
"I have a cellphone app that goes along with it, so I can program custom grips," she said. "I can hold a cup of coffee, or do the 'rock on' sign, or give the middle finger. I can pretty much do anything that a regular hand can do."
RELATED: Model who lost leg to toxic shock syndrome lands Nordstrom campaign
And now she's proving she can also do anything she wants in the fashion world. Marine said she's thrilled to be living her dream and working with organizations like Runway of Dreams and Lucky Fin Project, a nonprofit that specifically celebrates children who have an upper limb difference, like Marine.
"It's about teaching kids that they can pursue any dream, regardless of any insecurities they have, or any barriers that they may face," she said. "You've just got to keep pushing."