As we age, our mindset and perspective aren't the only things that change — our skin does, too! Loss of collagen, environmental exposures and hormonal ups and downs are just a few of the factors that affect how our skin reacts.
RELATED: The 6 biggest health mistakes women make in their 30s
In other words: If you're still using that same old acne wash from your teenage years, it's time to listen up.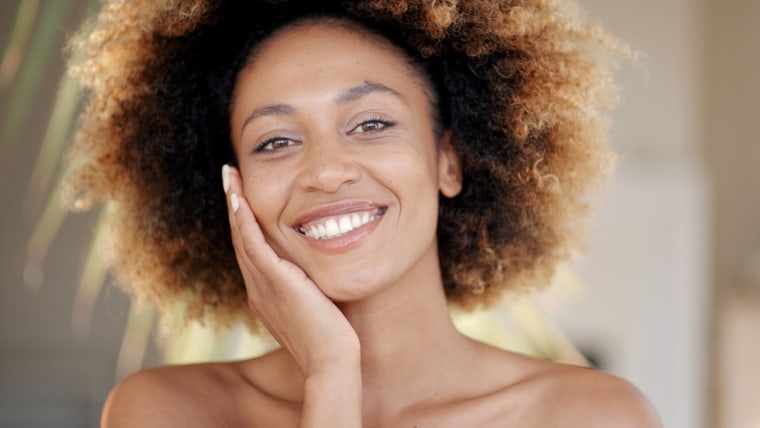 TODAY spoke to two highly respected dermatologists for the scoop on what we should be using at different stages in our lives. Dr. Joel Schlessinger, a board-certified dermatologist and CEO of LovelySkin.com, and Dr. Hilary Baldwin, medical director at The Acne Treatment and Research Center in Morristown, NJ, put together a list of the most common skin complaints they hear from women in their 20s to 70s and beyond.
Here's how to treat the two most-common concerns women in their 30s face.
RELATED: How to treat acne and dark circles for women in their 20s
Blotchiness
"This is the age when small areas of redness or patchy darkness may begin to appear," said Schlessinger, adding that this leaves the face with an uneven appearance.
The solution:
Products with amino acid will treat skin discoloration and lighten areas to even out the blotchiness. Always remember to use sunblock to protect skin so dark areas aren't intensified, Schlessinger said.
Recommendations:
Aveeno Positively Radiant CC Cream Broad Spectrum SPF 30, $17, Amazon.com
Eucerin Sensitive Facial Skin Redness Relief Soothing Night Crème, $16, Cvs.com
Lines around the mouth
As the body's natural production of collagen slows, small vertical lines begin to form around the lips, explained Schlessinger. "Smoking, chewing gum and drinking from a straw, even whistling can cause premature fine lines to form as these actions involve frequently pursing of the lips," Schlessinger said.
The solution:
Look for a targeted anti-aging treatment with ingredients such as Aminofil, NeoCitriate and NeoGlucosamine to promote collagen production and plump skin around the lip area.
Recommendation:
SkinCeuticals antioxidant lip repair, $38, Skinceuticals.com