/ Source: Better Homes and Gardens
It's only February, but Better Homes and Gardens is already announcing the best new products of 2016.
Amy Panos, the magazine's deputy home editor, stopped by Studio 1A Tuesday to reveal the best of the best that are on the market this year.
The magazine surveyed nearly 40,000 people to narrow down the list to the top products in various categories, including food, beauty, personal care and home products.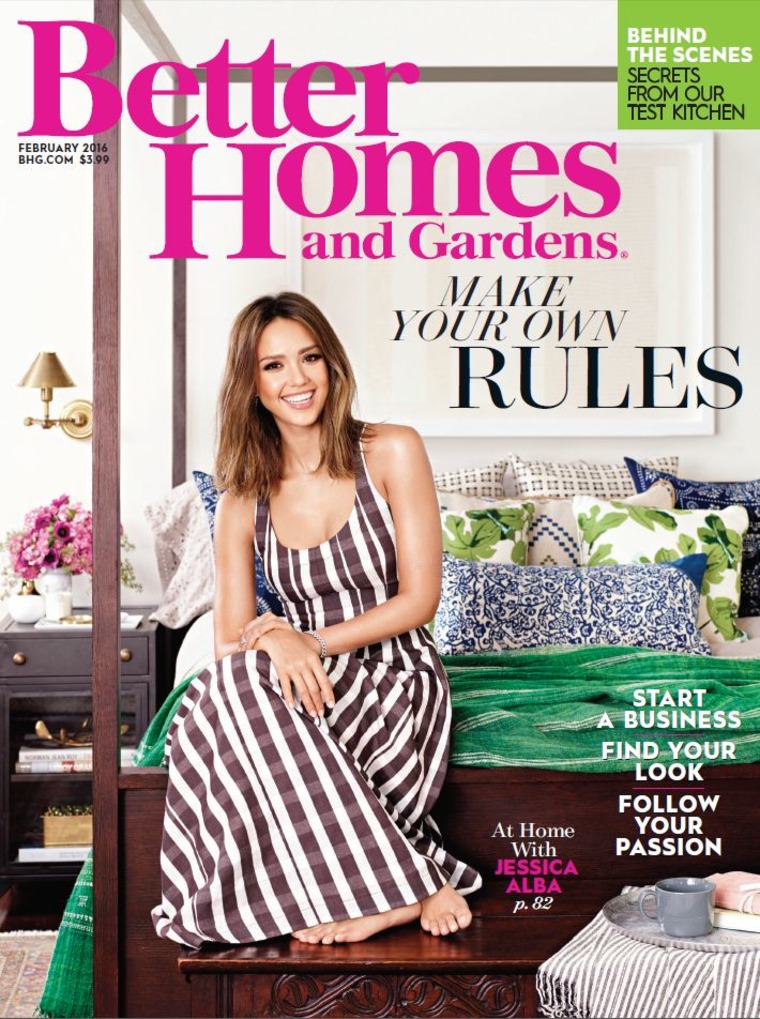 While you can see the full list of winning products in Better Homes and Gardens latest issue, here's a sneak peek at what you should consider adding to your shopping list this year.
Food and beverage
Best cereal: Cream of Wheat To-Go Maple Brown Sugar with Walnuts
Consumers say they love to eat this for breakfast on a cold morning. An excellent source of iron and calcium, this instant variety comes in single-serve packets that can be easily prepared in the microwave or by adding hot water to your bowl. This is a great option to bring to work or enjoy at home.
Best savory snack: Savoritz Rosemary & Olive Oil Woven Wheat Crackers, $1.69
Made with 22 grams of whole grain per serving, the Savoritz Rosemary & Olive Oil Woven Wheat Crackers are perfect for serving at parties. Consumers love using these crackers as a base and adding toppings. They also like that the rosemary flavor is distinct, but not overpowering.
RELATED: 10 ways to organize your pantry, foyer and media center
Best yogurt: Chobani Greek Yogurt Oats $1.99
Gluten-free steel cut oats are cooked over low heat with ripe fruit, then mixed with quinoa, buckwheat, amaranth, chia and Chobani Greek yogurt for a super hearty and delicious breakfast. Consumers say that the oats make it more filling than regular yogurt - and they like the ratio of yogurt to fruit to grain.
Best dessert: Breyers Gelato Indulgences $5.49
This takes the freezer aisle to a whole new level. Available in eight flavors, Breyers Gelato Indulgences feature creamy gelato, luscious sauce and gourmet toppings. Here we have vanilla caramel, raspberry cheesecake, strawberry truffle, mint chocolate and chocolate caramel. Consumers love being able to see the product through its packaging — and having the option to eat gelato at home, which has been more difficult to find in the past.
Beauty
Best anti-aging facial care: Olay Total Effects Feather Weight Moisturizer SPF
Consumers are loving beauty products that multi-task. This one-step moisturizer gives you seven benefits for healthier-looking skin — fighting wrinkles, enhancing brightness, minimizing pores and more. The light texture really delivers results. "This moisturizer almost vanishes into my skin upon contact. There is no feeling of greasiness, or stickiness. My skin almost seems to respond instantly to the application," one consumer said.
Best lip color: Revlon Ultra HD Lipstick
Most lipsticks are made with a wax base, but Revlon's new technology is rooted in a clear gel base that creates more vibrant color than a traditional lipstick. Available in 20 high-definition shades, consumers say that the color really lasts and stays on even while they're eating or drinking. They also love the vanilla-mango scent.
Best men's face/body moisturizer: Dove Men+Care Ultra Hydrating Cream
This cream keeps men's skin moisturized for 24 hours. The non-greasy solution absorbs quickly and helps the skin to repair and regenerate. Men say it's worked wonders on their face and that they can feel the moisture throughout the day.
RELATED: Put down the lip balm: Doctor-approved chapped do's and don'ts
Best facial mask: Olay Regenerist Luminous Overnight Mask
Masks are all the rage now but they can get messy. Unlike a typical peel-off mask though, this gel-based mask absorbs throughout the night and is formulated with vitamin B3, mulberry extract, and humectants to reveal pearlescent, glowing skin. Voters said that using this mask actually makes their skin look younger — and they love the non-greasy formula.
Personal care
Best hand sanitizer: Purell Sanitizing Wipes Clean Refreshing Scent
Super convenient, these wipes kill the most common germs on hands that may cause illness for use at home, work, or on-the-go. One consumer called them "kid savers" and said they're great for little sticky hands. People also like that the wipes don't have too strong of an odor.
Best teeth whitening: Colgate Optic White Express White Toothpaste
We all want whiter teeth. This product contains hydrogen peroxide and goes beyond surface stains to deeply whiten. It also protects enamel and provides anti-cavity fluoride protection. Coffee drinkers say that this product has really helped the appearance of their teeth.
Best mouthwash: Crest Pro-Health Advanced Mouthwash with Extra Deep Clean
Here's another product that takes care of everything! This mouthwash kills bad breath germs, helps prevent cavities, strengthens enamel, cleans teeth and gums, and freshens breath for a healthier mouth. The formula doesn't contain alcohol, which consumers love because there's no harsh after-taste or burn in your mouth.