One might think shopping for something as basic as a white T-shirt would be easy, but finding the right style, fit and cotton blend can prove to be challenging. And that's without even getting into the sleeves and necklines (loyalties to crewnecks or V-necks are hard to shake).
To save you time and a lot of frustration, we've done the digging for you. Read on for nine white T-shirts that will (finally!) fit all of your outfit needs.
Uniqlo Women Drape Crewneck Short-Sleeve T-Shirt, $15, Uniqlo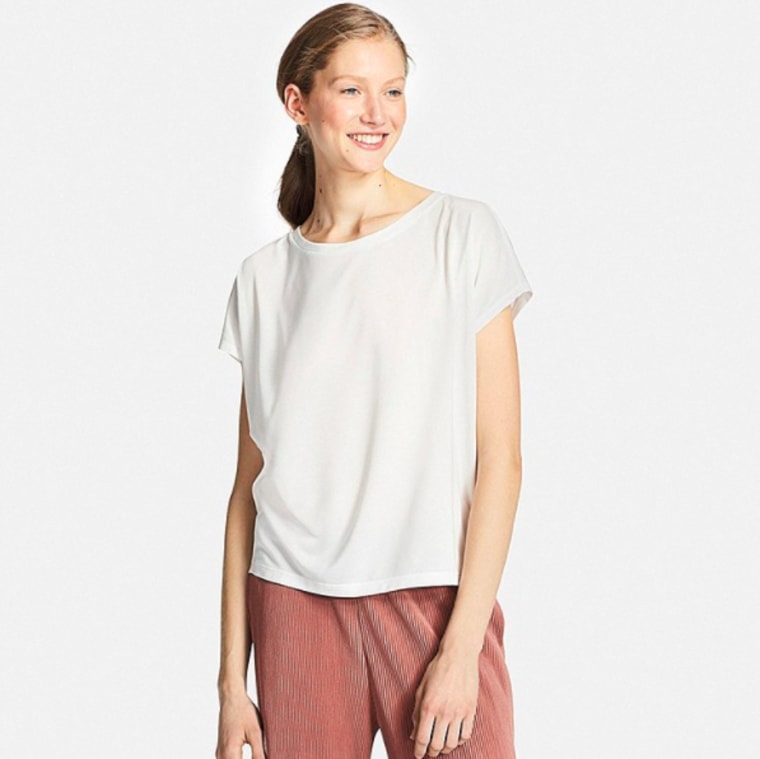 This poly-rayon crewneck tee, also available in six other shades, from Uniqlo features a glossy sheen that adds a touch of sophistication (especially compared to your average Hanes), making it the perfect companion to your office blazers.
Asos New Look Roll Sleeve Jersey Tee, $16, Asos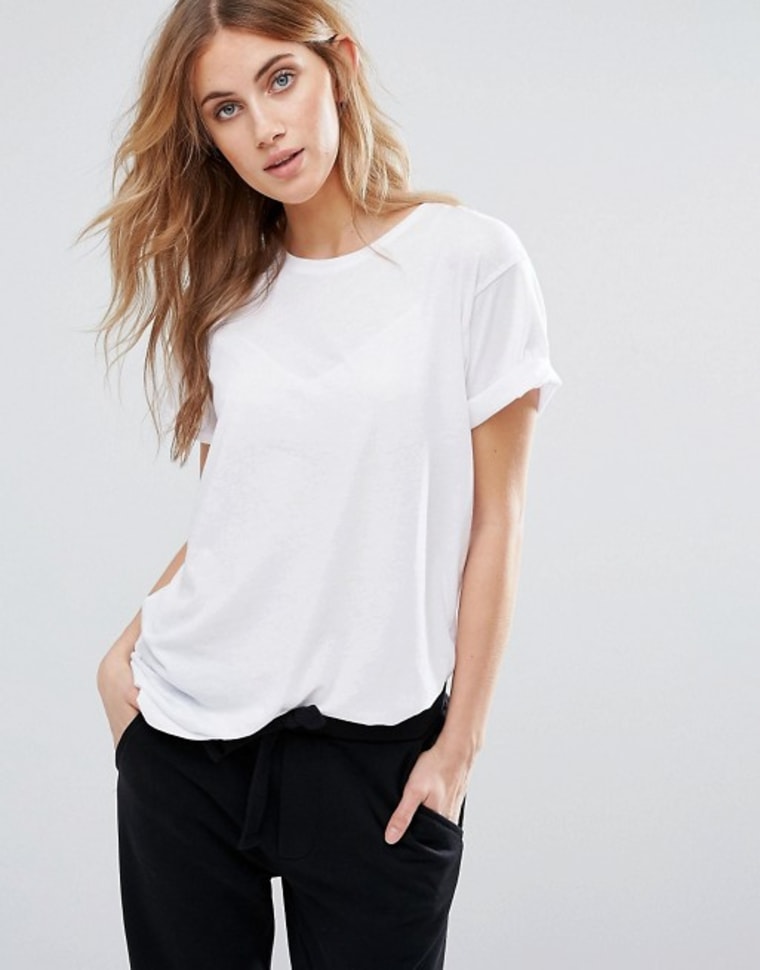 Calm. Collected. Asos went ahead and rolled the sleeves on this jersey tee for you. Now all you have to do is find a pair of loose-fitting cropped or harem pants to round out your casual, yet still chic, look.
Lane Bryant Swing Tee, $18, Lane Bryant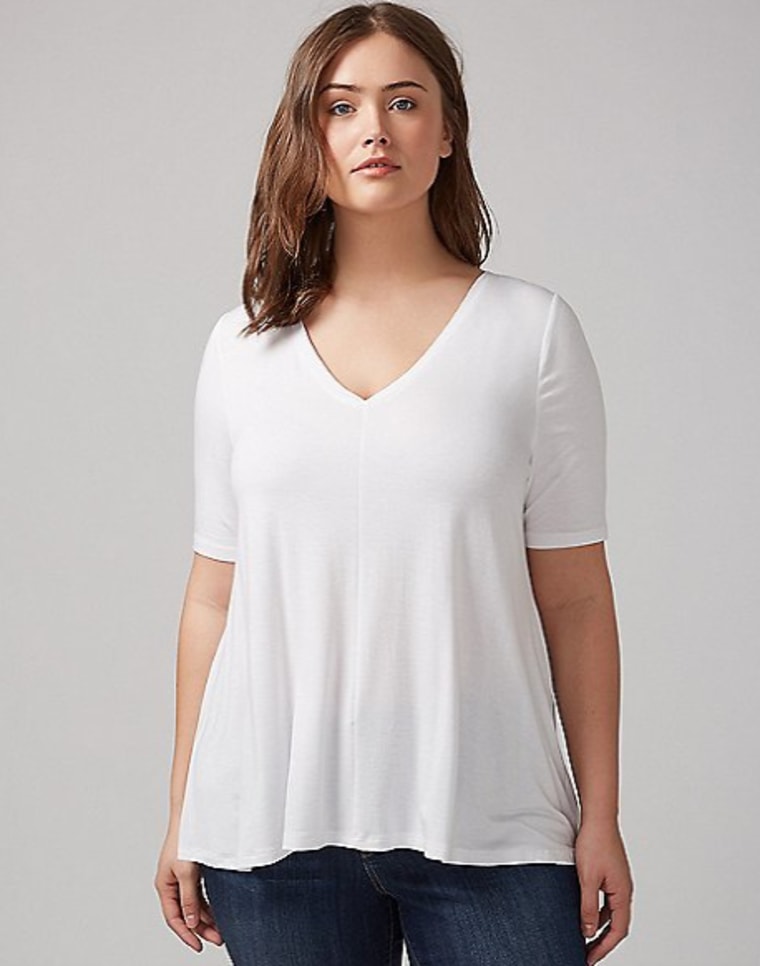 This tee from Lane Bryant, also available in four bold shades, is designed with a loose-fitting swing hemline for more comfort and mobility. The seam down the middle also brings the eyes inward for a slimming effect.
Black Orchid Denim Short Sleeve Tee, $34, Spring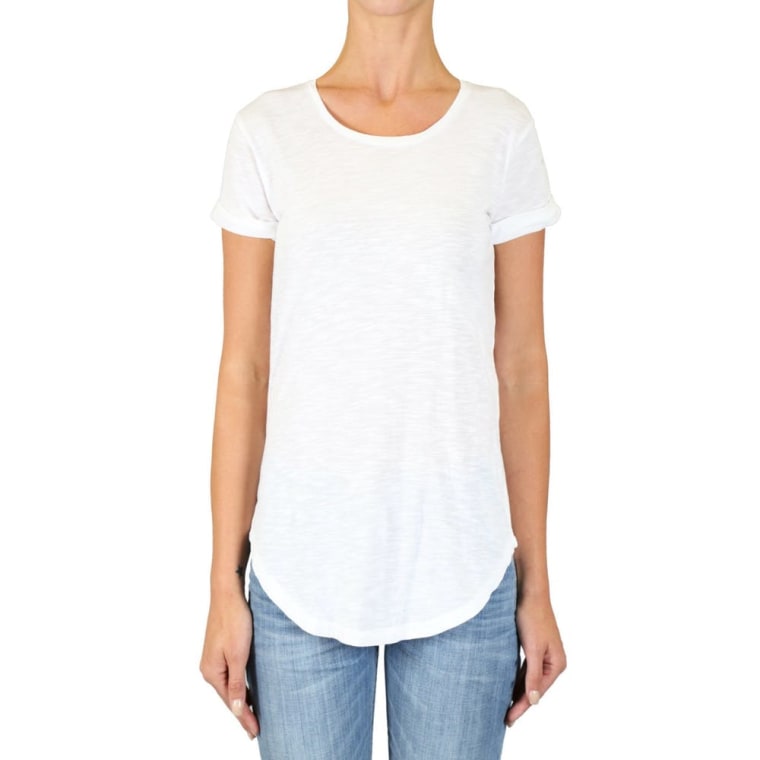 This tee from Black Orchid has short, cuffed sleeves for showing off those toned arms, along with a long, curved hemline (super slimming!). Rock it with your favorite pair of boyfriend jeans while running errands on the weekend.
Joe Fresh Women+ Relaxed Boyfriend Tee, $16, Joe Fresh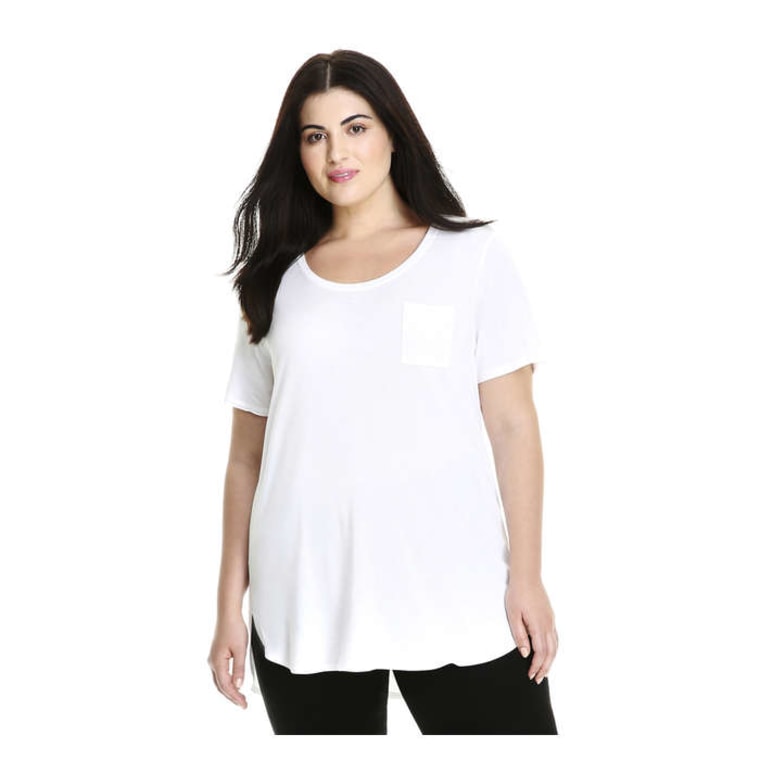 This relaxed tee from Joe Fresh's new plus-size line features a longer cut, making it a great match for leggings. It's also incredibly soft for days when you want to kick back and unwind with your favorite movie or book.
Madewell Whisper Cotton Crewneck Tee, $20, Nordstrom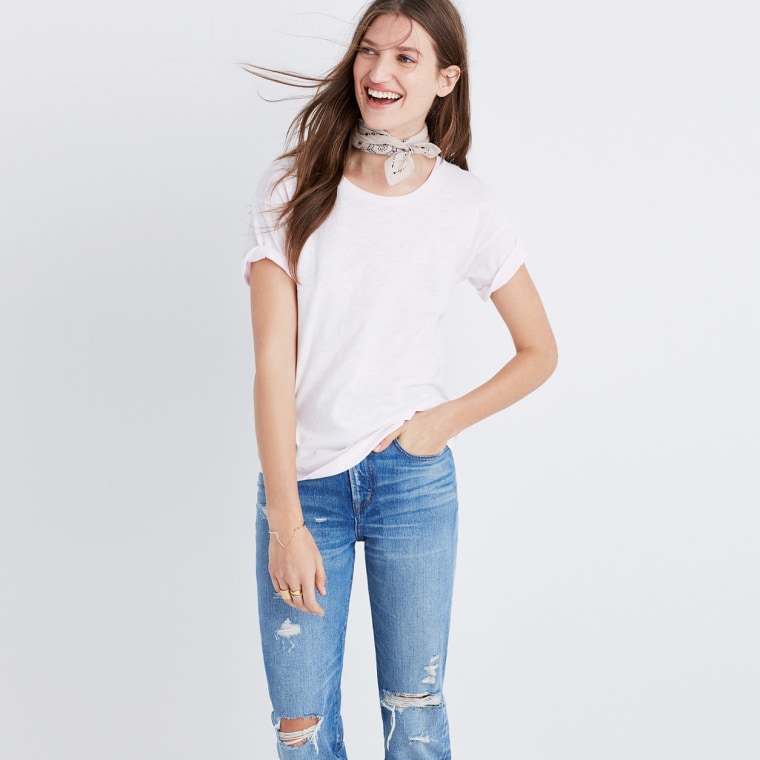 This beloved tee from Madewell can be worn out or half tucked in for that purposely undone look. Dress it up for work or play with a statement necklace or even a light scarf, as shown.
Old Navy Perfect V-Neck Tee, $6, Old Navy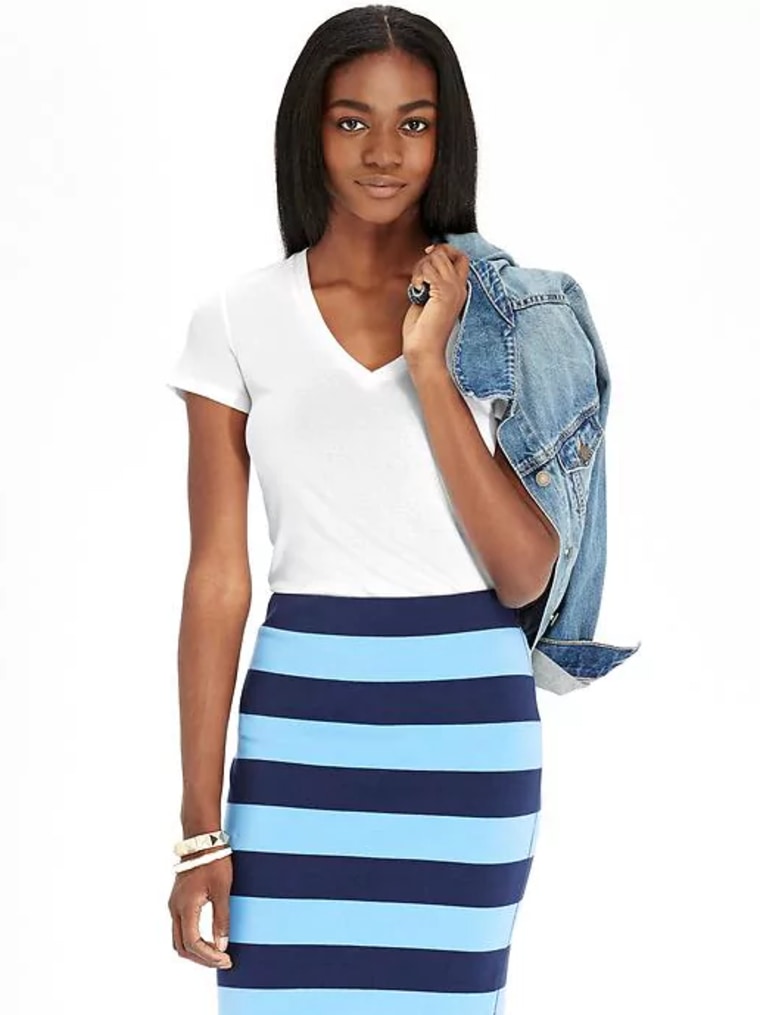 This V-neck shirt from Old Navy is fitted so you won't need to worry about it bulking up under your favorite skinny jeans. You can even tuck it into those pencil skirts for work, as shown here.
Gap Fitted Crewneck Tee, $20, Gap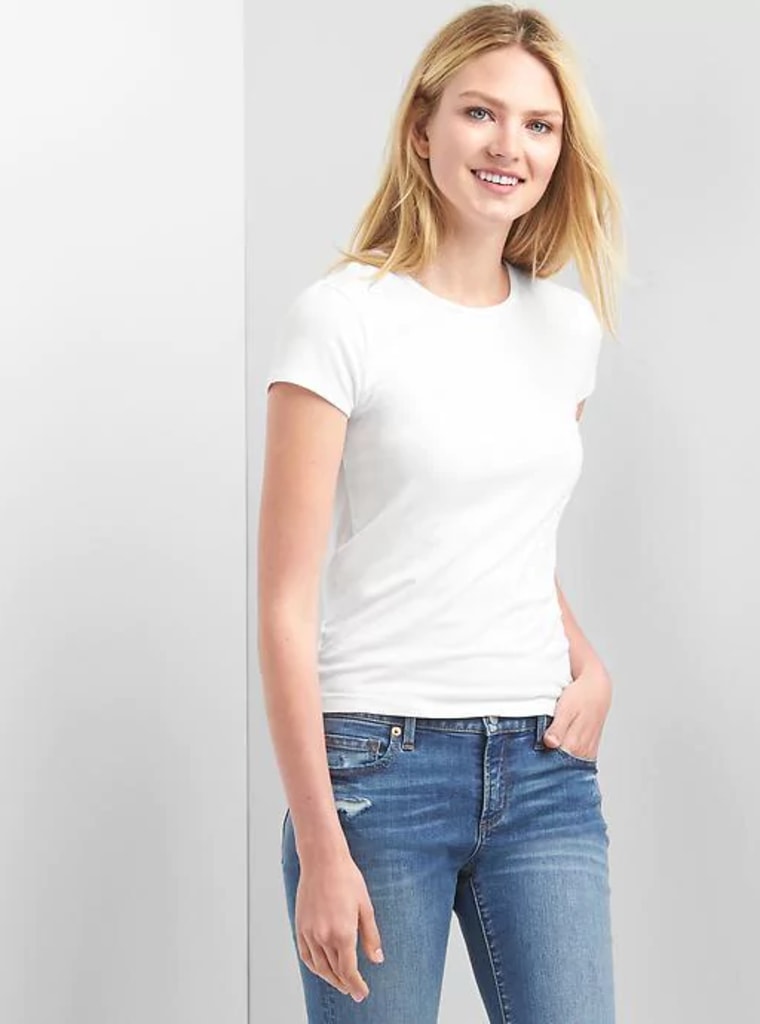 It doesn't get much more classic than this crewneck T-shirt from Gap. It's fitted and straddles the line between playful and polished so you can wear it for a wide range of outfits and occasions (you may want to scoop it up in black and gray while you're at it).
Rag & Bone The Vee Tee, $85, Bloomingdale's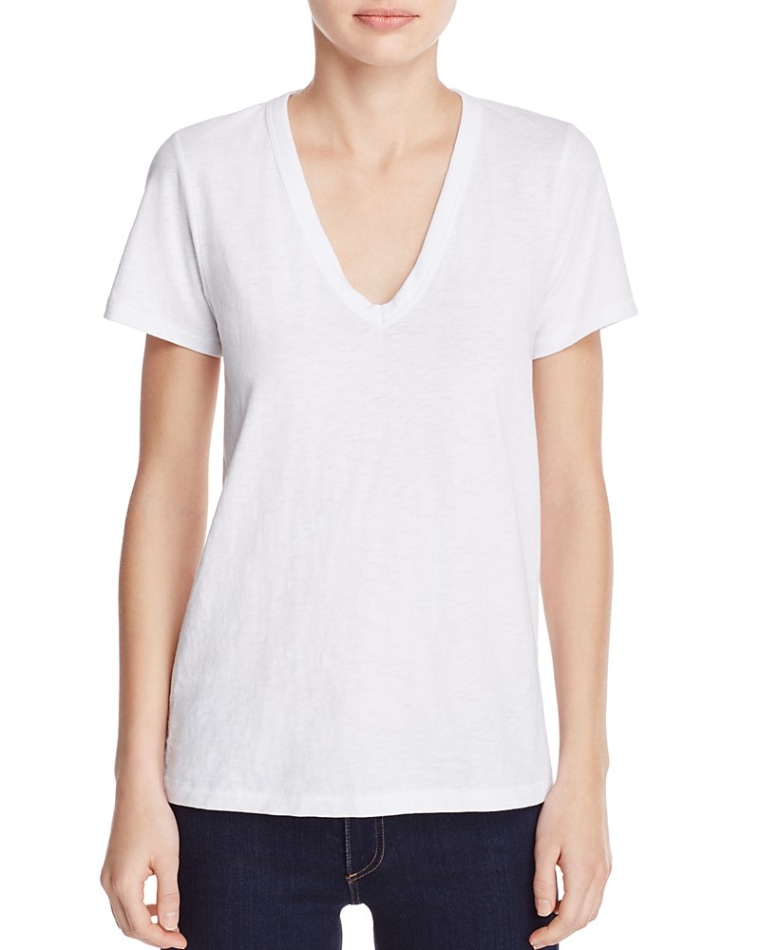 Last, but certainly not least, this tee from Rag & Bone has become a favorite among celebrities for its versatility and comfort. The plunge V-neck also makes it ideal for showing off longer, and especially layered, pendant necklaces.
Looking for more wardrobe basics? Check out our post on our favorite jeans or the best bras.