It's the sunniest time of the year, but if you're anything like us, as much as you love to stay covered you'd almost rather go naked than apply sticky, streaky sunscreen. We asked beauty expert Julia DiNardo, editor of Fashion Pulse Daily, what to look for in an SPF so we can (finally) silence our gripes — and give our faces the protection they deserve. 
"It's true that some women reject using sunscreen," she says. "But there are certainly hero products that provide excellent formulations and application methods that will make putting on SPF second nature." Read on to hear DiNardo's tips and see TODAY.com's picks for the best sunscreens, whatever your complaint.

The problem: Your hairline gets greasy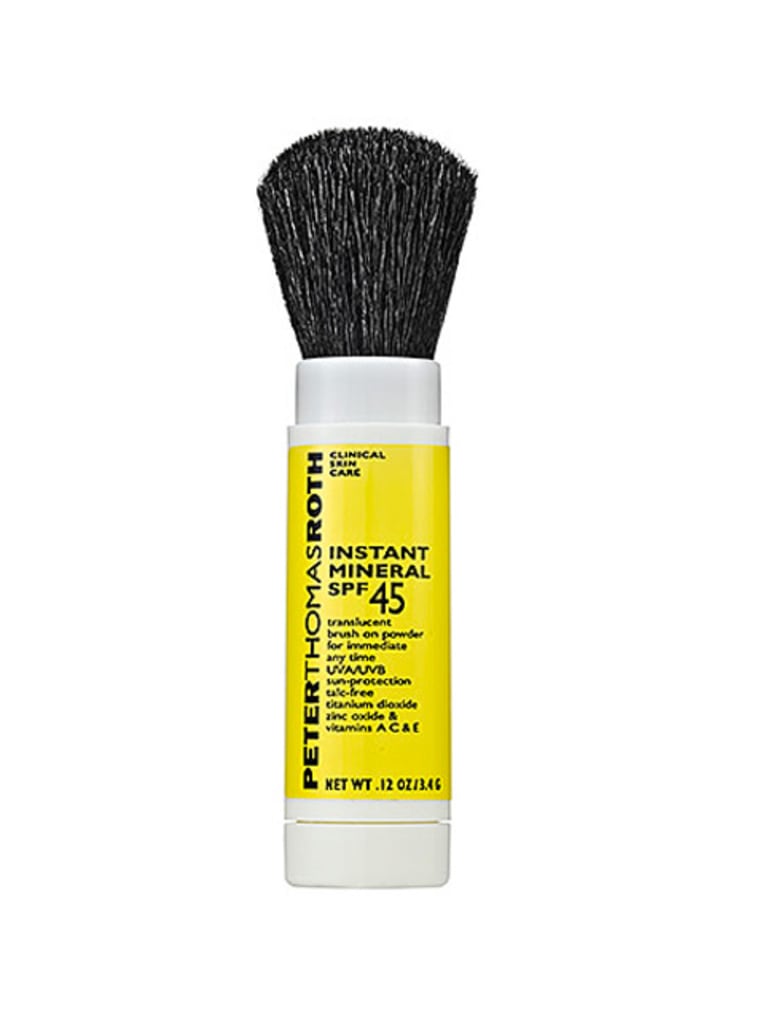 Don't apply your sunblock all the way to the roots of your hair for fear of greasy strands? You're not alone — and that could be one reason why so many women first notice signs of sun damage on their foreheads. The solution: Use a powder SPF that can be brushed all along your hairline and even directly on your part. Our pick: Peter Thomas Roth's Instant Mineral Powder SPF 45 ($30). The brush-applicator couldn't be more convenient and the finely milled, talc-free powder leaves no residue.
The problem: You can't take off your makeup to reapply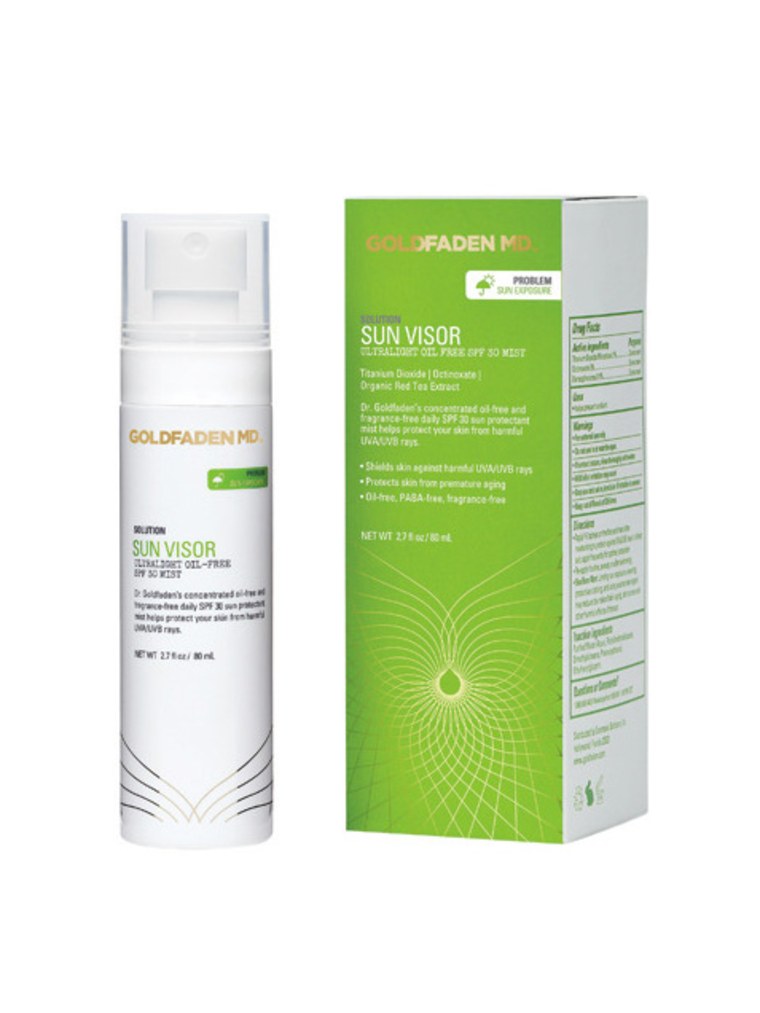 Heading out for midday errands or an alfresco lunch date? Tote along an ultra-fine spray sunblock designed to be applied over a full face of makeup (yes, such products do exist!). The pick of the litter: Goldfaden MD Sun Visor Ultralight Oil Free SPF 30 Mist ($45). Don't forget a spritz on your neck and hands while you're at it.
The problem: It burns your eyes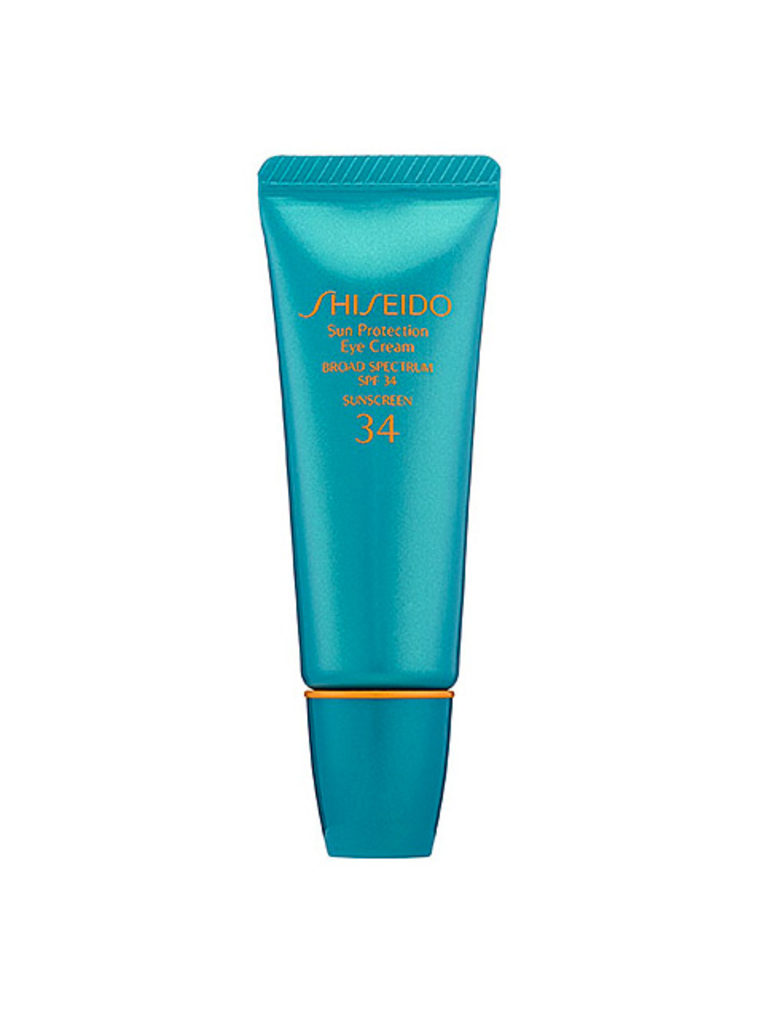 "Women tend to forgo areas such as the eyelids where the skin is extremely tender and hence, sensitive to sunscreen, so a good solution is to use an eye cream product that is familiar with that area and includes a moderate to high SPF," says DiNardo. Our top candidate: Shiseido Sun Protection Eye Cream Broad Spectrum SPF 34 ($35.50), a luxurious ophthalmologist tested, non-sticky formula we can apply right up to the lash line, no tears allowed. To apply, pat (don't rub) it on clean skin or over a thin layer of eye cream, and let the product absorb for ten minutes before putting on makeup.
Tip! Contact lens wearer? Always put your lenses in before applying SPF.
The problem: You hate the white cast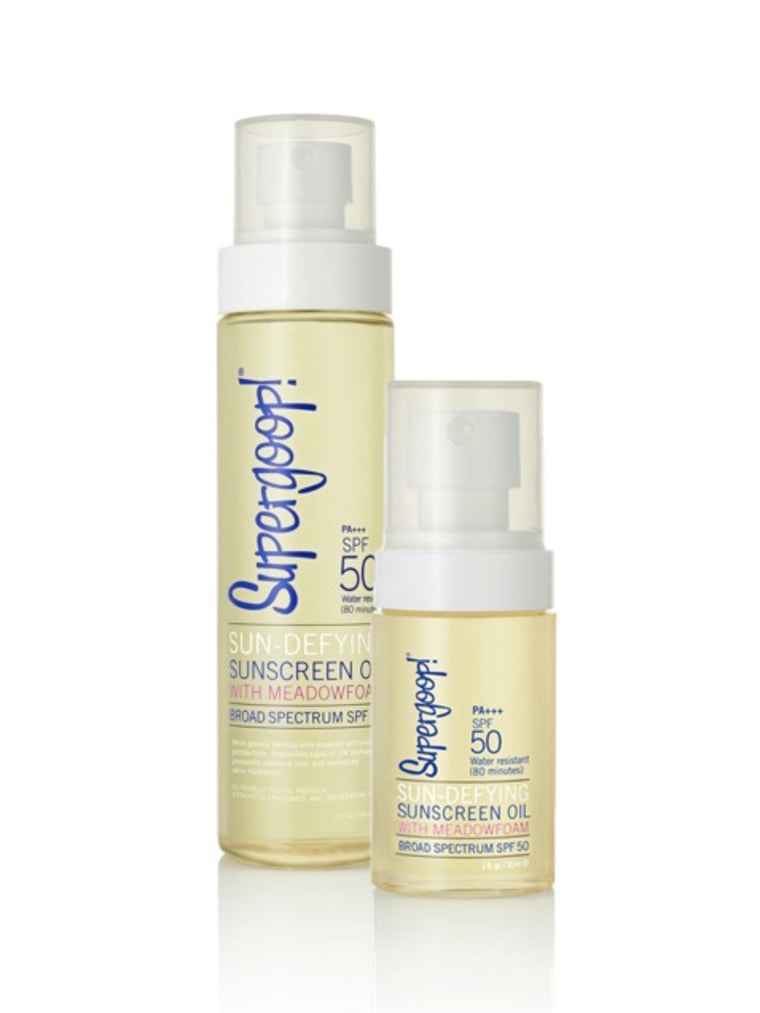 Can using a sunscreen oil be the solution to too-white SPF residue? Yep — we were as shocked as you are when we tried the miraculous, colorless formula that is Supergoop! Sun-Defying Sunscreen Oil with Meadowfoam SPF 50 ($10 to $26). It's utterly non-greasy (really!) and makes us wonder why we ever put up with bottles of chalky SPF.
Tip! "Stash your SPF in the cooler," recommends DiNardo. "And keep that sunscreen at a decent temperature; store it inside of a bag, next to an icy water bottle, or even chuck it in the cooler; it will preserve the ingredients and feel refreshing for your next application — win-win!"
The problem: You feel like a grease face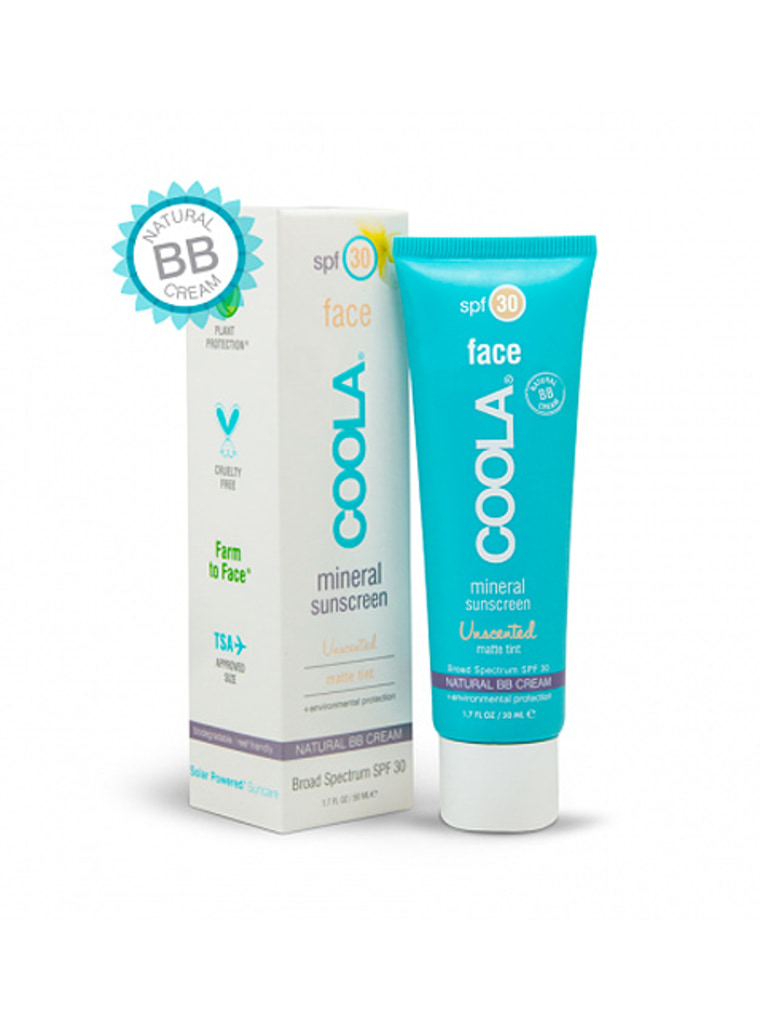 Sometimes the last thing you want to do in sticky summer weather (especially if you're already oil-prone) is put sunscreen on your face. We feel you — and suggest taking a look at COOLA Face SPF 30 Unscented Matte Tint, $36, coolasuncare.com. A new offering from the originators of the luxury organic suncare market, it's a silky-sheer, lightly tinted formula inspired by the touchably matte finishes of the best BB creams.
The problem: Sunscreen stings your sensitive skin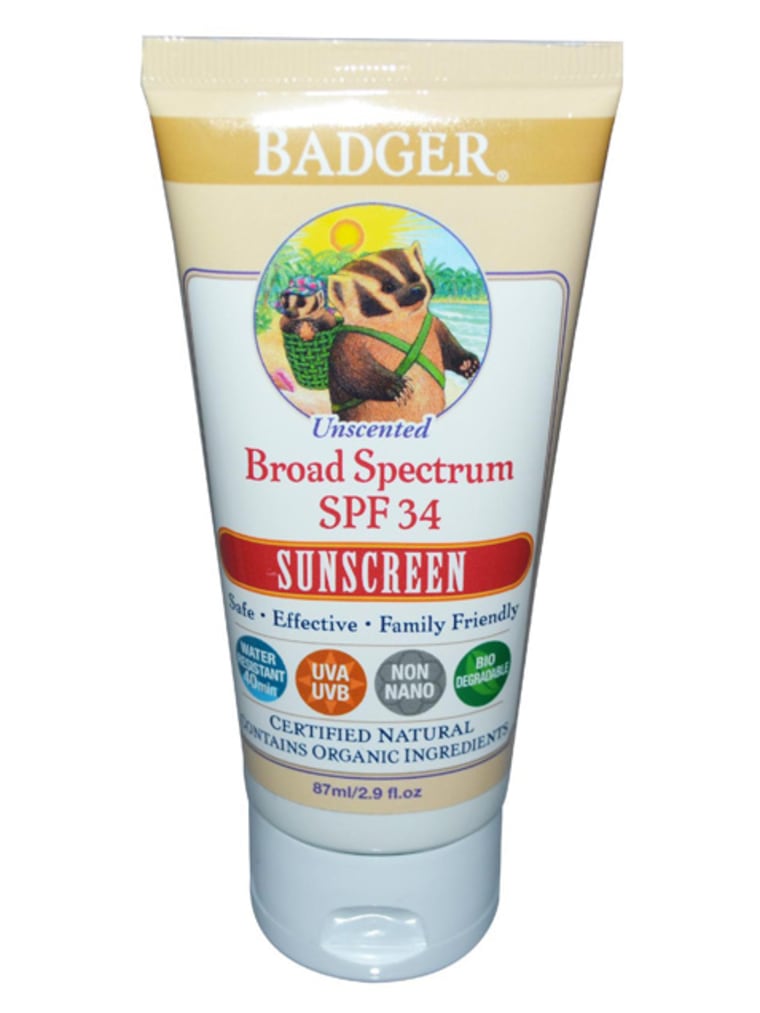 In the case of skin that goes red or itchy and the very mention of SPF, one must go mineral. Forgo chemical sunscreens altogether and seek out an unscented formula based on gentle zinc oxide. We like Badger Broad Spectrum SPF 34 organic sunscreen ($14.39). Unlike many other natural zinc oxide formulas, it's blended without essential oils, which can irritate delicate skin.
Tip! This is a great pick for pregnant women, too, since mamas-to-be are often advised to steer away from chemical sunscreens and certain essential oils.
The problem: Sunscreen rolls with your makeup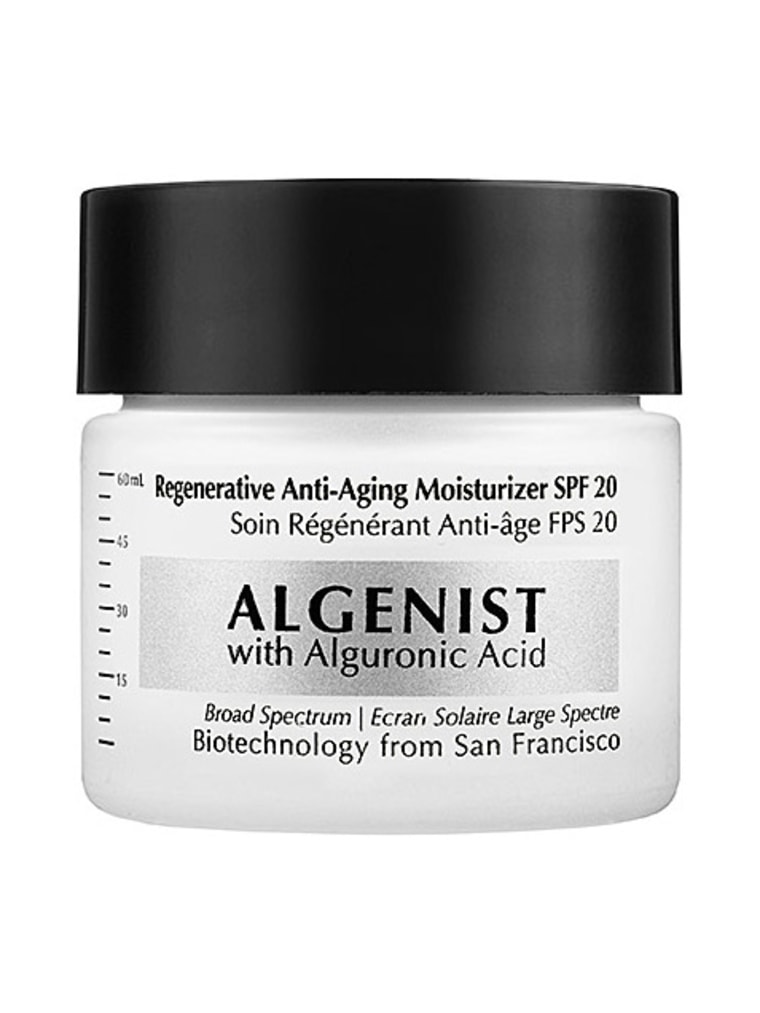 Layering moisturizer, SPF, foundation, concealer and powder can lead to that dreaded makeup scenario: rolling, a.k.a. little pieces of goop floating over our skin. To solve the absorption issue, invest in a top-quality moisturizer containing SPF, like Algenist Regenerative Anti-Aging Moisturizer SPF 20 ($90). The silicone-free formula sinks right into clean skin, nourishing and warding off wrinkles with the brand's exclusive alguronic acid.
The problem: You're in a hurry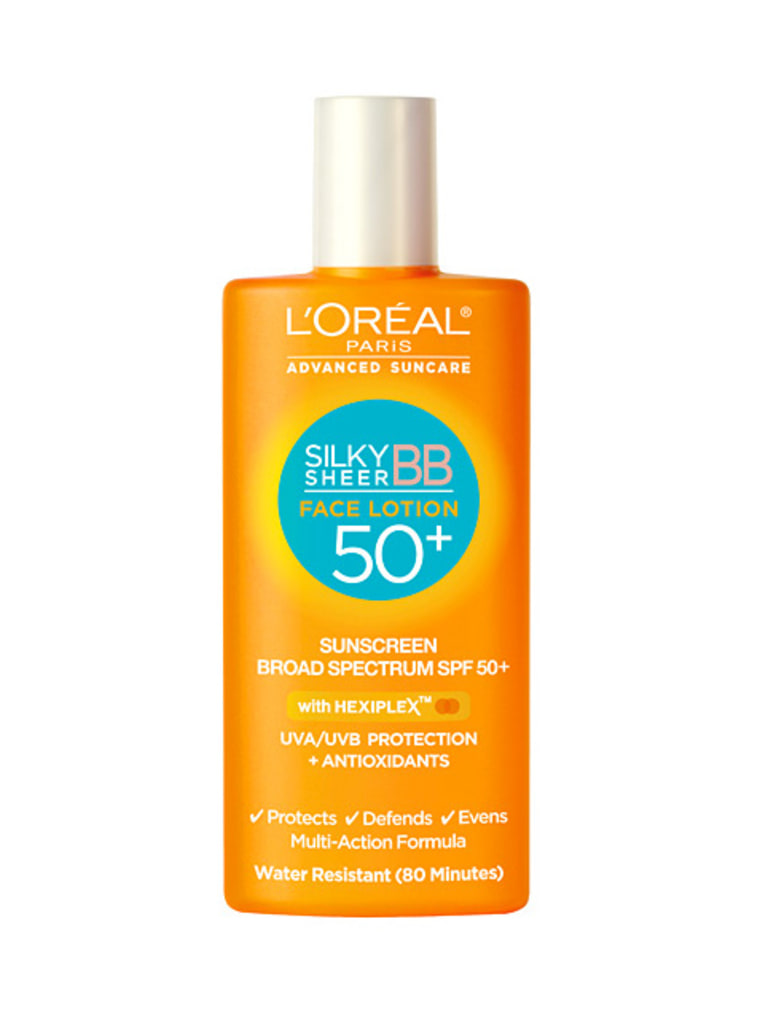 This is the moment to thank our fellow beauty addicts/speed-demons over in South Korea, who introduced us to BB creams. While the first generations were high on convenience, they were low on protection. That's why we're excited by L'Oreal Paris's new offering: Advanced Suncare Silky Sheer BB Face Lotion 50+ ($10.99). It protects with a patented UVA/UVB filter, evens out skin-tone and hydrates — all in one stunningly simple step.
The problem: Sprays can be unwieldy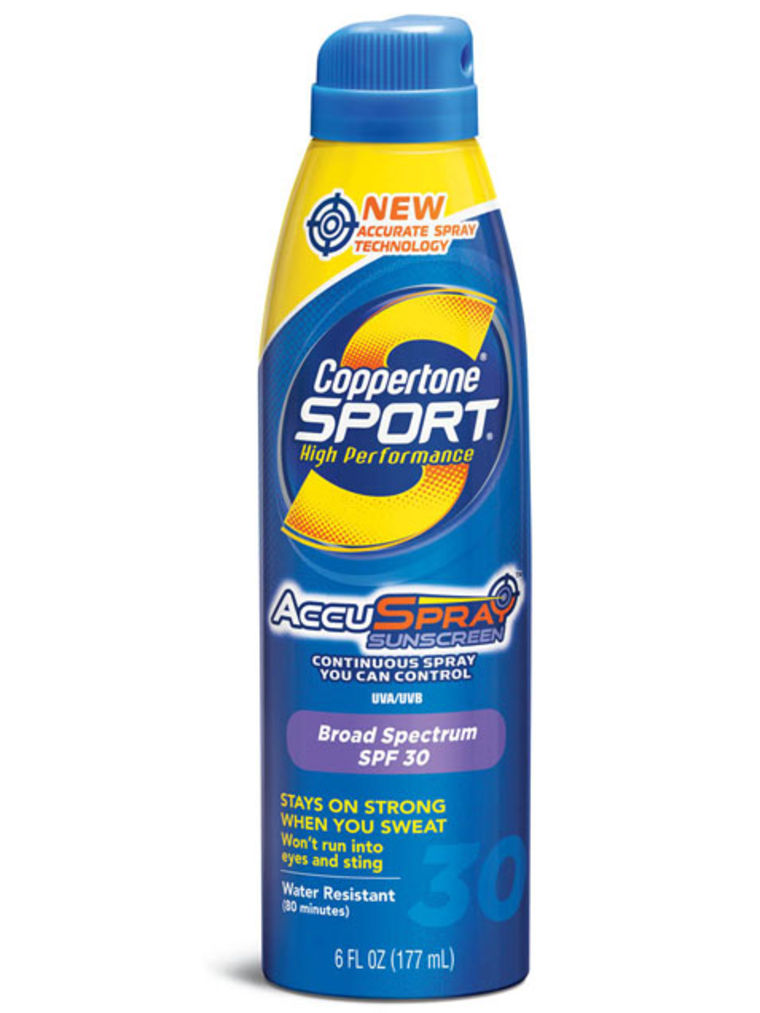 When spray-formula sunscreens hit the marketplace, beachgoers rejoiced — pointing and pressing was so much easier than slathering on lotion. But then we found out that, depending on how and where we applied them, sprays left swathes of skin unprotected or evaporated in the wind. Enter Coppertone Sport's new AccuSpray collection ($9 and up), which offers greater control through a patented continuous spray design. It reduces over-spray that can result in mess and waste, while delivering SPF where you want it (don't forget your toes and the backs of your neck and knees!).

Tip! "Plan ahead!" advises DiNardo. "In general, people wait too long before applying the sunscreen; oftentimes waiting until they hit the beach or pool to apply, and by that time, you've already been exposed and there are many distractions that could easily result in you missing a spot or two. Apply sunscreen at home, before you go so that you are comfortable when doing so, can strip down and reach all areas."
The problem: You're afraid of spills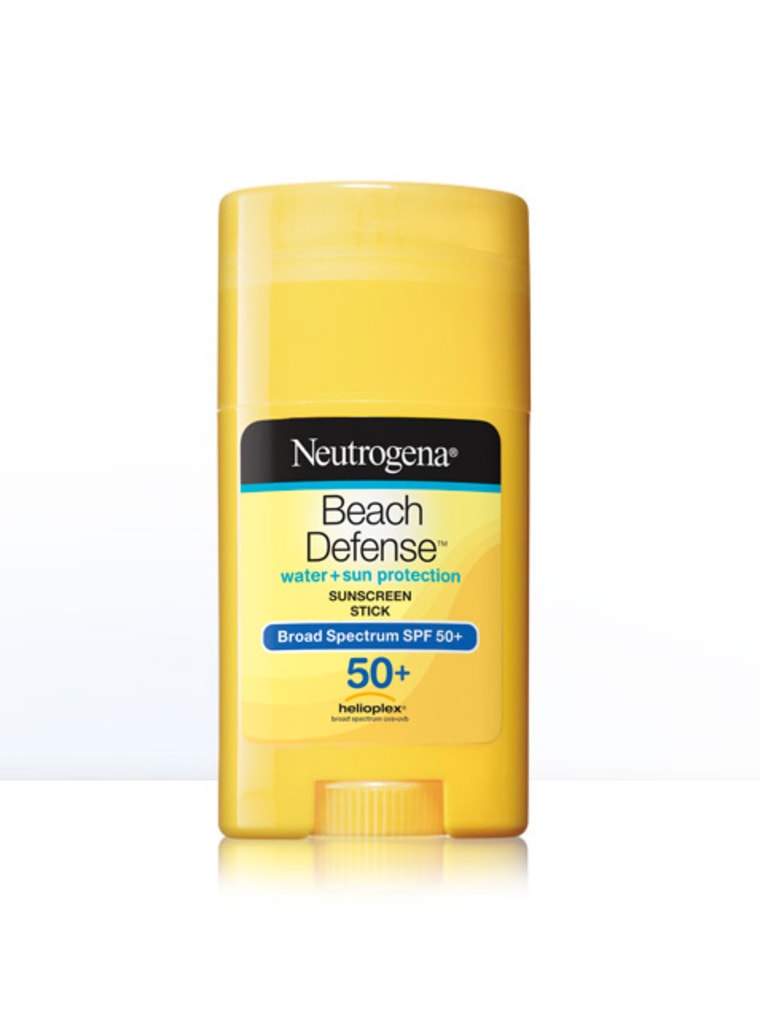 Make a beeline for sunblock sticks, which you can just toss in your bag without worry. As easy to apply as roll-on deodorant, sticks offer convenient, mess-free protection for face and body. One excellent new version to try: Neutrogena Beach Defense Water + Sun Protection Sunscreen Stick ($10.99).
The problem: You want to look tan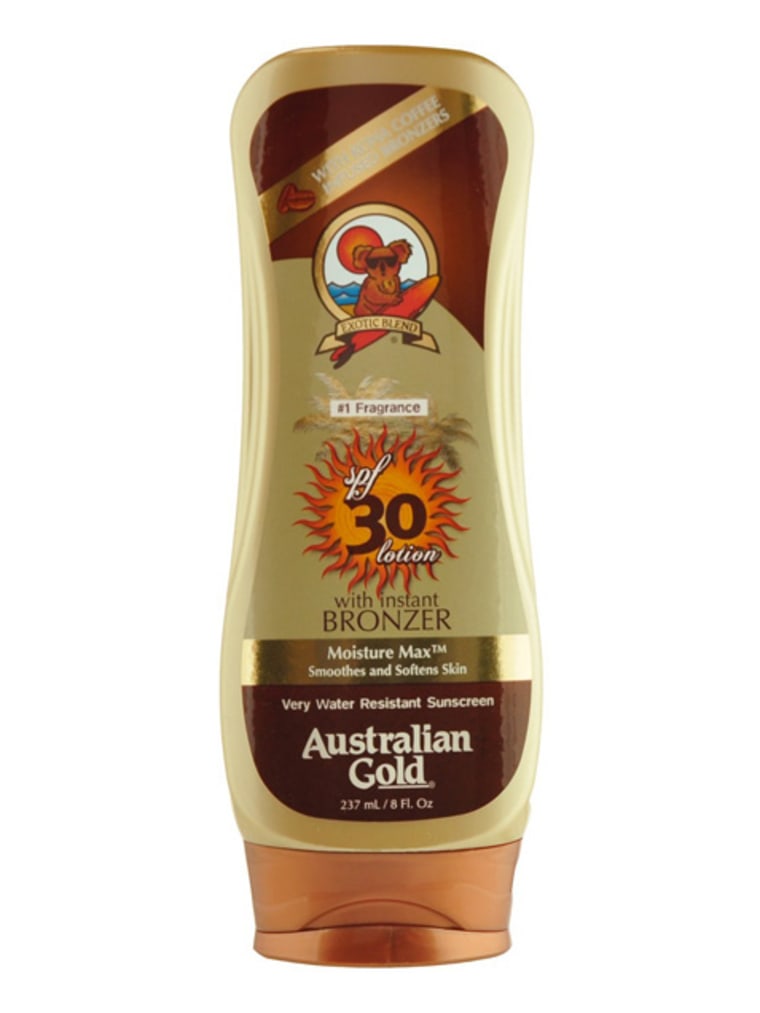 We're not going to try to convince you that your natural skin-tone is pretty (but it is!). Instead, we'll simply recommend one of our favorite SPF-packed bronzing lotions. Australian Gold SPF 30 Lotion with Instant Bronzer, $9, gives you an immediate golden glow without letting in damaging rays.
The problem: You need sunscreen that's travel friendly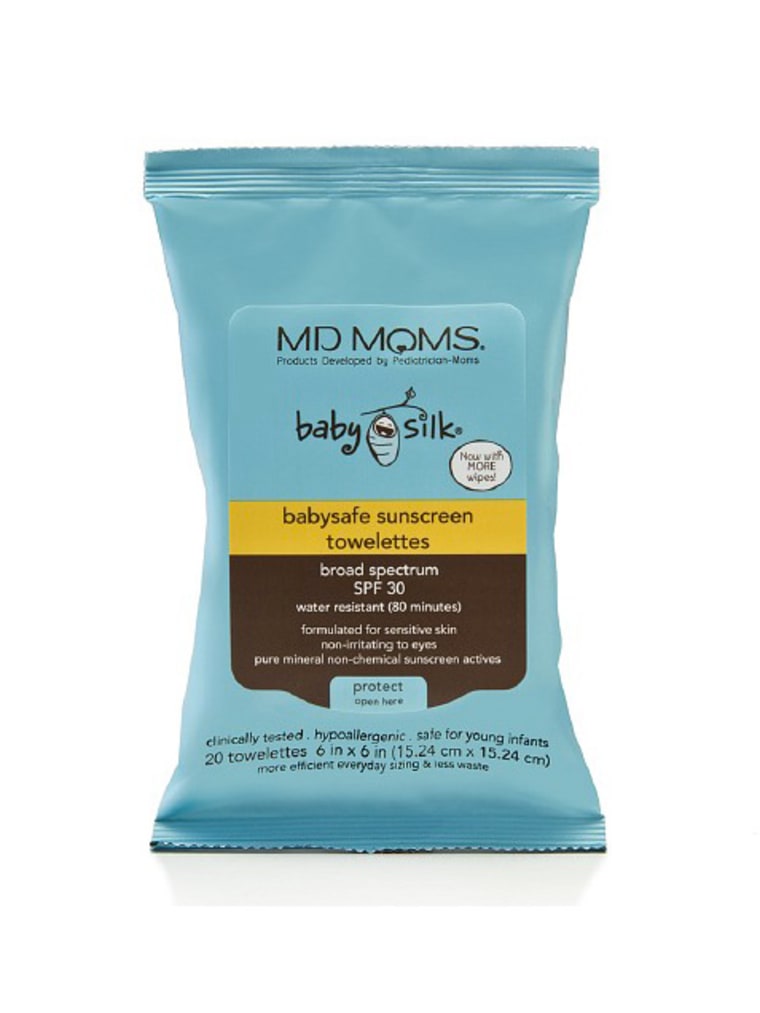 "Wipes are the answer for frequent fliers," says DiNardo. "They're great for easy portability and hard-to-reach places like the scalp, backs of the knees, and the tops of the feet." Many a non-mom has been known to tote one of our favorites: MD MOMS Baby Silk Babysafe Sunscreen Towelettes SPF 30 ($25.99). They're effective, gentle and ever-so convenient.
The problem: You're always in and out of the water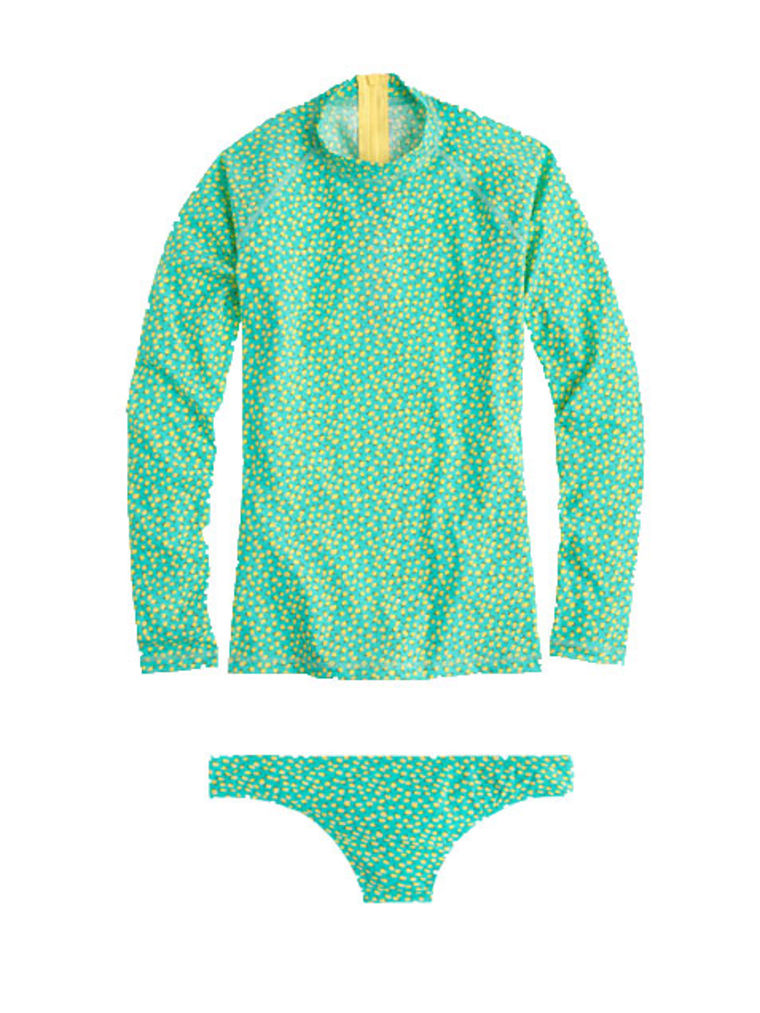 "Wearing UPF-infused rash guards, which are quite stylish these days and even made by designer labels — hello, JCrew! — gets you that much closer to complete sun protection, in and out of the water," says Di Nardo of the garments like the retailer's, which can offer SPF coverage of 50. They're especially helpful for protecting your neck and décolleté; Find 'em in sleeveless, short sleeve and long sleeve styles. 
The problem: You prefer to protect from the inside out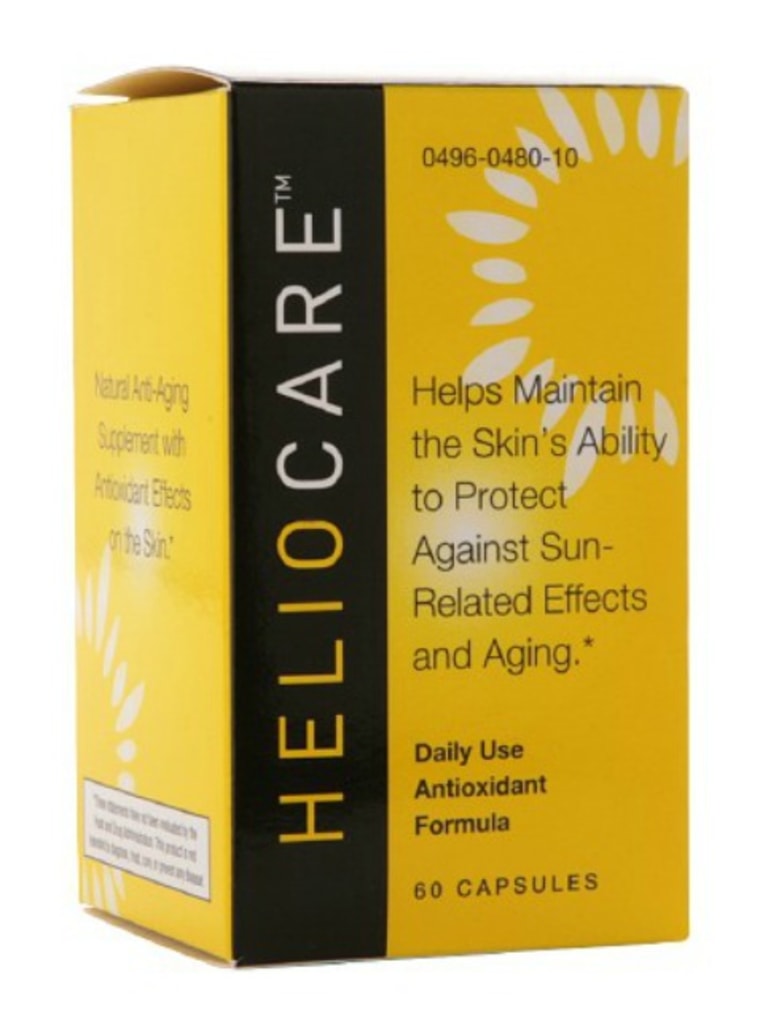 No, there isn't a pill that can totally replace sunscreen — but Heliocare ($29.99) a natural supplement many European women swear by — can help fill in the gaps in your sun protection regimen. Each capsule contains a potent extract of polypodium leucotomos, a unique South American fern that thrives in extremely sunny environments. Over time, the plant has evolved to protect its tissues from free radical damage, and research suggests its nutrients can do the same for us humans.
The problem: You need a sunscreen strong enough to keep up with the rest of your routine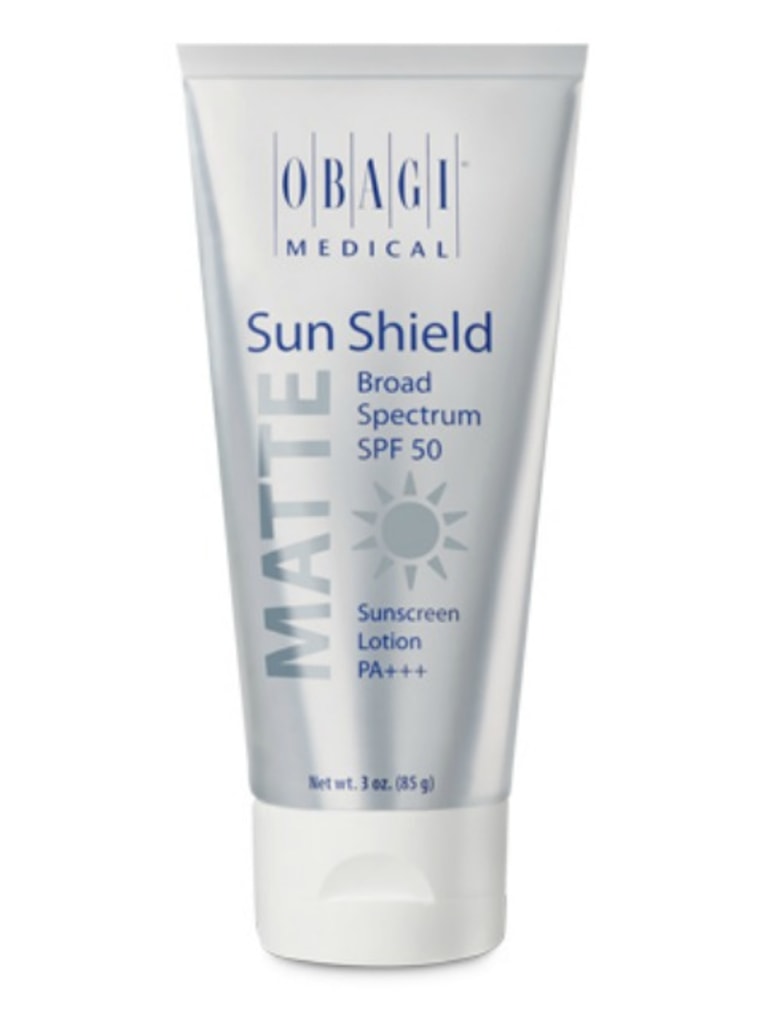 Those of us who pull out the epidermal big guns — retinols, Vitamin C, peels, lasers — need especially strong sun protection. Obagi Sun Shield Matte Broad Spectrum SPF 50 ($36) was designed to complement the most intensive dermatologist-recommended routines and prevent rays from damaging our hard-won complexions.
The problem: Beach sports make you sweat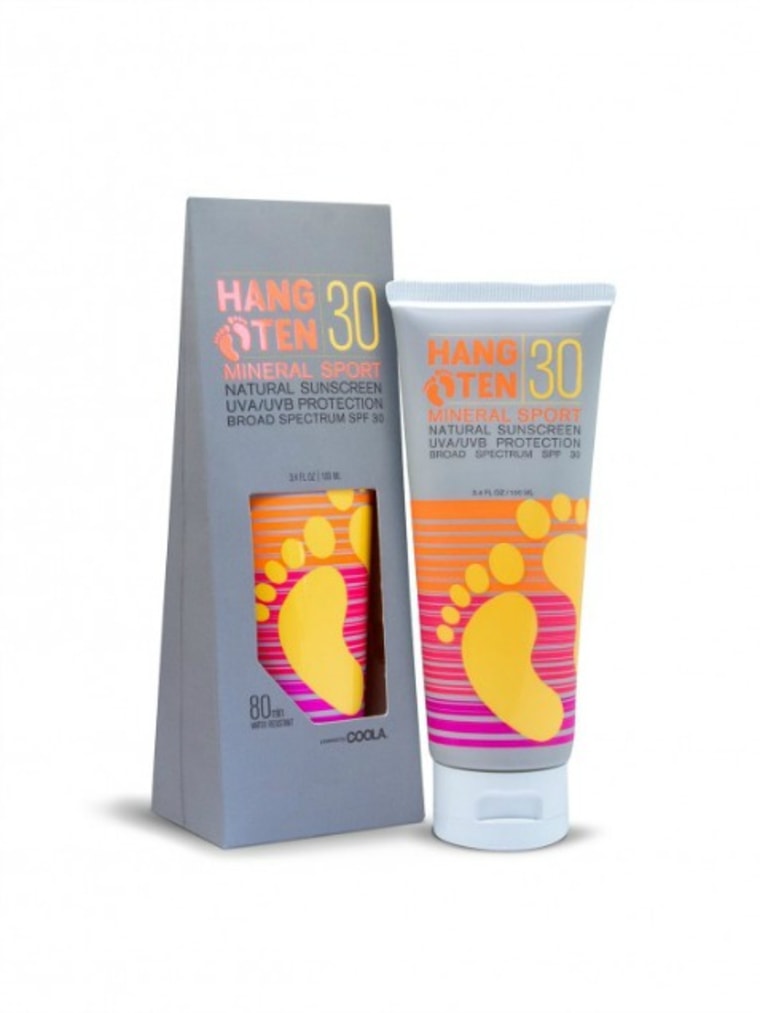 If you're the type to kayak, paddleboard, windsurf or just take hourly dips in the sea or pool in between coladas, reapplying sunscreen can get annoying. To maximize your protection in and out of the water, choose a formula designed especially for sports, like Hang Ten Mineral Sport SPF 30 Sunscreen ($12.99). Part of a lower-priced line from the makers of cult-favorite brand Coola, it's as water-resistant as it gets, and designed to stay put once applied.
The problem: You spend your days in the office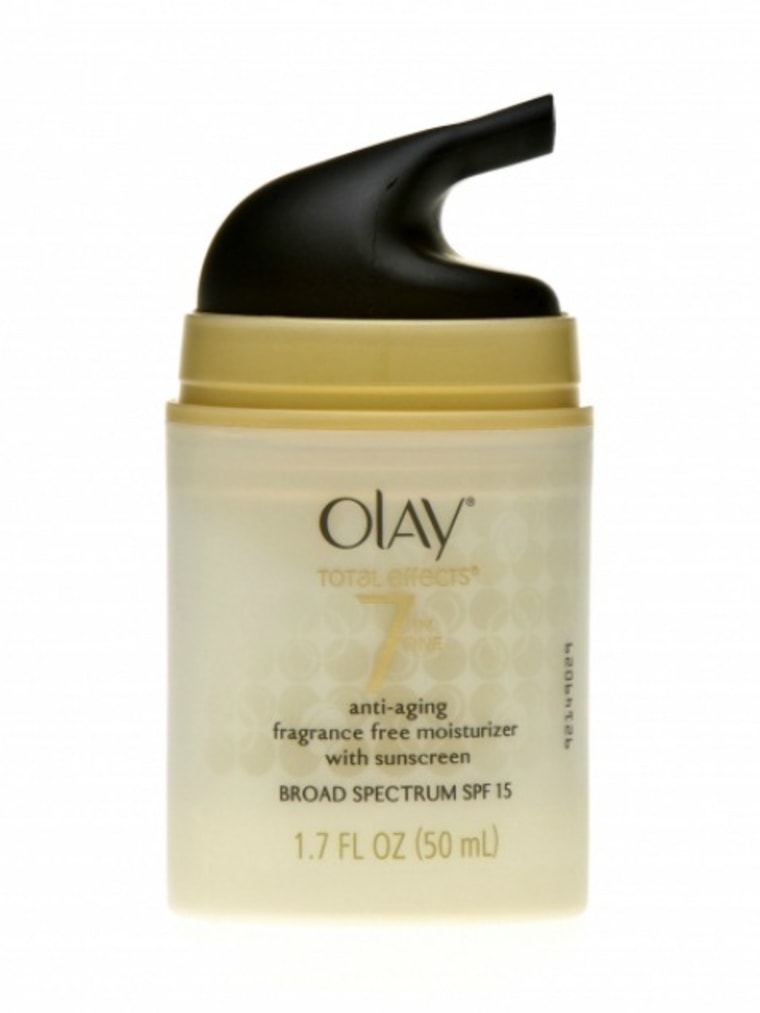 Do you really need sunscreen when you're staring in front of the computer? Yes, but it doesn't have to have a 50 factor. Instead, look for a great moisturizer which has a less intense, but still broad-spectrum, SPF built in. Our pick: Olay Total Effects Anti-Aging Moisturizer SPF 15 Sunscreen, $20.99. It's powerful anti-aging skincare perfect for non-beach days.