Every winter, we look forward to the return of warm weather as an opportunity to get outside and track a few miles while taking in the views. Goodbye, boring treadmill, hello people- and nature-watching!
What many don't look forward to, however, is finding shorts that will support our endeavors. Whether they're too loose, too tight or just too darn finicky, it's difficult to find a pair that fits comfortably from start to finish.
Because there's nothing like having to deal with a consistent wedgie or facing the embarrassment of having to tend to it every six blocks (and then there are the shorts that shimmy down so much you need to manually hold them in fear they'll fall off), we've rounded up 10 pairs of shorts that will stay put when you hit the pavement (read on to find the perfect sports bra).
Nike Flex Women's Running Shorts, starting at $28, Amazon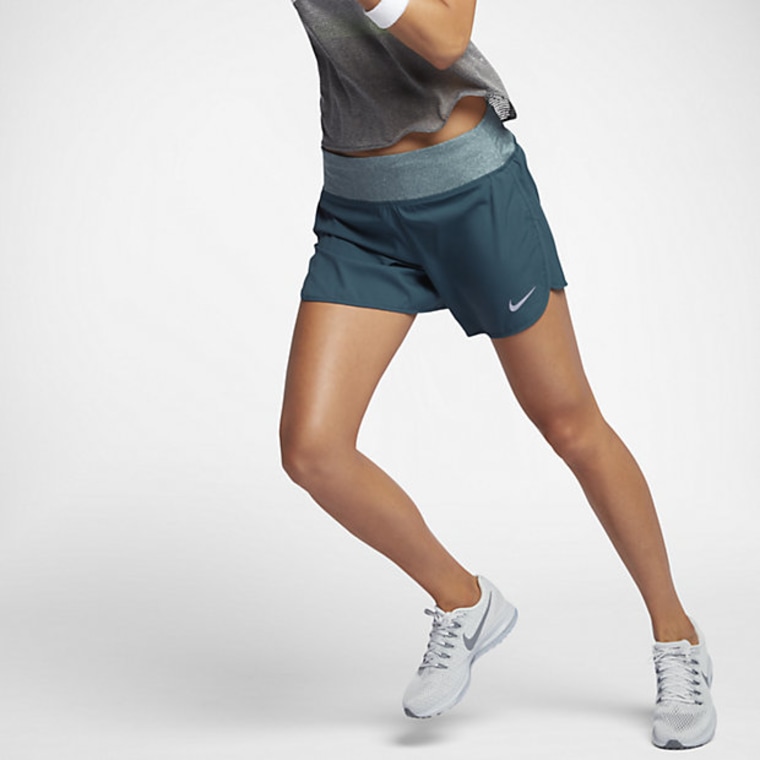 Nike is known for offering high-performing products, but even we were impressed with these classic running shorts. The wide waistband and built-in briefs keep everything in place (whether you're running or in the middle of an intense tennis match), while the breathable Dri-FIT fabric keeps you comfortably cool. Consider them a win-win.
Zella Runaround Compact Shorts, $59, Nordstrom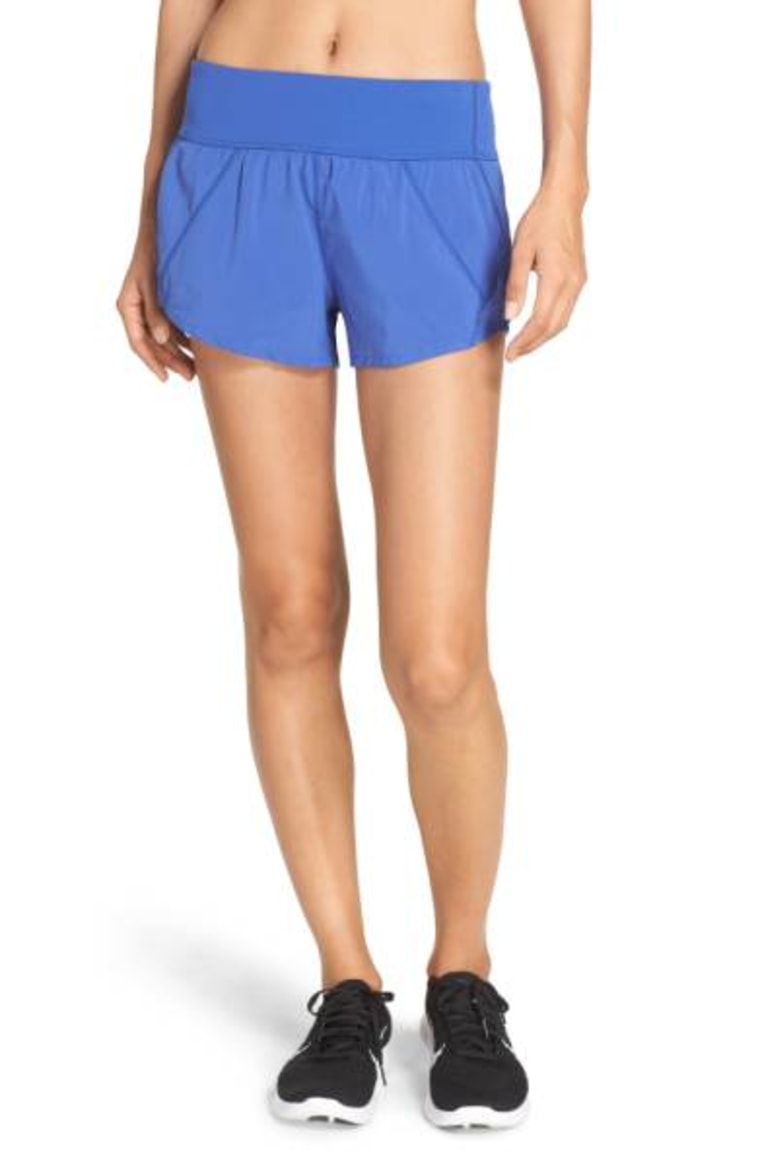 These shorts from Zella are comfy enough for everyday wear, yet stable enough for going the distance. They feature a wide band that stays put without pinching, and feature a good amount of legroom so you have freedom to move. We especially like this bright blue marine shade for summer (zip pocket included).
Lululemon Pace Perfect Short, $68, Lululemon
Luxury meets functionality in these sleek shorts from Lululemon. Designed with a Luxtreme waistband (for a secure, dry fit) and Lycra (for shape retention), these shorts will resist sliding down or stretching out so you'll always look as good as you feel. Like some of the other pairs featured here, this short has a hidden zipper pocket for streamlined storage.
New Balance Impact 4 Inch 2 in 1 Short, starting at $30, Amazon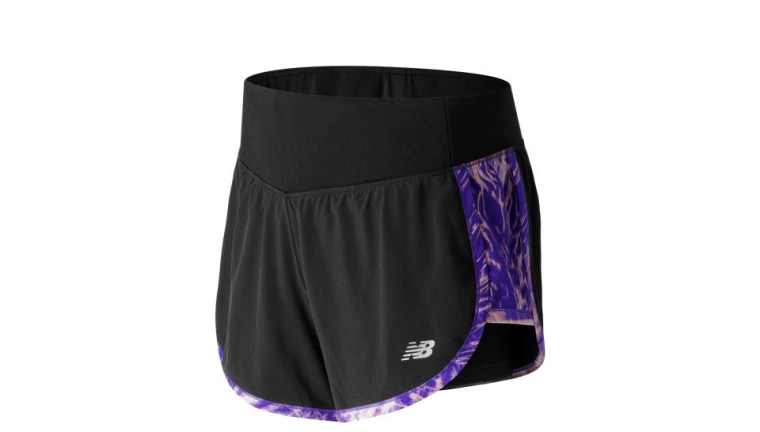 This beloved short from New Balance features an internal boy short, along with a knit waistband and adjustable draw cord for a secure fit. We give it bonus points for a convenient zip pocket and reflective logo — great for all those evening runs. The brand also offers additional versions (such as 2.5 and 3 inch) for those who are petite or just prefer a shorter fit.
Forever 21 Active Layered Mesh Shorts, $18, Forever 21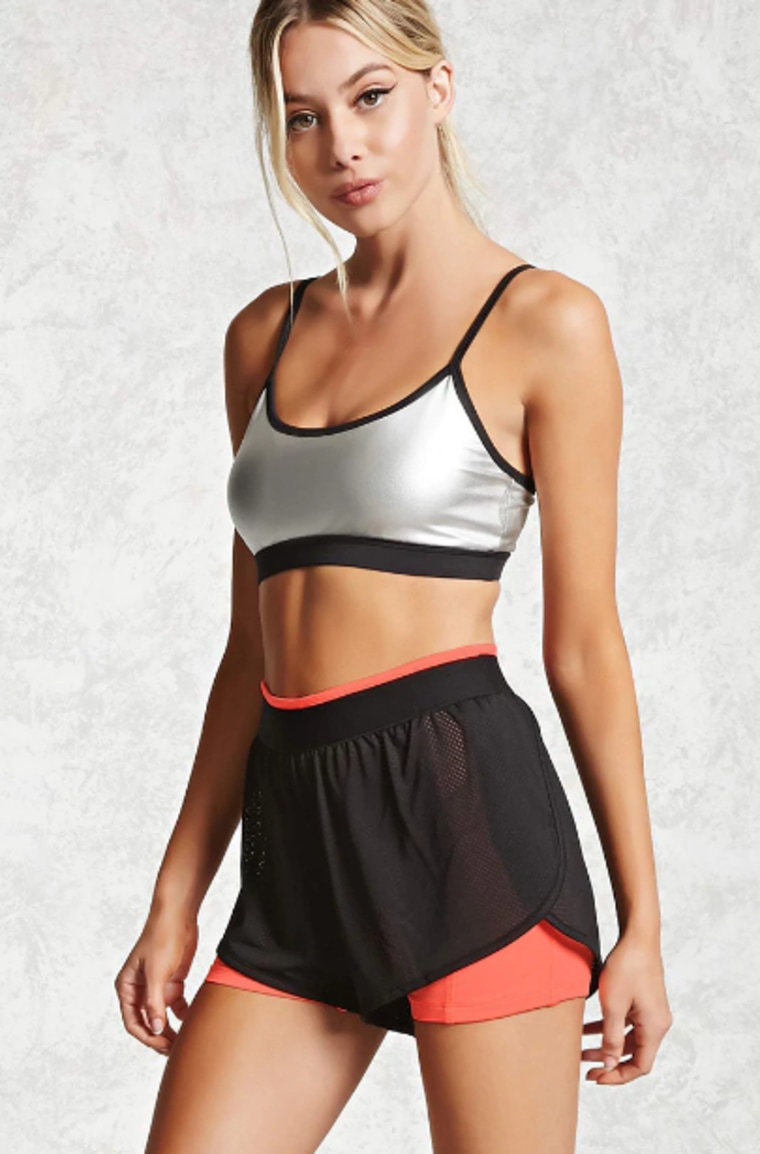 Add some serious pep to your step with these neon-accented shorts, available at Forever 21. Not only do they offer more visibility at night (we also love them for dance classes), but they're committed — the fitted underlay and elastic contrast waistband will stay in place regardless of your pace.
Reebok Women Running 2-In-1 Short, $40, Reebok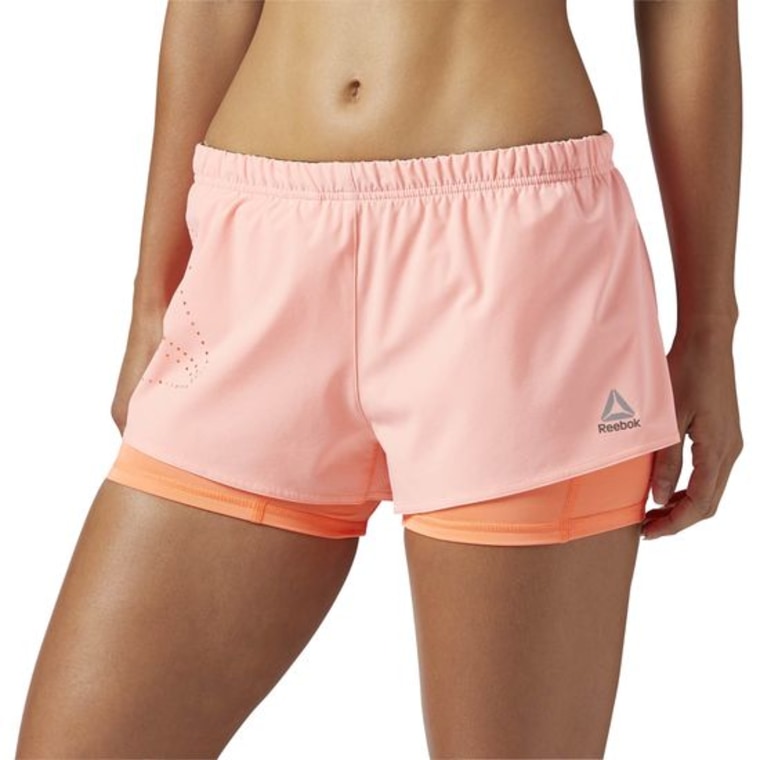 This is another activewear piece that was built with the mover and shaker in mind. A compression inner short hugs the body and offers muscle support, while a looser, outer short supports a wider range of motion. It's also equipped to handle warm temperatures, with mesh side panels and special Speedwick technology for keeping sweat at bay. Phew.
Athleta Be Free Short, $49, Athleta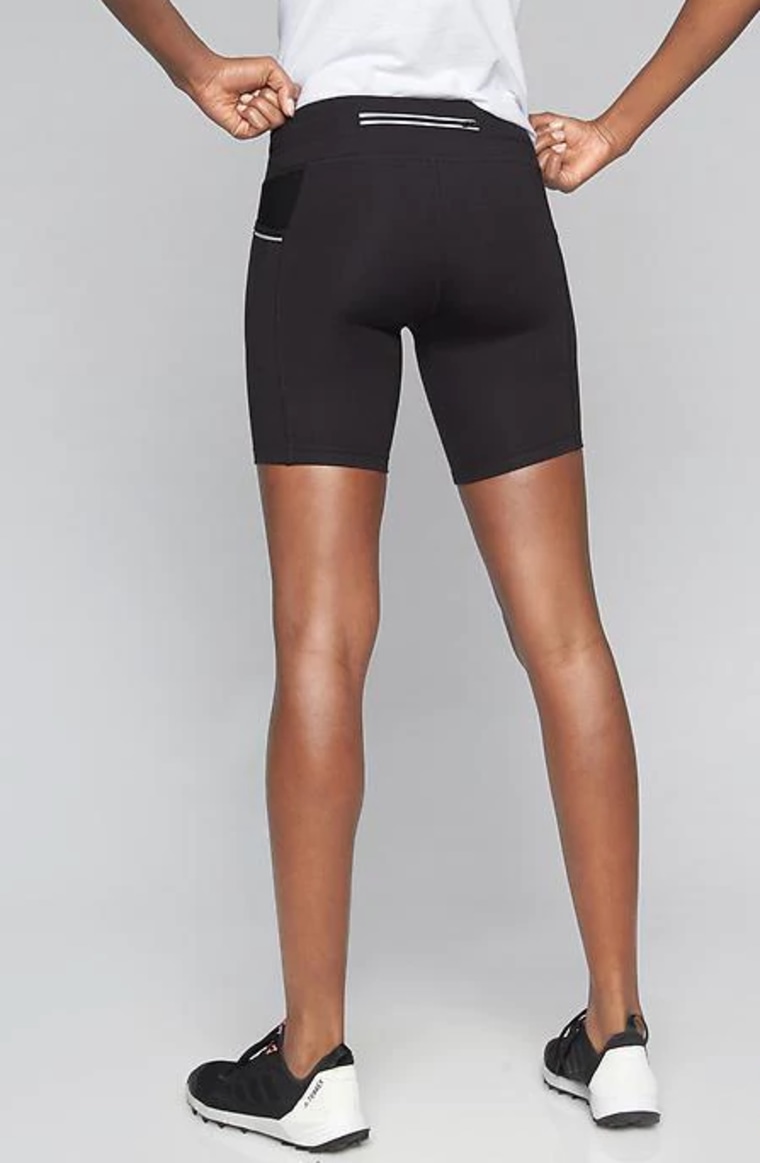 Fitted shorts can often ride up, which is why we were pleasantly surprised by this pair from Athleta. While it gives you the support and freedom advertised by some competitors, we found this midrise style offered more coverage (and wasn't as quick to start moving as soon as we did). In addition to featuring an adjustable drawstring for a custom fit, the brand somehow managed to sneak four pockets into the sustainable, mesh-equipped design.
Sweaty Betty Time Trial Run Shorts, $65, Sweaty Betty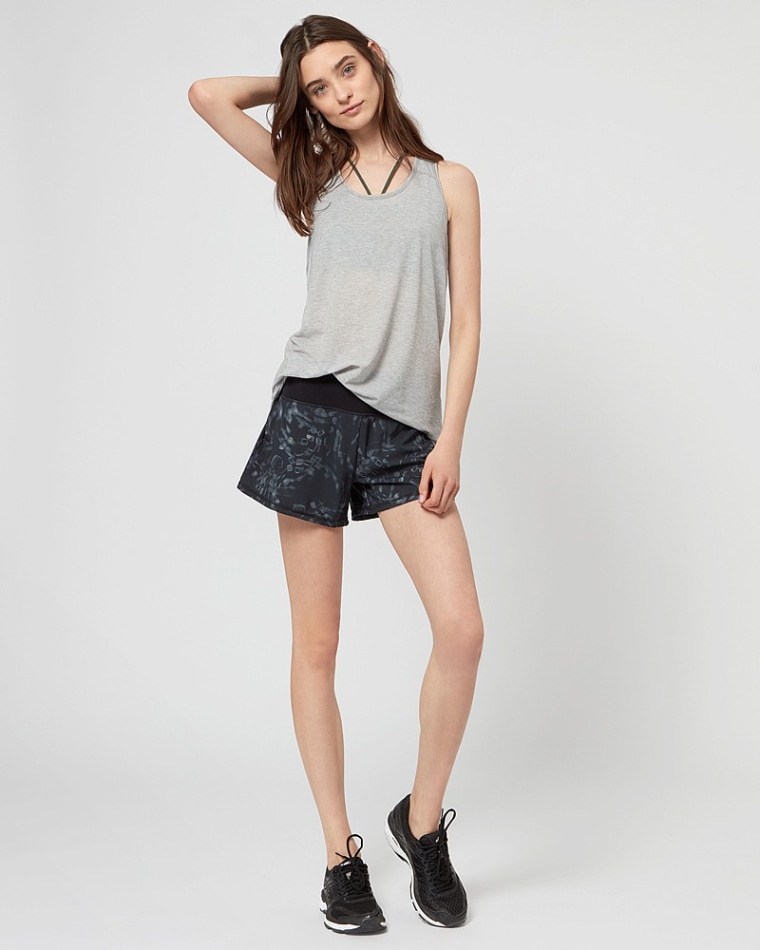 These shorts from Sweaty Betty are low-fuss and high-performance. Discreet undershorts (the brand refers to them as knickers) and a drawstring waist keep everything locked in place, while the lightweight, sweat-wicking fabric keeps you cool. They come in six patterns for switching things up.
C9 by Champion Women's Premium Run Shorts, $25, Target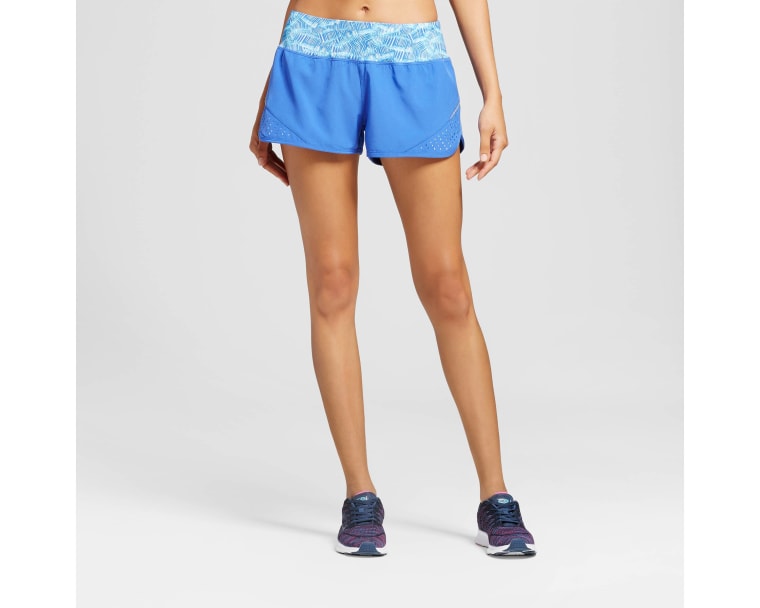 The smooth, wide elastic band on these shorts from Target's C9 by Champion line hug your waist (comfortably) as you run, while the lightweight, looser fabric underneath allows for mobility and air circulation on hot days. They, too, offer reflective details, along with a zip pocket for discreetly stashing necessities on the go.
Old Navy Go-Dry Cool Semi-Fitted Run Shorts for Women, starting at $10, Old Navy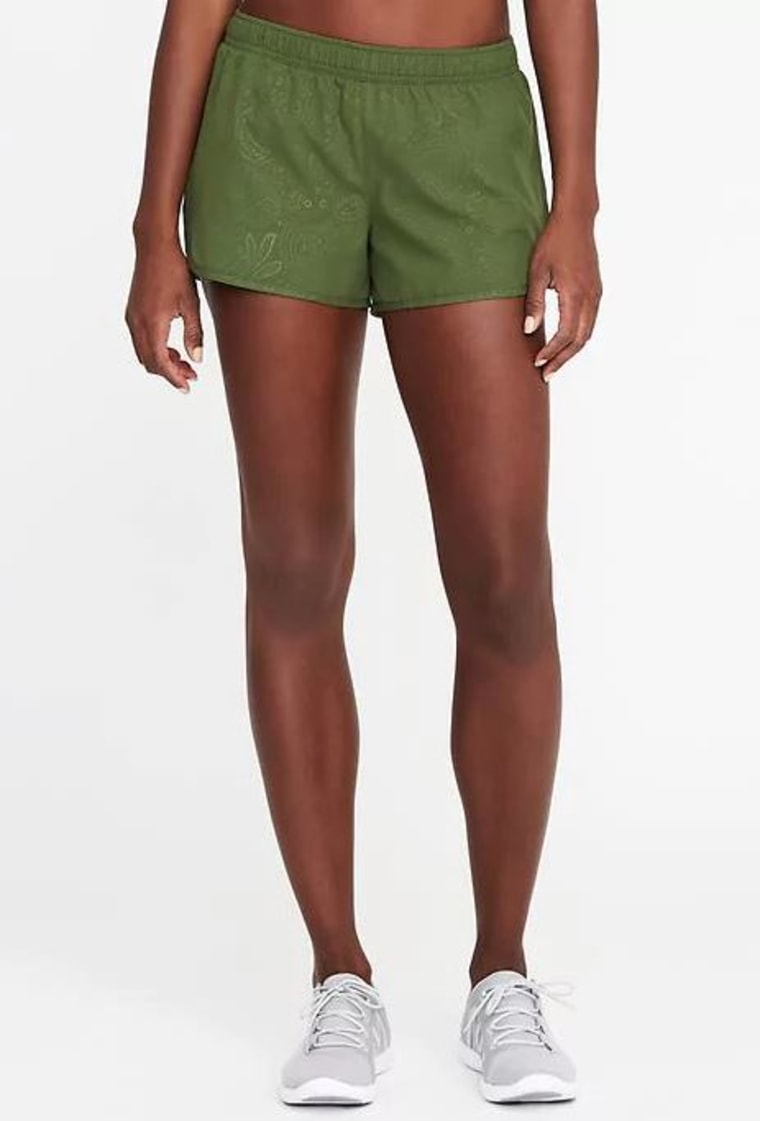 As of publication time, Old Navy is offering these shorts in 10 (yes, 10!) different patterns and shades, and after giving them a test run, we see why consumers want to stock up. They are designed with built-in briefs and an elastic waistband, along with an interior drawstring, to ensure they're not going anywhere, along with a sweat-wicking technology to keep you dry and cool (all for as low as 10 bucks).
RELATED: These are the best workout clothes to keep you cool this summer