Ulta's 21 Days of Beauty sale started last week, providing plenty of deals for any beauty lover. But, for those with sensitive skin who love to exfoliate, tone, and brighten, today's 50 percent off deal on First Aid Beauty stands out.
Right now, you can score the Love Your FAB Skin sample pack — which includes 60 editor-approved Radiance Facial Pads — for just $22. Usually, just the 60-pad pack of the Facial Radiance Pads goes for $30.
With this deal get samples of the Ultra Repair Lip Therapy, Pure Skin Facial Cleanser, Facial Radiance Intensive Peel and Ultra Repair Face Moisturizer, plus the Facial Pads, for less than the retail price of the pads alone.
One of our writers raved that the Radiance Facial Pads exfoliate her sensitive skin without irritating it.
Here's what she had to say:
I'm pretty gun-shy when it comes to using new skin care products. It's not that I don't love experimenting with the latest and greatest, but when you have sensitive skin, you tend to approach anything new with caution.
Over the years, I've realized that harsh ingredients and gritty scrubs are basically my skin's kryptonite, so I try to stick with gentle formulas and keep my skin care routine pretty simple.
Every once in a while, though, I summon up the nerve to try something totally out of my wheelhouse, and am pleasantly surprised with the results. And that's exactly what happened when I started using First Aid Beauty's Facial Radiance Pads several years ago.
These best-selling facial pads are a triple threat because they exfoliate, tone and brighten. Thanks to an alcohol-free formula, they're gentle enough for my finicky skin, too.
First Aid Beauty recommends using the pads daily, but having sensitive skin has taught me that less is sometimes more, so I usually use a pad once a week, or whenever my skin needs a brightening boost.
I've actually fallen into a nice little groove where I do a weekly clay mask, to make sure my skin stays clear, then use a facial radiance pad once a week after cleansing. The lactic and glycolic acids in the pads give my skin an extra touch of exfoliation without irritating it.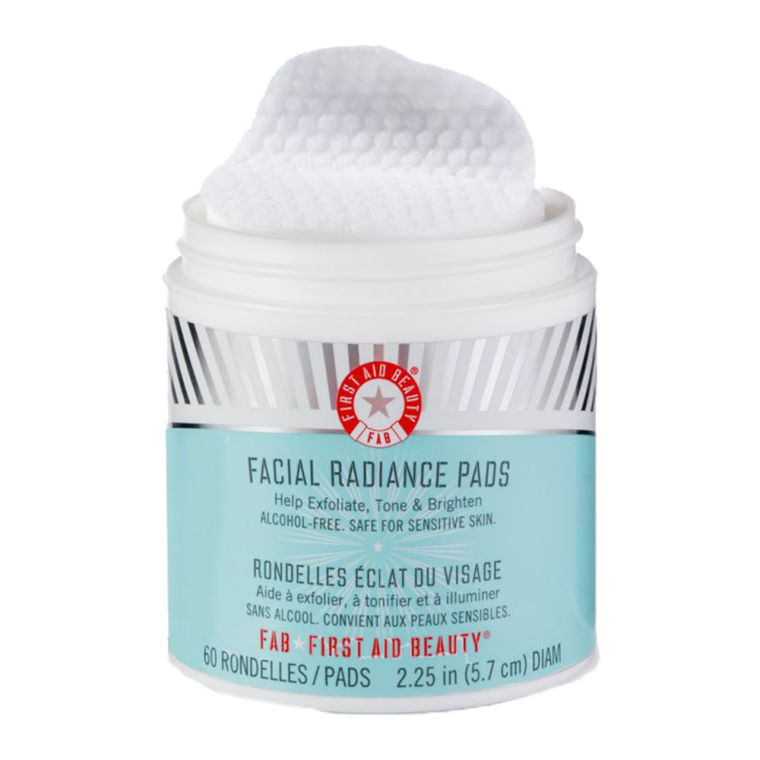 My skin always feels nice and refreshed after wiping the pad over my face and décolletage, and I have a glow, too. After struggling with acne for a long time, I set out to banish my dark spots and acne scars, and these pads have played a small role in helping me do just that, by evening out my skin tone and making my skin a bit smoother over the years.
It's been a long journey filled with several product superstars and a lot of patience, so I can't give all the credit to these multitasking pads. I can, however, say that they've allowed me to take it easy on heavy exfoliating products that would otherwise freak out my skin. The three-in-one formula has also allowed me to forgo other brightening and toning products I might have ended up using otherwise.
In other words, the facial radiance pads help simplify my beauty routine, and that's enough for me to keep using them.
First Aid Beauty also sells blemish control pads with 10,000 loves at Sephora for the same price.
If you want to test it out for half the price, they also sell a travel size with 28 pads.
Or a pouch with ten pads.
Facial pads are no new things and Amazon reviewers seem to be obsessed with versions that do everything from heal ingrown hairs to act as an anti-aging peel.
These Amazon's Choice pads from DRMTLGY use salicylic acid, glycolic acid and lactic acid to fight face and body acne. One reviewer raved, "I'm really impressed by these acne pads. I've tried others in the past that have left my skin too dry, and actually looking worse, but these have really worked for clearing up some problem spots. Best of all they don't smell awful, and they're super easy to use."
This product takes things one step further by offering acne, blackhead and wrinkle relief with 10 percent glycolic acid and vitamins A, C, and E. One reviewer exclaimed, "I am in love with these Glycolic Acid Pads! They are fantastic. So easy to use. I have been using them 3 times a week and my skin looks great! Great for dull skin. This really helps slough off the dead and dry skin at the surface and leaves this beautiful radiant glow. I will definitely repurchase these pads. I would also love a higher concentrate version to use once a month, that would be amazing!"
These nightly exfoliating pads use glycolic, malic and lactic acid to gently exfoliate skin, and aloe vera and fruit extracts to naturally sooth and hydrate your face overnight. "I had been looking for a lower cost alternative to a higher end brand I was using before. I think this it! My face is smoother and the dark spots from the occasional breakouts I get are fading. Will continue to use this product and if the results hold true, I will purchase again."
If you want to go the drugstore route, Aveeno offers daily cleansing pads that help exfoliate and add radiance to you skin. "I love this. I started with the daily exfoliating product in the tube. But have come to prefer the pads. They are so convenient and foam so lovely. I don't need to pre-wet my face at all. My skin is never tight or dry feeling after using this. My skin glows from this gentle exfoliating product. I would definitely recommend it. It works! Best of all no breakouts."
This story was originally published on March 15, 2018 on TODAY.com