Thinking about taking the plunge and chopping bangs? Fringe is definitely in, but are you sure you're ready for that step?
Let's be honest, making the decision to get bangs isn't easy. After all, you've got to pick a style that best suits your face shape — Is it long bangs, sideswept bangs or microbangs? — and you have to be ready for the commitment of frequent trims and daily styling. Perhaps most importantly, you have to make sure you're in the right emotional state for a major change.
To help take the guesswork out of hairstyles with bangs, we consulted the pros to get the best tips for bangs styling, maintenance and beyond. So sit back, take it all in and let their expert advice steer you in the right direction.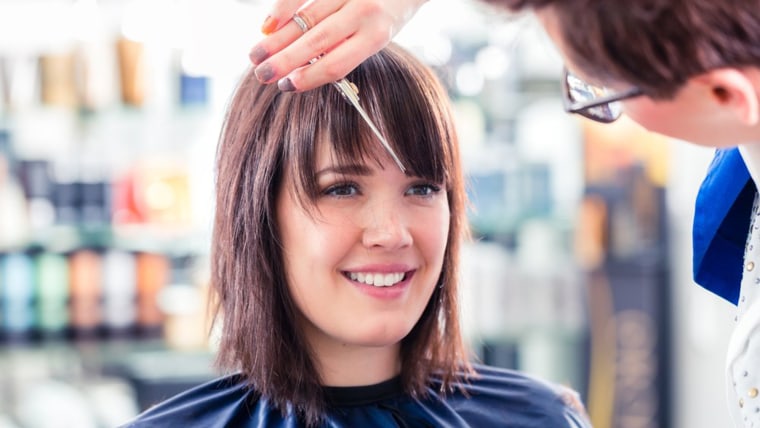 Bangs or no bangs? Here's what to ask
Whether you've been flirting with the idea of fringe for years or have only been contemplating a change for a few weeks (or feel experimental during quarantine), there are a few things you should consider before you cut bangs.
1. What does your morning routine look like?
If you prefer to just roll out of bed, bangs might not be the best fit. "Bangs can be a big adjustment if a client is used to lower-maintenance cuts," said Fernando Salas, creator of White Sands Haircare.
In other words, if you don't have the time to commit to daily or frequent styling, bangs may be too high maintenance for you.
2. Are you prepared for the upkeep?
Bangs also require frequent trims, so ask yourself if you're really ready for that kind of commitment. "Consider how you'll go about maintaining the right length. Will you learn to cut your own bangs, or do you plan to visit your stylist each time you need a trim?" said Maile Pacheco, founder of on-demand beauty service beGlammed.
3. Will your hair make it easier or harder to maintain?
Your hair type and texture can also help you decide if bangs are a good choice. For instance, cowlicks and other parting issues can make the process of styling bangs tricky. That doesn't mean you can't have bangs if you've got a cowlick, but you should consider how much frustration you're willing to endure.
4. What's the right type for your face shape?
Also consider your face shape before making the cut. After all, picking the right style of bangs for your face can mean the difference between hair perfection and hair disaster.
The best bangs for your face shape
If you're past the contemplation phase and ready to pick the right bangs style, your face shape can definitely help steer you in the right direction. "Your face shape may change the type of bang you thought would look good on you," said Carolyn Aronson, CEO and founder of It's a 10 Haircare.
Women with round face shapes, for instance, look gorgeous with sideswept or angled bangs. If you've got a heart-shaped face, side-swept bangs are also your friend and can help contour and narrow the face.
Ladies with square or oblong face shapes, on the other hand, can opt for longer, layered fringe. Trendy "baby bangs" also work well on square face shapes.
Oval face shapes are well-suited for the blunt bangs that have become so popular. "Oval face shapes are the best for blunt bangs because cheekbones are hollow to balance out the bangs and chin," said Glamsquad lead educator Bianca Bruno. For the best look, Bruno said, keep your blunt fringe medium length and a bit soft.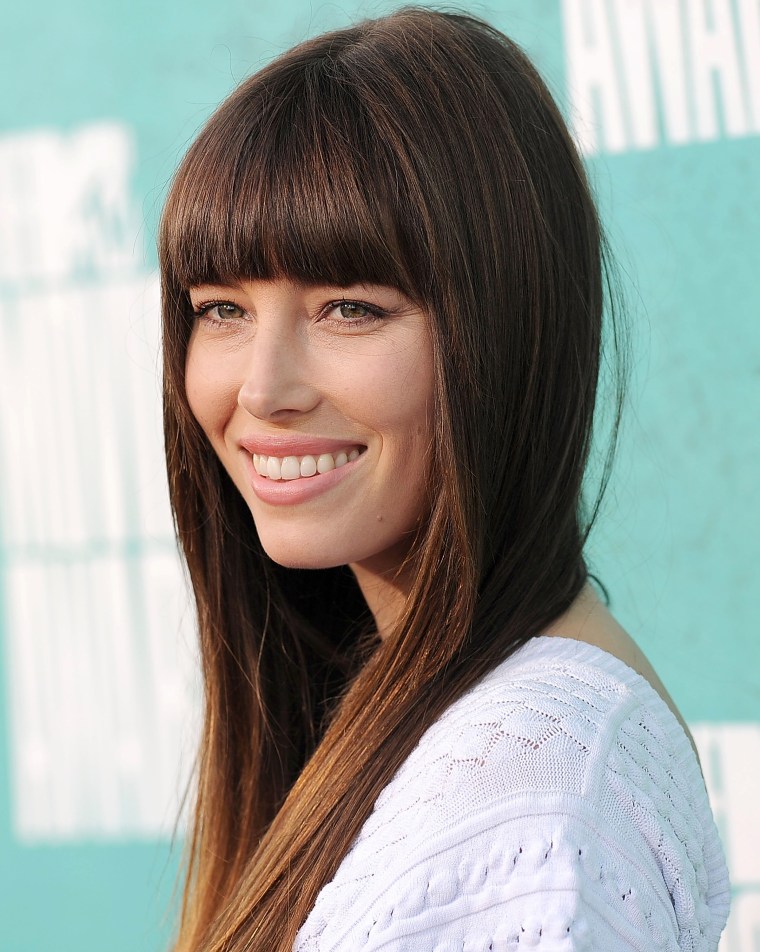 Bangs maintenance and styling
It's no secret that bangs require a bit more work than your average "wash-and-go" cut, but just how high maintenance are they? Turns out, it all depends on your bang style and how long or short you want your fringe to be.
"If you want a microbang, for example, you will need a trim every few weeks to keep this length up," Salas said. On average, you can typically get away with a trip to the salon every two to three weeks for a quick bang trim, and most salons offer the service for free or a small fee.
Frequent trips to the salon might sound a bit intense at first, but it's worth it in the long run if you want to keep your fringe looking fresh. "It can make it look like you received a whole haircut by just keeping your bangs regularly trimmed," Aronson said.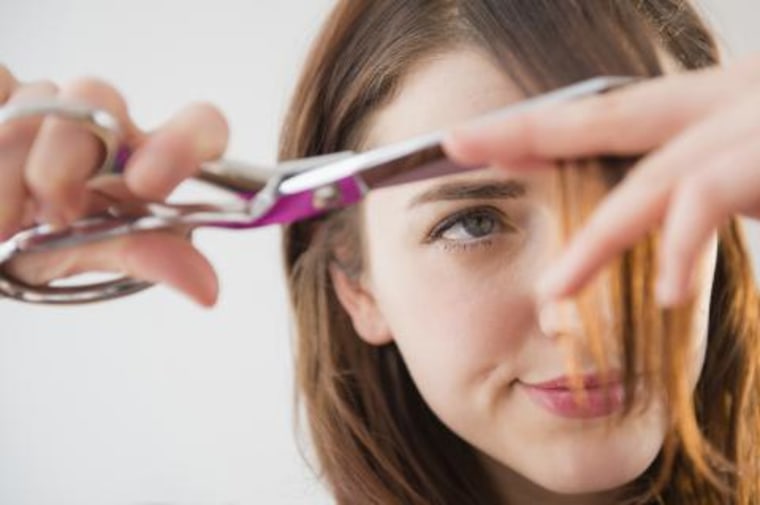 Learning to trim your own bangs at home can be a total game changer. Just make sure to arm yourself with the right tools first. "Make sure you use a hair-cutting comb and cutting shears. Do not use kitchen scissors! Use the thinnest, sharpest scissors you can find," celebrity hairstylist Korey Fitzpatrick said.
Celebrity hairstylist Brittan White suggests starting with dry bangs styled as you normally wear them to get the most even cut possible. Here are her tips for trimming both blunt and sideswept bangs:
How to trim blunt bangs at home:
Tie back pieces that aren't a part of your bangs. Comb through your bangs starting in the middle, leaving the sides out to help determine your desired length. Keep in mind: This middle section shouldn't be wider than the space between the center of each of your eyes.
Take your pointer finger and your middle finger horizontally and clamp the middle of your bangs tightly between them, starting at the top of your forehead. Your pointer finger should be touching your forehead as you slide your fingers tightly down the length of your forehead to the bridge of your nose below your brow. Keeping contact with your forehead like this (versus pulling your bangs off your face) will help you avoid a feathered look.
Since you're only holding the middle strands of your bangs you should be able to look in the mirror while holding tightly between your fingers and check the length, making sure you're cutting it a little bit longer than you would prefer.
When you begin cutting, leave about a centimeter below your clamped fingers and keep them holding tight. (After you cut straight across, you will then want to take the scissor blades pointing upward, toward your fingers and cut up into the blunt ends to make sure that they lay nicely.)
Keeping your two fingers tight, pull your bangs away from your face enough that you can cut straight across again, leaving around a centimeter to go back in and do what we call point cutting (hold the blades upright facing the ceiling and chop into the bottom blunt edge you just cut).
How to trim sideswept bangs at home:
Start with dry, styled bangs. Section them out and tie back the rest of your hair.
Comb through bangs so they are brushed straight down the middle of your forehead.
Take your pointer finger and your middle finger and clamp your bangs tightly between them, starting at the top of your forehead. Your pointer finger should be touching the top of your forehead.
Slide your fingers tightly, pulling it down your forehead towards the opposite side your bangs sweep to, keeping your pointer finger touching your forehead the entire time. Your clamped fingers should be facing inward to the middle and up toward your forehead.
For a thick, heavy side swoop: Cut straight across, leaving about a centimeter below your fingers. Just don't let go of your clamped fingers yet.
With your fingers angled, point scissor blades toward the ceiling and point cut or notch into the blunt cut you just made.
For a wispy, side bang: Follow the exact same steps, only instead of doing the initial blunt cut first, you will only be point cutting. For this technique, when you determine the initial length with your fingers make sure you leave an inch or more hanging out from below your fingers. This technique can be used on any length of sideswept bangs.
After cutting, wet bangs and blow dry or style them as you normally would.
If you're feeling really adventurous and want to cut new bangs at home, New York City-based stylist Lauren Thompson recommends sectioning out your hair first: "Start from the center of the hairline on the forehead and go back as far as you need to create a thick enough fringe. This will vary depending on how thick your hair is," she said.
Next, create a diagonal line from that center point to the end of the eyebrow on each side so the section looks like a triangle. "You can always add more hair or take some out depending on how heavy you want the bangs to be. Make sure once you have that section established, you pull back the rest of the hair around it to keep it out of the way," Thompson said.
From there, follow Thompson's tips for cutting blunt, sideswept and long bangs:
How to cut blunt bangs:
Wet hair and comb down with a fine-toothed comb.
Take sharp scissors and create a nice sharp, straight line.
Hold hair between your pointer and middle fingers and cut it to your desired length, leaving a little extra because the hair will be shorter when it dries.
Blow dry hair as straight and smooth as possible by combing it down on top of the forehead and back and forth.
After hair is dry, go back in with scissors to make sure the line you cut is straight and even.
How to cut sideswept bangs:
Follow the same steps for blunt bangs to start. If you want your bangs to get longer toward the hairline, cut on an angle. After drying your hair off to the side, go back in with scissors to make sure it's moving off to the side.
To help sweep your bangs to the side, you night need to point cut into the corner where you part the bangs (manicure or sewing kit scissors are ideal for this step).
How to cut long bangs:
Cutting long bangs is pretty similar to cutting side bangs, just a longer version. But if you want them parted in the middle and falling around the cheekbone, cut them to that desired length.
You don't have to wet hair before cutting, but make sure you start with smooth strands. Blow dry with a round brush or paddle brush first. When it's nice and smooth, then cut. Go back in with your small scissors try to point cut into the center of the triangle section if hair is parted in the middle . This will soften the line of what you cut so that they sweep off the face nicely.
Frequent trims aren't the only form of maintenance; learning to perfect your bangs styling technique at home is also a must, and it can be intimidating at first! But like every beauty technique, there are a few tricks of the trade that can help make your styling experience a bit easier.
"Bangs are always easier to style when wet, especially if you are straightening them," Salas said. And by wet, we don't mean partially air dried. Blow drying your bangs straight out of the shower can help you avoid natural cowlicks and hard-to-tame curls.
Ready to perfect your styling technique? Try Pacheco's step-by-step tips:
Blow dry bangs with a wet brush and a slim nozzle on your blow dryer to help control where the heat is concentrated.
Using the brush and the nozzle simultaneously, moving both tools over the hair in a downward motion to control frizz.
Move bangs from side to side with the wet brush, making sure to keep the nozzle pointed in the right direction.
Optional: Use a miniature flat iron in a very small section, starting with the bottom layer that sits on your skin and lightly clamp down, being careful not to straighten your ends and twist your wrist slightly in the direction that you prefer your bangs to lie. Finish it with a light holding hairspray.
CROC Baby White, $24, Amazon
How to maintain bangs during a workout
Any gal who's ever rocked fringe will tell you how frustrating it can be to keep your bangs looking fresh after a workout or in the middle of a heat wave. But you don't have to swear off sweating just because you've got a new hairstyle. All you have to do is arm yourself with dry shampoo and some bobby pins.
Klorane Dry Shampoo with Oat Milk, $20, Amazon
Also available at Sephora.
"If you have a side bang, twist and pin bangs to the favored side to keep them in tact while working out. For front bangs, avoid wearing thin, tight headbands that can leave indentations. I recommend larger, seamless headbands and tucking bangs flat and down under the headband to avoid lines and make it easier to style post-workout," Bruno said.
Fly Away Tamer Headband II, $12, Lululemon
After the workout, just spritz some dry shampoo at the roots of your bangs and use your fingers and a blow dryer to gently push bangs back into place. "The dry shampoo should help absorb oils from sweat while the heat from the blow dryer and tension from your fingers should help bangs sit back into place," Bruno said.
Can curly hairstyles have bangs?
Curly hair is amazing, but many curly gals worry that bangs just won't work for their hair, especially if they're proudly rocking air-dried curls. Luckily, curly bangs are a lot more doable than you might think!
"Curly bangs are in! Keeping your natural texture and bang with a relatively shaggy hairstyle is very on-trend for a modern day shag style," Bruno said.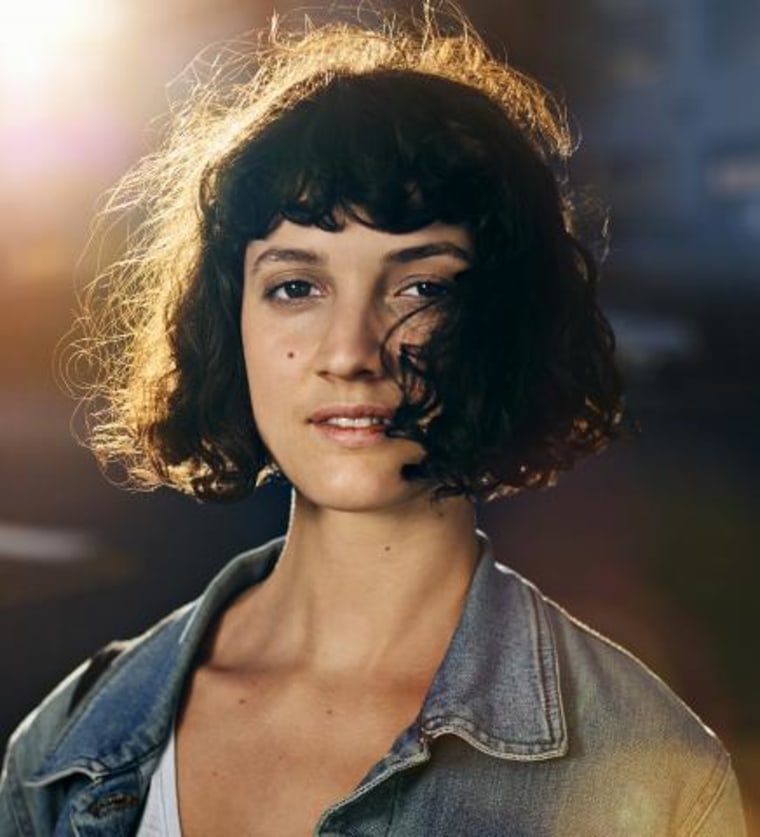 When you head to the salon, ask your stylist to dry cut your curls. "It is important to leave the fringe a bit longer than normal to allow for when the curl dries and bounces up," Salas said.
For the best curly hair bangs air drying results, apply a touch of mousse and a styling cream to help define curls and fight frizz.
The hottest bangs trends to try now:
So you're ready to cut bangs, huh? Luckily, there are plenty of style options out there, and a few looks in particular that are trending now more than ever.
Microbangs
Minibangs, like Zendaya's at the 2018 Met Gala, are a bold and fashionable look.
Curly bangs
Who says curly gals can't rock bangs? Singer SZA has been proving this theory wrong with her gorgeous wavy fringe.
Blunt bangs
Longer, blunt bangs are both classic and cool. For inspiration, look to singer Camila Cabello, who tends to wear her fringe parted in the center. This is also a great trick for times when your bangs are growing out and you don't want them to cover your eyes.
So, are you ready to cut bangs?
This story was originally published June 13, 2018.