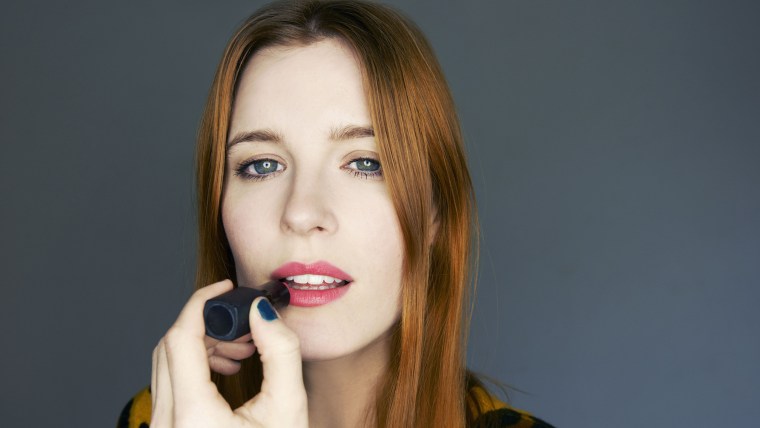 Think beauty editors and bloggers know what they're talking about? They do — and it's because they learned things the hard way. Turns out even the pros have hair, makeup and skincare blunders that still make them shudder (or laugh). And we can all take a lesson from these experts' mistakes! 

Disappearing eyebrows
"In the early '90s, I plucked out nearly all of my eyebrows because Drew Barrymore did in her "Mad Love" era and I had to do everything she did," admits Amber Katz of Rouge 18 of a beauty blunder that had lasting repercussions. "Twenty years later, I actually had to get a Brow Resurrection service," an in-salon temporary tattoo treatment at New York City's Browhaus, which uses vegetable dye to ink on brows that will last up to two years. To supplement them she applied prescription eyelash-grower Latisse off-label "to 'arch-i-tect' them back to their former fullness.

Overly opaque
"In high school I lived and died by heavy, full coverage pancake foundation," admits Misti Schindele of Entertainista. "What was meant to only be used on the theater stage, I rocked 24/7. My poor mother tried everything to convenience me that this was so not my look but being the all-knowing 17-year-old I was I didn't listen. Thankfully, I discovered sheer coverage foundation and tinted moisturizer the summer before college."

Edward Scissorhands' hairstyle
When Lara Eurdolian (Pretty Connected) got sucked into a free haircut at the mall, the results were, well, uneven. "They were featuring this 'new technique' and needed hair models. Big mistake! I was with my cousin and we both had long hair and they promised the look would keep our length. That was 50 percent true. They kept a few long strands in the front and cut a million layers that were super short in the back. It was a choppy mess! The worst part was it was right before we were about to enter our freshman year. Nothing like starting high school with the most terrible haircut of your life!"  

Stylist sabotage
"As a beauty blogger, I have donated my head to science more times than I'd care to admit, and one time to disastrous results," recalls Kristin Booker of Fashion.Style.Beauty. "I had extensions a few years ago, and entrusted them to a stylist during a hair event highlighting a new line of haircare products. Despite my instructions not to agitate my hair with shampoo, she proceeded to do just that, creating a giant knot at the back of my head. My extensions were cut out and I learned a valuable lesson: pay attention while getting your hair done at a new place. You've been warned!"

In transit eye makeup
Like many New York women, Julia DiNardo of Fashion Pulse Daily is a master of underground makeup application (she even uses the reflection from subway car windows as a mirror!), but on one commute she got a bit over-ambitious. 
"I usually use chubby sticks on my eyes, but for some reason, decided to apply the traditional powder eyeshadows in a beige and navy quad for the first time while in transit. The brush that came with the palette wasn't the best, but largely due to user error and a bumpy ride, some of the shadow ended up smudged beyond my eyelids and almost onto my temples. It looked like dirt or bruises, and naturally, no one said anything to me on the subway car or in my meeting. From now on it's lipstick only that will be applied on the subway car!" 

Questionable color
"When I was young and not-so-smart, I decided I was sick of my naturally platinum blonde hair and was getting low-lights. The stylist I went to suggested I go 'ashy' — saying how great I'd look with the dimension of ash blonde against my own blonde," says Aly Walansky of A Little Alytude. The resulting color wasn't what she imagined, to say the least: "In all my little brother's bar mitzvah pictures the following week, I looked like his much, much older sister. Say, forty years older."

Acid overload
"In my never-ending quest to find the best face mask ever, I tried one that boasted a super-high concentration of vitamin C," recalls Bryce Gruber of The Luxury Spot. "Now, had I been smart, I would've remembered that vitamin C can irritate the skin temporarily. But no, I ignored that, and left the mask on extra-thick for an extra 20 minutes." The next morning, with a bright red face, Gruber visited her sick grandmother is the hospital, who said: "Bryce, are you OK? Your face looks terrible. You should stay here, too."  

Zebra stripes
"In college, my friends would constantly laugh at me and my self-tanner streaks," reveals Jamie Stone of Honestly Jamie. "I kind of didn't care (hello, I was tan-ish), but when I look back at certain photos I am completely mortified, and also simultaneously impressed with my delusional self-confidence." Why the stripes? "I was just completely messy with putting it on and never quite hit all the right spots...especially on my legs. But like I said, I rocked it and told them 'hey, whatever...my legs are no longer as white as my sheets!'"  

Cock a doodle 'do
Coveting thy neighbor's hair didn't work out so well for Candice Sabatini (Beauty News NYC). "A woman I knew, who was incredibly fashionable and always looked liked she walked off a magazine cover, had a hairstyle I coveted." Chic, face sculpting and irresistibly versatile, it was the perfect bob. After stalking the style for six months, Sabatini finally made a (very pricey) appointment to see the same stylist. "I was going to get a cut that would transform my ordinary locks into something extraordinary!" she thought. "Well, I don't know if he was on drugs that day, but he did everything that one shouldn't do to someone with a long and narrow face — short on the sides and long on top. Picture a rooster comb here. I spent the next week wearing a straw hat or headscarf to work, and needed a much-shorter cut to salvage the disaster." 

Eyebrow butchery
Back in college, Marina Klimasiewfski of Makeup Loves Me fancied herself an eyebrow specialist, even convincing her best friend to surrender her brows for styling. "I used a small brow razor I'd purchased in Chinatown. I ended up shaving off the outer third of her right brow and she had to draw it in for the rest of the semester!"  

Mismatched weave
"I was 19 and knew nothing about weaves," recalls Lianna Farbes of The Makeup Girl. So when a hairdresser suggested one to help her grow out a short cut, she agreed, but it wasn't a match made in heaven. "The color was black (my hair is brown) and the texture was called a 'deep water wave' (my hair is curly), so the hair in front was always a different texture than the back. I didn't maintain them they way I should have so by the time the extensions came out, so did half my hair."  

Scissors slip
"I was having my hair cut short and I moved quickly while the hairdresser had a razor in his hand," remembers Zippy Sandler of Champagne Living. The result? "He shaved a hole down to my skin in the back of my head. It took months of wearing scarves, hats and wigs before it looked okay."   

Egregious extensions 
"When I was in college, I got glue-in extensions for my sorority formal," remembers Jeannine Morris of Beauty Sweet Spot. Things were going okay, until it was time for them to go. "Hair was coming out and being secretly thrown into my bag in class, the cafeteria and anywhere else I was able to pick. Glue everywhere. Then, instead of going to a salon to have them properly removed, I got in a shower stall with three of my best friends and sorority sisters (yes, with bathing suits on) and we had a field day with my fake hair, conditioning each track to try to break down the glue and slide them out. Let's just say my hair was a disaster, but it was a lot of fun!"