The controversial weight-loss ads found throughout London subway stations will be coming down — but not because of the massive backlash against the bikini-clad posters asking folks, "Are you beach body ready?"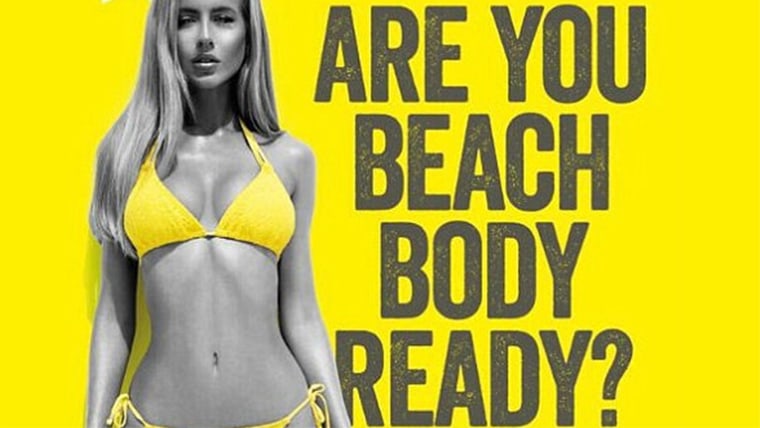 The full-size ads apparently ruined the commute for thousands of Tube riders, who viewed the posters as sexist and a form of body-shaming. Critics took to social media platforms, as well as physically scribbling on the posters, to voice their displeasure.
But the subway system's three-week contract for the ad campaign with Protein World ends Wednesday, according to the Transport for London.
"This advertisement will begin to be removed from our network as scheduled from tomorrow," the organization said in a statement Tuesday. "We have received one complaint about it and we will be guided by The Committee of Advertising Practice and Advertising Standards Authority if a similar advert were to be submitted again."
The organization also went on to warn: "We have zero tolerance towards graffiti on the network and take action to prevent it and remove it."
As of midday Tuesday, more than 52,000 people had signed a Change.org petition calling for ads to be removed.
"Protein World is directly targeting individuals, aiming to make them feel physically inferior to the unrealistic body image of the bronzed model, in order to sell their product," writes the British petition author, Charlotte Baring.
"Perhaps not everyone's priority is having a 'beach body' (by the way, what is that?), and making somebody feel guilty for not prioritising it by questioning their personal choices is a step too far," she continues.
On Monday,a spokesman for Protein World said there were no plans to pull the ads.
"Getting 'beach ready' is not a new concept. It's a fashion that is followed by millions, admittedly not everybody as we have seen, around the world when they look forward to their summer holiday," Richard Stavely, the head of global marketing for the company, said in a statement. "We absolutely have no intention of removing the adverts because of a minority making a lot of noise."
Stavely also questioned how some could view the ads as offensive to women.
"We now run Britain's largest protein facility, selling our products in over 50 countries to more than 300,000 customers. Most of them are women. How could we possibly be sexist?" he said. "It is a shame that in 2015 there are still a minority who aren't focusing on celebrating those who aspire to be healthier, fitter and stronger."
Stavely also pointed out that "Renee, our (ad's) stunning model, inside and out by the way and falsely assumed as Photoshopped" falls well within what the British government deems to be a healthy weight based on her body mass index.
But two British bloggers beg to differ. Bloggers Fiona Longmuir and Tara Costello donned bikinis to pose in front of the ad in a tweet letting people know what "beach body ready" means to them.
They also posted a Facebook page "EachBodysReady" to reinforce "that every 'body' of any shape, size and age is ready for the beach!" The two are organizing a related "taking back the beach" event in Hyde Park on May 2.