Ahh, Ikea. It's one of the only places where you can shop for a cheap couch, eat Swedish meatballs and put your relationship to the ultimate test all in the same day. If you and your partner can get through the entire store without tears, you've done better than most.
But one of the glimmers of joy that many can get from the anxiety-inducing experience is the iconic blue shopping bag provided for use in stores and available for purchase at 99 cents. The crunchy, wrinkly, foldable "FRAKTA" bag is the ultimate life saver for carrying everything and anything. Need to transport a small TV? The bag can handle it. Moving out of your apartment? Well, you can fit 19 gallons worth of clothes in this lightweight shopper.
RELATED: Stressed at Ikea? 'Relationship Saving Station' pops up to help
If you've ever dreamed of owning a luxury version of the beloved tote, your prayers have now been answered.
French luxury fashion house Balenciaga recently released it's Arena Extra-Large Shopping Tote, which is strikingly similar to Ikea's bag in style, if not in price. For a whopping $2,145, you can get the designer version of the iconic bag. Wait ... what?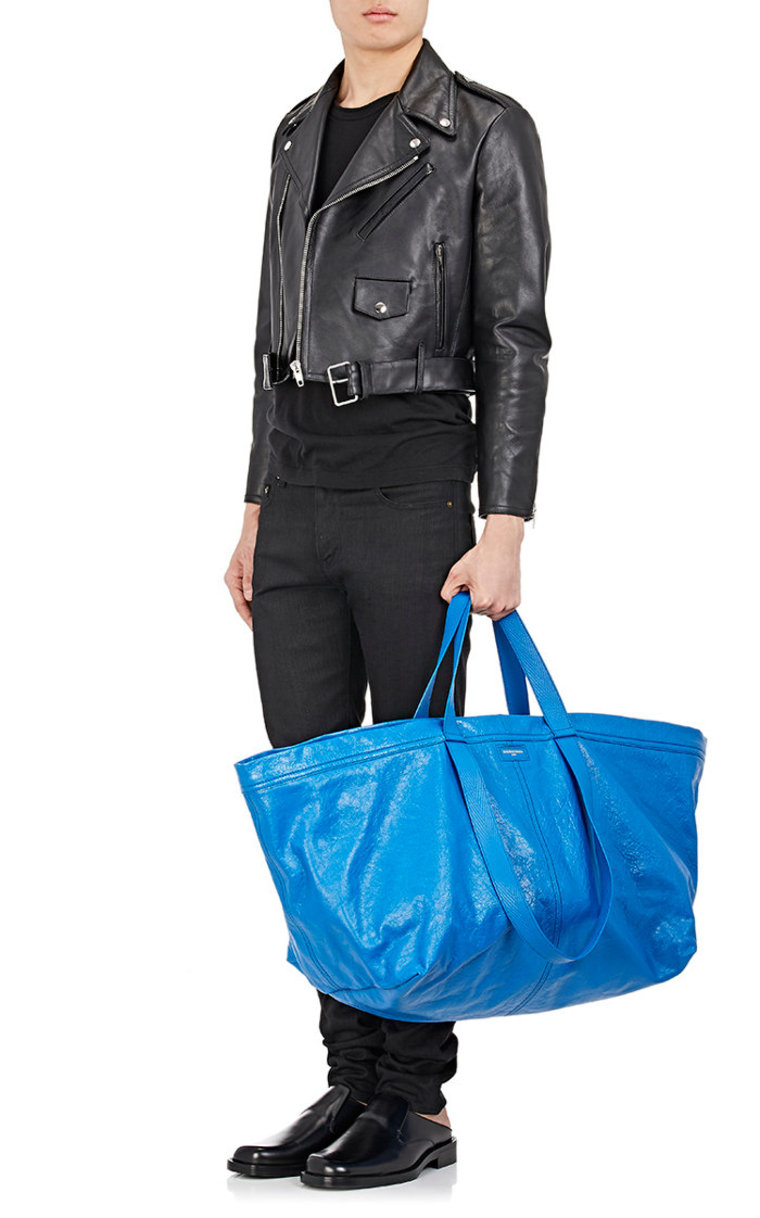 For $2,145, you could redo your living room and never have to go to Ikea again.
High-end retailer Barneys is selling the bag and has the following description of it on their website: "Balenciaga's Arena extra-large shopper tote bag is constructed of blue wrinkled, glazed leather."
Wrinkled leather? Not exactly the crunchy vibe we're used to, but we see the intention put behind the design. There's also a "gold-stamped" logo on the top of the bag for the ultimate luxurious feel.
RELATED: Here's the right way to pronounce Ikea
While we're not entirely sure if the Ikea bag served as inspiration (Balenciaga didn't return a request for comment), the home store is taking it as a form of flattery.
"We are deeply flattered that the Balenciaga tote bag resembles the Ikea iconic sustainable blue bag for 99 cents. Nothing beats the versatility of a great big blue bag!" Ikea told TODAY in an email.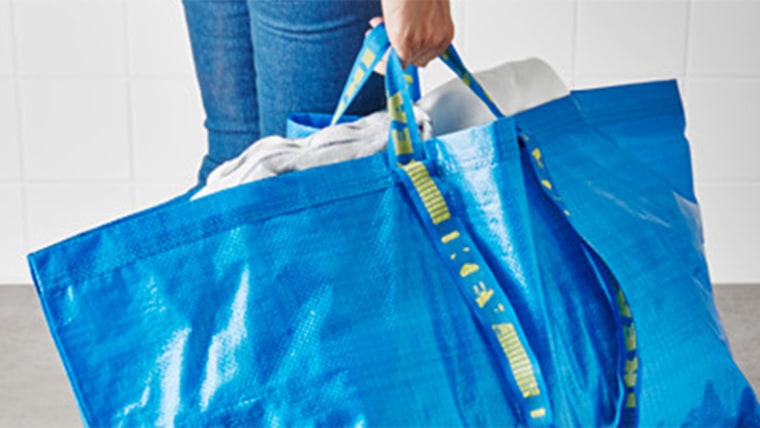 Actually, Ikea's blue bags were originally yellow. Founder Ingvar Kamprad first created the large and durable bags in hopes that customers would be able to carry all of the products they wanted anywhere within in the store, a representative told us. Customers loved the bags so much that it eventually became available for purchase.
If you have $2,145 to spend on wrinkly leather, go for it. As for me, I'll be sticking with my classic, 99-cent, bright blue Ikea bag.