No matter what your political views, it's safe to say that many Americans feel on edge about the violence happening at home and around the world.
So, in the current climate, it might not seem like the best idea to carry around a bag announcing that you're heavily armed with deadly weapons (and "loads of drugs").
But that's the bold slogan of a tote bag that has been making the rounds online lately.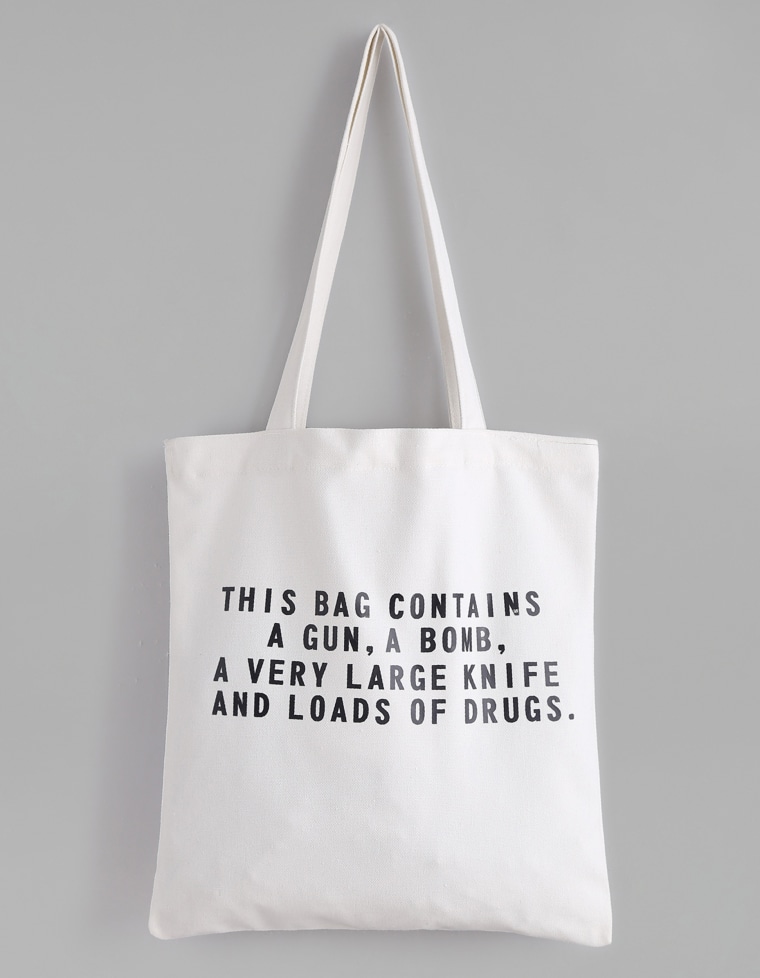 "This bag contains a gun, a bomb, a very large knife and loads of drugs," the bag reads in large letters.
Of course, the over-the-top tote is most likely meant as a joke. Maybe it's a wry message about how you shouldn't assume someone is dangerous because of the way they look, or because of the kind of bag they're carrying.
However, the tote is probably not very humorous to anyone who sees it at an airport, on public transportation or, really, in any public place.
RELATED: Nivea apologizes for 'White Is Purity' ad campaign after outrage
That didn't stop one traveler from carrying a similar bag at Malaysia's Kuala Lumpur airport in January. A fellow traveler snapped a photo of the unnamed man, who sported a black, canvas tote with the same quote about guns and bombs.
"(It is beyond) belief that people can be so stupid in this day and age of heightened security in the face of terrorist attacks," one traveler, who saw the man going through security, told The Sun. "But saying that, the guy got through OK, so they clearly didn't notice the message on the bag."
RELATED: How to talk to your children about terrorism and their resulting anxieties
In these tense times, when even a joking mention of a bomb can land you in serious trouble at the airport, it seems like the traveler really lucked out.
The tote, which is currently on sale for $9.99 on the fashion website RomWe.com, as well as a few other online retailers, is not new.
A white bag featuring this provocative, all-caps slogan was first released in 2010 by Trevor Jackson, a graphic designer and DJ. Since then, the bag has been copied over and over, with many retailers making their own versions of the controversial carry-all.
RELATED: Heels for babies? Company defends their controversial product
Of course, we have a right to wear (nearly) any message we want on our clothes. And the words on this bag don't directly threaten violence or spread hate. But some people would argue that it's just not worth the risk.
What do you think? Is this bag funny or offensive?