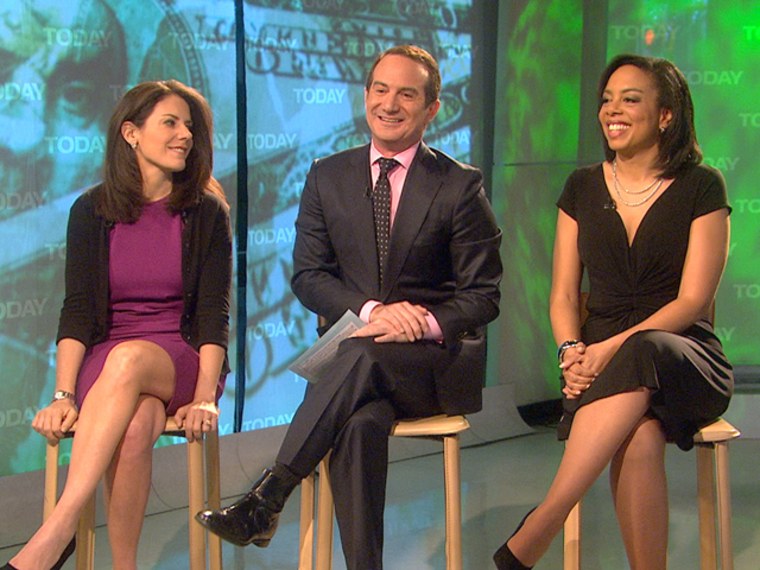 Al spilled a fashion secret about Jean Chatzky and Sharon Epperson Wednesday morning: The two Money 911 panelists wore the same outfit to Studio 1A!
And it's not the first time. Weeks ago, ALL of the panelists – including David Bach – wore purple.
"We laugh about it because it literally happens all the time," Jean told TODAY.com, adding they also worry about matching with Natalie and Savannah. "You've got to watch out ... it's not that scripted."
Why does this happen so often? Sharon said she, Jean and the anchors have similar styles. "I know I have the exact same dress as Savannah," Sharon said, noting Jean even pointed Sharon to an Elie Tahari sample sale. "We both love Tahari." 
Jean believes there may be a subconscious mind-meld happening. "Today we were (at first) wearing something that was close to pink. Even David had on a pink shirt," Jean said. "It could be the remnants of Valentine's Day."
The matchy-matchy moment didn't make it to air: When she realized the style similarity, Sharon changed into an extra outfit she had brought to the studio for her live appearance later today on CNBC.
(Update at 4:30 p.m. ET: Click here to watch Sharon's CNBC segment about increasing student-loan debt.)
Both money-minded women said their shared style brings them closer together. "I feel like I get an 'A' when someone who you really respect is wearing the same thing," Sharon said.
More:
Michelle Obama wears a $39.99 Jason Wu for Target dress
Ann flashes her 'love' for Valentine's Day
Pic of the day: Duggars meet swimsuit model
Steve Veres is an editor for TODAY.com. He once wore the same outfit – khaki's and a blue shirt – as his coworker, and didn't bring anything else from home to wear. So awkward.