Target announced Wednesday it will launch a new line of plus-size clothing beginning next month — and has snagged the promotional help of a prominent fashion blogger who once called for a boycott of the retailer.
Although Target has been under fire for only recently offering plus-size options in their designer collections, the company said its Ava & Viv line has been in development for a while.
"We've been working on it for a year now. That's how long it really takes to develop a brand from top to bottom," said Joshua Thomas, a spokesman for the company. "This is the first time in many decades when Target has introduced an entirely internally designed and developed line of apparel."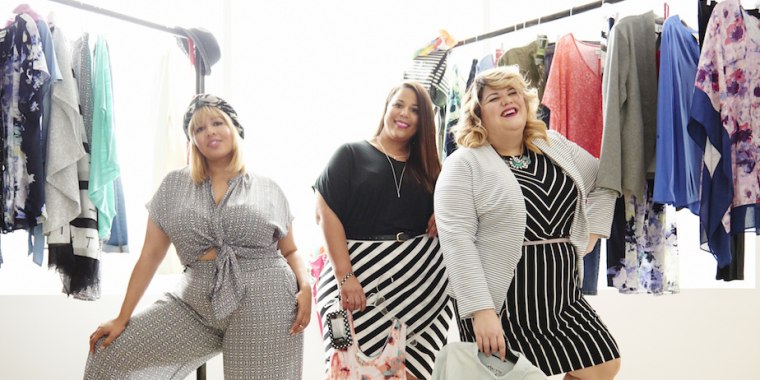 The new line will begin to rollout in some stores beginning mid-February and continue launching throughout the nation in March. The entire line can be seen as part of an "immersive boutique experience" that will go live on Target.com starting Feb. 22.
Target currently offers women's ready-to-wear clothing up to size 18. The new Ava & Viv line will feature 90 pieces, ranging from $10 for a basic tee to $79.99 for outerwear, in clothing up to size 26 and 4X.
"This line is developed specifically for a woman who loves fashion and who happens to be plus size," Thomas said. "It not only takes into consideration wardrobe basics, trend pieces [and] everything you need to build your foundational and statement pieces, but we've taken our focus on fit to borderline obsession because we know that's critically important to the plus-size guest."
Thomas said Target not only has a team of in-house designers working on the line, "we have an incredible team of internal artists, so a lot of the prints and patterns you'll see are original artwork we developed."
Target hired three prominent plus-size fashion bloggers to help promote the line and provide feedback on the collection: Gabi Gregg, Nicolette Mason and Chastity Garner, who last August announced she was boycotting the company for failing to introduce larger sizes in its Altuzarra collection.
The three fashion experts will provide "the type of feedback that better allows us to understand where the consumer is headed and how we can meet them with our offerings," Thomas said.