Online shopping is incredibly convenient, but there's always been one major pitfall: How can you know what something is going to look like on your body?
An article of clothing often looks one way on the model, but then looks totally different when you try it on for yourself. Cue the inevitably frustrating process of returning whatever was ordered and starting over from scratch.
To combat this issue, Asos — which happens to be an online-only brand — has introduced an entirely new way of shopping its collections. Instead of showing an article of clothing on one standard-size model, which has always been the industry norm, Asos recently rolled out a new technology that allows shoppers to view clothing on different sized models. (There is a caveat, but more on that later.)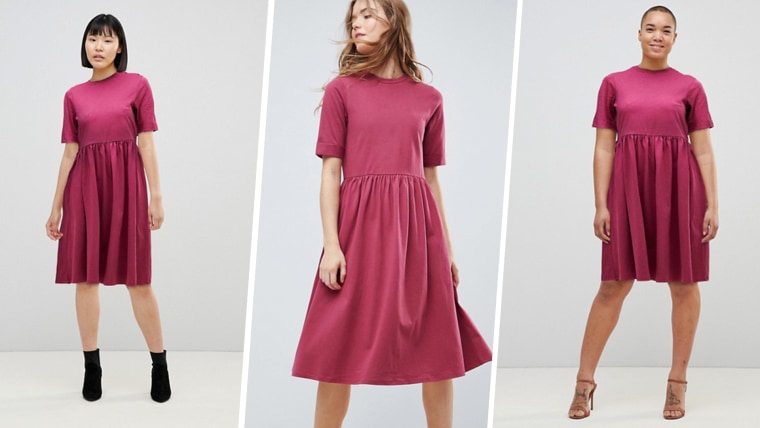 When you click through the images, you'll see the same piece on a variety of different body types to give customers an idea of what the piece might look like on their own bodies. "We're always testing new technology that can make our customers' experience even better," an Asos spokesperson told TODAY Style. "In this case, we're experimenting with AR (augmented reality) to show product on different size models, so customers can get a better sense of how something might fit their body shape."
To be clear, this means that all the models aren't actually wearing the clothes, but rather that the garments have been digitally placed onto their figures using augmented reality to show what they might look like on women that size. So how close is this augmented reality to actual reality?
"Modeling clothing (with AR) can be difficult since the material properties can be very complex," said Dr. David Krum, a researcher at the University of Southern California's Institute for Creative Technologies, who noted that his assessment of Asos's technology is mostly conjecture. "Different parts of clothes can drape or can be elastic. Depending on how well they can measure these properties, there can be discrepancy. Also, there can be very sophisticated variations in how light interacts with the material."
"I am always skeptical about clothing simulations, since I have seen poor performance in the past," he added. "But there is some hope if they can measure the physical properties of the clothing well."
Krum explained that while this sort of technology may help people know what to expect when they order, it probably won't make a significant difference in the amount of buying and returning.
Regardless of whether their models' clothes are real or digital, Asos's latest move is still a step toward inclusivity, something the brand has consistently advocated. Asos is well-known for its collection of extended sizes through their Asos Curve & Plus line, and made headlines earlier this year when they stopped Photoshopping their models' stretch marks.
Fans are clearly into it, and have been praising the brand on Twitter for giving visibility to women sized in the oft-forgotten "in between" area from sizes 4-12.
Yet some people say there is still more progress to be made.
The new technology is available for a few different pieces on the Asos website and app, but there's no word of whether it will eventually be rolled out site-wide.
Now, all that's left to do is figure out what you'll do with all the time you're about to save from not dealing with returns!