"Modern Family" star Ariel Winter has certainly been seeing red these days, but it's not red with anger.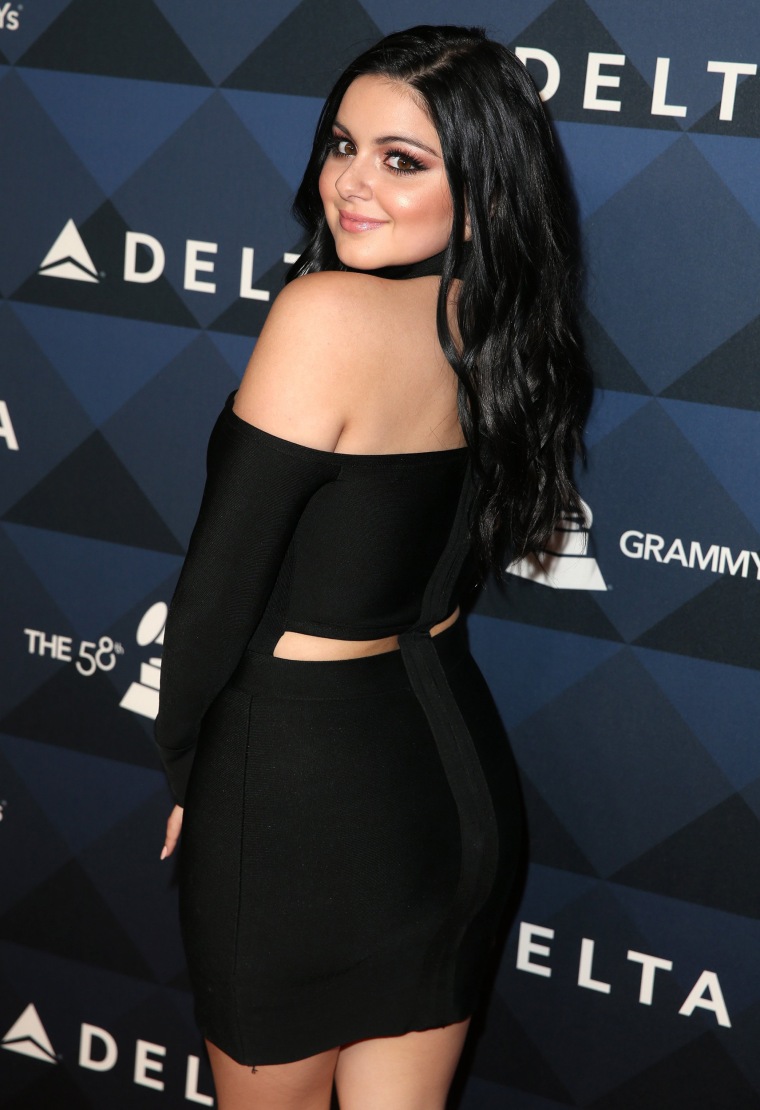 The actress debuted a brand new fiery 'do on Instagram with a video captioned: "I'm now a strawberry!"
Winter, 18, traded in her signature dark locks for a more playful, vibrant hue just in time for spring. While most people tend to go lighter with warmer weather, she revved up the color, choosing a hue similar to fire-engine red.
RELATED: Ariel Winter pens emotional essay on decision to have breast reduction surgery
The actress is no stranger to changing things up with her hair. In fact, she joined the red hair club before, experimenting with both a bright cherry hue and a darker, ruby red color.
But beyond red, the normally dark-haired star has experimented with blond and even funky blue highlights. From the looks of it, Winter is not afraid to take a style risk when it comes to changing up her look.
"Ariel is young and fun, and the hair change is all due to her hiatus from 'Modern Family,'" wrote Ashlee Zakar, Winter's go-to hair colorist for over six years, in an email to TODAY.
RELATED: Brunette to blonde, will it work on you? Secrets from a celebrity stylist
"Ariel has porcelain skin with dark features, but wanted something more bright and fun," she added. "Being that we have been coloring her hair dark for awhile, we were limited on how much we could do without ruining the integrity of the hair, so I wanted to have something more dimensional and vibrant."
Zakar, who works at Salon Republic in Studio City, California, mentioned that when making any color change — whether drastic like Winter's or subtle highlights — it's important to keep one's skin tone in mind.
Zakar recommends looking at photos of people with similar skin tones and features, such as eye color and eyebrows. And if you dare to go red like Winter, she suggests that someone with a more olive or yellow complexion try a violet-based red, while people with fairer complexions opt for a red with copper tones.
RELATED: Sarah Hyland's dark new hair color for spring
For Winter's new look, Zakar had her work cut out for her, having to take the star's hair from black to red. If you're inspired to follow suit, Zakar shares how she achieved this vibrant hue.
"I had to pre-lighten her starting in the back midshaft of the hair only using Olaplex," she said, referring to a hair-repair treatment. She then applied the product to the roots and ends once the midshaft area was almost done processing. "Once that is washed, I did a full highlight again using Olaplex," she said. "Once that is washed out, I formulated a vibrant red based off of an inspiration picture Ariel showed me."
However for those who want to try the look, Zakar warns that you should be prepared to lose some length. For Winter's hair, they had to cut at least four inches in order to keep it looking healthy.
RELATED: Sarah Michelle Gellar goes from blond to brunette hair: 5 tips for going dark
It's also important to thoroughly discuss exactly what you hope to achieve with your stylist, she said, so you have realistic expectations. Also, having patience is a must. "It is a called a process for a reason!" said Zakar, who also warned about the amount of time and money it takes to make a drastic change like Winter's.
While Zakar was able to achieve Winter's new color in one visit, she said that sometimes it can take several trips to the salon to get the desired hue. And once you leave the salon, the work continues.
"Red is high maintenance! The dye molecule[s] in a red dye are very small compared to others, so they do not hold as well," said Zakar. "Ariel will be refreshing her color every two to three weeks the first couple of times until it really grabs."
RELATED: Ariel Winter fires back at body shamers over bikini picture
To keep hair looking its absolute best in between salon visits, Zakar suggests using color-safe products and not washing your hair every day to take advantage of natural oils and shine.