If you're like many women, figuring out what to wear in the mornings is a hassle — and a time suck.
That's why CEO Arianna Huffington is encouraging women to repeat outfits more often, which helps save energy and time, she explained at Fortune's Most Powerful Women Summit on Tuesday.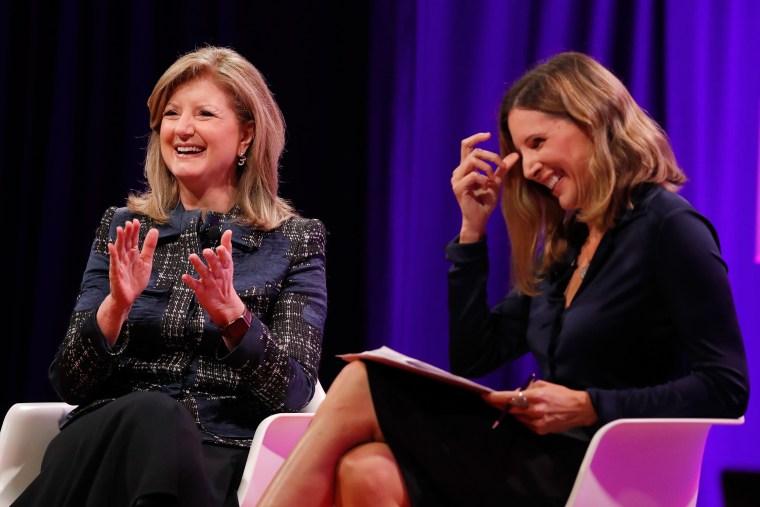 "I think women should deliberately repeat things they love," Huffington, who created the news website The Huffington Post and now leads Thrive Global, said at the event in Washington, D.C. "Men have a competitive advantage. They don't have to waste the kind of energy we waste."
"Feeling that we have to wear something new every time we have a speech, every time we do something important ... " she continued. "So I deliberately use my Instagram to show myself, for example, at the Time 100 dinner, next to (a photo of) me at the White House Correspondents Dinner, wearing the same long gown."
Huffington uses the hashtag #repeats to show off the outfits she's worn to multiple events.
Last year, Huffington wrote in a blog post about her experience speaking on a panel, and noticing how the women who participated "arrived looking great, as successful women in the business world tend to do," while the sole man to participate wore jeans and a T-shirt.
"As women, we've collectively broken many glass ceilings, but still seem to be laboring under the cotton-silk-rayon-makeup-and-heels ceiling," she wrote.
Clearly, there's something to her idea about repeats: TODAY reported a story in 2015 about women who have taken to wearing "uniforms" to work every day. It gives them one less thing to think about in the mornings, they explained. (Think of it as a woman's version of putting on a similar suit and tie every day.)
There's a difference between wearing a work uniform and pegging a few favorite outfits to turn to in a crunch, of course. But both strategies are likely rooted in the same logic: In an age where women are still only paid about 80 cents for every dollar a man earns, anything that helps even the playing field is helpful.
It appears some famous women are already well aware of the benefits of a good repeat: Kate Middleton, Michelle Obama and Melania Trump have all reworn dresses in public. And if these established trendsetters are any indication, we wouldn't be surprised to see more repeats and uniforms in the future.