Talk about drama: Anne Hathaway's red carpet fashion choices continue to generate controversy.
After many criticized the pale pink dress the Oscar winner wore – largely due to its unfortunately-placed darts – there was still the issue of why the actress wasn't wearing her go-to designer, Valentino. Hours before the red carpet on Sunday, Valentino's design house sent out a press release stating it was indeed dressing the "Les Miserables" star, along with Jennifer Aniston and Sally Field.
But Hathaway, in a surprise turn, wore Prada.
"I didn't know what I was wearing until two hours ago," Hathaway told E! News of her gown switcheroo on Sunday. "I tried on a ton of dresses and, at the end of the day, I loved the simplicity of it. And this sounds weird, but I'm 30 and I feel 30 in this, and that's a very positive thing."
(At the same time, she also said the dress was "business in the front, party in the back," proving one can have one's cake and wear it too.)
While last-minute wardrobe changes happen often in Hollywood, some critics interpreted the swap as the actress insulting Valentino, who designed her wedding dress and dressed her for the 2011 Oscars. "We thought they were best friends!" wrote the U.K. Daily Mail, while Refinery29 stated the "real Oscar snub" was Hathaway "ditching" the iconic Italian fashion designer.
That chatter may have been why the A-lister felt prompted to release an official apology on Tuesday afternoon.
"It came to my attention late Saturday night that there would be a dress worn to the Oscars that is remarkably similar to the Valentino I had intended to wear, and so I decided it was best for all involved to change my plans," the actress said in a statement, according to PEOPLE magazine. "Though I love the dress I did wear, it was a difficult last minute decision as I had so looked forward to wearing Valentino in honor of the deep and meaningful relationship I have enjoyed with the house and with Valentino himself. I deeply regret any disappointment caused."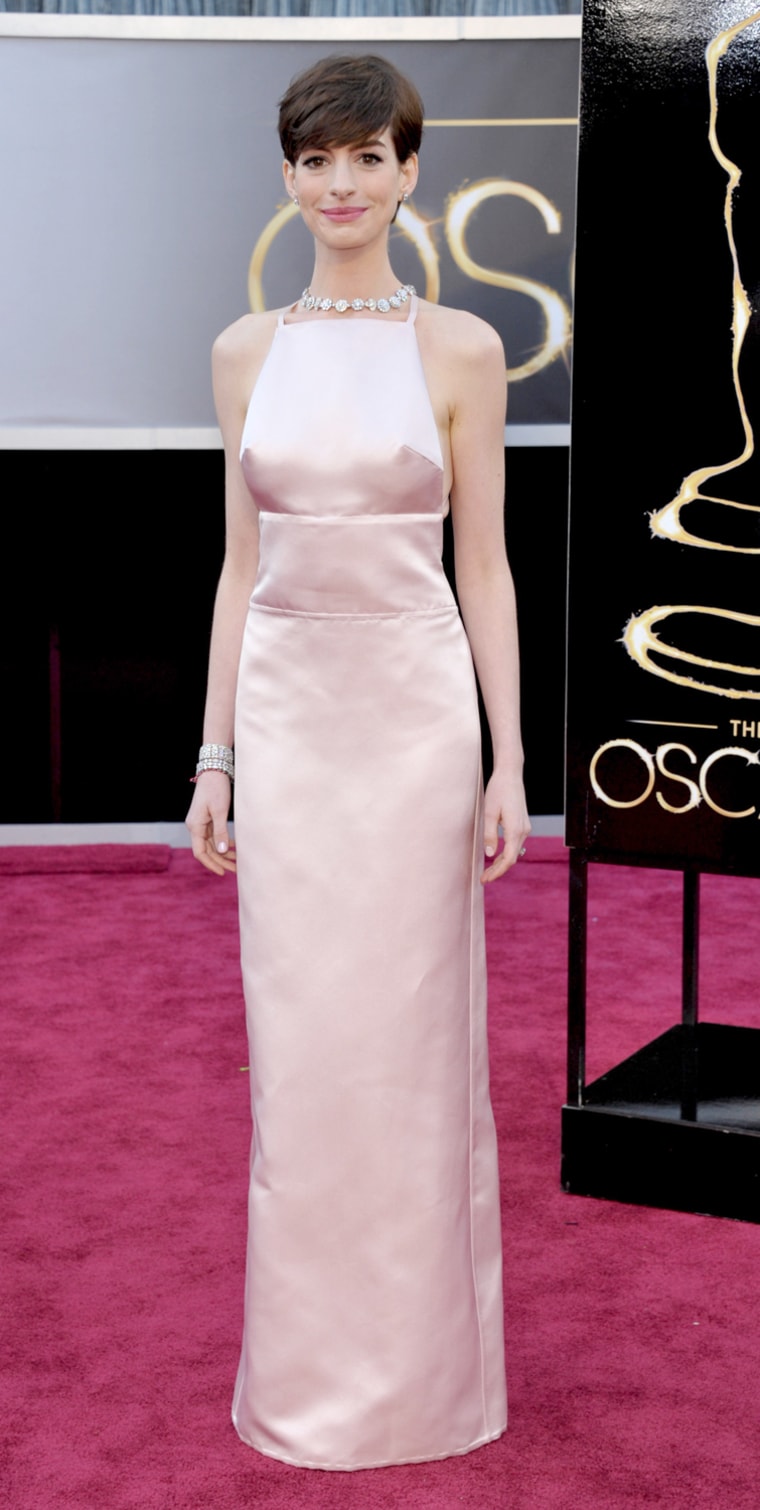 No further mention was made of the "similar" dress in question, but Fashionista sources claim it may have been Amanda Seyfried's Alexander McQueen lace gown, which looks rather like a Valentino couture gown from Spring 2013. Neither Valentino nor Hathaway's stylist, Rachel Zoe, have publicly commented yet.
Hathaway's apology comes amid other reports that the actress was sensitive to criticism following her Oscar win. Speaking to reporters backstage after winning for Best Supporting Actress, Hathaway admitted to feeling hurt by those who said she seemed insincere and too earnest in her acceptance speech.
"It does get to me," she said, according to Us Weekly. "But you have to remember in life that there's a positive to every negative and a negative to every positive."
What do you think of Anne's dress? Are you fan? (And was it worth the flack she received?)
More from TODAY Style:
DIY Oscars look: Anne Hathaway's brooch necklace
Les Nipplerables? Hathaway's dress draws attention
Anne Hathaway: Jokes about Oscar speech 'get to me'
What if your favorite stars swapped red-carpet styles?
Oscar nominees and presenters show off their stunning outfits as they arrive to celebrate the best movies of the year.