Sisters Karen Tade and Beverly Sevigny came by the plaza on Thursday holding some unusual signs that quickly caught our attention: "Ugly Duckling 1" and "Ugly Duckling 2."
It turns out, their mother had decided they desperately needed Ambush Makeovers, and she was determined to get them new looks. In fact, she had a sign of her own: "Please turn these ugly ducklings into swans!"
The signs worked, and soon the whole family was chatting with makeover guru Jill Martin.
"I really want this for my girls," their mother said. "They really need this."

"Then I guess we better do it!" Karen agreed.
"It's an honest family!" observed Kathie Lee.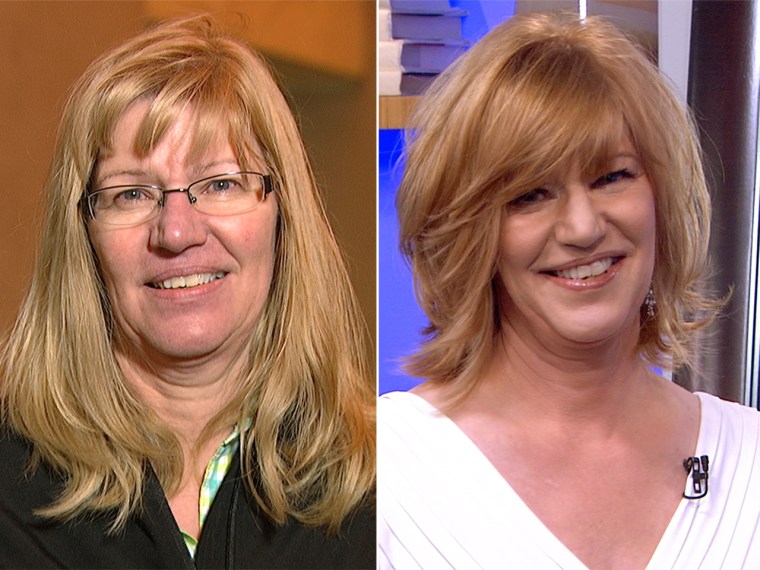 Karen, 53, was up first, wowing the ladies with a gorgeous, feathered hairstyle thanks to Louis Licari.
"Oh my goodness!" cried her younger sister, who was standing on the sidelines with their mother waiting for the big reveal.
"I love that hairdo, that's fantastic!" agreed KLG.
"You look beautiful," said Louis, noting how the strawberry hue he'd given her hair softened the blond color that had previously washed her out.
Next it was Beverly's turn. Before her makeover, the 55-year-old said she was excited for her transformation and predicted she would "look better than everybody here." And indeed, her new look was stunning!

"Oh my goodness!" the youngest sister said again. "It's very elegant."
Louis noted the layers he'd used to "soften the frame around her face," and said the combination of the new haircut and soft, pretty makeup had "erased years" from her look: "It's amazing."
We agree!
See the best transformations on TODAY! Hairstylist Louis Licari and TODAY contributor Jill Martin give fans stunning makeovers from head to toe.