It's Thursday, and you know what that means — our favorite! Ambush Makeovers!
Our illustrious style team, Jill Martin and Louis Licari (la la la la la!) came through to provide us with very necessary fashion, hair, and makeup guidance. Today's lucky makeovers? Pam Barrett and Janelle Stanley.
First up, Pam, from Chicopee, Mass. "She told us she does not wear make up because she doesn't know how to apply it," explained Hoda. 

Pam was plucked out of the audience with her mom and brother Bob. "They had the signs going, 'Please ambush me, please ambush my daughter.'" said Jill. What makes Pam so special? "She's the best daughter ever, she's a 7 year cancer survivor and a wonderful mom and grand mom," said her mother Milly.
And Pam could really use some TLC. "I just don't feel beautiful right now and I would like to feel better," she said. 
So how'd the makeover go? "I feel like I'm looking at somebody else," said Pam, in awe of her image in the mirror. "My dad said I was a princess and now I feel like one." We'd say that's a success!
Bob loved his big sis's look so much, he began tearing up, and KLG had to pass him the Kleenex. "She's my big sister. She has a very big heart. And she looks fantastic."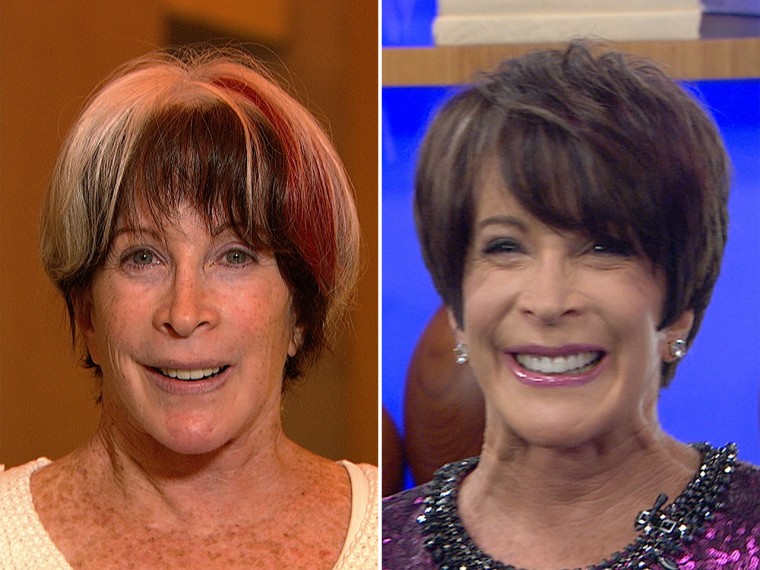 Up next: Janelle Stanley, from Talladega Alabama. "She literally got on her knees and begged us for a whole new style," said KLG. 
"I have a lot of desire to just keep changing," said Janelle, of her many-colored hair. 
Her husband Ross loved his wife's creative look, but was hoping TODAY's makeover masterminds could give her something she loved. "She's wanted this for years. She always thought she could make it on the stage." 
When she debuted her new look, he was floored. "Oh my god. She looks … Wow!" he said.
"I came in with white hair! Oh my God! I love it!" said Janelle, clearly pleased with her makeover. 
"It's a little Carol Burnett!" said KLG. 
"Don't ever let it be said I'm afraid to accept a challenge," Louis, teased. 
Instead of expressing her outgoing personality through a bunch of different hair colors, Jill channeled Janelle's energy into a va-va-voom sparkly purple dress from Laundry by Shelli Segal. 
"It's so flirty and sexy! And she's got this great body!" said KLG. 
Nice work, all around!
See the best transformations on TODAY! Hairstylist Louis Licari and TODAY contributor Jill Martin give fans stunning makeovers from head to toe.