Halloween is all about trying out a new look, and this morning two lucky ladies opted out of fright in favor of delightful new hair, makeup, and style, thanks to Ambush Makeover.
Makeover gurus Louis Licari and Jill Martin, decked out as Robin Thicke and Miley Cyrus, did the honors, plucking Mary Sommers and Terri Rush from the costumed crowd.
Mary, who turned 60 years old today, is a school nurse who spends her days taking care of 600 kids, which doesn't leave a lot of time for a fancy beauty routine.
"This is the most amazing birthday gift that anyone could ever give me," she said, while dressed up as a witch. "This just means so much to me, you have no idea."
After a send-off smooch from her husband, she disappeared for her transformation, and came out with a chic, darkened bob.
"Whoa!" said her husband, giving her another kiss. She squealed and laughed inaudibly for several minutes, giddily saying: "I can't get over this! Look! Look at this!"
"They win for cutest couple ever," KLG said, as she and her husband continued their public display of affection. "I love them."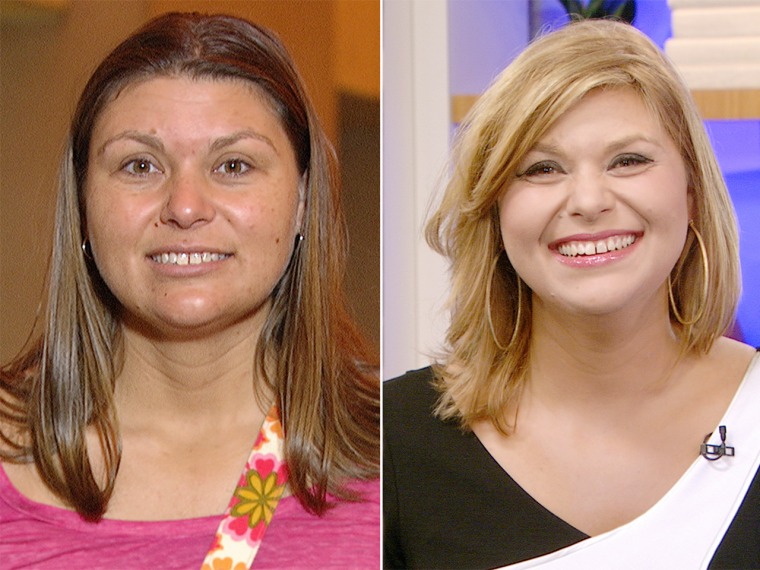 Terri Rush was up next. The 36-year-old from Rochester, New York said her daily beauty routine prior to this morning consisted of no make-up and a ponytail.
But she was ready for a change, and, she revealed, she's single and looking for a great guy. "I'm looking for a smart, intelligent hard worker," she told Jill.
When she emerged, Terri's makeover drew cheers from those in the studio. "Beautiful!" everyone exclaimed.
"Wow," she said when she saw herself in the mirror.
"I wanted to give her that little sexy je ne sais quoi," Louis said, noting the swept-away bangs and lighter hair.
"Amazing, beautiful," her friends agreed.
Fellas, now's your chance!
See the best transformations on TODAY! Hairstylist Louis Licari and TODAY contributor Jill Martin give fans stunning makeovers from head to toe.