Have you ever bought something you couldn't return and ended up hating it? Then you may be interested in Amazon's new service.
Prime Samples lets Prime members sample tons of products for $2-$4 each. Once a sample ships, Amazon will refund the amount spent in the form of credits on the customer's account that can then be used to purchase eligible items in a similar category.
Amazon provides this example on its website: If a Prime member buys a shampoo sample for $2, the member will receive a $2 credit that can be used toward a future shampoo purchase.
This try-before-you-buy feature, which launched in late 2017, has six main categories: beauty & grooming, beverages & food, personal care & household, vitamins & supplements, sports nutrition, and baby. Prime members can order each sample once.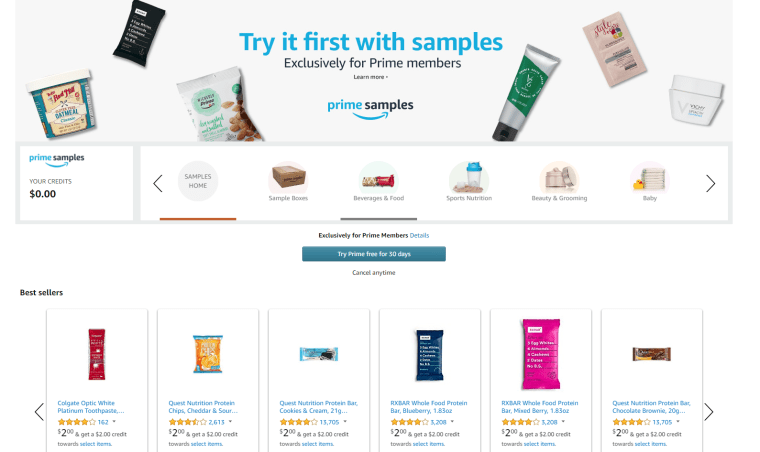 Beauty Samples
There are currently 99 beauty products to choose from, ranging from high-end skin care to toothpaste. We picked out a few of our favorites:
Grocery Samples
Prime Samples also offers customers the opportunity to try a number of snacks, beverages and workout supplements, including these four best-sellers:
Kid & Baby Product Samples
Parents know that kids can be picky with what they like and can often change their minds. With Amazon Prime Samples, parents can try different baby foods, diapers and bath products, including these:
Don't forget, Amazon Prime customers can also now get Whole Foods delivered to their doorstep.