Gymnasts without leotards? Aly Raisman says that's not the solution to problems plaguing her sport.
"I was recently asked if gymnasts should continue wearing leotards," the Olympic gold medalist wrote on Twitter. "Leotards (are) not the problem. The problem is the many pedophiles out there (and) the adults who enable them."
"By saying clothing is part of the issue, (you) are victim shaming/implying survivors should feel it's their fault," she continued.
Raisman, 23, has been outspoken about her abuse at the hands of former Team USA doctor Larry Nassar, who earlier this year was sentenced to 40 to 175 years in prison for molesting several young athletes under the guise of providing treatment.
Many other gymnasts, including McKayla Maroney, Simone Biles and Gabby Douglas, have also said they were molested by Nassar, sparking a larger conversation about how to prevent abuse among young athletes in the sport.
But if some people believe that getting rid of leotards is the answer, Raisman — and clearly, many of her fans — don't agree.
Some people on Twitter also pointed out that gymnasts wear leotards for safety purposes, so clothes don't snag on equipment, for example, and also so coaches and judges are better able to see the lines of the body.
Yet others argued that it can't hurt to consider uniforms that aren't so revealing.
"Obviously, skimpy leotards do NOT excuse sexual abuse," one woman wrote on Twitter. "That said, I've noticed that they've gotten very revealing. That may tend to draw potential sexual abusers to gymnastics programs. It's not victim shaming to say that discussions of less revealing leotards could be useful."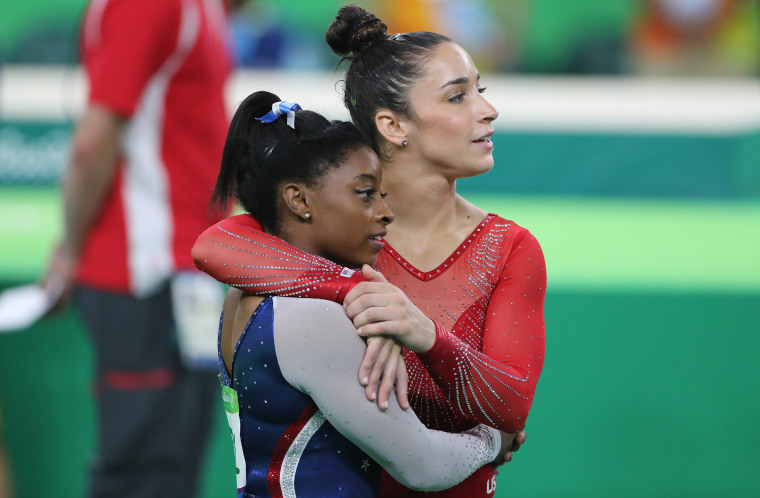 In a follow-up post on Twitter, Raisman shared a link to her campaign to protect children from sexual abuse.
"For those of you who do not understand what victim shaming is and why it is dangerous, I urge you to educate yourself," she wrote. "Adults can work together to prevent child sexual abuse."