Most couples would be understandably upset if firefighters evacuated their wedding reception, but for one bride and groom in New Jersey, it made for the perfect photo opportunity.
Newlyweds Allison Russoniello and Kevin Duffy were on the dance floor at their reception last Friday when an employee grabbed the microphone and announced that everyone would have to evacuate due to a strange burning smell in the venue, Russoniello told TODAY.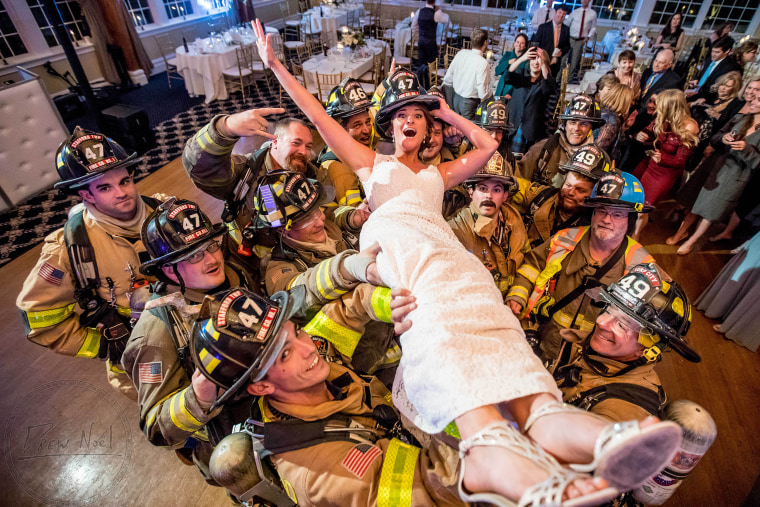 "My family is all jokers and pranksters, so I was like, this is funny, who set this one up, where's the joke?" she said.
RELATED: Watch out! Bridal party reacts to photographer's close call with speeding car
But there was no joke — the party was forced to evacuate as firefighters filled the building to investigate. That's when the couple decided to make the most of the situation.
"I turned to Kevin and said, 'This stinks, but we're going on the fire truck,'" said Russoniello, who lives in Atlantic Highlands, New Jersey.
Their photographer Drew Noel also sensed the opportunity for a few unique wedding photos. He found the couple and snapped photos of them inside and outside the fire truck. Later, when the party was allowed back in the building, he asked the firefighters to take a photo with Russoniello.
RELATED: Mystery solved! Couple from stunning Yosemite wedding photo identified
"They picked her up above their heads and I jumped on a chair and grabbed a couple shots and it just so happens they turned out perfect," Noel told TODAY.
He added that the couple was in high spirits the entire time.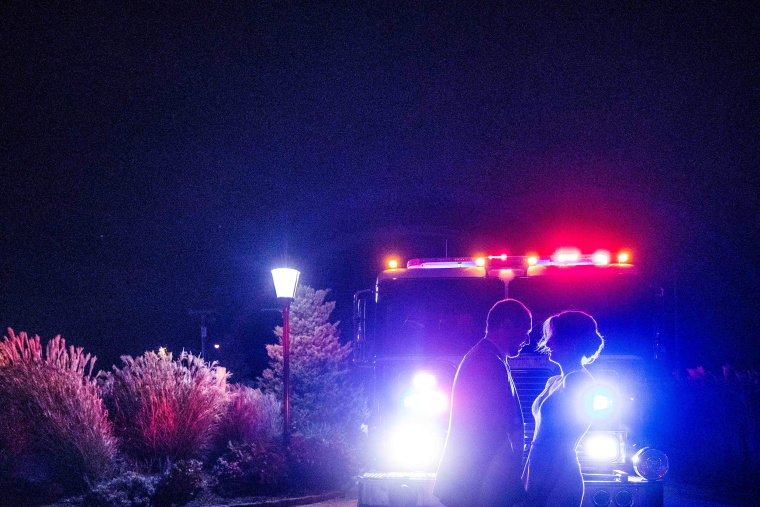 "Nothing could spoil their day, not even an evacuation at their wedding," he said.
The party was outside for about 30 minutes. The source of the smell turned out to be a faulty refrigerator compressor in the kitchen, and no one was injured.
The DJ went along with the theme, playing "Fire Burning" by Sean Kingston and "We Didn't Start the Fire" by Billy Joel, once guests were back inside.
Russoniello and Duffy, both 27, are thrilled by the photos.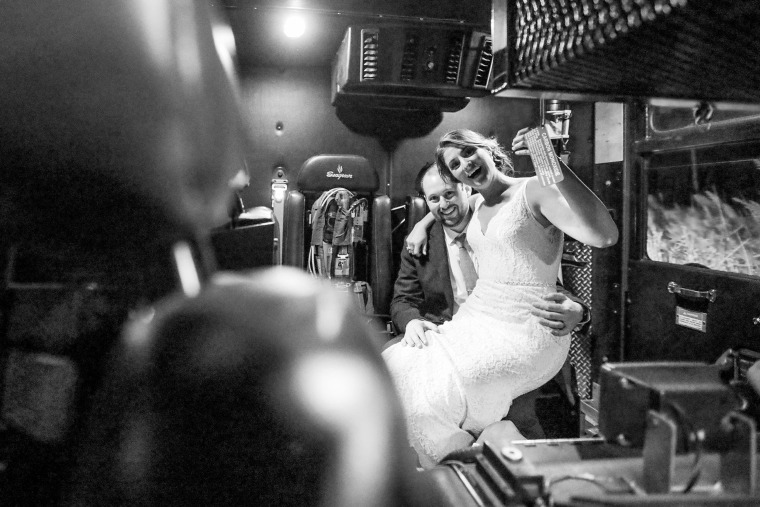 "I can't stop laughing," Russoniello said. "Boy, do we have a story to tell our kids one day!"
RELATED: Tom Hanks happens upon newlyweds' photo shoot, poses for delightful pics
She also called the fire department the following Monday to thank them for their help.
"I said, 'You protected people, you served people,'" she said. "'I can't be mad at you for evacuating the best night of my life. I have to laugh about it!'"