What do you do when your dream wedding turns into a nightmare? If you're Nikki Salgot of Saint Clair Shores, Michigan, you put on a white dress, hold your head high, and send a message of strength to anyone who's suffered a heartbreaking loss.
Salgot, 29, was counting down the days until her October 14, 2017, wedding to Wayne State University police officer Collin Rose. But last November, Rose was shot and killed on duty, taking their future plans with him.
As their would-be wedding date crept closer, Salgot was determined not to lose herself inside her grief. She reached out to former classmate and wedding photographer Rachel Heller about doing a memorial photo shoot in the dress she'd already purchased for the occasion.
Though the two hadn't spoken in 10 years, Heller, who had seen Rose's story on the news, was more than happy to help. On October 4 — just a week before Heller's own wedding, though she kept that to herself at the time — the two reunited in the woods to pay homage to Rose and Salgot's relationship.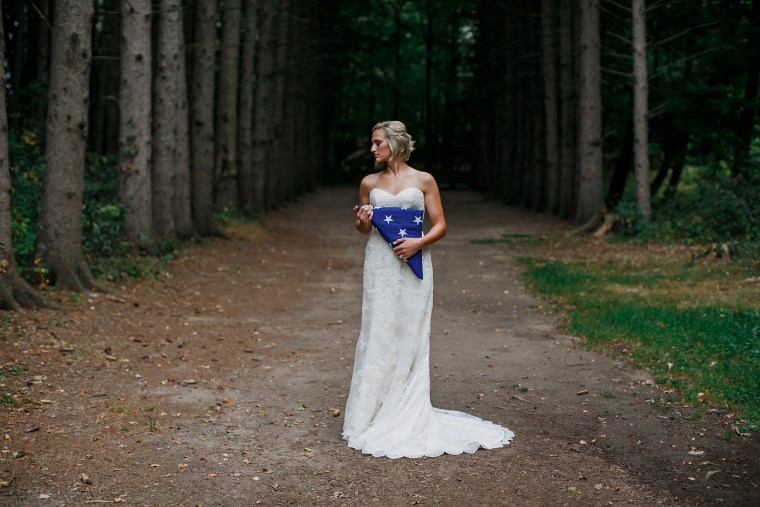 "I remember being in tears on the way there, thinking, 'How am I going to do this? How am I going to find a way to take photos that will do this justice, not just for her but for him?'" said Heller, 28.
"When she got out of the car, it was clear as day," Heller continued. "She was the picture of grief and resilience and strength and vulnerability and authenticity, all at once. I thought, I have to take photographs that when people see them, they will feel how I felt when she got out of the car."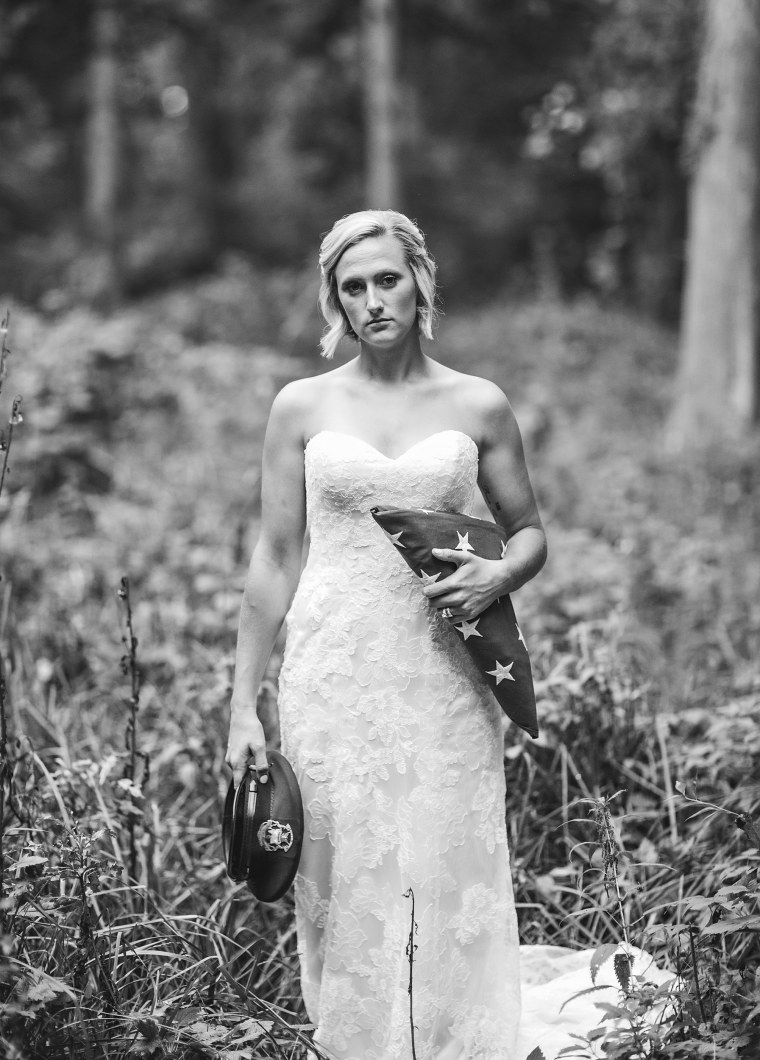 Heller's photographs depict a woman who is equal parts sadness and strength — and yet, as Heller explained, "so lighthearted at the same time."
"She had an ease about her," said Heller. "She said, 'Collin never took himself too seriously, and we never took ourselves too seriously as a couple. ... It is what it is.'"
Heller continued, "There were moments when Nikki would shift her dress around, or step on it and start laughing. I wanted to capture those moments, too, to show that she can still laugh. ... I needed to tell the story of this woman who's lost the love of her life but is still going to have closure, and still going to be his wife one way or another."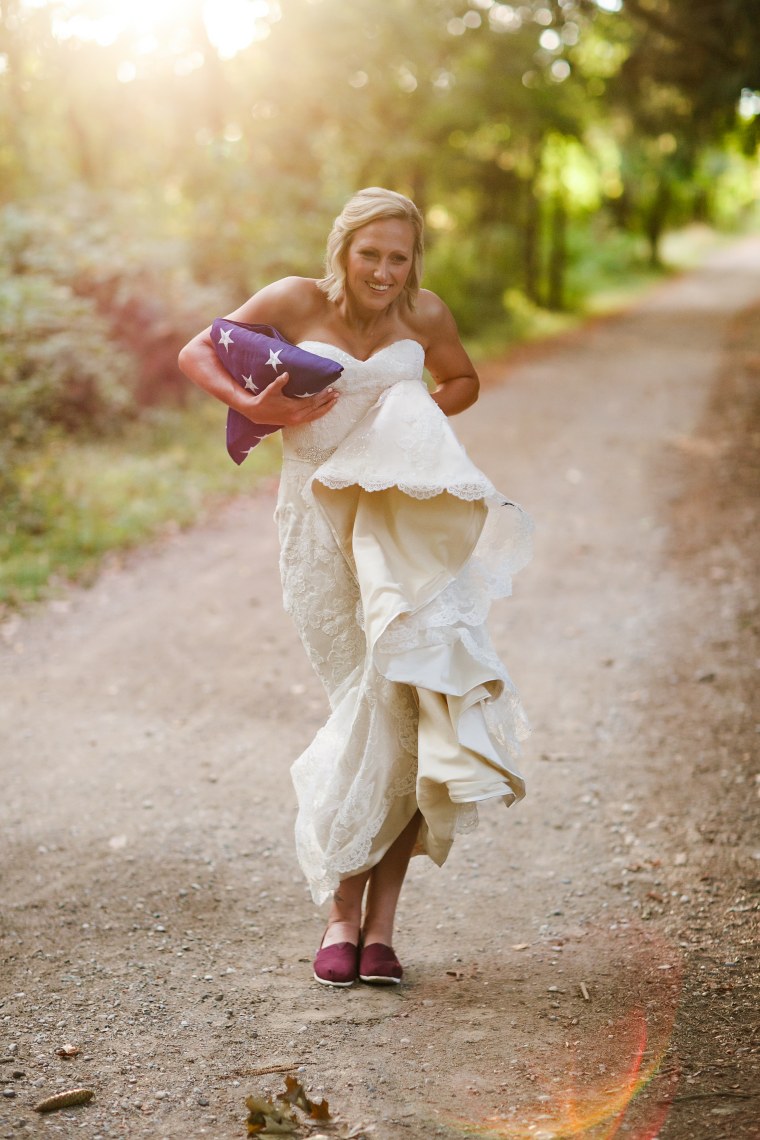 Some moments were more intense than others. Along with a flag and cap, Salgot had brought Rose's police badge, and fumbled as she attempted to fasten it to the flag for one shot.
"She kept smiling and telling me, 'It's OK, it's OK' — imagine, this woman who's been through all this, telling me that it's OK," Heller said.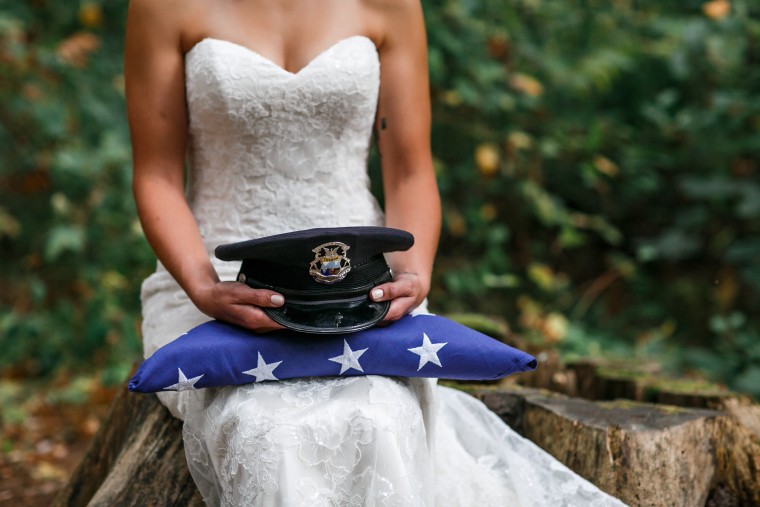 "She was so sure of herself. She didn't tell her family because ... she wanted to do this herself," Heller said. "She was very empowered that day. ... She made it really easy for me to do what I needed to do, to give her what she needed," Heller explained.
Heller edited the photos overnight, presenting the session and any prints Salgot wanted as a gift. It was only then that she broke the news of her own wedding, now three days away, to Salgot.
"She was so excited for me," Heller recalled. "So collected. It was so generous of her to be happy for me. It really put things in perspective. ... My busy schedule and whatever else I have to do doesn't matter because at least I get to do it. It was way more important to be there for her."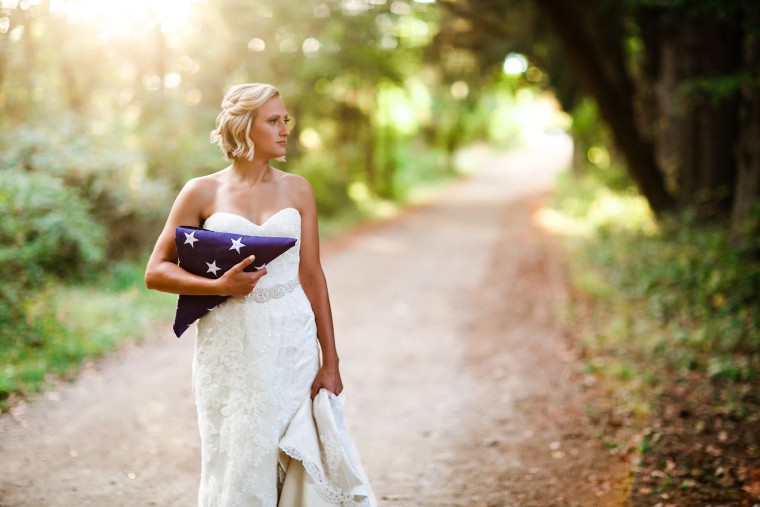 Salgot — who is grieving the anniversary of Rose's death this week — declined to comment for this story. She hopes her photos will share a message of strength, writing on Facebook, "(Heller) captured images that still vividly show the pain left behind; images that show I am still able to laugh, smile and be me; images that show this loss has not and will not destroy me; and my favorite, images that show I am still just as fierce as ever and refuse to let this define me."
Heller agrees. "This is a woman who is not broken. This did not break her," said Heller. "To me, she is an inspiration."