For men over a certain age, wearing white sneakers can be tricky. The wrong pair can signal a sort of surrender: a retreat made to the sad, comfy corner of dad style.
But summer is here (so is Father's Day), and most guys can use a nice new pair of easygoing kicks. You know, for barbecues and such. So, allow me to endorse my favorite warm weather sneaks, the Adidas Rod Lavers.
Adidas Rod Laver sneakers, $65-$95, Amazon
Also available for $80 at Zappos.
Some quick history: Rod Laver, now 79, is a retired Australian tennis champion. Adidas introduced the shoe in 1970, the year after Laver, aka "Rocket," won all four tennis majors in the same year, making him the only male player ever to do so.
Related: 10 things my husband told me he'd actually want for Father's Day
In a bid to avoid Chuck Taylor-level omnipresence, the brand occasionally phases the Rod Laver style out. This reportedly prompts angst among Laver devotees, mostly low key-ish dudes who tend to buy several pairs at a time and who may or may not like to Hacky Sack.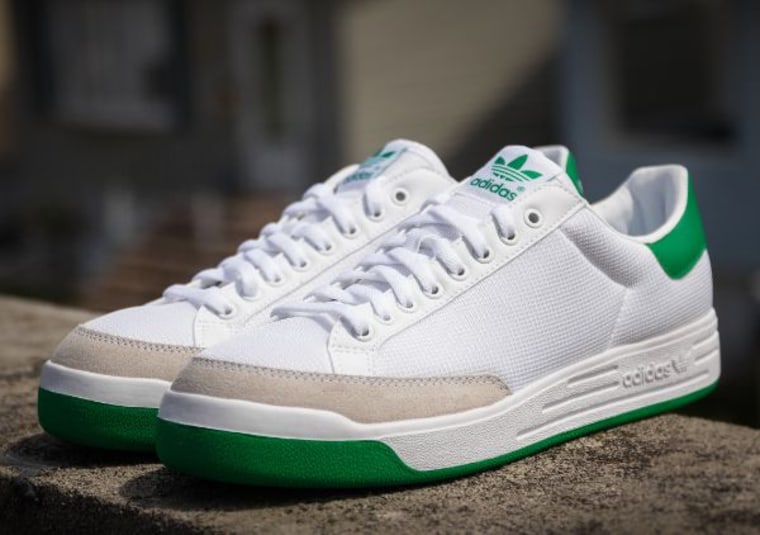 To me, the key to the Rod Laver style's endurance is their decidedly mild-mannered vibe. They are sporty, but not too sporty. (Don't play tennis in them.) Classic, but not trying-too-hard retro. Their signature style finishes are the colored soles and and heel cup, which displays the Adidas logo and Laver's name (in lowercase, no less). The uppers have a cool mesh texture, but you have to look closely to see it.
They look terrific a little beat up, or keep them crispy and fresh. Whatever works. I throw mine in the washing machine every spring and they are good to go for summer.
Adidas offers a variety of color combos, but the traditional green and white or blue and white are a good first step.
Other favorite sneakers
If $80 is a little steep for shoes to kick back in, we also like these alternatives.
Adidas Stan Smith, $50 (usually $75), Foot Locker
Also available for $21-$80 on Amazon.
This is the sibling shoe to the Laver, named for '70s-era American tennis champ Stan Smith. They feature the same round toe and colored heel cup, but they sport a white sole and leather uppers. As a bonus, some styles feature a jaunty sketch of Smith's face on the tongue.
Vans Checkerboard Slip-Ons, $49, Amazon
Also available for $50 at Zappos and Vans.
The reining king of laid-back kicks, made famous when Sean Penn wore them in 1982's "Fast Times at Ridgemont High." They can usually be found on skateboarders or people who hate tying laces.
This story was originally published on June 6, 2018 on TODAY.com.
https://www.amazon.com/dp/B01HLK9FTI/?tag=130400-rodlaversneakers-20