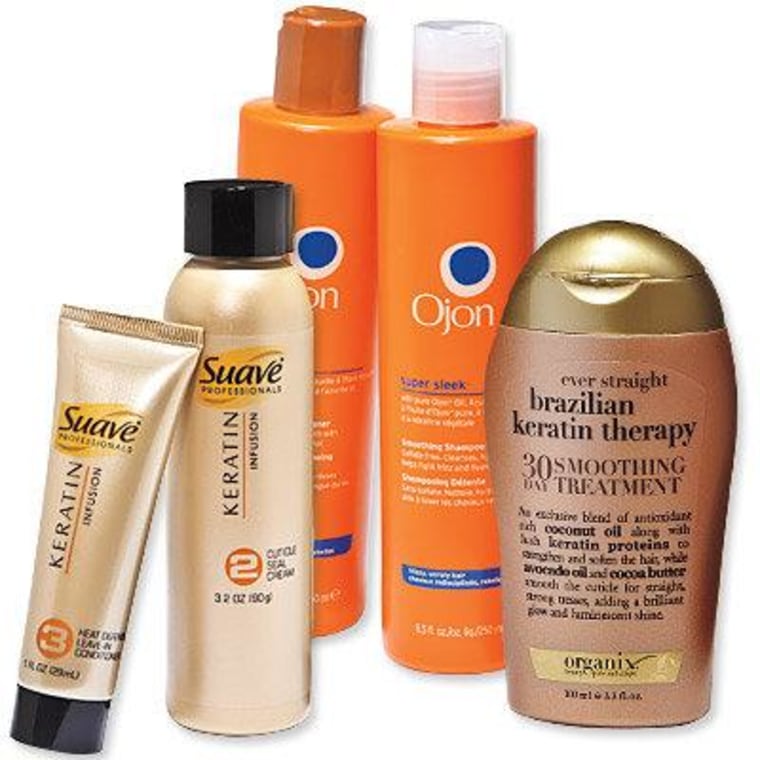 By InStyle.com
We asked product developers and a slew of testers to check out the latest DIY keratin treatments that claim to smooth and straighten hair for up to 30 days. The consensus: They really work! Even better, since they don't contain formaldehyde (or any of its derivatives), they're not as damaging as many of the first-generation versions, says cosmetic chemist Jim Hammer. Keep in mind that some still rely on harsh chemicals to straighten strands, so be sure to pick the right formula for your hair type and always apply it in a well-ventilated area.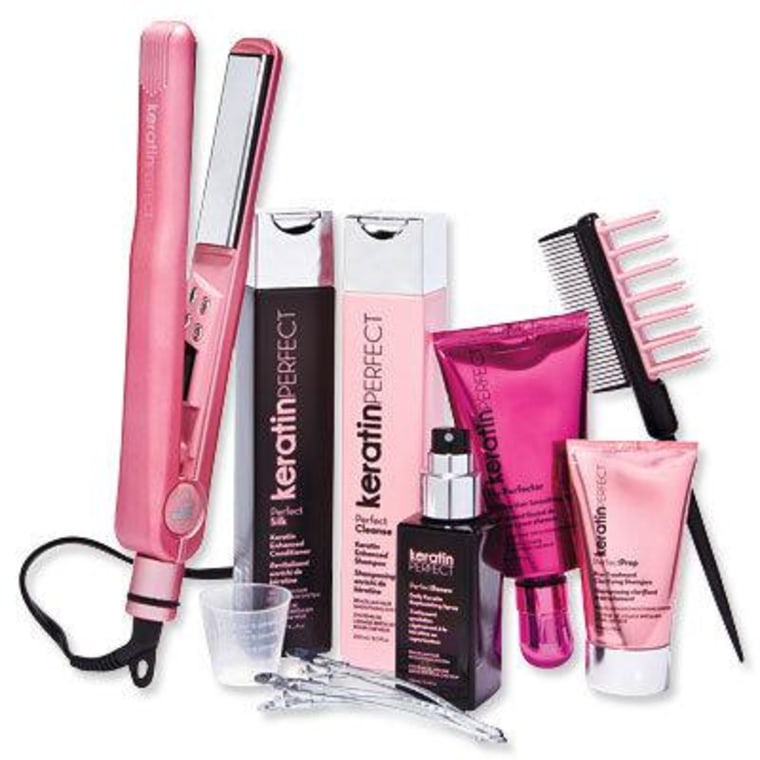 Keratin Perfect
Claim: This Cadillac of at-home straighteners covers all the bases: It comes with a pretreatment shampoo and a post-treatment strengthening spray — so hair stays smoother and shinier for a full month ($235; sephora.com).
Expert opinion: "Instead of formaldehyde, this uses a more gentle skin-conditioning agent to alter the chemical composition within hair," says cosmetic chemist Ni'Kita Wilson. "It does an especially good job of reducing frizz in coarse hair."
Our verdict: Though applying it was messy (the keratin looked like coffee and dripped a lot), the results were worth it. When we washed the treatment out 48 hours later, our strands still had wave but looked smooth and frizz-free, even without blow-drying.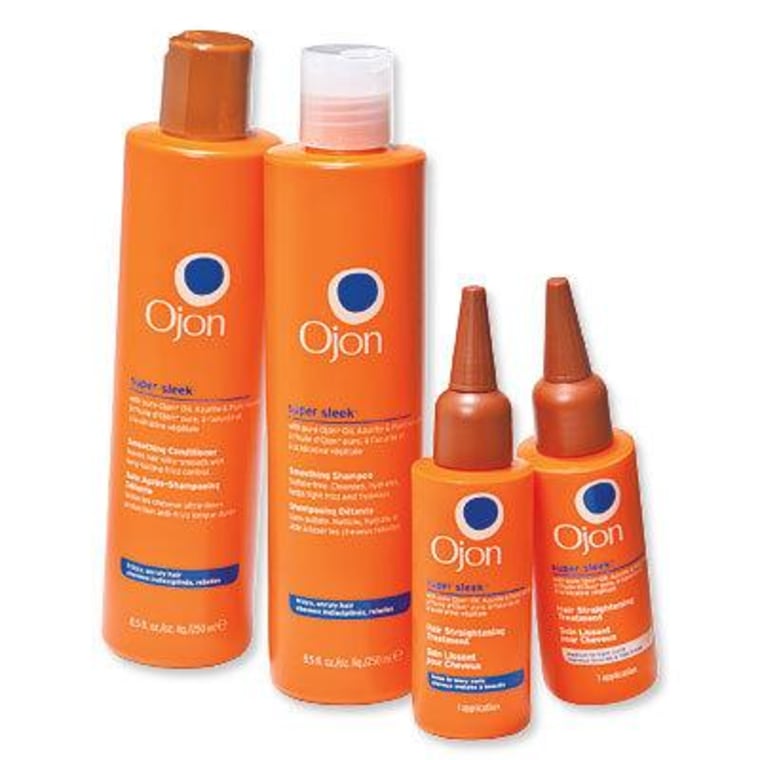 Ojon Super Sleek
Claim: Loosens and straightens locks like a "liquid flatiron," even when they're exposed to high humidity. It's available in two formulas to ensure you get the right amount of power ($49; ulta.com).
Expert opinion: "This has a variety of plant oils and butters to deep-condition hair — as well as azurite, a mineral that helps transfer heat more efficiently from blow-dryer and flatiron — so the treatment doesn't take as long," says Hammer.
Our verdict: We loved that we could wash our hair within 24 hours, since many treatments require that the keratin stays on for 48. Afterward, our hair wasn't stick-straight, but it did feel sleeker; it even relaxed those tricky wavy strands around the hairline.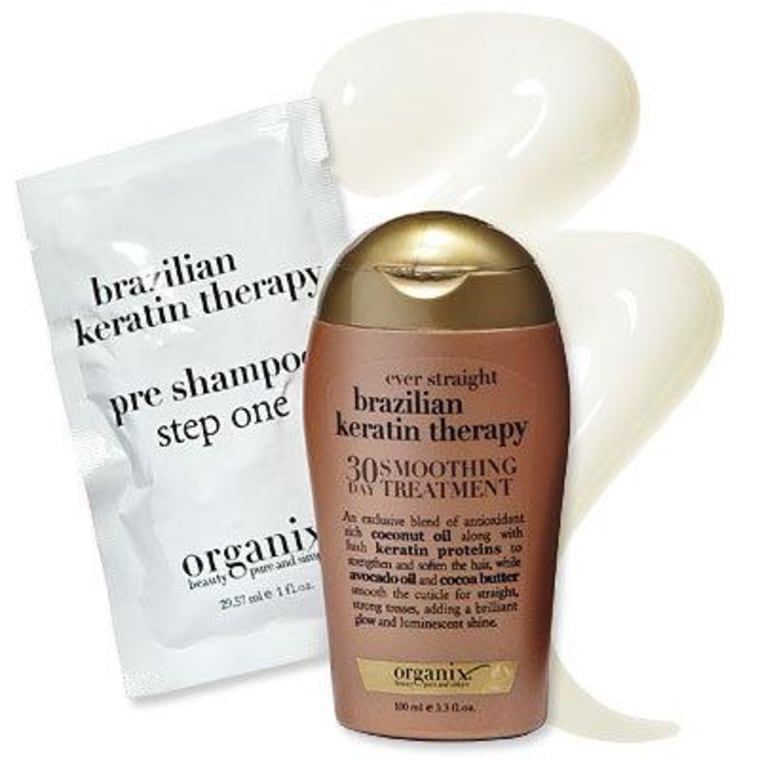 Organix Ever Straight Brazilian Keratin Therapy
Claim: Reduces up to 95 percent of frizz and curl for 30 days. Nourishing natural oils like avocado and coconut are kind to colored hair ($15; at drugstores).
Expert opinion: "This works much like salon straightening treatments," Hammer says, "except the formalde-hyde has been replaced with a kinder chemical that gives you basically the same results but is a lot safer to use."
Our verdict: During the 90-minute application and drying process, our eyes got a little red and our bathroom reeked of chemicals. The good news: Afterward, those once-kinky strands felt considerably smoother.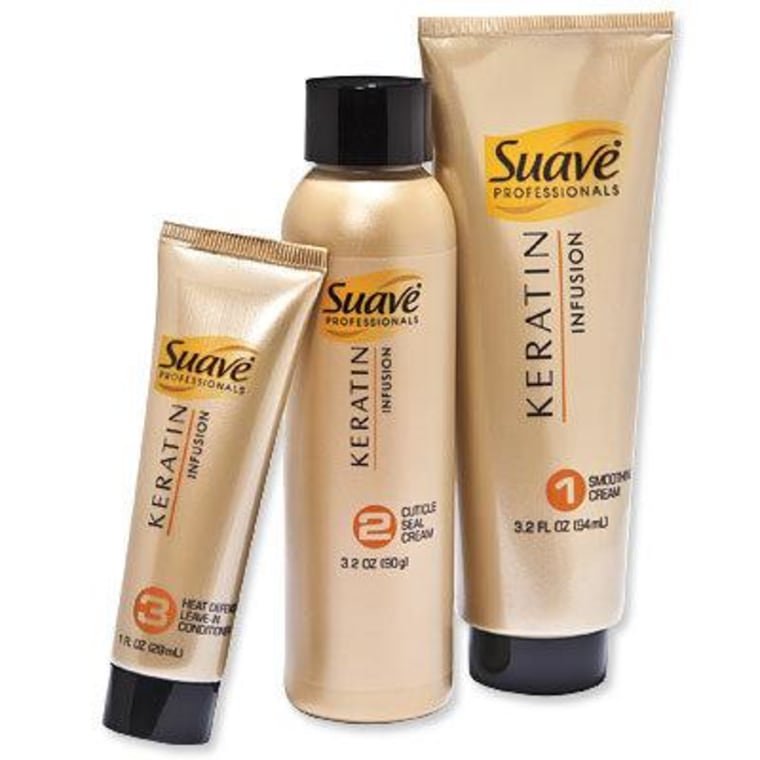 Suave Keratin Infusion
Claim: It works as well as professional keratin treatments and lasts up to 30 days. A caveat: It's designed for "specific hair types only," i.e., healthy, unprocessed hair ($13; at drugstores).
Expert opinion: "Though it has keratin, along with conditioners, it also uses potent chemicals like ammonia, peroxide, and thioglyco-late," Hammer warns. "That means it's not safe to use on hair that's been colored, straightened, or subjected to excessive heat styling."
Our verdict: Our virgin locks were left unscathed. It didn't make hair flat — just smoother and less frizzy.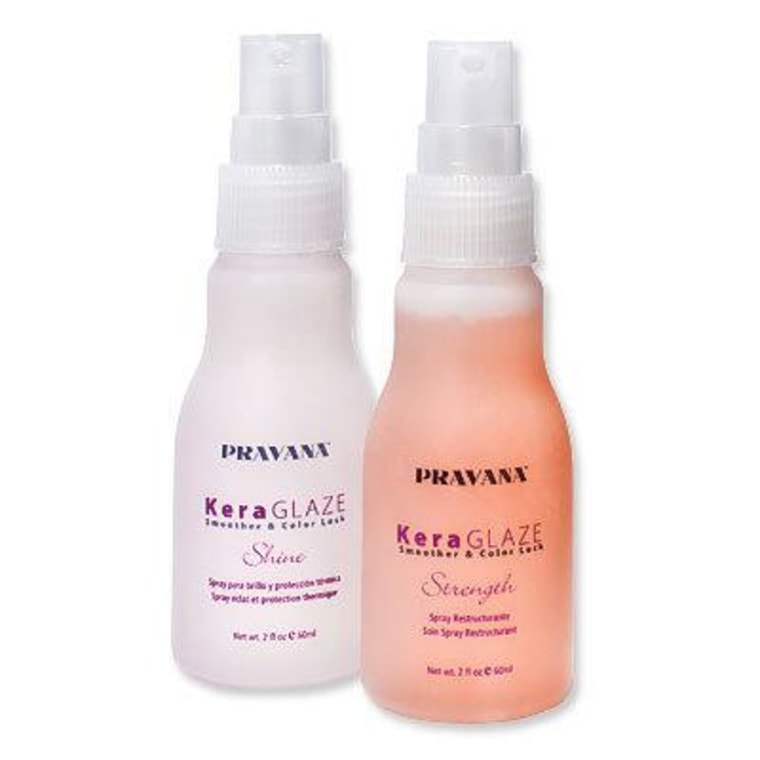 Pravana Kera Glaze
Claim: The Strength and Shine sprays protect hair from heat-styling damage and impart glossiness for up to six shampoos ($30; pravana.com for stores).
Expert opinion: "This has hydrolyzed keratin, a protein, to bolster hair, as well as silicone polymers that lock the keratin onto strands for several days," says Hammer.
Our verdict: The blowout looked salon-quality, but the kinks came back after just one shampoo.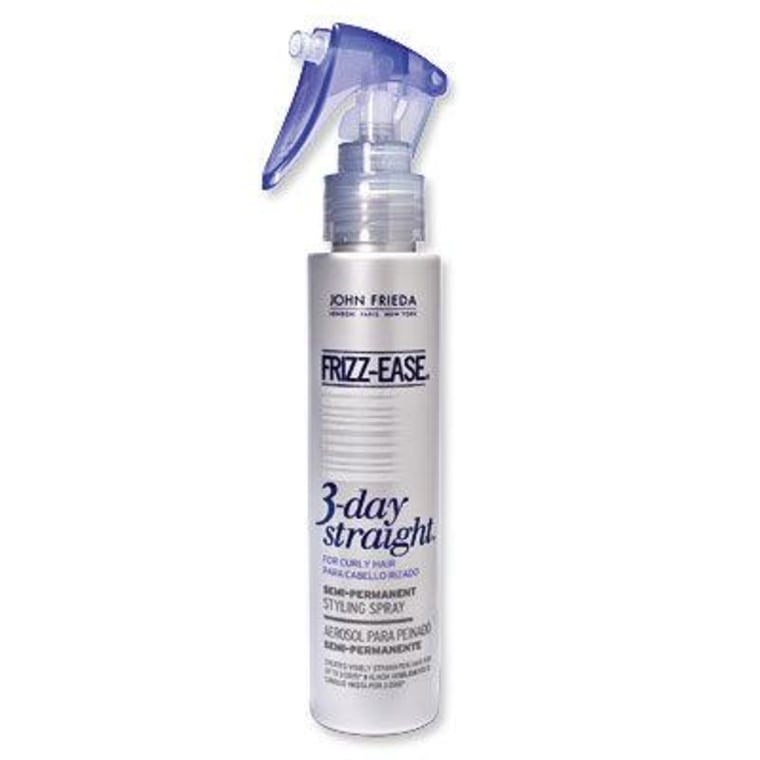 John Frieda Frizz-Ease 3-Day Straight
Claim: Ideal for women with coarse, curly hair, it straightens, blocks frizz, and keeps strands glossy for three days or until your next shampoo ($10; at drugstores).
Expert opinion: "Heat-activated polymers coat each strand for shine," says Wilson.
Our verdict: It kept hair straighter and smoother than just flat-ironing alone. Bonus: No chemical stench!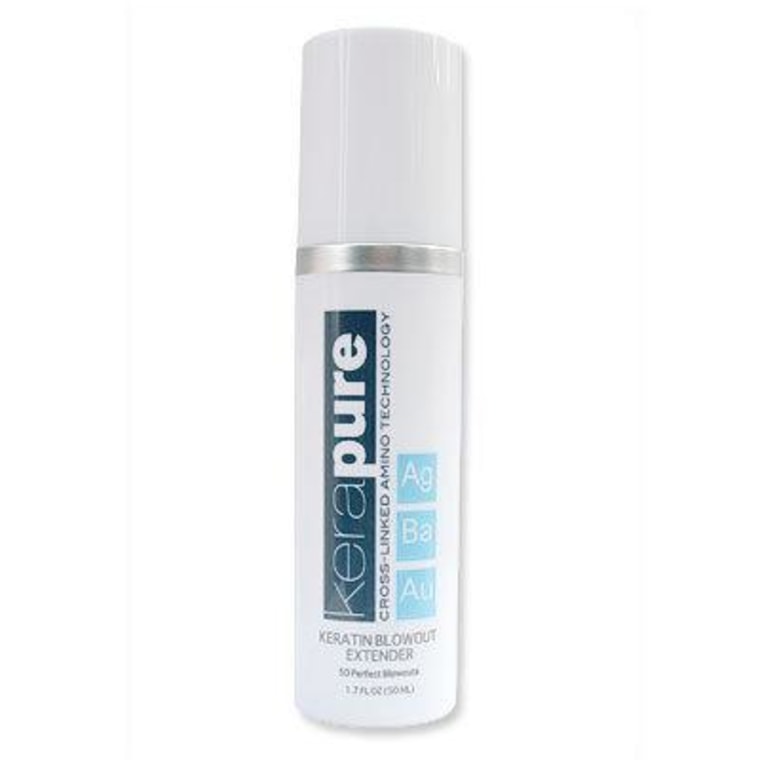 Kerapure 3-Day Blowout Extender
Claim: Eliminates frizz (even in high humidity) and cuts down on blow-drying time. With continued use, it also reduces curliness ($40; kerapure.com).
Expert opinion: "The amino acids penetrate the hair to straighten curls," says Wilson.
Our verdict: Our bathroom smelled like a chemistry experiment, but once hair dried, it didn't have any odor, and stayed soft, shiny, and full of volume for the entire three days.
More from InStyle.com:
50 Best Hair Tips From Around the World
8 Bright Accessories for Every Budget