If you've ever spent hours on a celebrity's Instagram feed, only to find yourself staring longingly at a divinely organized and spacious closet, this one's for you.
Lisa Adams of LA Closet Design, whose clients include Christina Aguilera, Monique Lhuillier, Jaime King, Khloe Kardashian and Giuliana Rancic, knows a thing or two about creating those impeccable closets worthy of a magazine … or millions of followers. Here, she shares with TODAY Style her top tips for how you can get a celeb-worthy closet in your own home — and on a DIY budget to boot.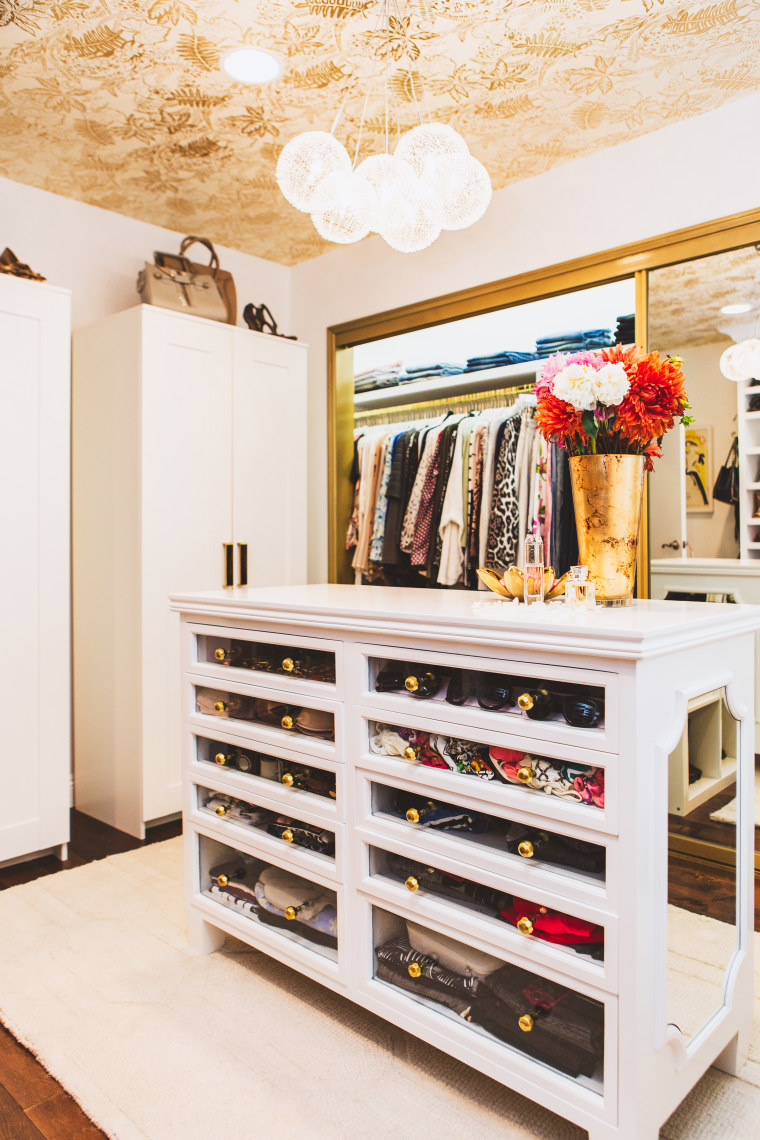 1. Go for the gold.
The color gold has always connoted richness and luxury. Adding a bit of it to your closet will instantly impart a bit of decadent flair. To get the look, Adams suggests painting your closet's metal trim, or the ceiling above. "In many sliding-door wardrobes, the sliding door frame is a silver metal finish," Adams says. "My suggestion is to paint this metal frame in gold — or any other color that brings joy to you."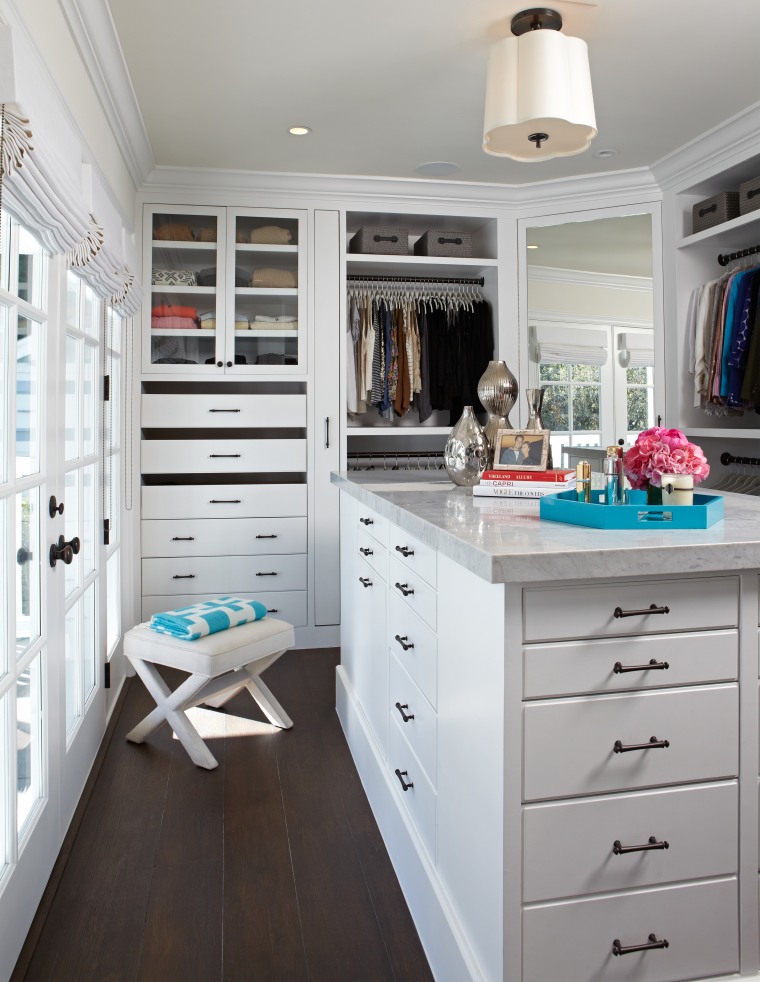 2. Get creative with furnishings.
You don't have to spring for the crazy costs of fully custom built-ins in order to have a perfectly organized space. "Think about flipping cabinets or shelving units on their heads, literally — [they] could make great island pieces in your closet," Adams says.
One way she suggests getting a closet island for less? An Ikea bookshelf turned on its side, as Adams did for influencer-blogger Chriselle Lim. "Ta-da! You instantly have an island with cubbies," Adams says. "Islands are functional and beautiful in a closet — to fold and pack while displaying items on the top."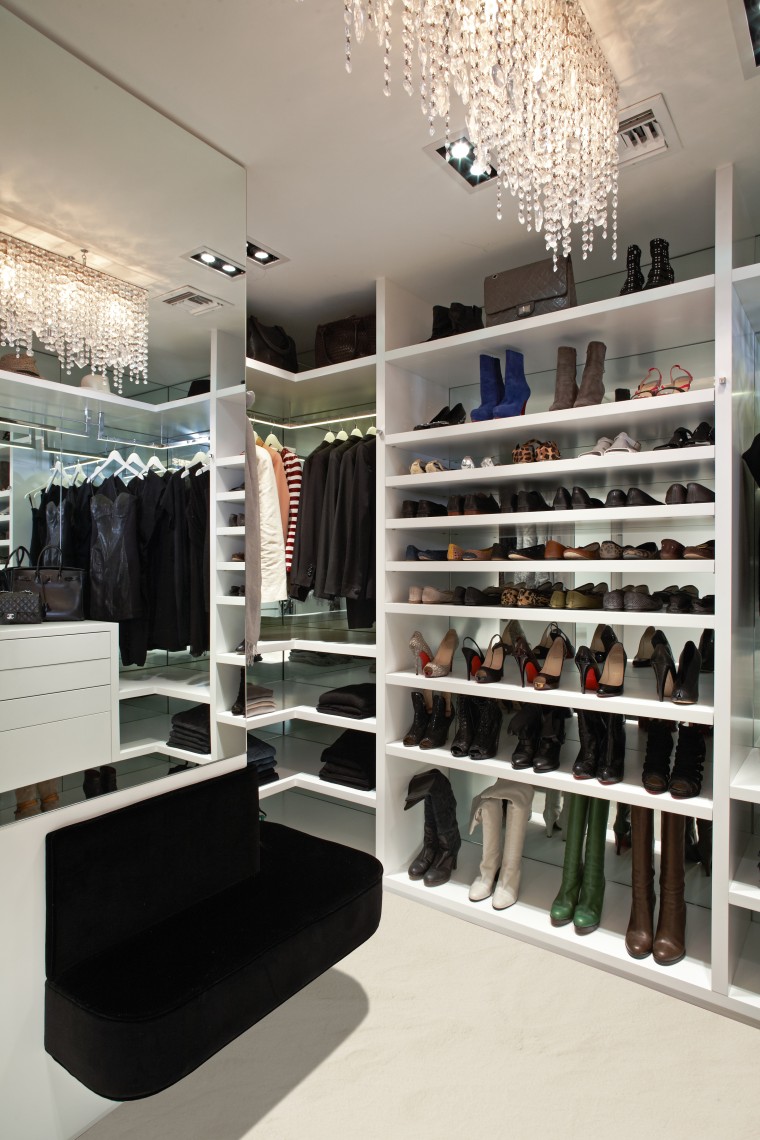 3. Keep everything within reach.
In order to easily access the full vertical height of your closet's storage, keep a stool inside the space, something you can easily push aside when not in use. "Install a folding step stool in the base toe kick of your closet, so that it's out of sight when not in use but easy to access when you need it," Adams says.
RELATED: How to create a capsule wardrobe (and simplify your life)
4. Create a staging area.
Adams says that so-called "staging areas" have become increasingly popular among her A-list clientele. The idea is to have a place in the closet to arrange items for contemplating looks, packing for a trip, coordinating pieces and so on. Having a dedicated staging area within a closet may sound like a star-only luxury — but it doesn't have to be that way. How to get your own? Easy. "Simply mount a towel bar or extended valet hook into the wall to create this staging area in your closet," Adams says.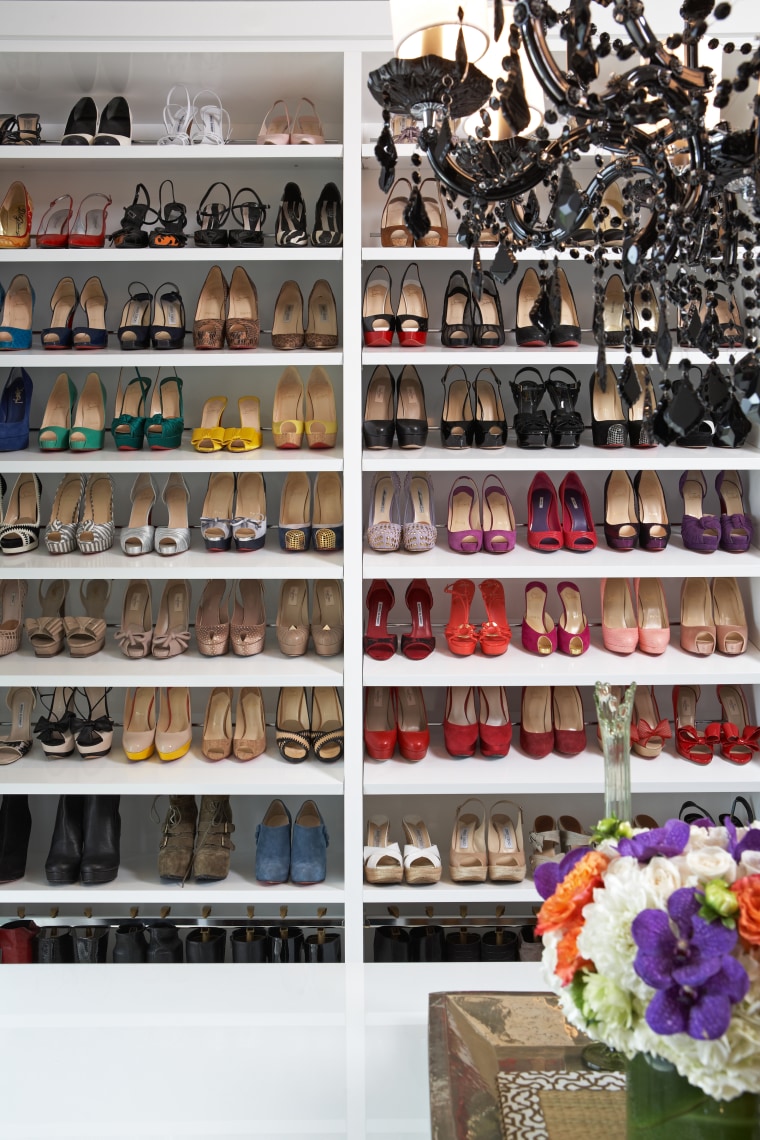 5. Show off your shoes.
Admire your shoes at a glance, just like the stars do, by styling them within your closet as if they were on display at a tiny boutique. "Style shoes so that one from the pair is in front and one behind, so that you are able to see twice as many" at once, Adams suggests. "This way, you're able to see what you have easily with the idea that the more you see, the more you'll wear and enjoy."
Other ways to show off your shoes? Consider rotating your flat shelves to they hang at an angle instead. "You can add a quarter-inch rod at the back of the shelf to act as a back-heel stopper," Adams says. "Instant glam!"
Or, Adams adds, stack pretty shoes in acrylic shoe boxes for the look of a glass display for your precious collection. Cheap and chic.
RELATED: How to organize your closet without going crazy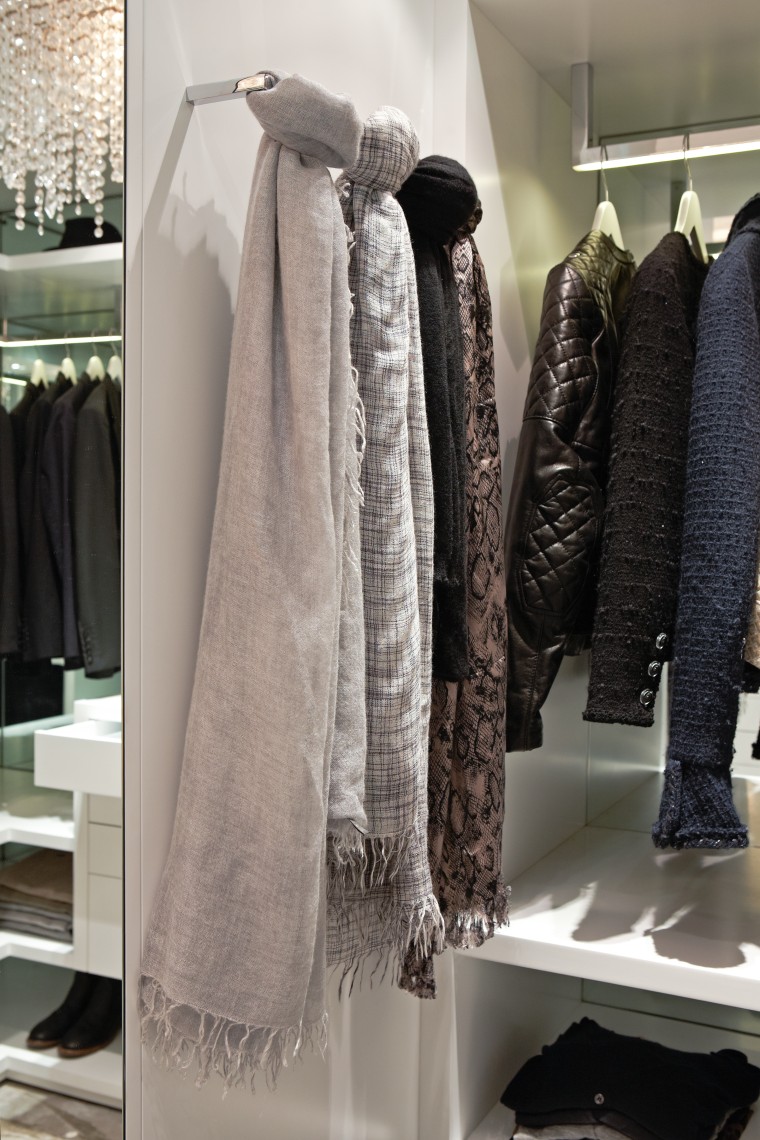 6. Keep scarves tidy.
"A universal complaint I hear from my clients is the scarf drawer — jam packed with scarves that get wrinkled [and hidden]" says Adams, who prefers to hang scarves for this reason. An easy — and inexpensive — way to make it happen, she says, is to simply mount a towel bar to the wall and hang scarves, tying each with a knot to secure it on the rod. "When every item is at first glance, the feeling is like shopping in your closet," Adams says. "Everyone needs to do this one!"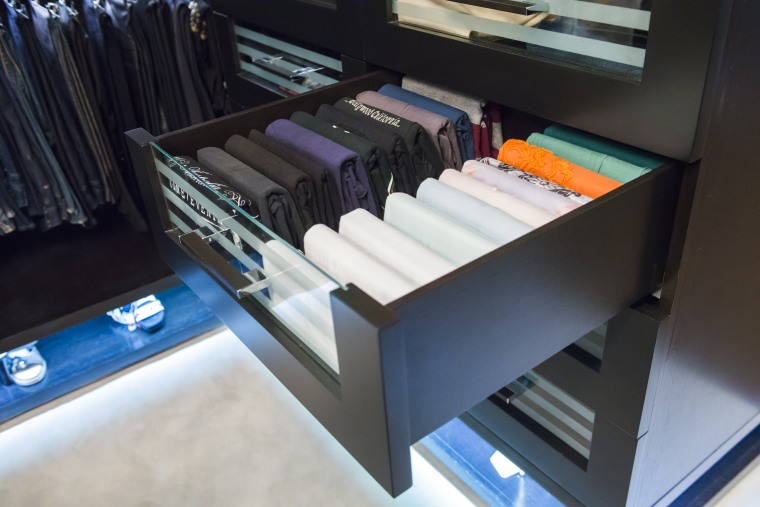 RELATED: How to fold a shirt, sweater and pants like a professional
7. Keep shelves neat.
Who among us hasn't neatly stacked a pile of clothes on a shelf, only to have it all topple over and become one big mess? Well, Adams has a solution for that, too: "Use bookends to keep sweaters and T-shirt stacks vertical on shelves," she suggests. Or get clever with it: "Other fun options would be to use a piece of acrylic, glass, or stone. I love tips that are both functional and aesthetically pleasing."
Alesandra Dubin is a Los Angeles-based writer and the founder of the lifestyle blog Homebody in Motion. Follow her on Facebook, Instagram, Google+ and Twitter.