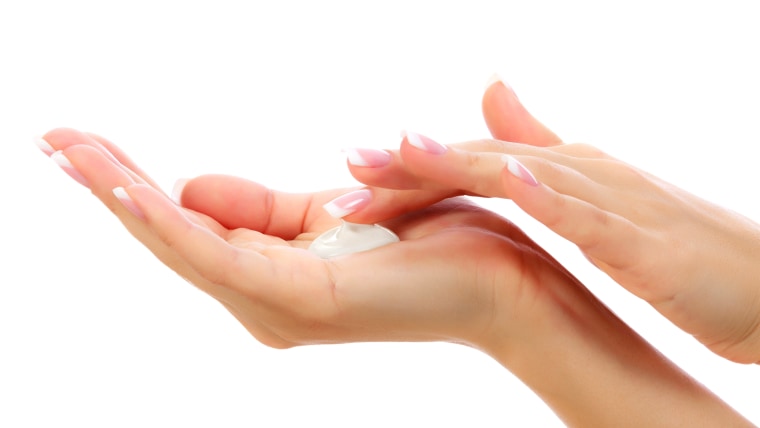 The first sign might be crinkling at the knuckles, or ridges on the nails. Or maybe it's a little liver spot. Whatever signs of aging your hands might be revealing, we've got a dermatologist-approved solution — and several ounces of prevention, too.
Slather on (the right) hand cream
Your strongest line of defense is simple: Consistently use a rich hand cream with a built-in sun protection factor of 15 or higher. "If a hand cream contains broad-spectrum SPF, it will prevent and slow down the signs of aging, including brown spots and wrinkles," explains New York City-based dermatologist Dr. Francesca Fusco. In addition, the emollients in hand cream keep skin hydrated, which slows down free-radical damage, says Dr. Frederic Brandt, a dermatologist with practices in New York and Miami. If the cream also contains antioxidants, you'll see plumper skin and diminished wrinkles, too. Which antioxidants should you look for? One of the most powerful on the market — retinol — is perfect for hands, reveals Fusco. "It's a multi-tasker and addresses all signs of aging."
ID sneaky sources of sun damage
Driving (yes, even through a car window!) and gardening are two top causes of incidental sun exposure. And there's more. According to Fusco, UV exposure from nail salon dryers is another surprising culprit. In addition to applying SPF-infused hand cream, consider investing in sun-protective gloves for your daily drive to work and ask your manicurist to rub a layer of sunscreen on the tops of your hands before you place them under the UV dryer.
Nix the hand sanitizer
"The alcohol [in sanitizing products] is extremely drying on the hands," says Fusco, and some women use these many times per day, increasing the potential for damage. Even traditional soap-and-water washing can become too much of a good thing when taken to extremes. "Over-washing the hands can dry out the skin, cause irritation and inflammation and may cause premature aging," says Dr. Joshua Zeichner, director of cosmetic and clinical research at Mount Sinai Medical Center. As a safeguard, follow cleansing with a layer of hand cream to replenish the skin. 
Nice nails start with the cuticle
Sure, choosing a polish color and nail shape is more fun, but it turns out that paying attention to our cuticles is the key to younger-looking nails. "Keeping cuticles hydrated and less inflamed will prevent ridging," says Brandt. Ridging — along with its cohorts thinning, dulling and yellowing — is one of the most telltale manifestations of aging hands, according to Fusco.
Lasers and fillers work on hands, too
Already irritated by wrinkles and age spots? There are in-office treatment options that, though sometimes costly, can be very effective.  
When it comes to injectible fillers for the hand, Radiesse and Sculptra seem to be all-around favorites. Why? "Both [repair] volume and hide veins by filling in the soft tissue around them, which gives you a plump, youthful hand," says Zeichner. 
"I have a special approach," adds Fusco. "I call it the 3 F's: filler, Fraxel, and freshen. I use Radiesse to fill and plump, Fraxel [laser] to diminish brown spots, and an individualized topical regimen to maintain and freshen the hands."