Despite multiple calls to stop praising of the "thigh gap," many women still wish they had one.
In a new survey, 40 percent of women said they would feel more confident with a thigh gap, while 27 percent said they feel pressure to have one. Of women who said they already have a thigh gap, 65 percent said they would feel fat without it, according to the London research group OnePulse, which surveyed 500 UK women ages 16 to 65 through its app.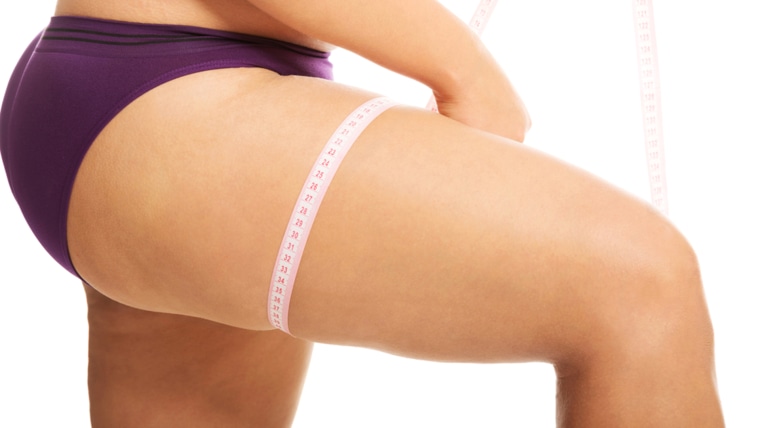 While it's not certain the numbers would apply to a larger population, they do suggest that the era of the lusted-after thigh gap — a space between a woman's upper thighs, so her legs don't touch when in a neutral position — is far from over.
"The thigh gap is ridiculous, but it still hasn't reached its saturation point," psychologist Deborah Serani told TODAY.com.
The thigh gap is still praised on young girls' social media pages (often hashtagged alongside another scary body-image phenomenon, #thinspo) and featured as an ideal in how-to fitness guides across the Internet. But idolizing what is an unattainable body shape for many women is unhealthy, Serani said.
"As a clinician, beauty trends are fodder for unhealthy expectations. If you have obsessive trends, or if you're insecure, you can fall into this in a very unhealthy way," she explained. "I see a great proportion of young women who don't have a grounded reality of what their own beauty is."
Serani, a professor at Adelphi University in New York, adds that most beauty ideals — no matter how bizarre — tend to last between five and ten years.
"These beauty trends tend to have a cycle," she said. "Back in the French Revolutionary days, everyone loved Marie Antoinette's pale skin, and if you worked outside, you had more color, so it was considered more beautiful and fashionable if you didn't."
Serani cited Asian women binding their feet and people drawing on pretend freckles or moles as other beauty ideals that have come and gone over the decades.
So on the bright side, the thigh gap won't be here forever. Also good news: OnePulse's survey shows that not every woman is buying the hype: 40 percent of women said they feel no pressure to have a thigh gap. One participant called them "ridiculous" and another said, "I think I look nice as I am." The trend has also seen some backlash in the past couple of years, with many anti-thigh gap movements popping up on social media.
Model Robin Lawley has called the thigh gap a "harmful trend," and the popular Citilegs Instagram account celebrates legs in all shapes and sizes. Earlier this year, Urban Outfitters faced criticism for featuring an underwear-clad model with a thigh gap on its website, and Target has also gotten into trouble for blatantly Photoshoppping thigh gaps onto its models.